California Walnut, Mushroom & Red Onion Galette
A delicious, crumbly vegan and gluten-free pastry with a moreish mushroom filling. This California walnut mushroom and red onion galette is the perfect dinner go-to.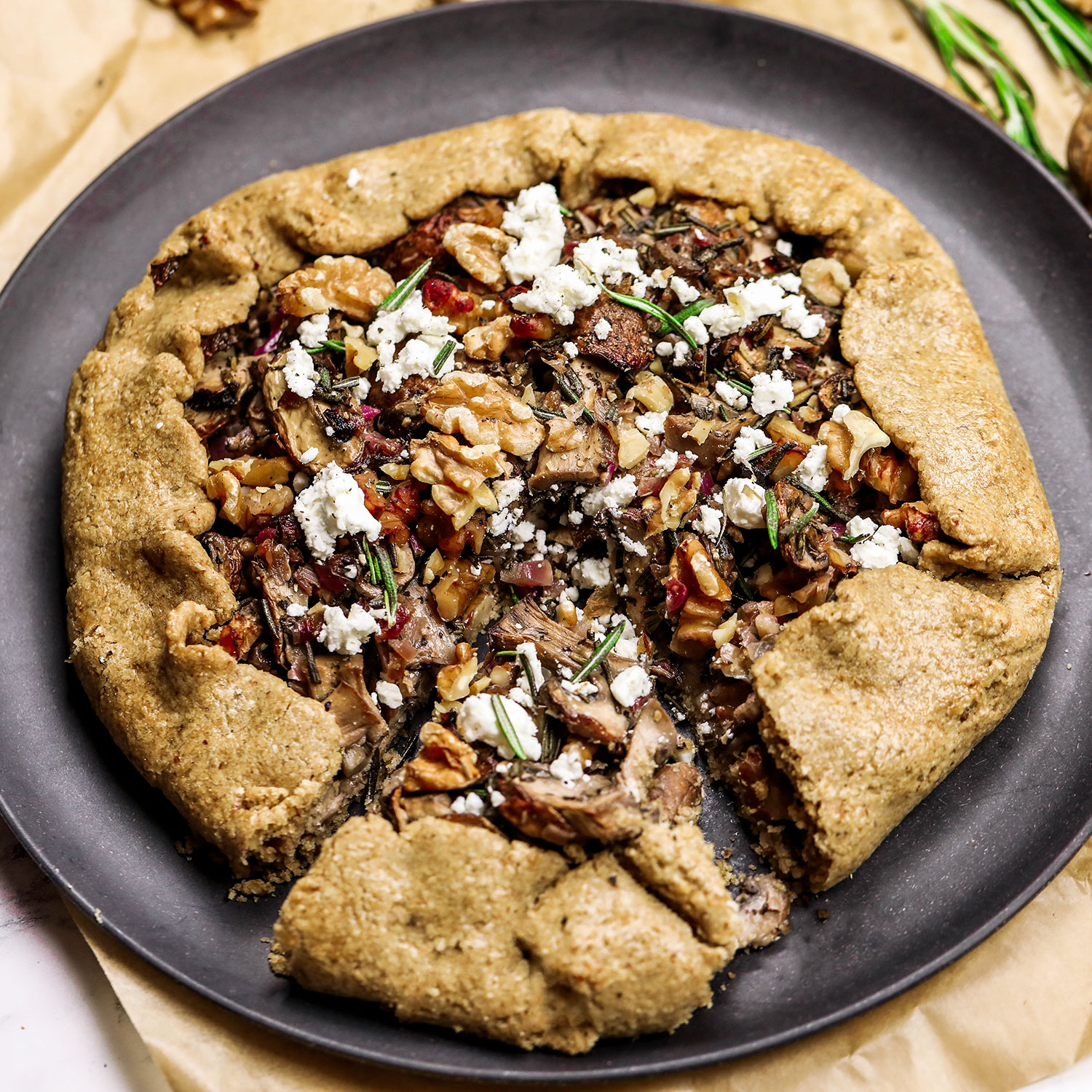 It's such an easy dish to whip up on a week night, whether you're dining for one, or you're looking for a low-key evening in with your partner. I made this galette for dinner and the hubby (a keen meat eater), absolutely loved it! I find mushrooms quite meaty as far as plants go (although I am aware mushrooms aren't technically a plant, but you know what I mean :P), so they are a great ingredient to use as the base for a vegan meal that you want to make to impress meat-eaters, vegans and vegetarians alike! California walnuts in the base of this dish add a delicious and creamy flavour that complements the mushrooms so well. I also added lemon, garlic and rosemary to give it lots of depth, then crumbled some vegan Greek-style cheese for added saltiness.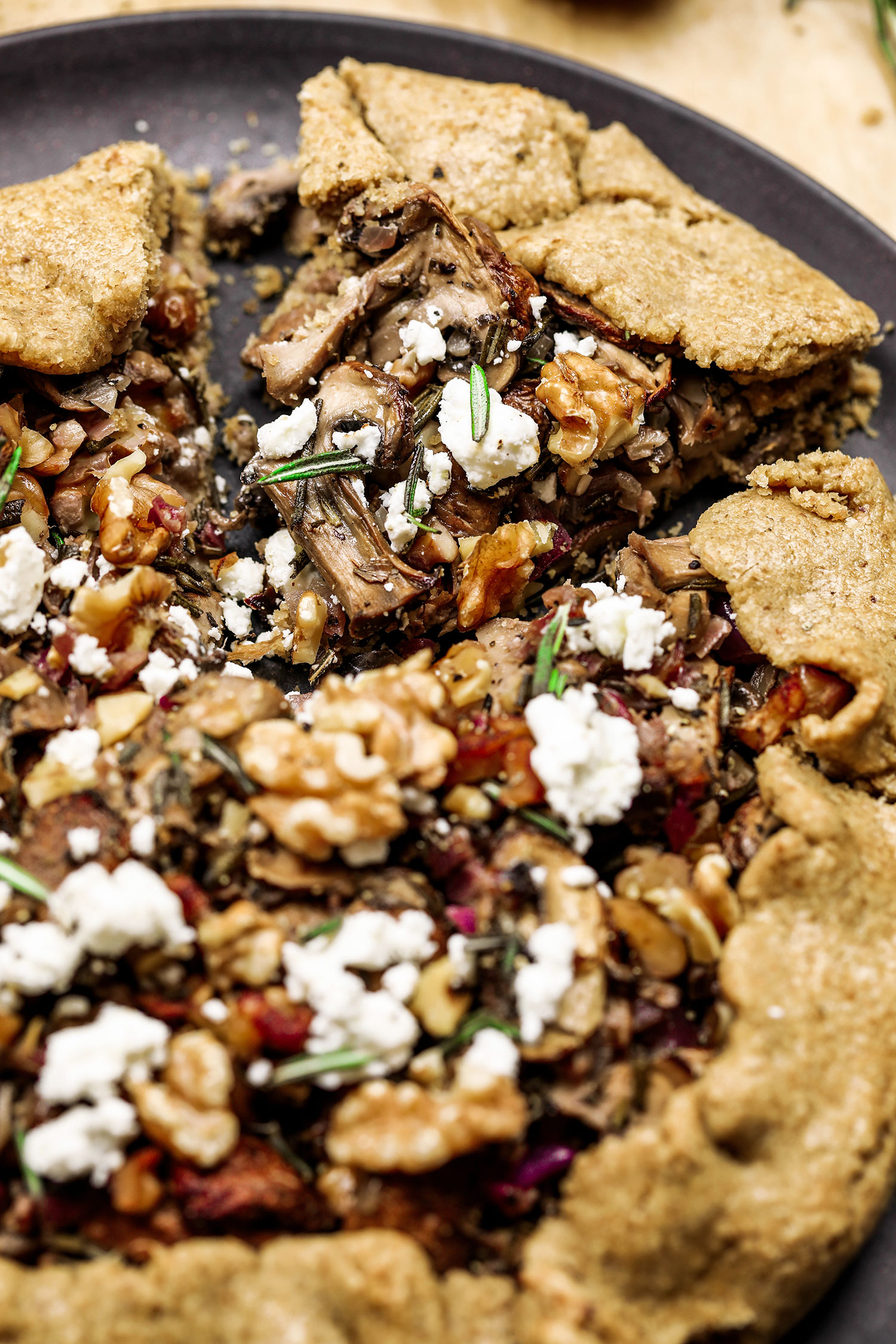 This is another recipe that I created in collaboration with California walnuts to demonstrate that walnuts not only go really well in sweet treats like cakes and brownies, but they're also an amazing and tasty addition to your savoury main meals. Packed full of vitamins and minerals, California walnuts are my go-to ingredient, especially when trying to create a healthier meal.
If you have any galette leftovers you can pack it up in a Tupperware and take it with you to work the next morning for a yummy homemade lunch! I like to enjoy mine with lots of roasted veggies on the side 😀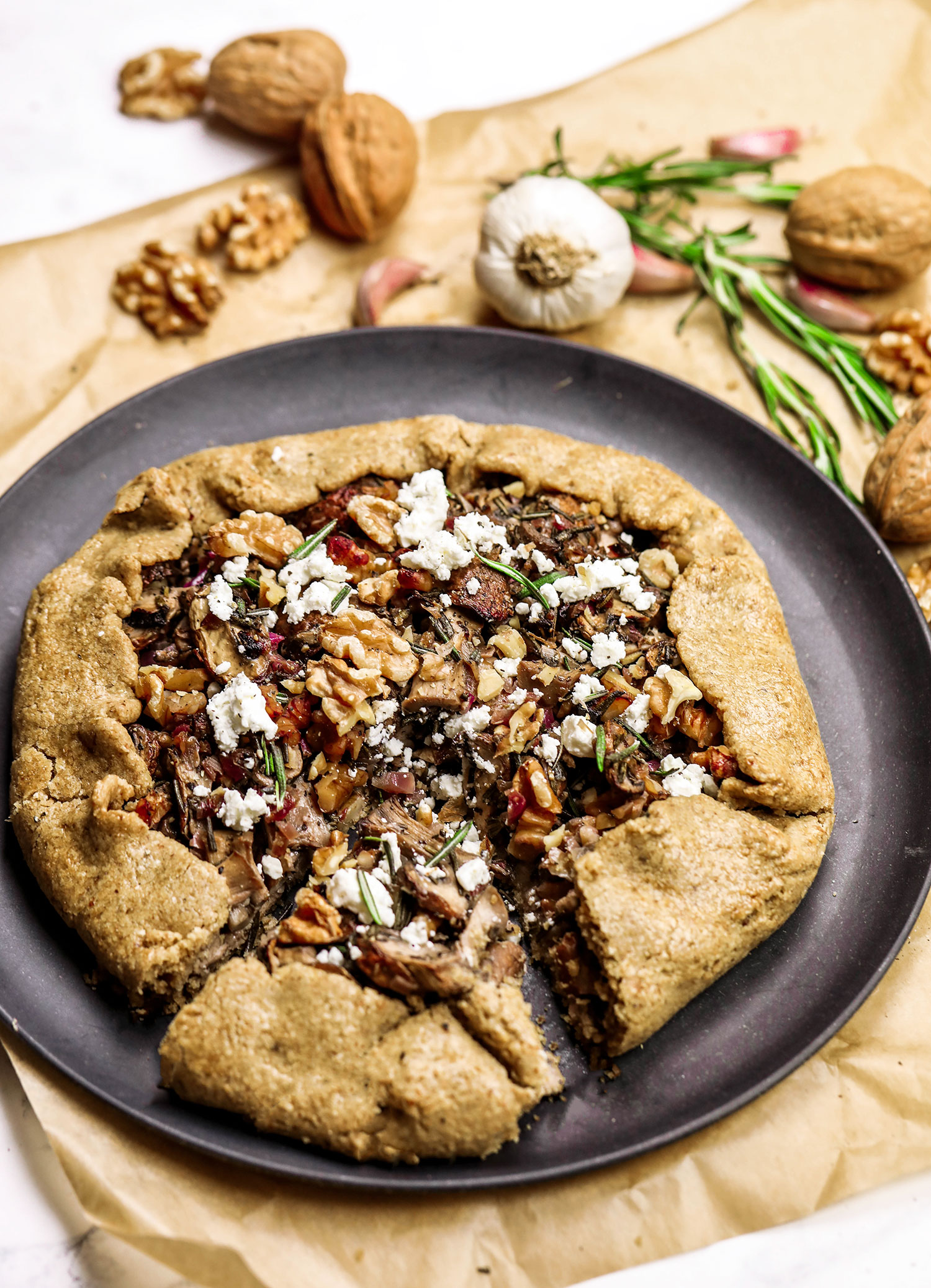 ---
California Walnut, Mushroom & Red Onion Galette
Serves: 2-4
For the base
110g oat flour (make your own by blending plain rolled oats into a flour in the food processor)
50g California walnuts, ground
¼ tsp salt
4 tbsp dairy free spread
4 tbsp cold water
For the filling
1 tbsp olive oil
1 small red onion, chopped
2 cloves garlic, finely chopped
2 tbsp fresh rosemary, chopped
250g mushrooms, sliced
2 tbsp lemon juice
A pinch of salt and pepper
70g California walnuts, roughly chopped
30g vegan Greek-style cheese
Method
Preheat your oven to 190°C/170°C fan/375°F
In a bowl mix together the oat flour, ground California walnuts and salt. Add the cold water and dairy-free spread. Mix until you have a dough that holds together well. If the dough is soft, refrigerate for 30 minutes to make it easier to work with
Sauté the onion with olive oil on a low/medium heat for 5 minutes, then add garlic, rosemary, mushrooms, lemon juice and season with salt and pepper.
Cook for around 10 minutes, then take off the heat and mix in the chopped walnuts.
Roll out the dough into a rough circle, about 1/2 cm thick, on a well-floured surface. Spread the mushroom mixture in the middle and fold over the edges.
Bake for 30-40 minutes until the edges are golden brown.
Top with vegan Greek-style cheese and remaining California walnuts to serve.
---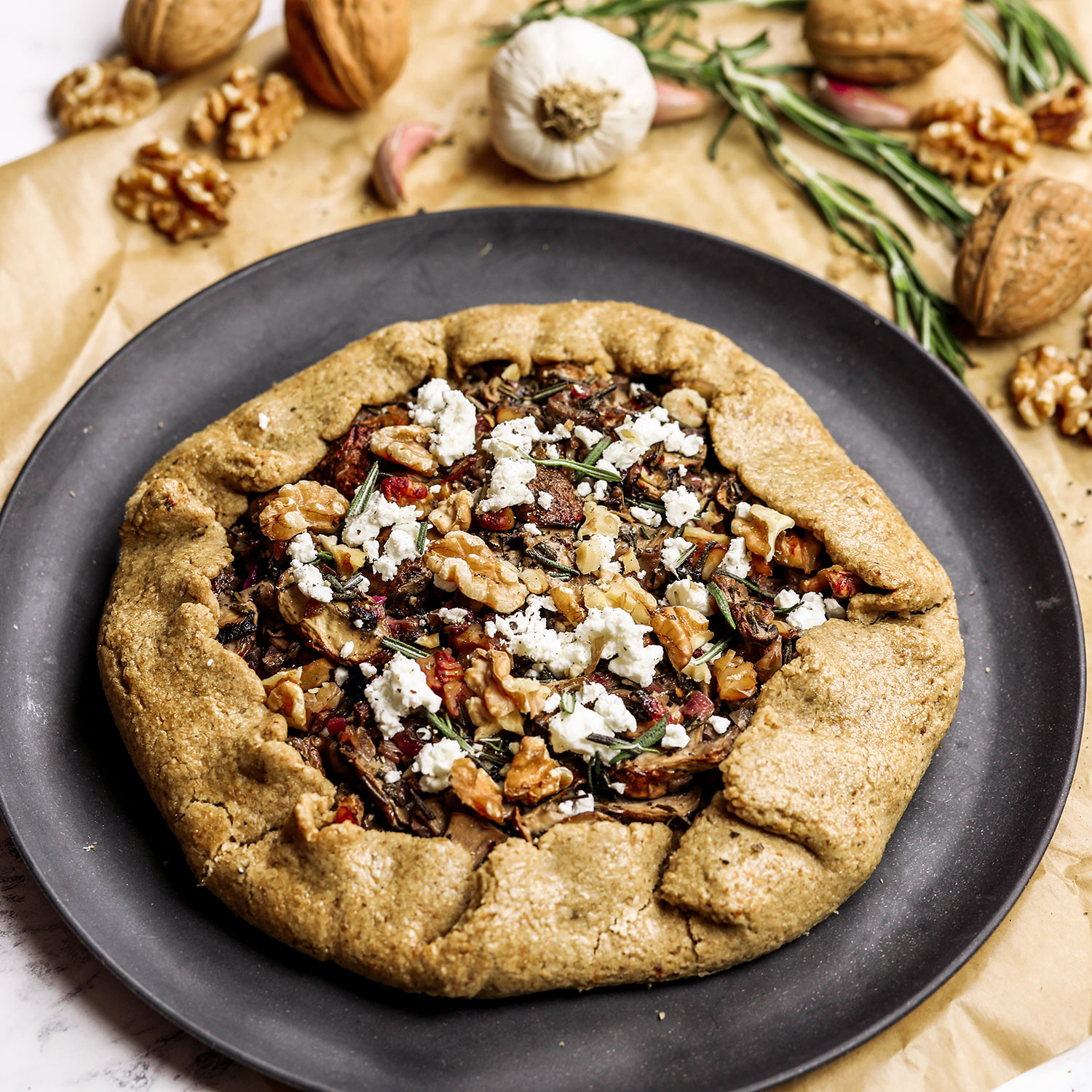 Thanks to California walnuts for sponsoring this post. Commissioned posts is how I'm able to continue working on the blog and creating recipes and recipe videos for you. As always, all opinions are my own.