Butternut Squash Kale Quinoa
I'm always making quinoa, but I rarely make it plain. I always add things like beans, nuts and lot of vegetables. It's so easy and quick to make so it's perfect for when you're in a hurry and need something quick. I like to make a huge batch and store it in the fridge to have for lunch throughout the week. It makes an amazing lunch on the go – better than your average sandwich and definitely much healthier, and more interesting (in my opinion!).
Quinoa Benefits:
Click here to find out more about the benefits of adding quinoa to your diet.
I've never been the biggest fan of rice so don't really cook it at home. Every now and then I will make some brown rice if I'm making a curry for example, but brown rice takes so long to cook! When I'm hungry, I want to eat now! That's why quinoa has become one of my best pantry buddies. True it's more expensive than rice if you're on a tight budget, like I am, but if you add lots of other ingredients to bulk it up, it can last much longer than you think. Adding things like beans or sweet potato to your quinoa will really help fill you up, while adding lots of good nutrition, of course!
I usually cook my quinoa with vegetable stock and lemon juice (lots of it!) to give it a ton of flavour, and that's exactly what I'm doing to make this butternut squash kale quinoa recipe.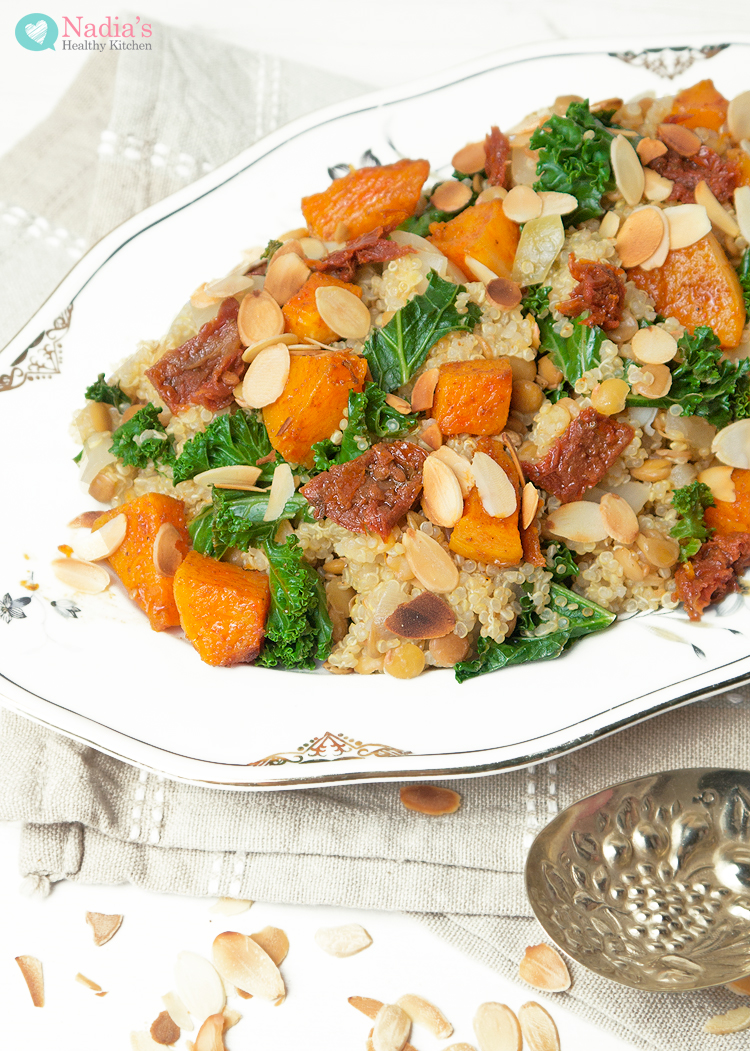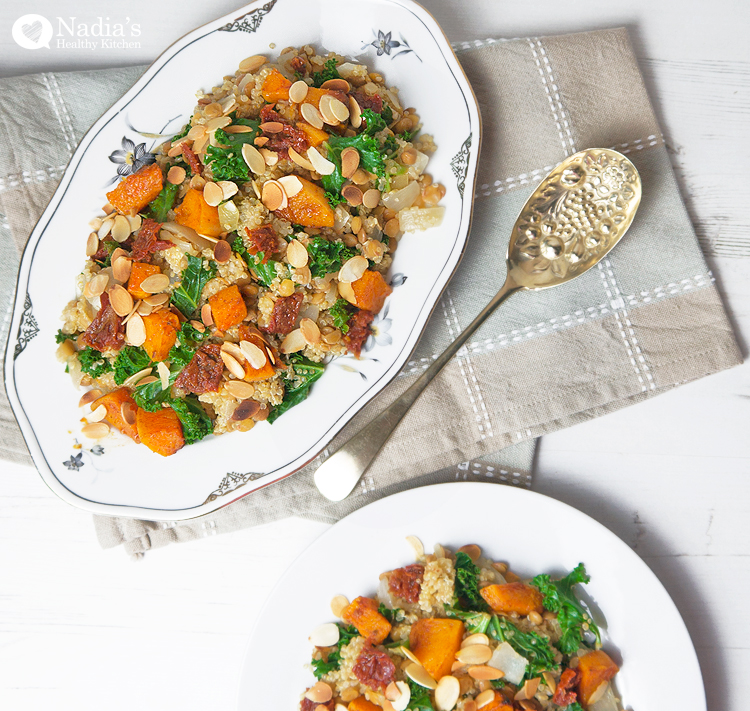 Butternut Squash Kale Quinoa
2015-05-29 07:05:49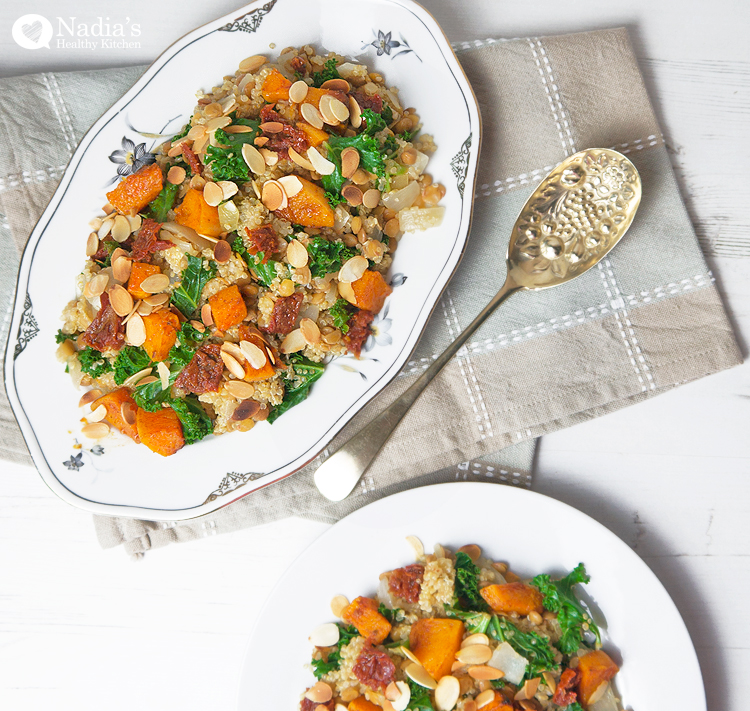 Serves 4
Ingredients
1 Butternut squash, peeled and cubed
1 cup (185g) dry quinoa
2 cups (500ml) vegetable stock - I dissolved 1 vegetable stock cube in 2 cups hot filtered water.
2 lemons, juice only
1 onion, chopped
2-3 cups kale - about 3 big handfuls
1 (390g) can green lentils
5-6 sun-dried tomatoes, sliced - use more if desired
Flaked almonds, lightly toasted
Spices
1 tsp cumin
1 tsp paprika
1/2 tsp cayenne pepper
salt & pepper
Instructions
Preheat your oven to 200*C/400*F
Once you've cubed your butternut squash, transfer into a large bowl then add the spices and drizzle with olive oil - about 2 tbsp or enough to evenly coat all the cubes.
Bake for about 30 minutes or until soft.
While the squash is baking, start toasting the flaked almonds in a small pan over a medium/low heat (no oil needed!!). Make sure you keep your eyes on them as they brown quickly!
Give the quinoa a good rinse under the tap then add to a medium pan. Add the stock and cook over a high heat. Once it starts to boil, lower the heat, cover and simmer for around 15 minutes or until the quinoa has soaked up all the water. Leave to one side.
Heat about 1 tbsp of oil in a frying pan and add in the chopped onion. Saute for about 5 minutes or until the onions are transparent.
Add the lentils then pour over the lemon juice and sprinkle some salt and pepper to taste. Cook for a couple more minutes.
Add the kale and continue cooking for a few minutes until the kale starts wilting.
Once the butternut squash is ready, transfer into the pan with the onions, then fold in the cooked quinoa.
Take off the heat and top with the sun-dried tomatoes and toasted flaked almonds.
Serve, Enjoy!
Nadia's Healthy Kitchen https://nadiashealthykitchen.com/
nbmn