Rich and moist banana bread with a smooth and creamy walnut frosting is the perfect afternoon treat. Made with oats, ground walnuts and banana, it's perfect for breakfast too!
I do love a good slice of cake, but if I had the choice I would always pick a dense slice of banana bread. I love dense cakes and sometimes sponge cakes are just too dry for my liking. They're usually topped with some sort of frosting or come with a layer of jam in the middle to compensate for their dry texture, and the frosting is always sickly sweet and never healthy.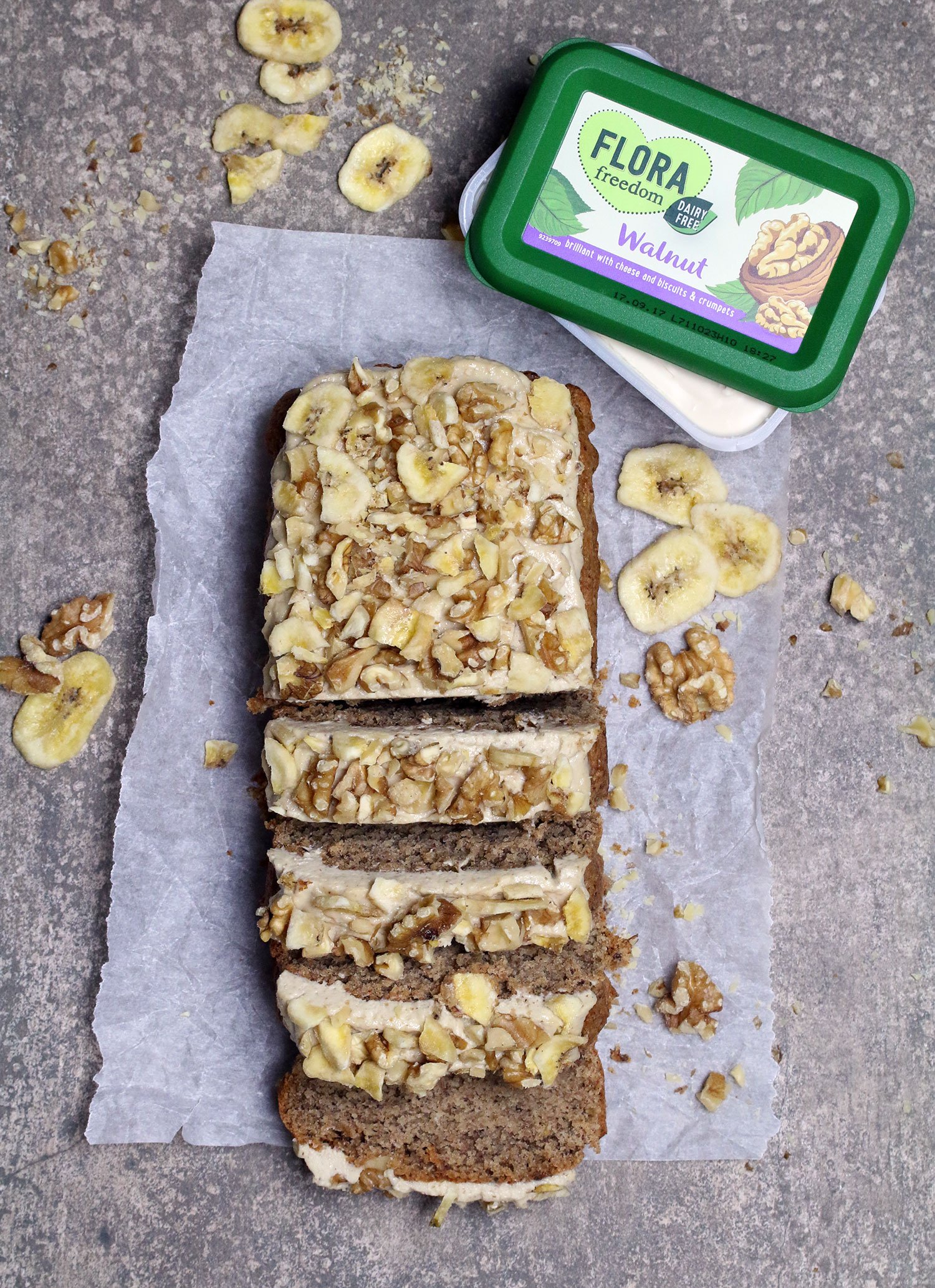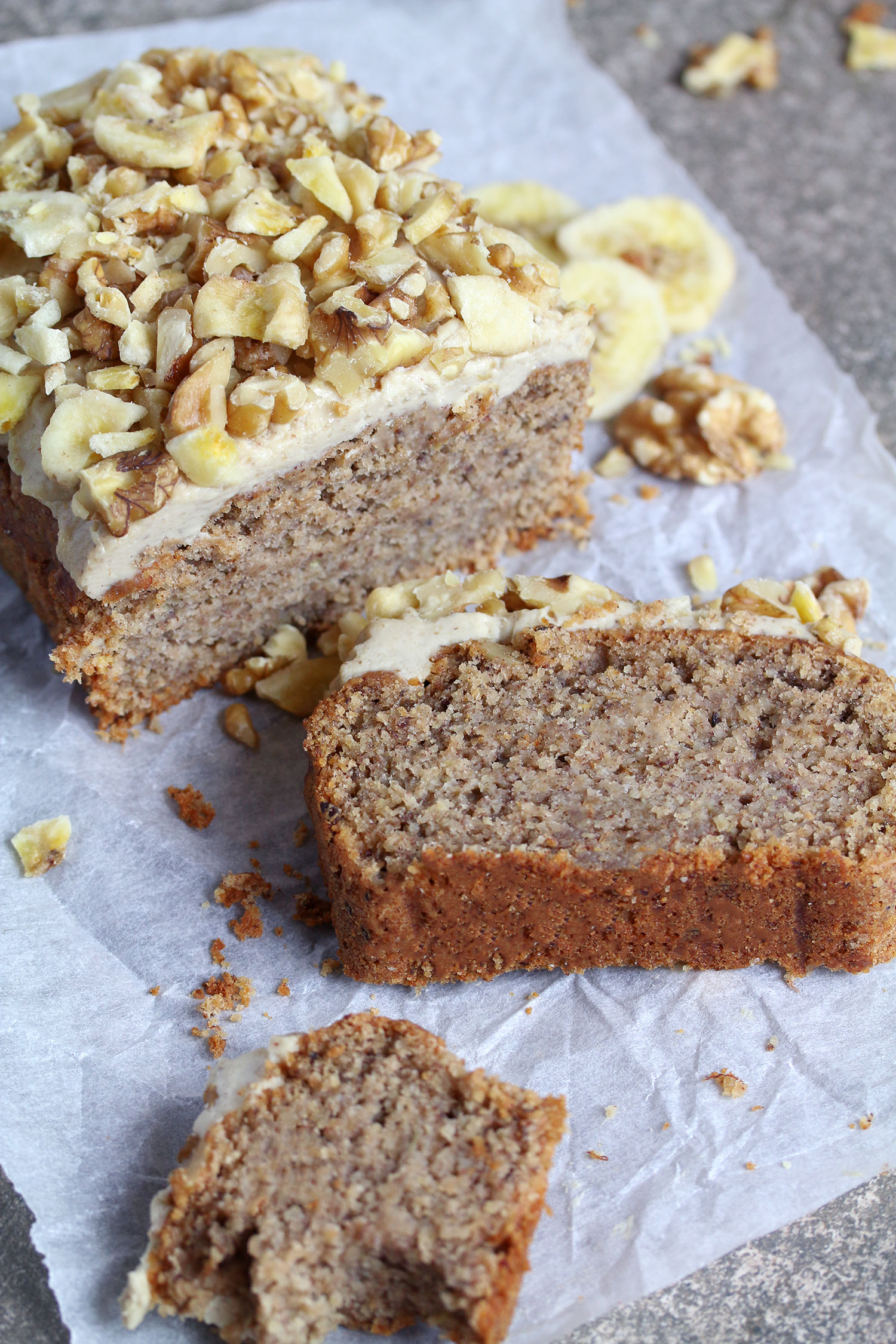 I created this recipe with the help of Flora's new dairy-free walnut spread. The flavour of the walnuts comes through beautifully, making it perfect for this banana walnut bread recipe. I often bake with coconut oil but sometimes the coconut flavour is really strong and overpowers the other flavours that I'm trying to emphasise – in this case walnuts.
The spread is dairy-free and completely plant-based, making it perfect for vegan baking.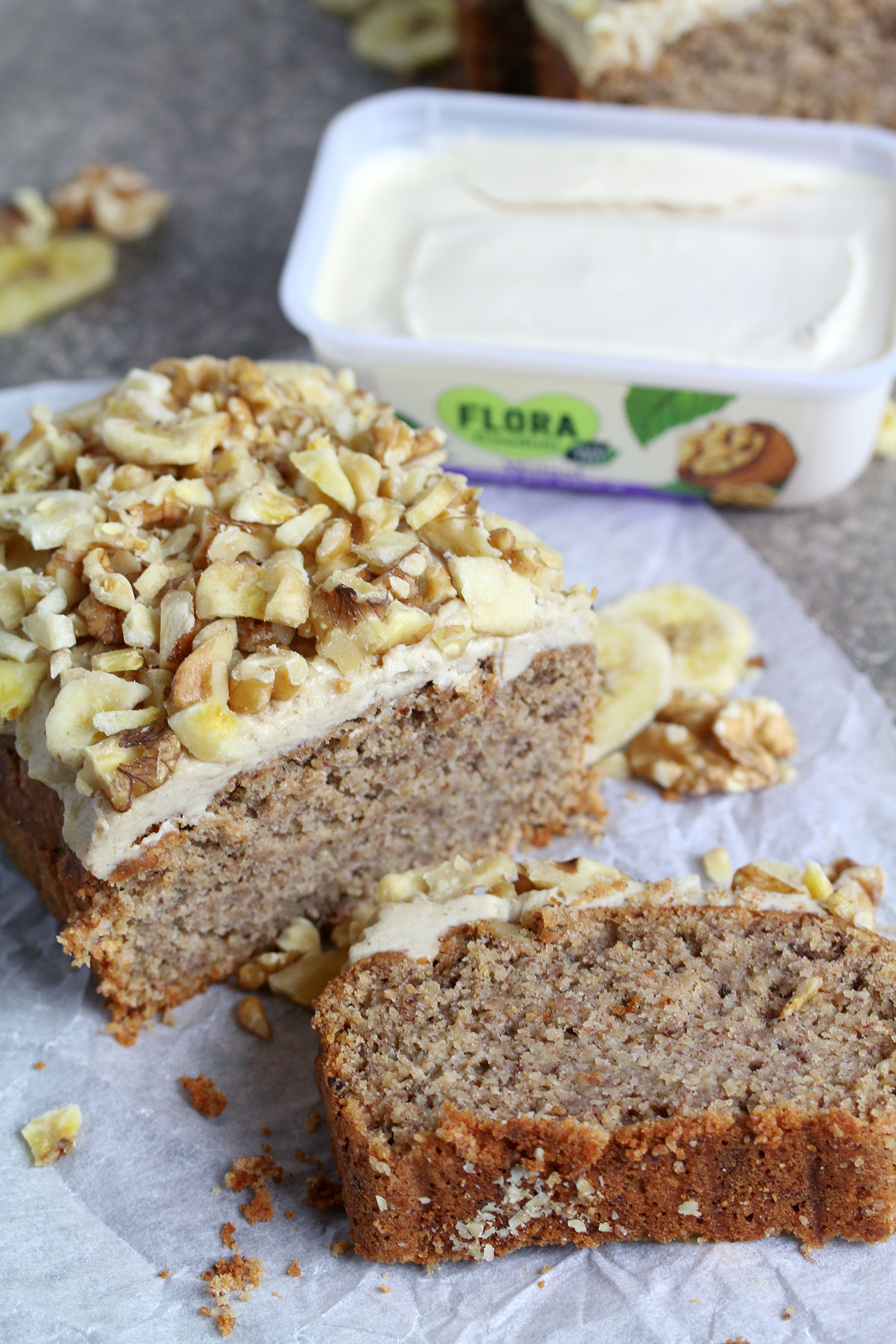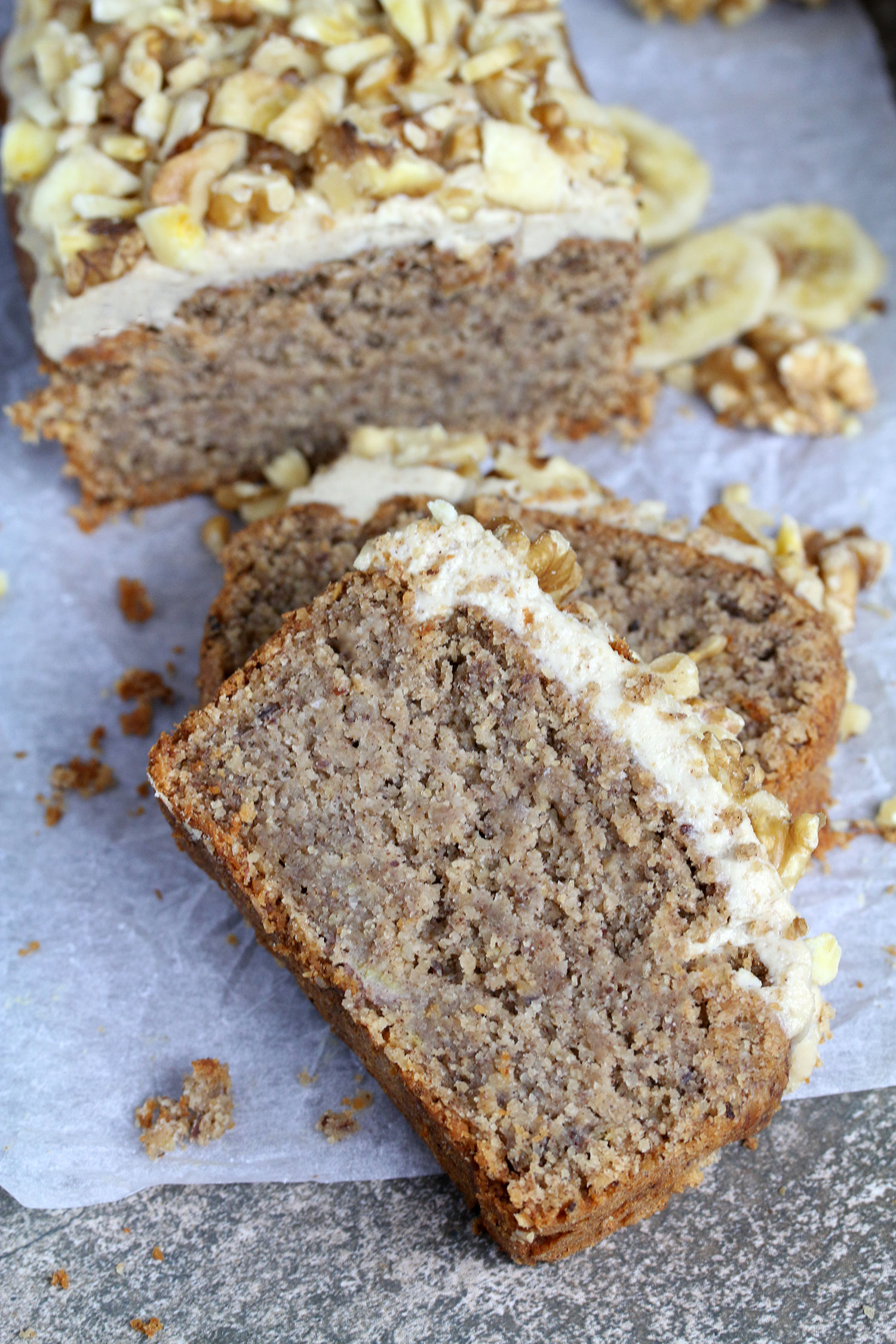 Not only is this banana bread moist, it's also topped with a frosting – a healthier-than-usual frosting that's packed with omega-3 essential fatty acids (the type of fat you NEED in your diet and that most of us don't get enough of). It's not overly sweet so it doesn't overpower the taste of the cake itself, something that frostings often do.
Due to the presence of oat flour and banana, the loaf is also higher in fibre than a cake made with white flour. This, along with the use of coconut sugar instead of refined sugar, gives it a slightly lower GI number, meaning it won't have the same impact on your blood sugar levels, which is always a good thing. Fibre is also important to nourish your gut bacteria and help them thrive for a better functioning digestive system
If you're going to treat yourself, why not enjoy something that's tasty AND better for you at the same time. Win-win situation right here.

---
Banana Bread with Creamy Walnut Frosting – Vegan & Gluten-free
Makes: 16 slices
Ingredients:
2 cups (233g) oat flour – use gluten-free if allergic/intolerant
1 cup (100g) ground walnuts – or you can use ground almonds
1/2 cup (100g) coconut sugar – or you can use brown sugar
3 tsp baking powder
2 tsp cinnamon
1/2 tsp salt
Wet ingredients
4 small ripe bananas, mashed
120ml Flora walnut spread, melted
4 tbsp milk of choice
1 tsp vanilla extract
2 flax eggs: 2 level tbsp milled flaxseed + 6 tbsp hot water
For the frosting:
1 cup (110g) whole walnuts
4 level tbsp (57g)
Flora walnut spread
, melted
4 tbsp maple syrup
6 tbsp almond or soya milk – make sure the milk is cold
1/2 tsp vanilla extract
To decorate – chopped walnuts and banana chips
Method:
Prepare the flax eggs by mixing 2 tbsp milled flaxseed with 6 tbsp hot water. Leave for 10-15 minutes to set.
Preheat your oven to 180*C (160*C fan assisted)/ 350*F
In a large bowl, mix together all the dry ingredients.
Pour in the wet ingredients and mix to combine.
Transfer the batter into a loaf tin lined with parchment paper. I used a 22×12 cm loaf tin.
Bake in for 55-60 minutes. Leave to cool completely before frosting.
To make the frosting – blend all the frosting ingredients together until smooth. If the mixture is too soft, refrigerate for 30-60 minutes. Spread over the cooled loaf and top with chopped walnut and banana chips.
Enjoy!
---

Thanks to Flora for sponsoring this post. Commissioned posts is how I'm able to continue working on the blog and creating recipes and recipe videos for you. As always, all opinions are my own.