Banana Blueberry Bread
If I had to choose between a fluffy sponge cake and a dense, moist one, I would always choose the latter – especially if it's banana cake!
I've made a banana bread in the past where I used a mixture of banana and avocado in the dough and it turned out to be one of my most popular blog posts! So I thought it's about time I made another one, a more traditional version without the avocado, but with a little fun twist – a blueberry frosting! Because everyone knows banana and blueberries go exceedingly well together, especially in the form of a cake, cupcakes or muffins.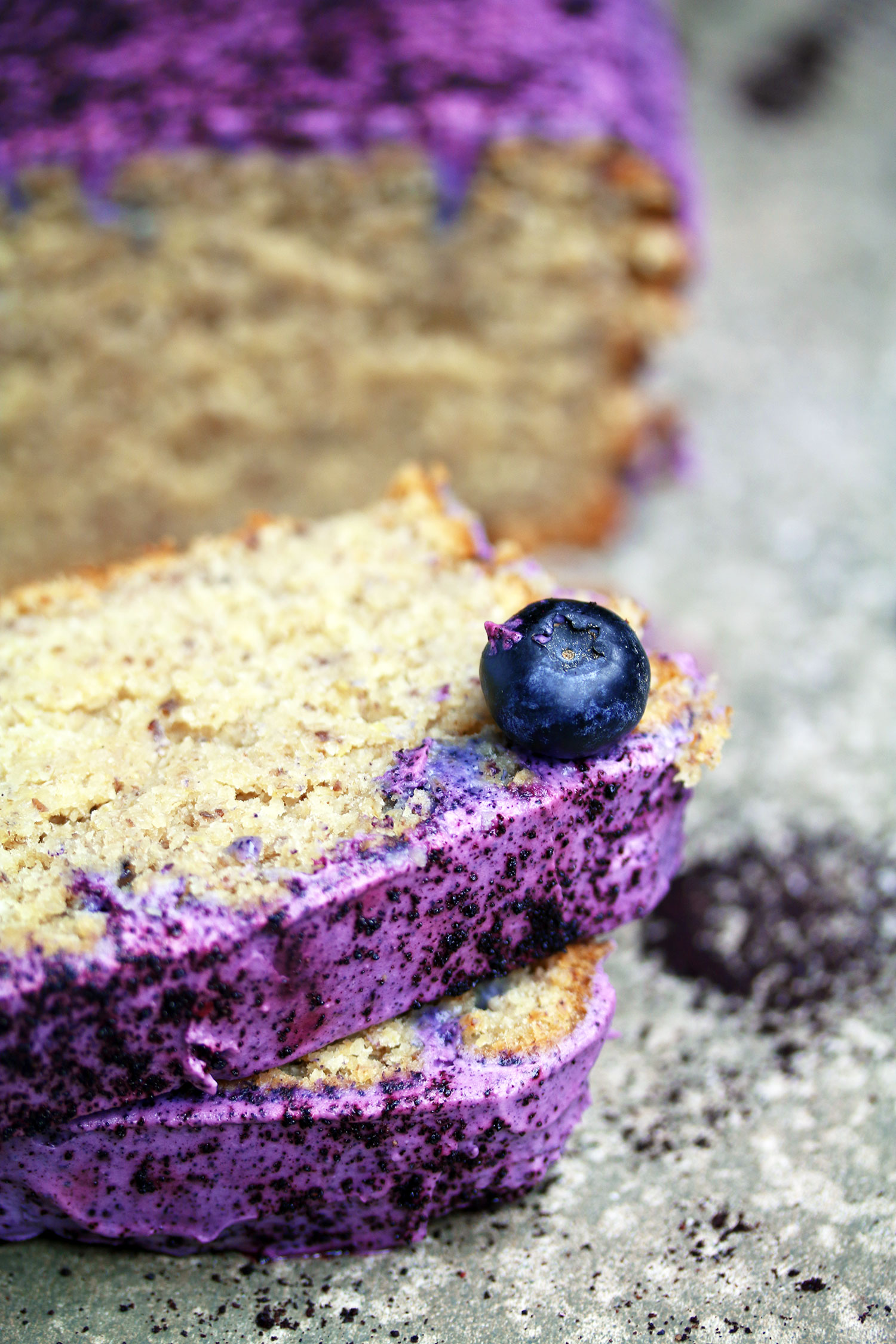 I created this recipe for Arctic Power Berries using their blueberry powder, my personal favourite out of their berry powder range.
I love using berry powders in things like frosting and to add a gorgeous tint of colour to desserts. Something I can't always do using fresh or frozen berries as they add too much moisture. By just adding a tablespoon of blueberry powder to the frosting, it instantly gave this banana cake so much more character and personality. The pink/lilacy hue in the frosting definitely makes this cake perfect for a little girl's (or grown woman's!) birthday party or any kind of girly celebration like a graduation or a hen party.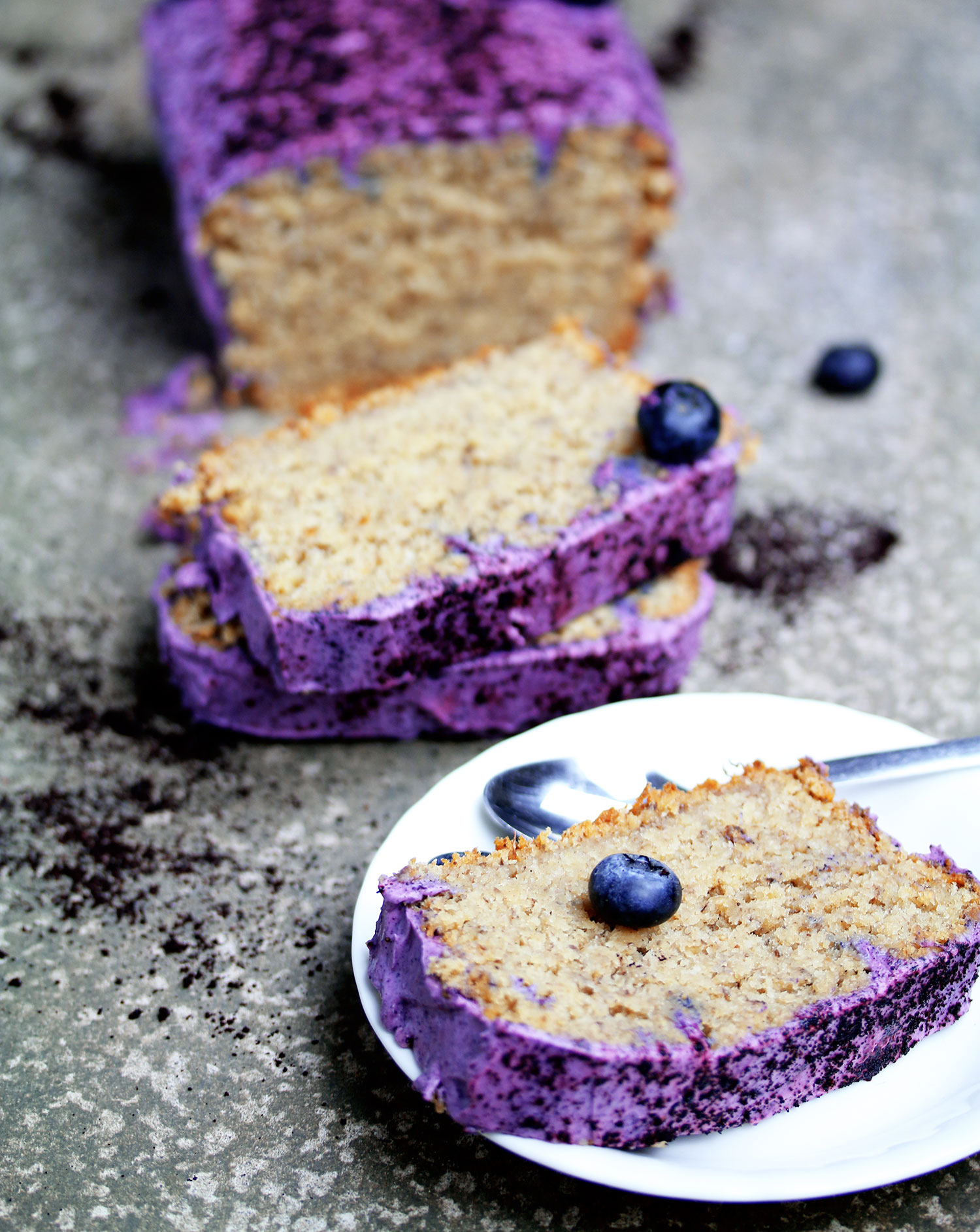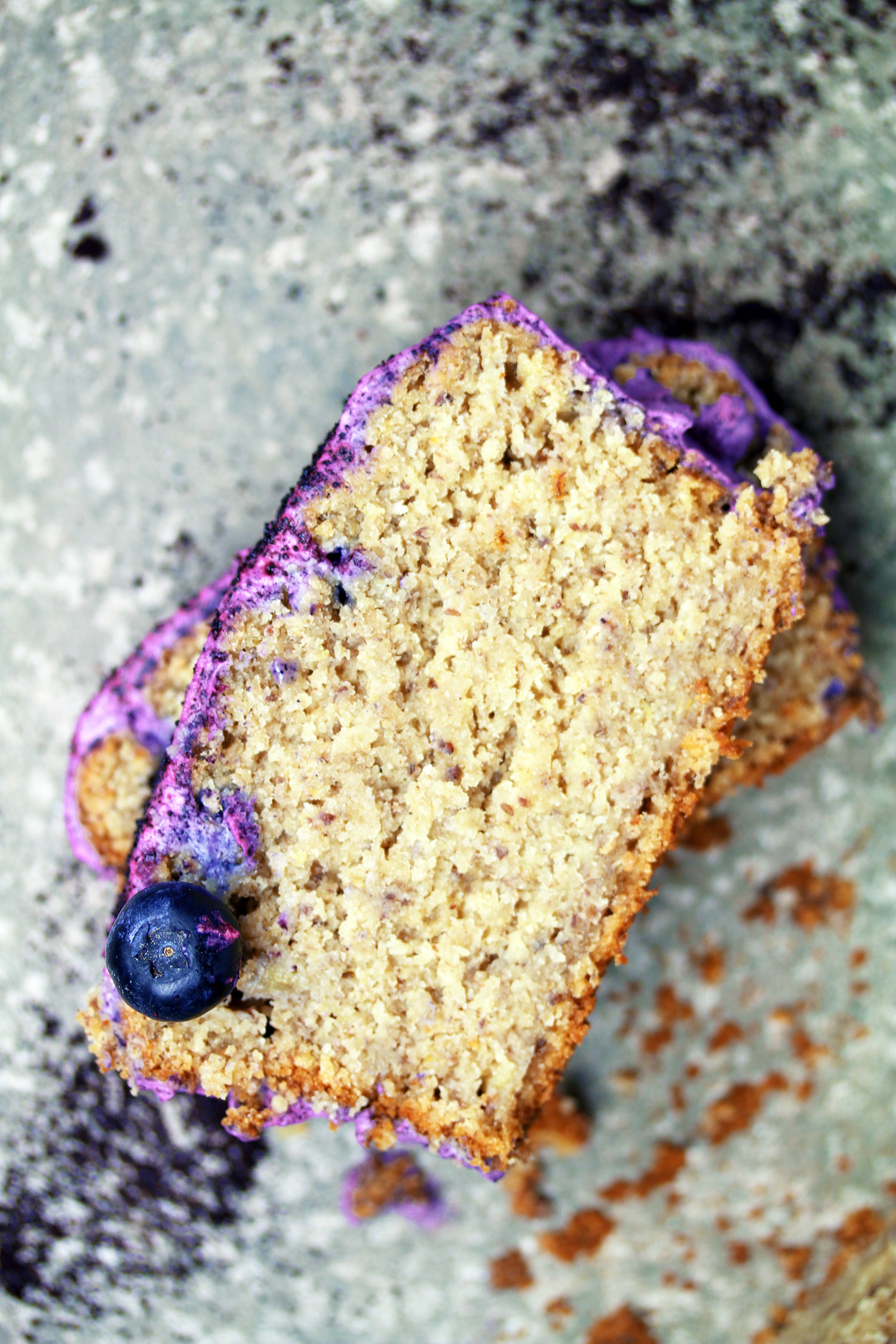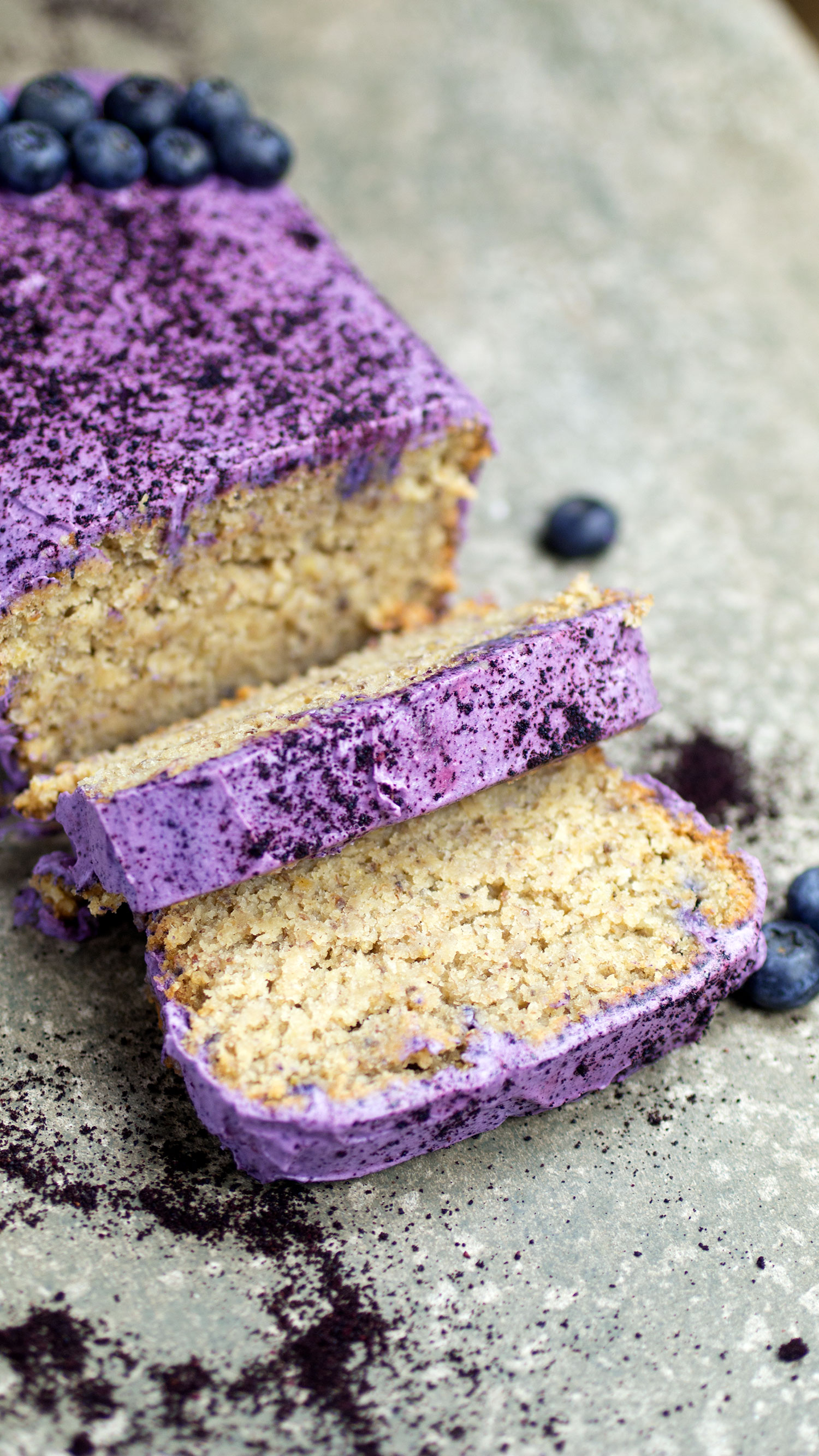 The cake itself is flourless made using ground up oats and ground almonds. This combination is becoming my favourite two ingredients in baked goods! I seem to be using this combo in almost all my recipes! They just work so well together and they're the perfect combination of complex carbs and healthy fats, which is a bonus.
The frosting is a simple mixture of coconut milk, maple syrup and blueberry powder – that's it!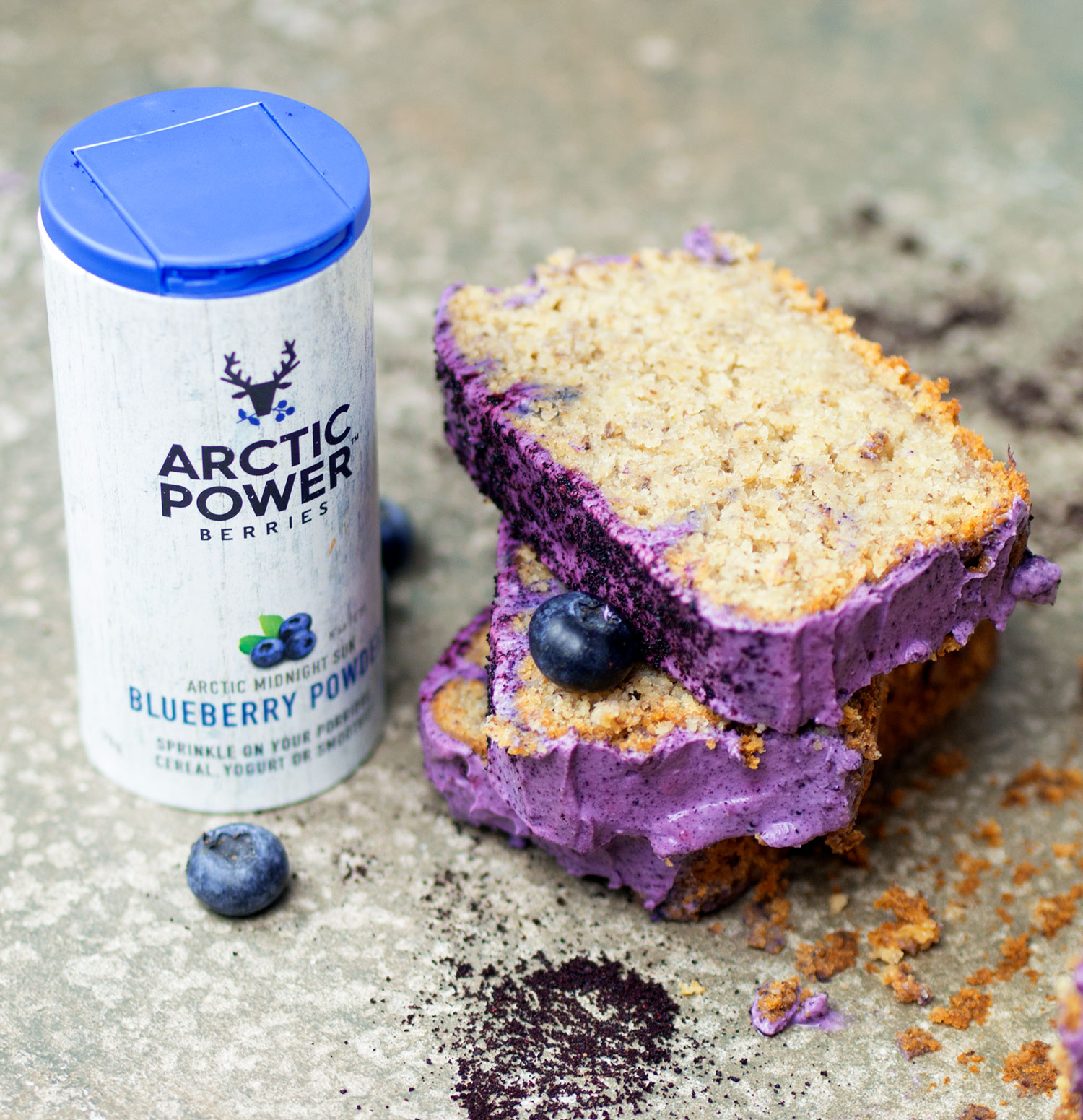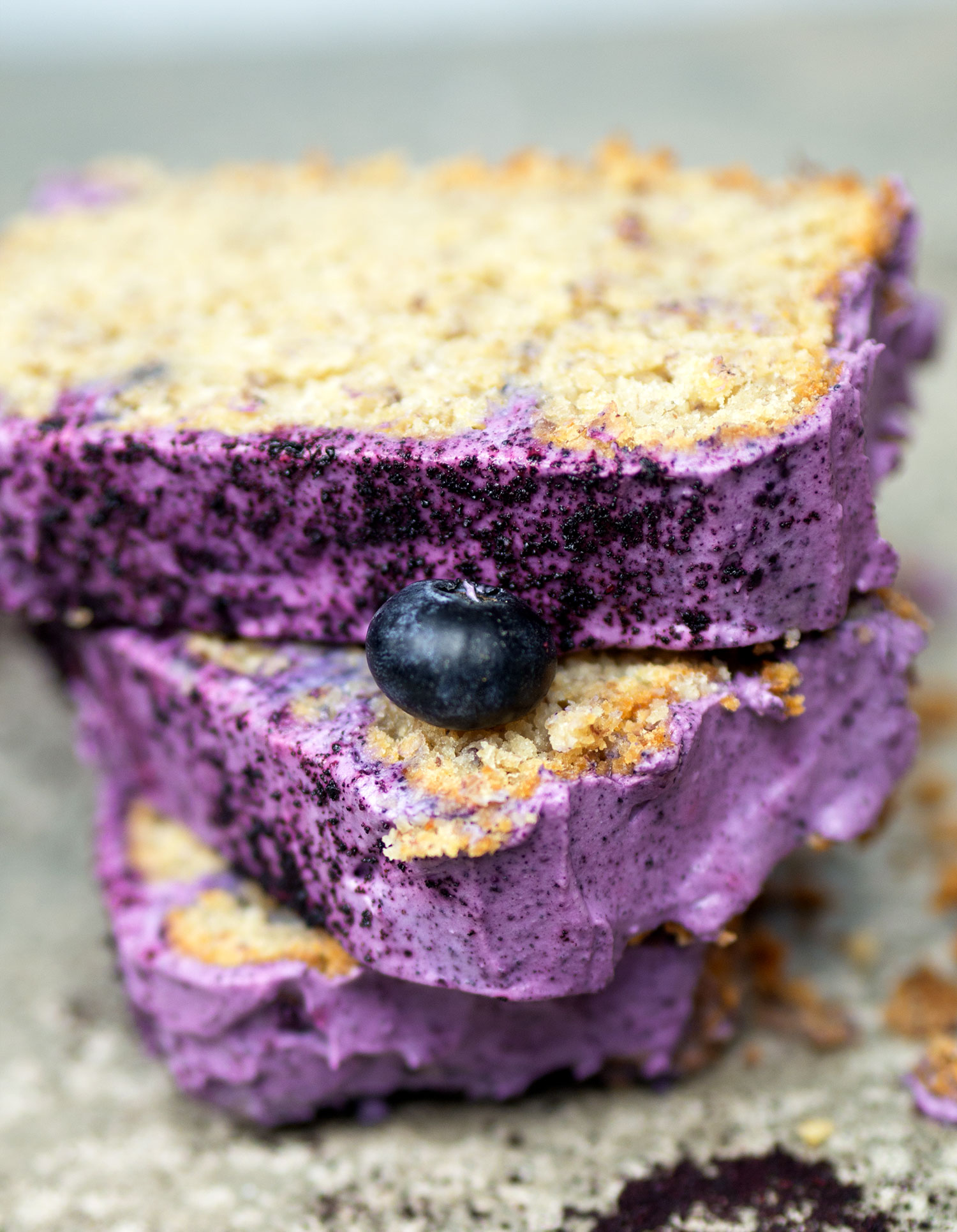 Banana Blueberry Bread
2017-01-26 13:40:11
Serves 14
Dry ingredients
2 cups (233g) oat flour - use gluten-free if allergic/intolerant
1 cup (100g) ground almonds
1/2 cup (100g) coconut sugar (you can use brown if you prefer)
3 tsp baking powder
1/2 tsp salt
Wet ingredients
3 ripe bananas, mashed
6 tbsp coconut oil, melted
4 tbsp milk of choice
1 tsp vanilla extrat
2 flax eggs - 2 tbsp milled flaxseed + 6 tbsp hot water
For the frosting
1 can full fat coconut milk refrigerated overnight
1 tbsp maple syrup
1 tbsp blueberry powder
Instructions
Preheat your oven to 180*C (160*C fan assisted)/ 350*F
Prepare the flax eggs by mixing the milled flaxseed with the warm water in a small bowl. Leave to set for 10-15 minutes.
In a large bowl, mix together all the dry ingredients.
Pour in the coconut oil, milk, vanilla extract and flax eggs. Mix well to combine
Pour the mixture into a loaf tin covered with parchment paper (I use a 22x12 cm loaf tin)
Bake for 60-70 minutes.
While the cake is baking, prepare the frosting - remove the solid part only of the coconut milk and add to a large bowl. Add in the maple syrup and whip for a few minutes until fluffy.
Fold in the blueberry powder. Place in the fridge and leave to chill until ready to frost.
Once the cake is baked, leave to cool completely before frosting. If the cake is still warm the frosting will melt!
Enjoy!
UK Health Blog - Nadia's Healthy Kitchen https://nadiashealthykitchen.com/

* This post was commissioned by Arctic Power Berries; however, all opinions are my own.
Share This Post