Baby Hasselback Potatoes
I'm quite new to Hassleback potatoes. I had never heard of them until recently when I came across a photo of them while browsing online and as soon as I saw them, I knew I had to make them!
A lot of the time potatoes are demonised and many people avoid them because they're a starchy carbohydrate and eating them = putting on weight, but that's not the case! Carbohydrates are the body's first source of energy and your cells constantly need glucose to survive and function properly. It's only when you eat too many carbohydrates that your body starts storing the excess as fat. So as long as you eat them in moderation, potatoes won't harm your health and you won't put on weight!
Anyway, back to my baby hasselback potatoes. Crispy and golden on the outside, soft in the middle and an absolute delight to look at! You won't want to go back to plain potatoes ever again! By simply adding those few thin cuts into your potatoes (which may look hard but it's actually not and takes no time at all!), you make them look extra fancy.
I like to add some paprika, cumin and garlic powder to my baby hasselback potatoes for an extra kick, but you can keep it simple by just seasoning with just salt and pepper.
Interesting fact – Hasselback potatoes are named after a hotel/restaurant in Stockholm, Sweden where the recipe was invented back in the 1700s.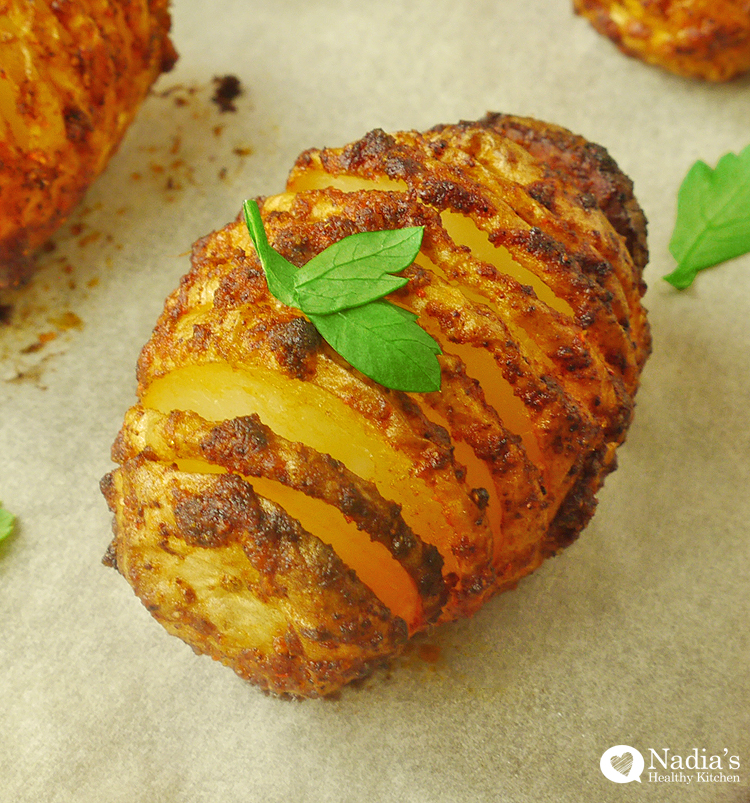 Baby Hasselback Potatoes
Ingredients
1 kg baby potatoes
2 tsp paprika
2 tsp cumin
1/2 tsp garlic powder
1/2 tsp salt (use more or less to taste)
generous pinch of black pepper (to taste)
4 tbsp olive oil
chopped parsley to decorate
Method
Preheat your oven to 200°C/400°F
Line a baking sheet with parchment paper (baking paper)
Prepare the coating by mixing the spices, garlic powder, salt, pepper and oil
Scrub the potatoes well, or wash them then pat dry
Using a sharp knife, start making vertical cuts along the baby potatoes and stop about 3/4 of the way down.
Add the potatoes to a large mixing bowl then pour over the spicy coating
Give them a good mix and make sure all the potatoes are evenly coated with the spices/seasoning
Arrange the potatoes, cuts facing up, on two baking sheets
Bake for 40-50 minutes, or until the potatoes are cooked all the way through