Avocado Tomato Bruschetta
I know I'm not alone when I say this – I'm obsessed with avocados! This wasn't the case not too long ago. I remember the first time I tried an avocado, my mum was having it on some toast and I was curious to see what it tasted like so I asked if she could put a bit on a spoon for me to try. This was before I was fully into healthy eating and didn't realise the benefits they had to offer. The minute it touched my tongue I decided I HATED it! It took a while before I decided to give avocados another try. This time I did it properly – mashed avocado with some lemon juice on a piece of bread – I loved it!!! Now I can't get enough of the stuff.
Another thing that I love is bruschetta – the crispy bread it's served on, the flavours and the simplicity of the idea! I've made simple tomato and basil bruschetta many times, then one day it occurred to me, why not add avocado? It made perfect sense.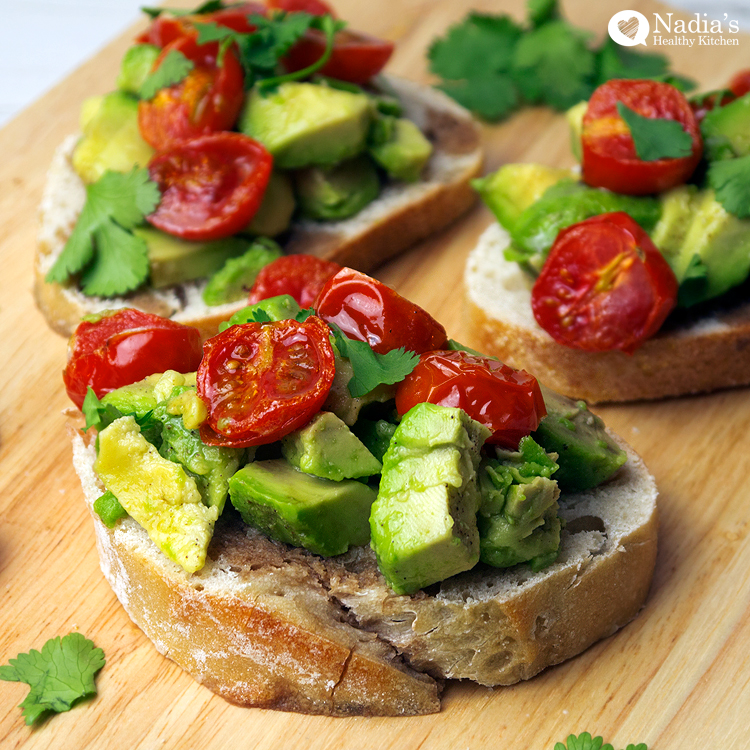 This avocado tomato bruschetta recipe is great to have for parties or whenever you want to prepare finger food. It's also great as a side dish or even as a snack.
Avocados have many health benefits and there are so many reasons to include it in your daily diet. They're high in vitamins (K, C, B5, B6, folate) and minerals (potassium, magnesium, copper, zinc). They're also full of healthy (monounsaturated) fat and have been shown to reduced inflammation and lower cholesterol.
This is a super simple recipe but I wanted to share it because I know many of you, my lovely readers, would love this recipe! I like simple recipes and try to make my recipes as quick and easy as possible without compromising on flavour. Good food doesn't have to be complicated, have many steps, an endless list of ingredients and take hours to prepare!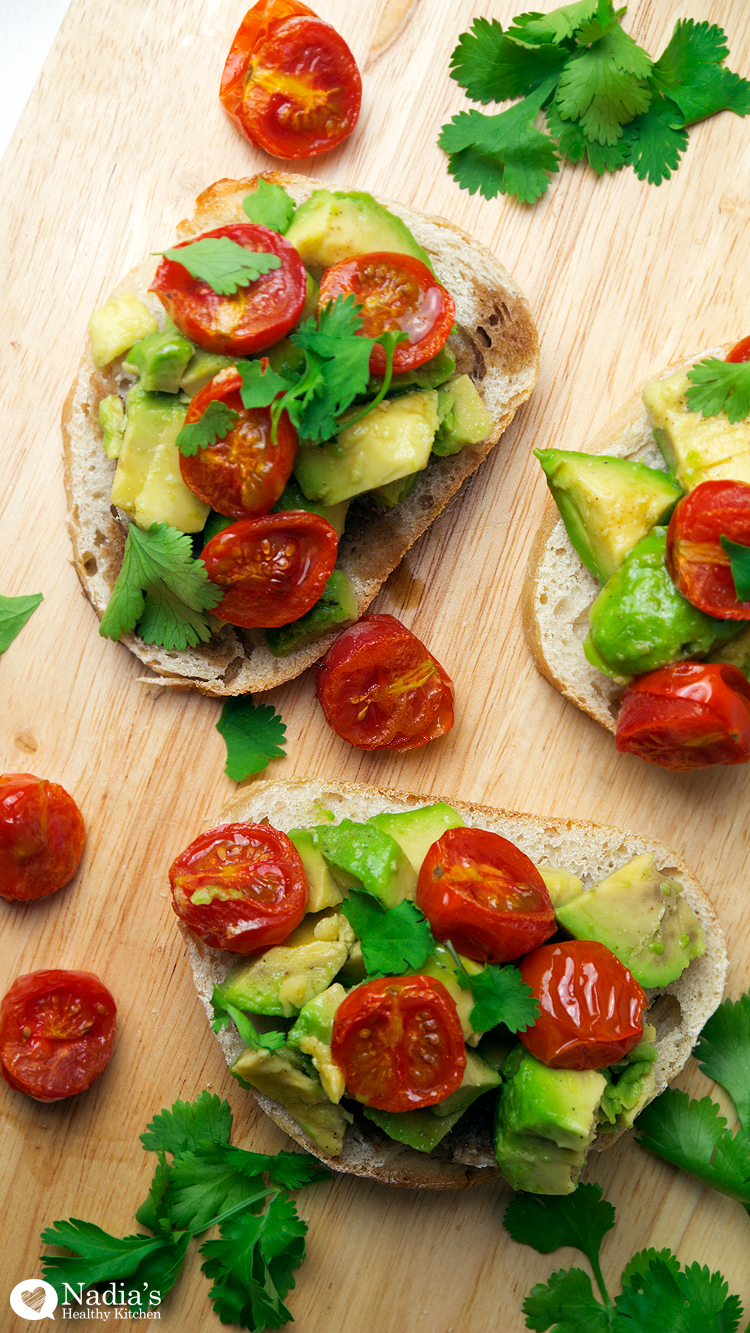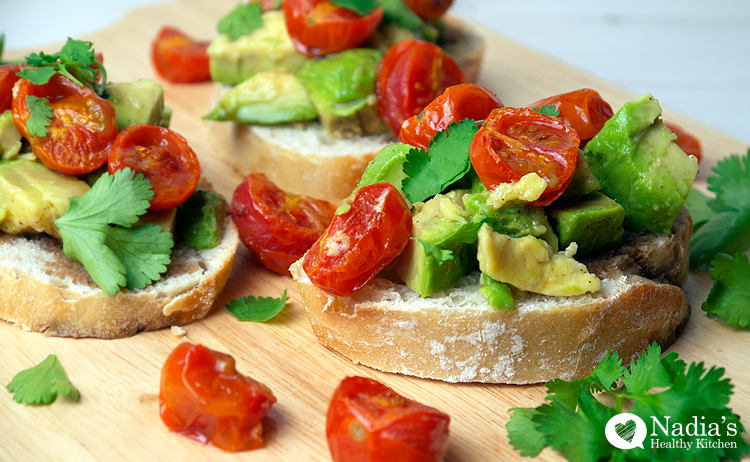 Avocado Tomato Bruschetta
2015-07-05 14:50:05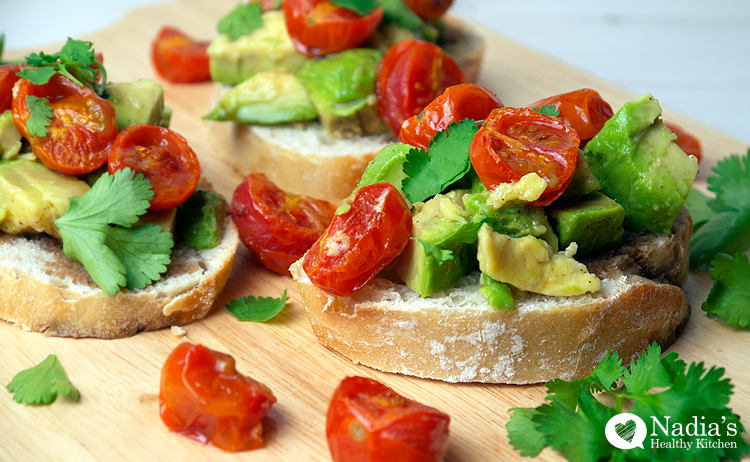 Ingredients
6 slices of sourdough bread
2 ripe avocados
12 baby/cherry tomatoes
Juice of 1/2 lemon
Olive oil
Balsamic vinegar
Fresh coriander, chopped
Optional - a sprinkle of chilli flakes for some heat
Instructions
Preheat your oven to 200*C/400*F
Slice the cherry tomatoes in half and place them in a small bowl. Drizzle with olive oil and give them a quick toss.
Transfer the tomatoes on a baking sheet and bake for 8-10 minutes.
Toast the sourdough slices in the toaster or you can toast them in the oven for a few minutes until the edges brown.
Drizzle about a teaspoon of balsamic vinegar on each sourdough slice.
Cut the avocado into cubes - half the avocado then with the cut side up, slice each avocado in both directions. Scoop the cubes out with a spoon and place in a bowl.
Add the lemon juice to the avocado and season with salt and pepper the avocado.
Top the sourdough slices with equal amounts of the avocado
Add the tomatoes on top
Then finally decorate with the chopped fresh coriander
Nadia's Healthy Kitchen https://nadiashealthykitchen.com/
You may also like these bruschetta recipes: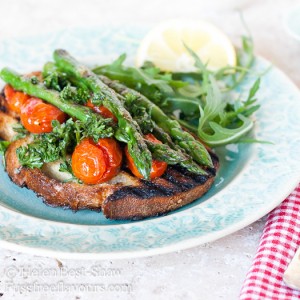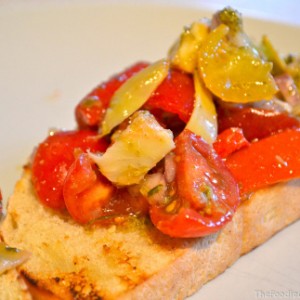 Edamame-Pea Dip + Tofu Ricotta Toasts