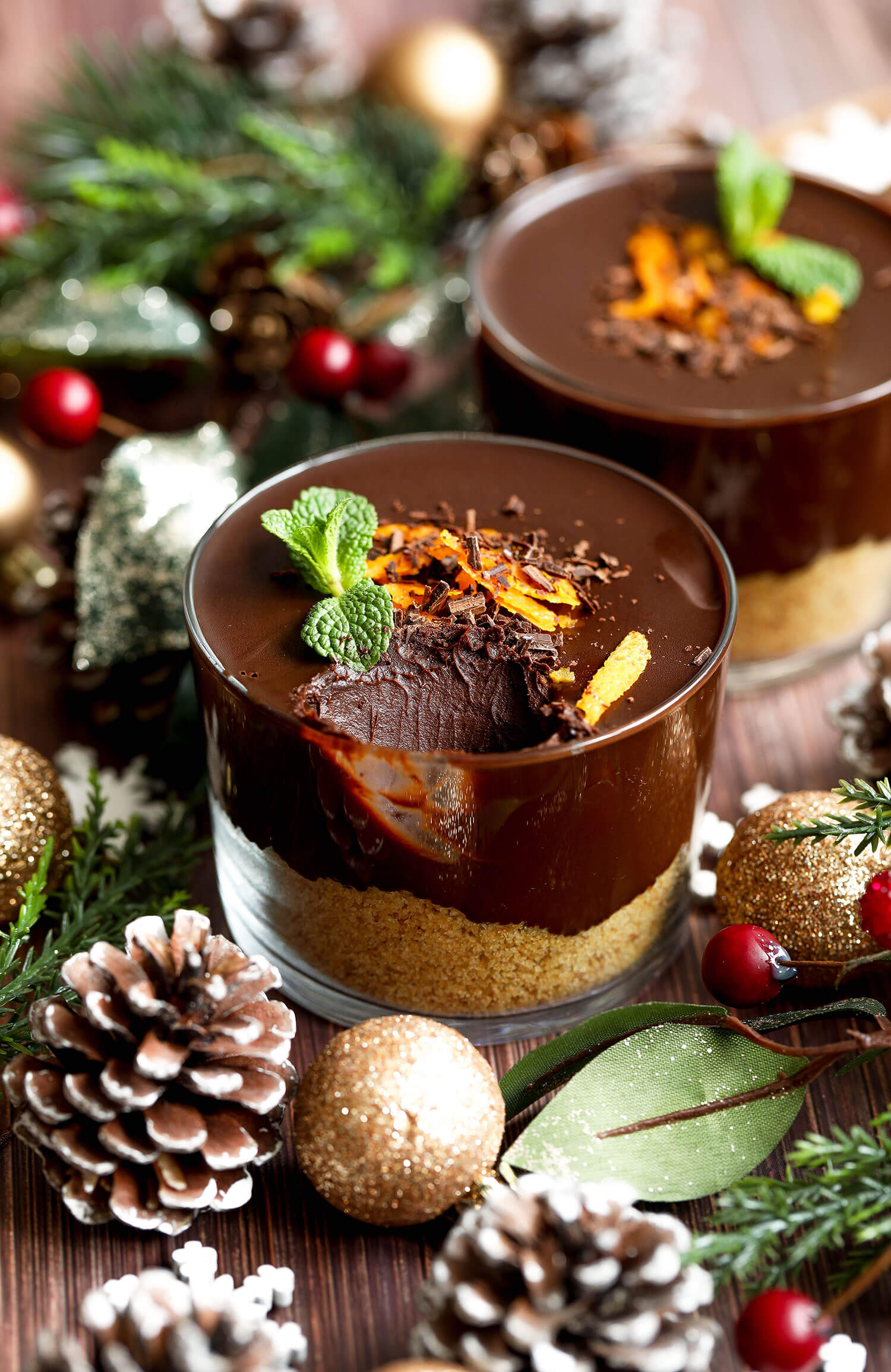 *This post is sponsored by Conscious Chocolate*
Super rich and decadent orange chocolate mousse pots that only call for 5-ingredients and they're both vegan AND gluten-free!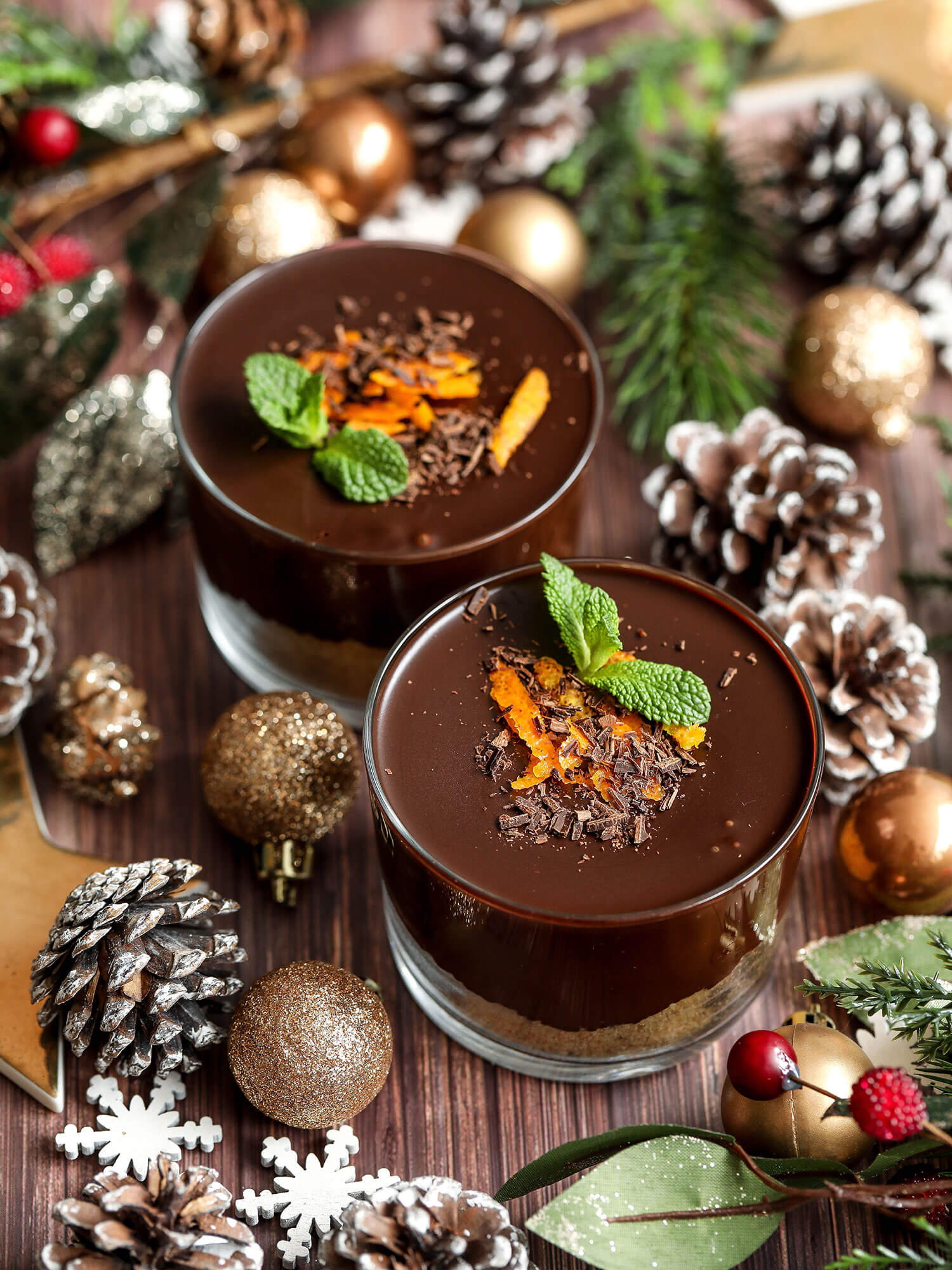 The festive treats keep on coming! I've made a fair few Christmas recipes this year from mince pies to a Gingerbread Bundt Cake, but I have to admit that as a chocoholic, my ultimate Christmas treat has to be one that contains chocolate!
These 5-ingredient orange chocolate mousse pots are as simple as a dessert can get. There is no baking required and all you have to do is blend biscuits with butter to make the base, and pour a simple melted chocolate and coconut milk mixture on top and leave in the fridge to set!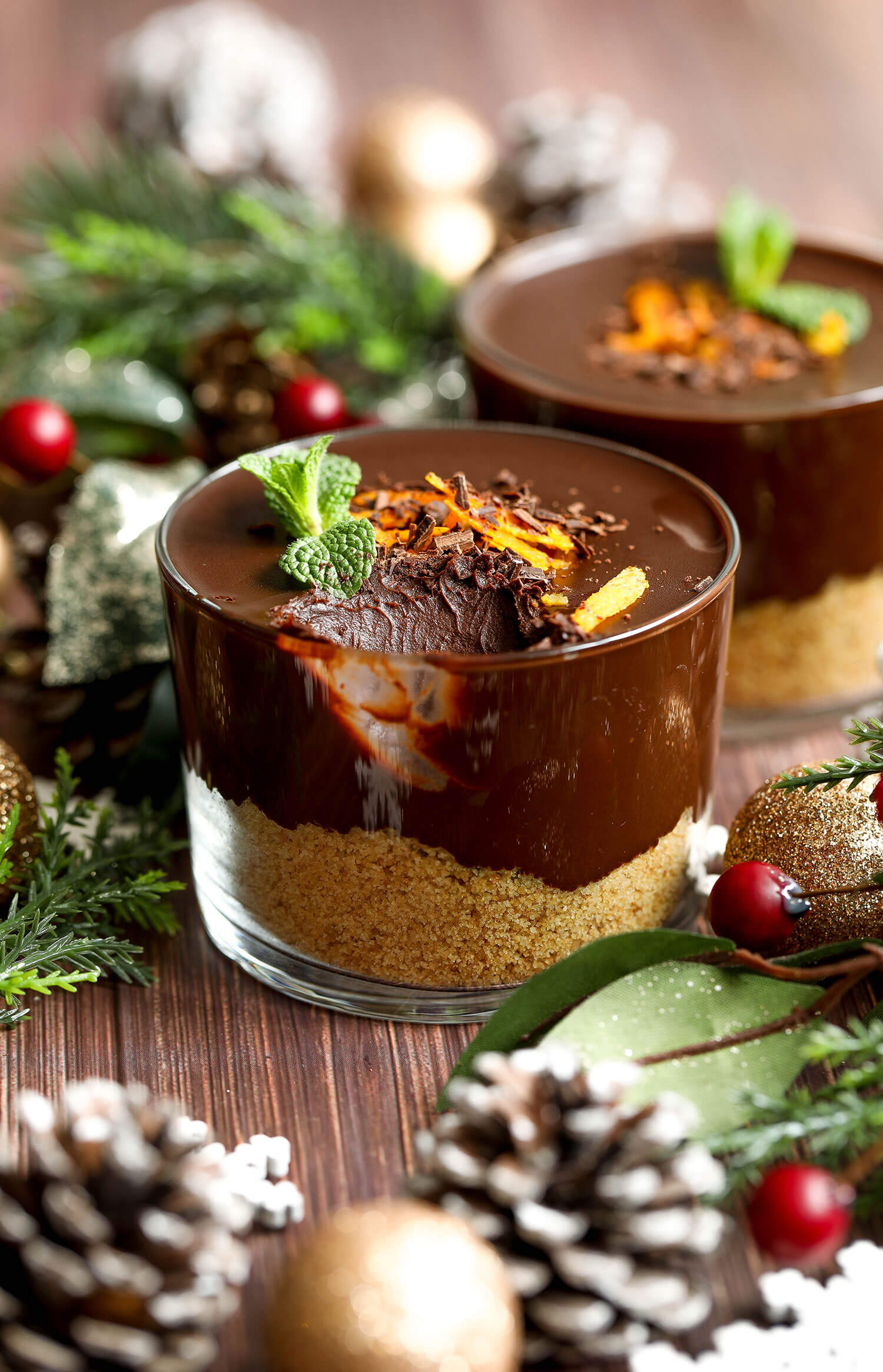 I created this recipe for Conscious Chocolates – their chocolates are handmade in West Sussex, UK from ethically-sourced, raw ingredients. They taste so indulgent, smooth and creamy and made without any refined sugar. Their entire range is organic, free from dairy, soya, refined sugar and gluten and so is suitable for vegans, but also raw foodies. All Conscious Chocolate packaging is plastic-free and their factory is powered by 100% renewable energy.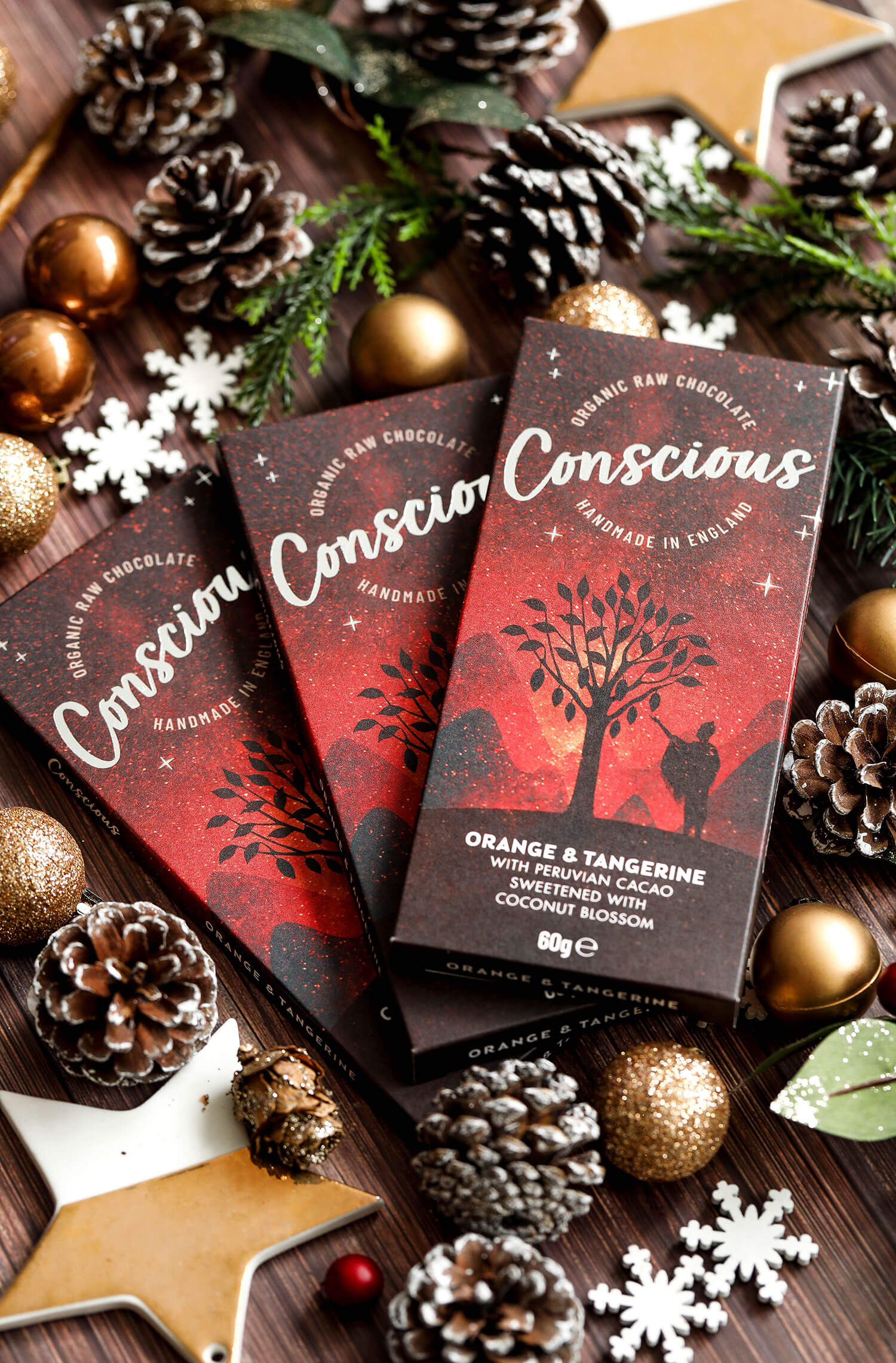 Conscious Chocolate bars come in so many amazing flavours, including:
Peppermint
Four Nuts
Orange and Tangerine (my fave!)
Love Potion
Sour Cherry
Goji & Coconut
Citrus Zest
Chia & Coconut
Maca & Spirulina
75% Dark
85% Dark
And 100% Pure Dark
They also have chocolate covered snacks like date, nuts and figs. I love how creamy and smooth the chocolate is and how it just melts in your mouth. It's the perfect addition to your healthier, vegan and gluten-free treats.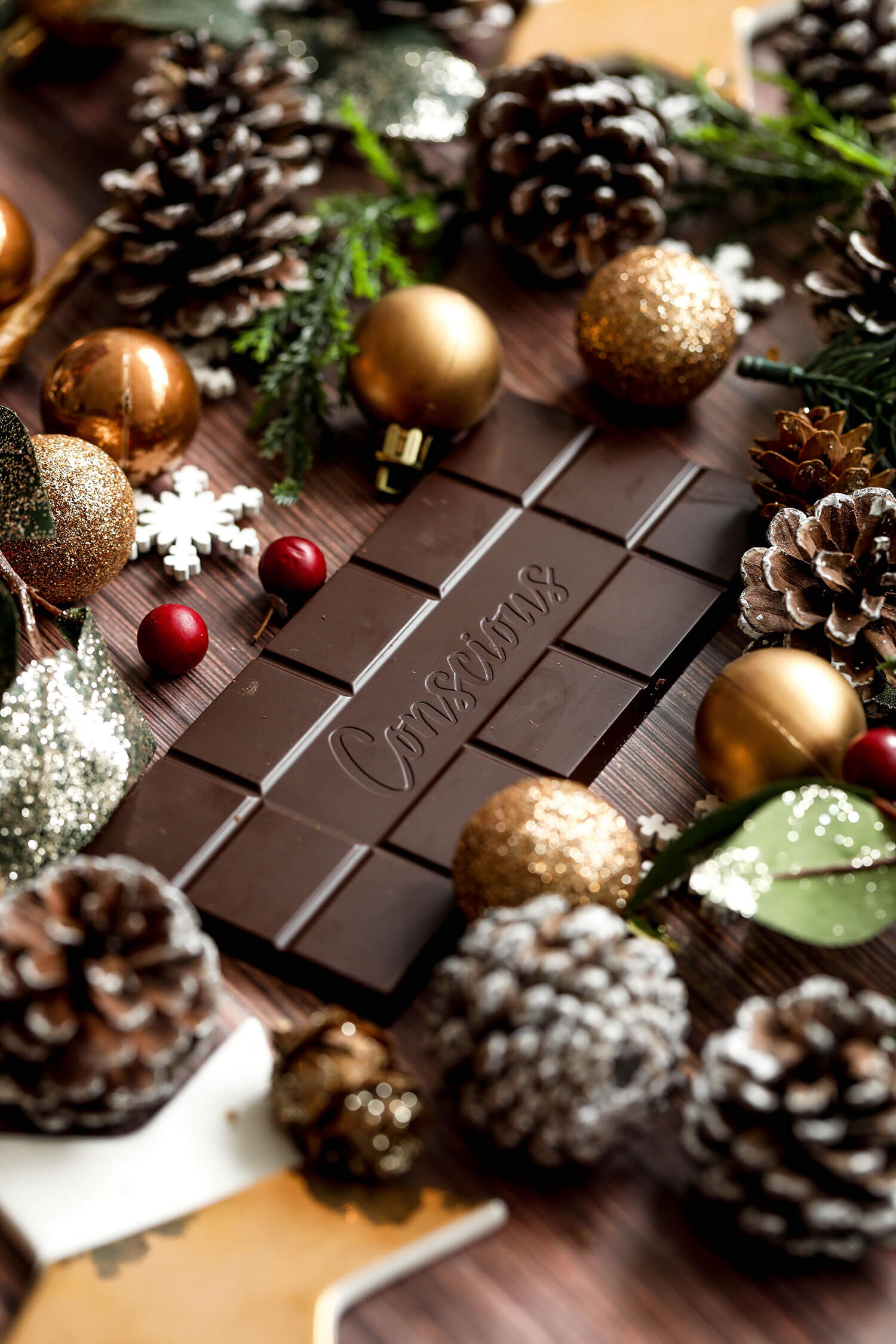 Seeing as Christmas is only a couple of days away, I wanted to create a dessert recipe that's quick, easy and not overwhelming. Something that anyone can make and everyone can enjoy!
I decided to use gluten-free digestive biscuits, which you can find in most major supermarkets, but feel free to use regular digestives if you're not fussed about the recipe being gluten-free. You can also use any chocolate flavour really, I just think that chocolate orange is the best Christmas flavour combo ever!
It is quite a rich treat, so I would recommend dividing the mixture between 4 dessert glasses, jars or pots.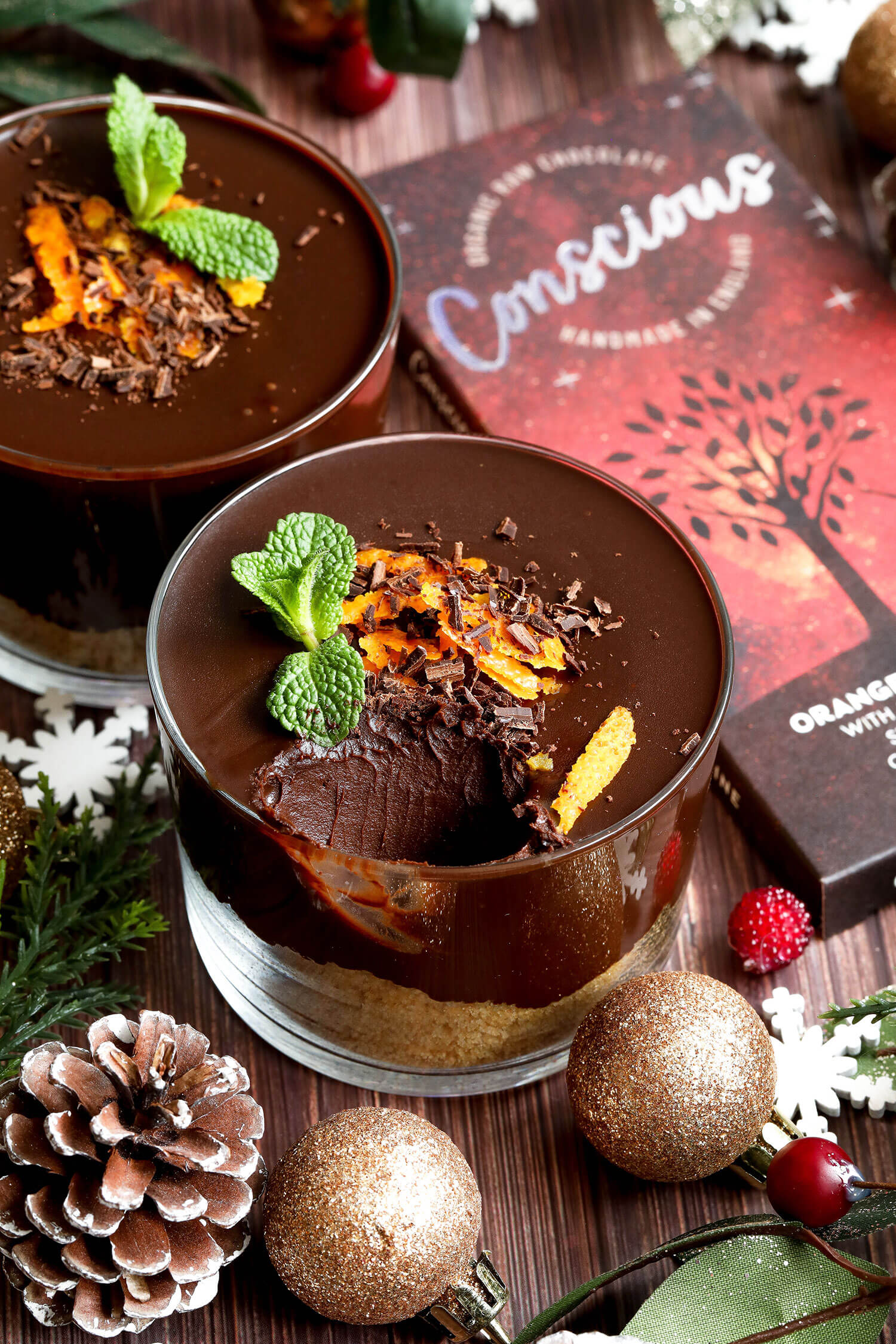 5-Ingredient Orange Chocolate Mousse Pots
Makes: 4 pots
Ingredients
For the base
60g gluten-free digestive biscuits
15g dairy-free butter, melted
For the mousse
200g Orange & Tangerine Conscious Chocolate
200g full fat coconut milk
1-2 tbsp The Raw Chocolate Co Coconut Blossom Sugar
Method
Add the digestives biscuits to a food processor and pulse until you have a fine crumb mixture. Add the melted butter and pulse again until combined.
Divide the base mixture between 4 dessert glasses/pots and refrigerate while you make the mousse layer.
Pour the coconut milk into a saucepan and heat over a medium heat until it starts to bubble, then take off the heat.
Break the chocolate into a heat-proof dish, add in the coconut blossom sugar and pour in the hot coconut milk. Leave to sit for a minute, then whisk until you have a smooth velvety mixture.
Pour into the glasses/pots, and leave to cool slightly before transferring to the fridge to set.
Allow to chill in the fridge for 2-3 hours, or until set.
Enjoy!
Share This Post