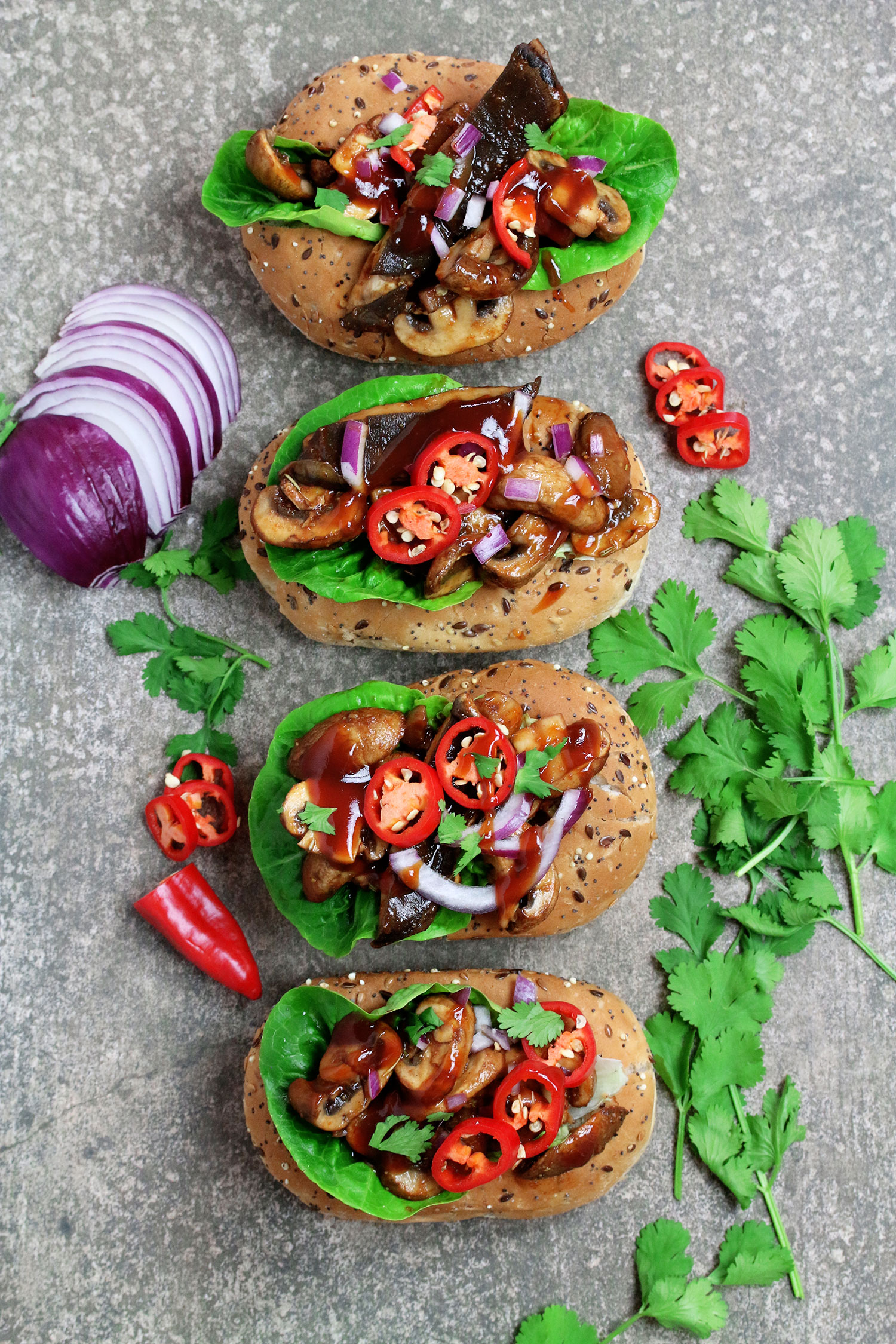 Food Love Stories, brought to you by Tesco
"Plant-based cooking is about celebration" the opening line in this video that Chef Derek created for Tesco Food Love Stories really resonates with me and I completely agree with his philosophy. For me, using fruit, vegetables, legumes, beans, pulses, nuts, seeds and whole grains is all about experimenting and creating delicious foods that are colourful, delicious and healthy.
Whenever I tell people that I eat a mainly plant-based diet and very little animal products, I'm immediately met with words of astonishment and more than often a look of concern.
"Really?? So what do you eat then?" is something I hear a lot.
Take out dairy, eggs and meat and you're left with an endless list of other ingredients that I do eat on a daily basis. So to answer that question…I eat ALMOST EVERYTHING. It's only because in our society and in this day and age animal products have become such a huge part of our diets that the idea of taking out those ingredients seems like an extreme choice. A very limiting choice. It's true that eating out may not be as exciting since most restaurants have very few if any vegan options, and most of the time those vegan options are boring or unhealthy, but cooking plant-based at home can be so fun, cheap and most certainly delicious!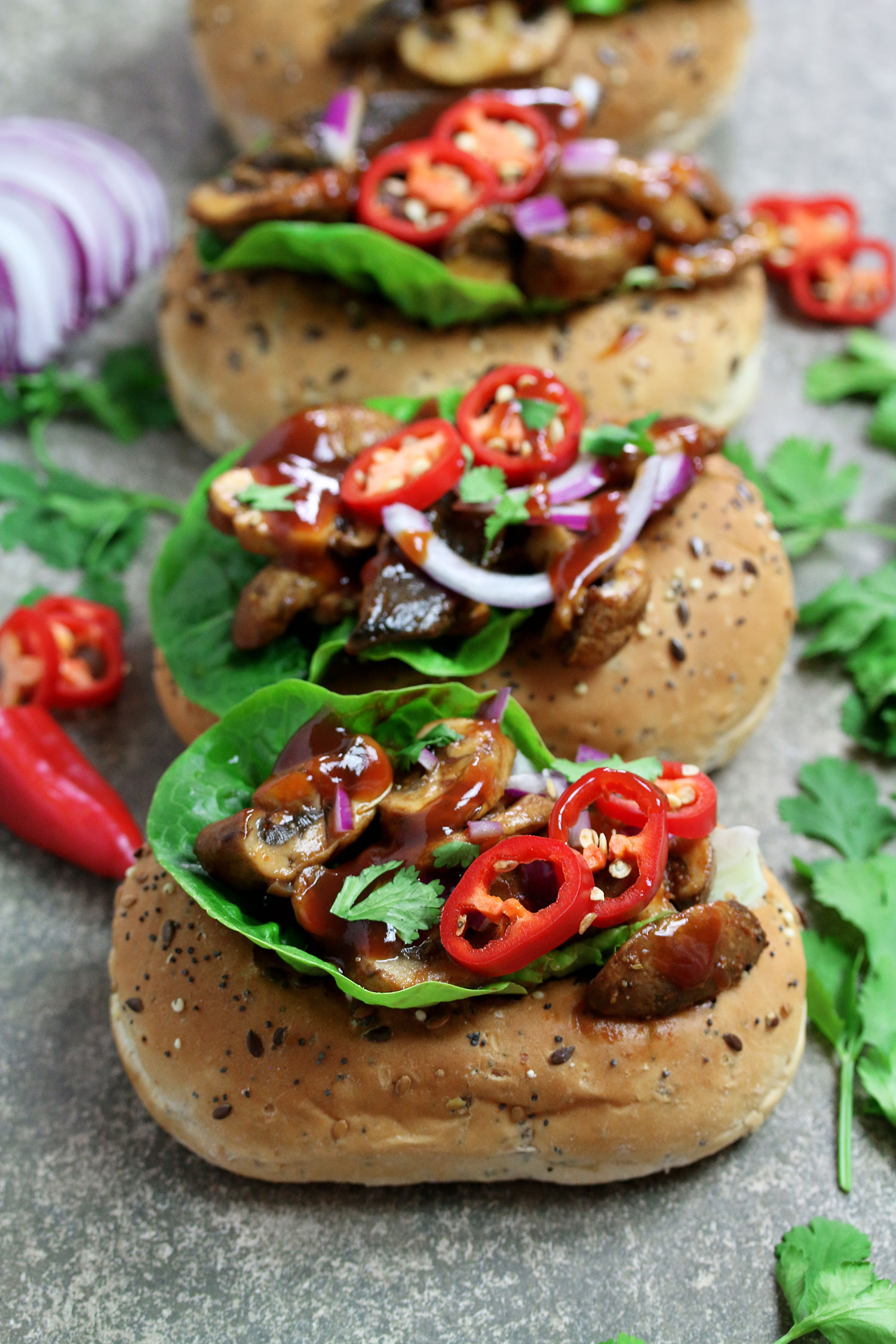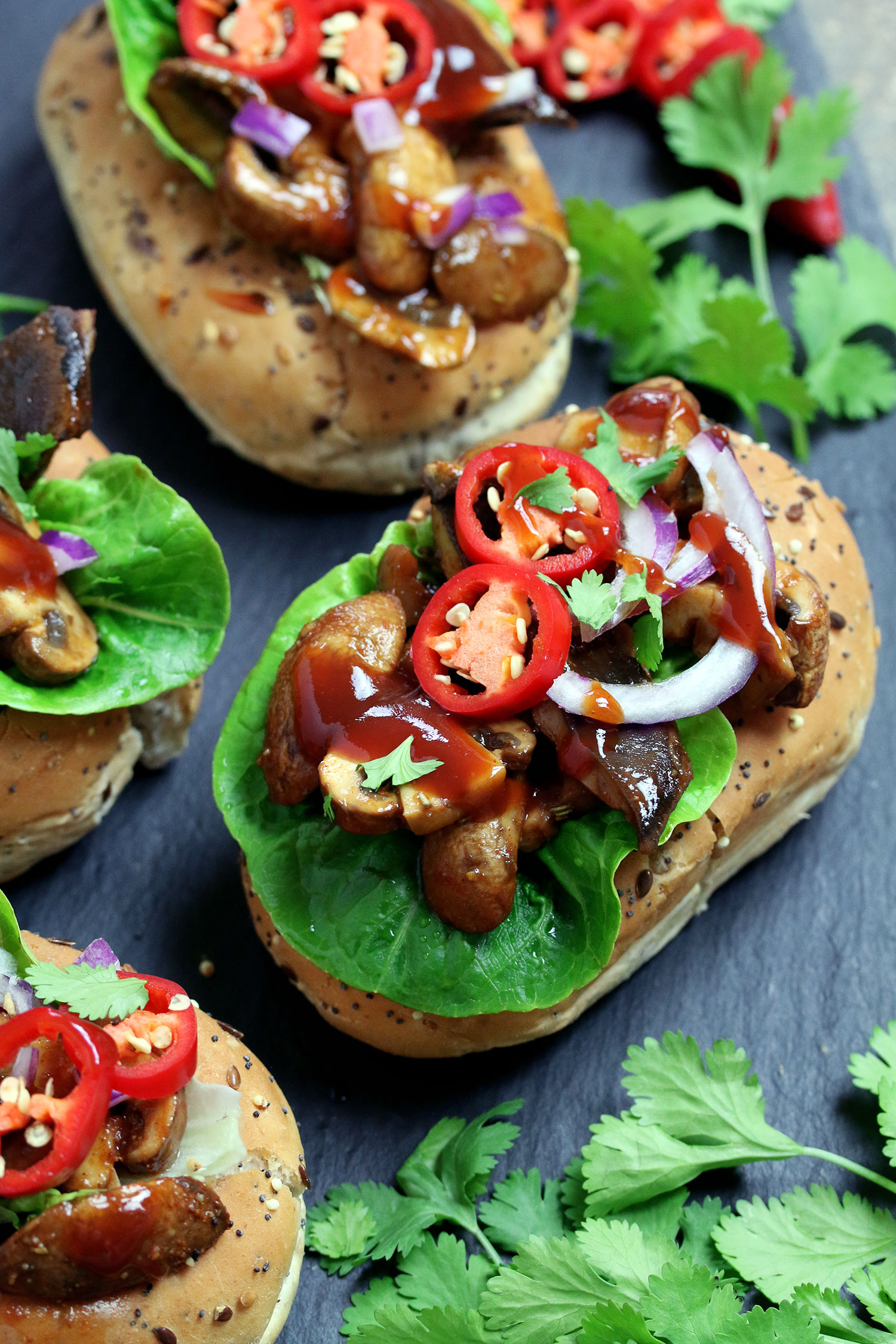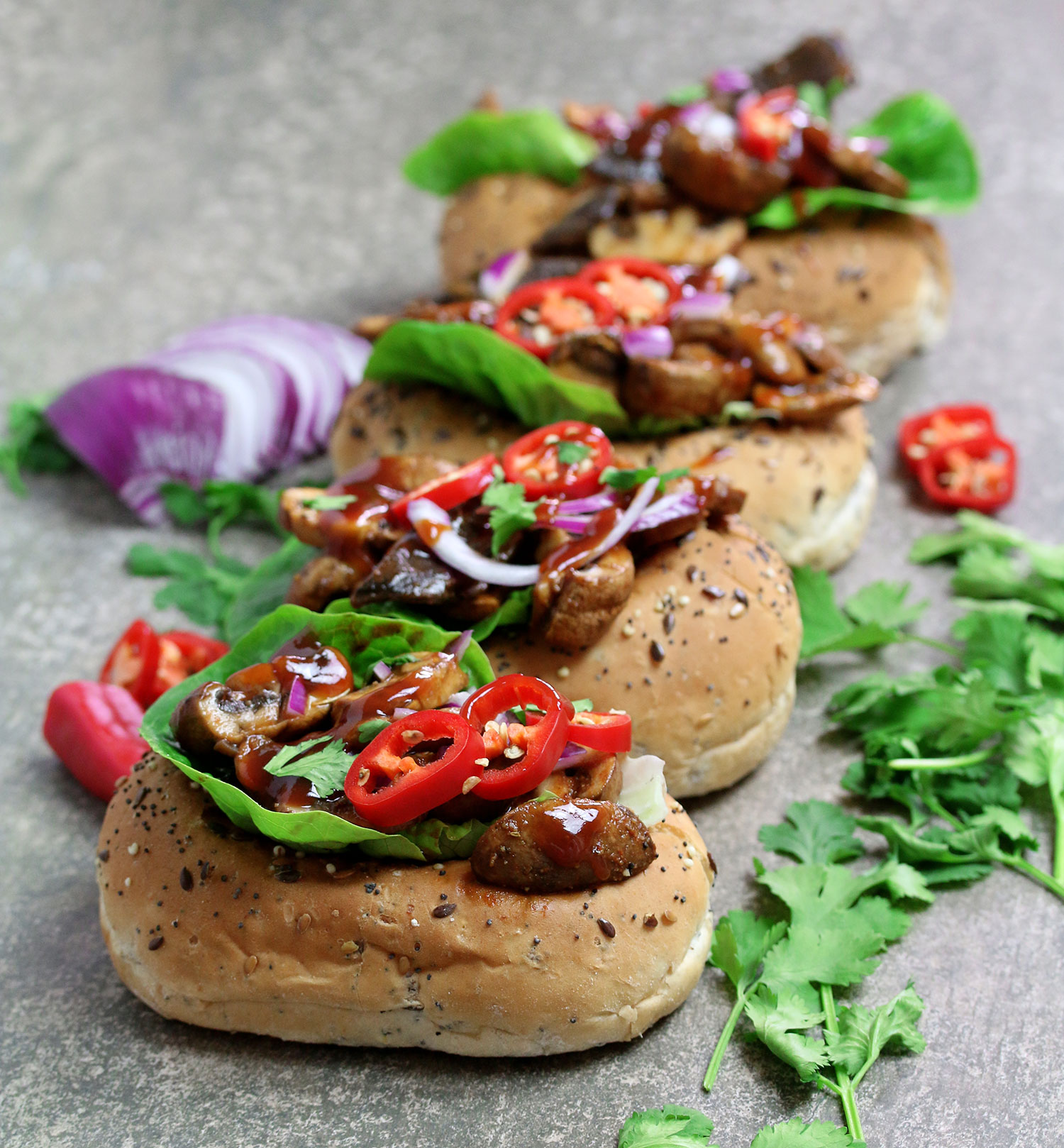 Tesco demonstrate that fact perfectly by sharing recipes like Derek's BBQ 'Shroom Buns which I've recreated in this post to try it out for myself and to demonstrate how healthy, quick and affordable it is to cook vegan recipes.
You don't need to spend a fortune on 'superfoods' and trendy ingredients to live a healthy plant-based diet. All you need is good quality, fresh ingredients that are readily available, easy to get hold of and affordable. This recipe is a great example of how eating healthy doesn't have to be expensive!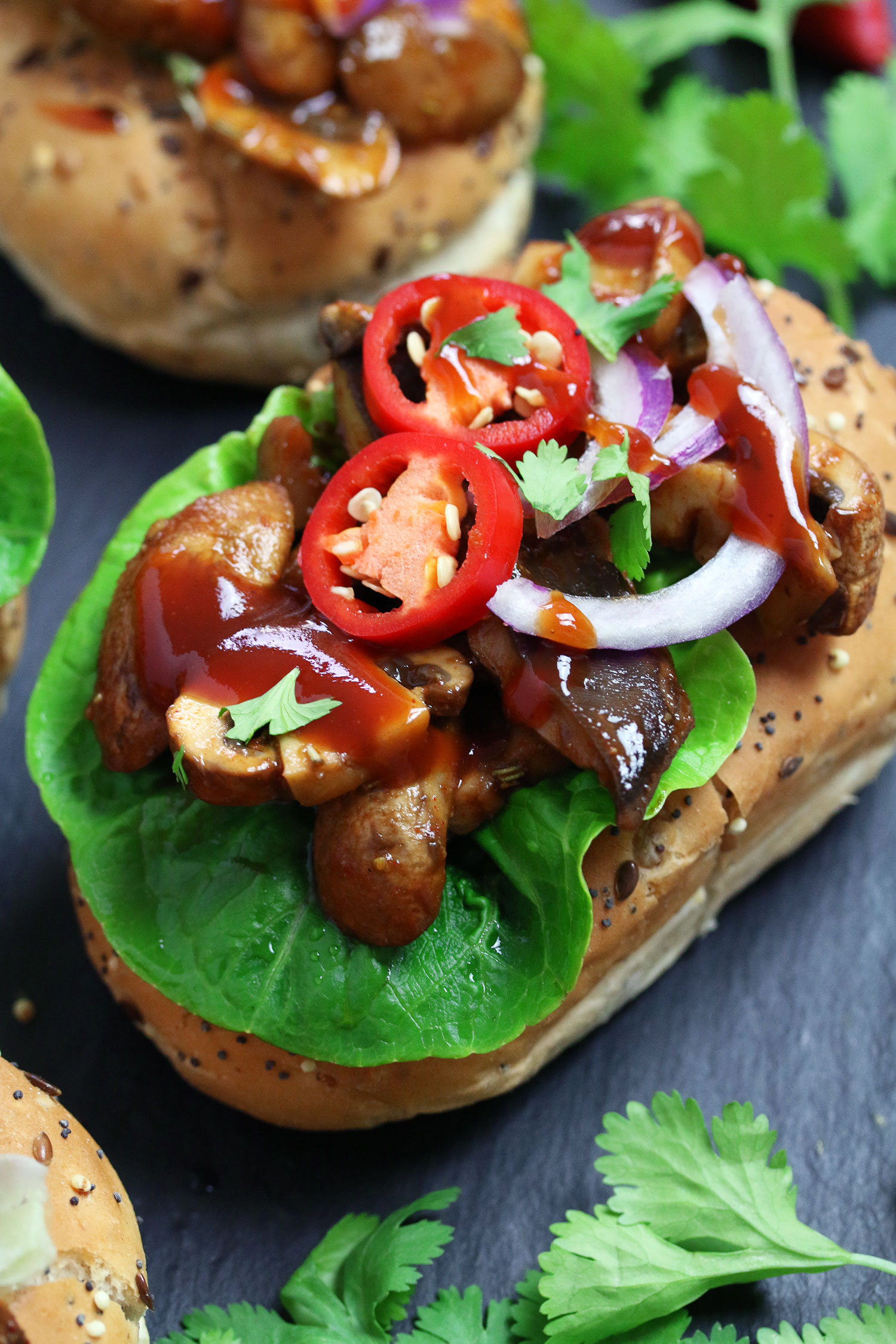 It's so refreshing to see such a huge supermarket like Tesco including a vegan recipe in their Food Love Stories campaign, supporting and encouraging people to eat more plants and reduce their meat intake. It's definitely a step in the right direction.
The recipe itself is easy, tasty and filling. I love using mushrooms as a way to swap out meat as they have a hearty meaty feel to them. They also have so many health benefits, especially varieties like Shiitake.
If you're a vegan, I'm pretty sure you'll love this recipe. If you're a meat-eater I would encourage you to take a day off meat and try out this recipe!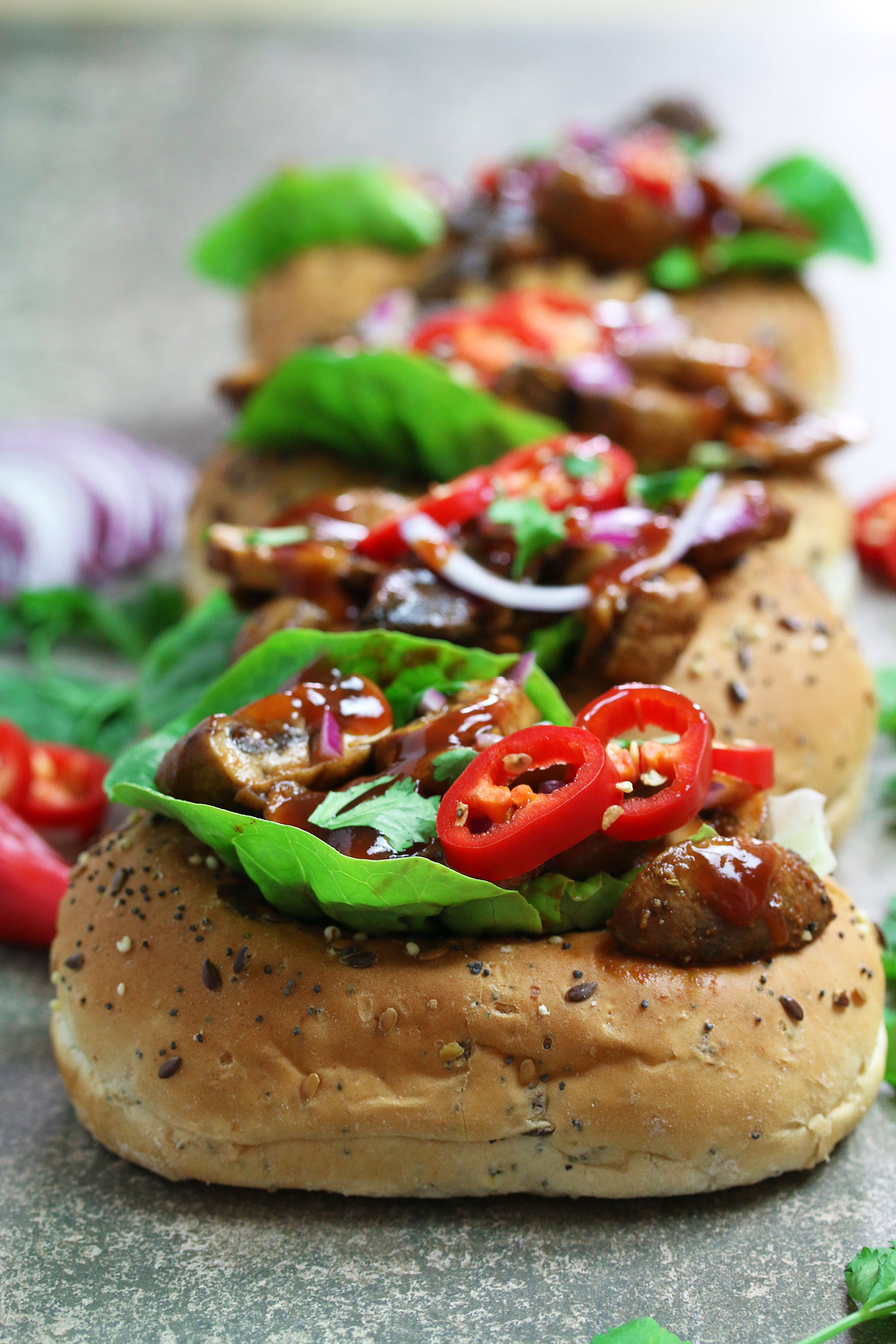 ---
Vegan BBQ 'shroom buns recipe
Ingredients
1 x 250g pack chestnut mushrooms, stalks trimmed
1 x 125g pack shiitake mushrooms, stalks discarded
1 x 150g pack Portobello mushrooms, trimmed and underside removed
1 1/2 tbsp vegetable oil
1 tsp ground cumin
1 tsp smoked paprika
1 tsp chopped rosemary
To serve
4 multiseed deli rolls, scored down the middle
4 leaves Sweet Gem lettuce, shredded
4 tbsp Tennessee BBQ inspired sauce, plus extra to serve
1/2 red onion, very thinly sliced
1 red chilli, seeded and sliced
small handful coriander
Preheat the oven to gas 5, 190°C, fan 170°C. Reserve 6 chestnut mushrooms then thinly slice the rest and all of the shiitakes. Set aside.
Scoop out and discard the inside of the Portobellos before use, as they can be bitter. Heat 1/2 tbsp oil in a frying pan over a medium heat. Add the reserved chestnut mushrooms and the Portobellos to the pan. Cover with baking paper and put a saucepan half filled with water on top to flatten. Cook for 5 minutes each side, until juicy. Once cooked, thickly slice the Portobellos and transfer all the cooked mushrooms to a bowl. Toss in 2 tbsp BBQ sauce.
In the same pan, add another ½ tbsp oil and the sliced shiitake and chestnut mushrooms. Leave for 1-2 minutes, then stir and cook for a further 2-3 minutes each side, until crispy. Add to the bowl with the other mushrooms; toss. Tip onto a baking sheet and cook in the oven for 8-10 minutes. Remove; set aside.
Fry the remaining oil, spices and rosemary for 30 seconds. Add the mushrooms to the oil, tossing to coat. Season.
Microwave the rolls for 15 seconds to soften, if you like, then fill with the lettuce and mushrooms. Finish with the remaining BBQ sauce, red onion, chilli and coriander. Serve with extra BBQ sauce.
---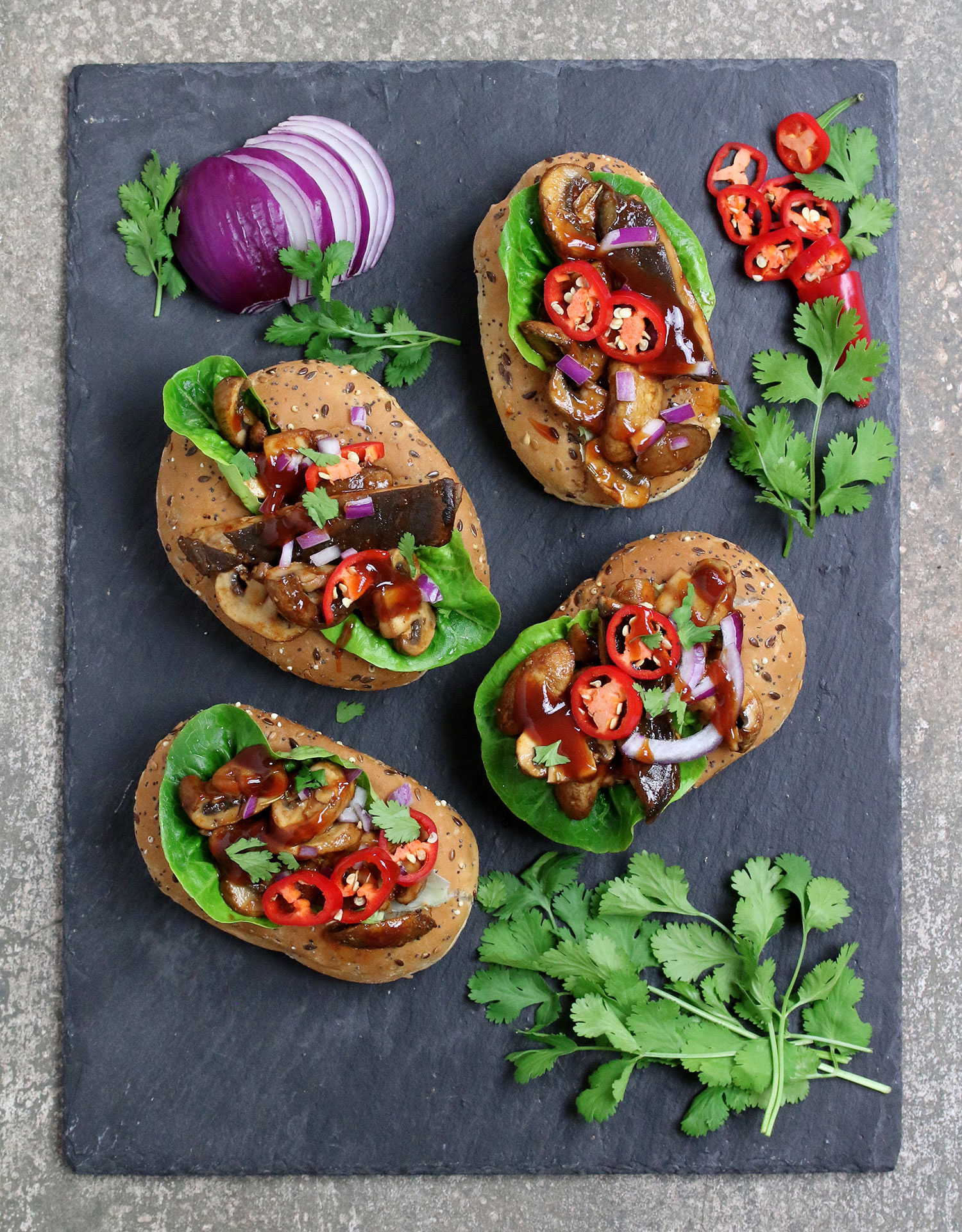 Thanks to Tesco for sponsoring this post. I was not expected to write a positive review and all opinions are my own.