PB&J Pop Tarts – Vegan & Gluten-free
I've probably only tried Pop Tarts once or twice many many years ago. I don't even remember the flavour I tried. I do however remember always thinking they're so cute!
Because they're imported from the U.S. they were always too expensive for us and considered a luxury item that we just didn't need. I remember them being around the £5 mark but I think they're a lot cheaper now and more readily available here in the UK, but you would never catch me eating one for breakfast nowadays! If you've seen the list of ingredients on one of the packets, you'll know why!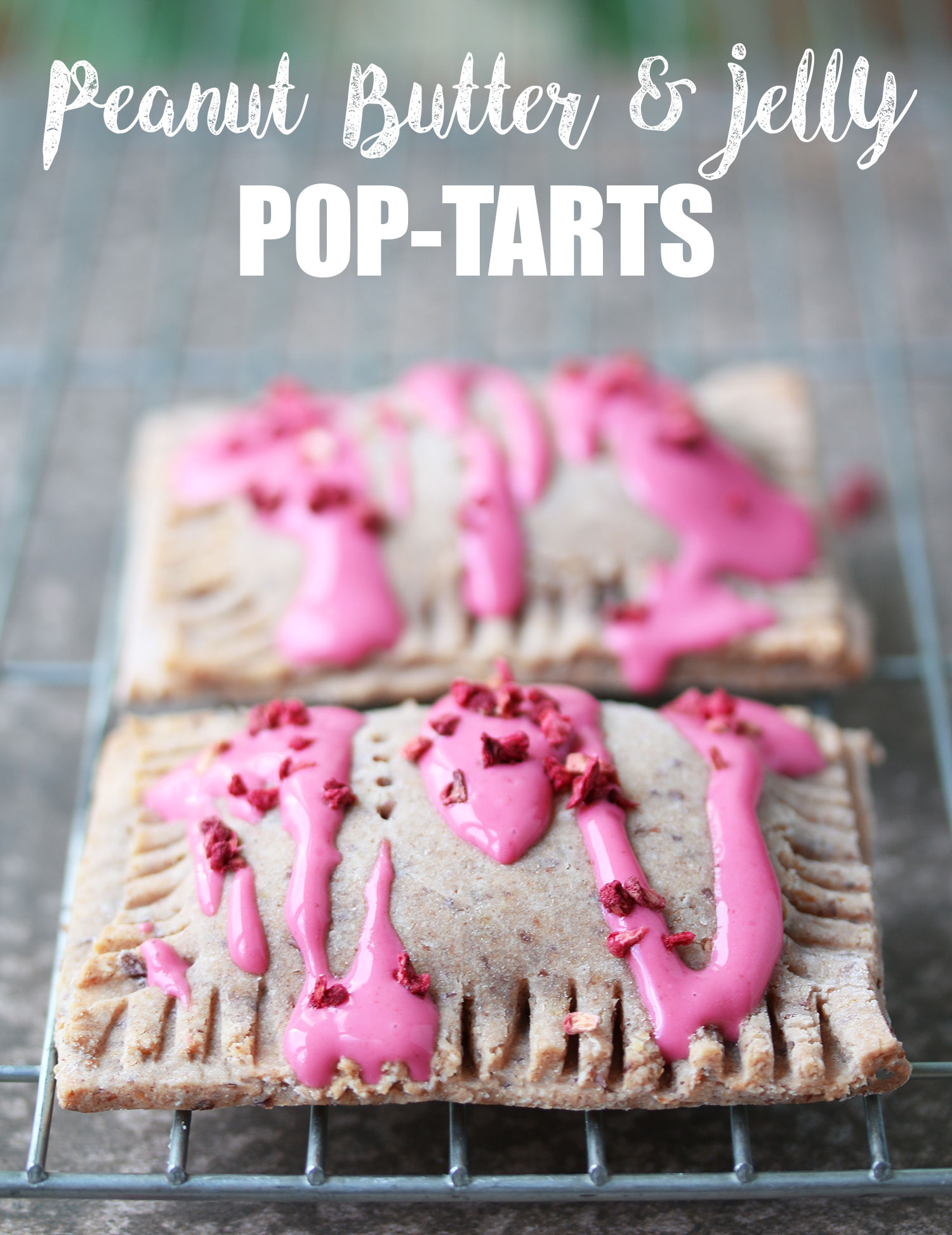 One thing that I do love about Pop Tarts is all the different fun and fancy flavours they come in. Chocolate, cookie dough, strawberry sensation, cookies and cream, S'mores…the list goes on. And they packaging always looks so colourful and inviting. But like with any packaged product, the real thing never looks as pretty as it does on the cover.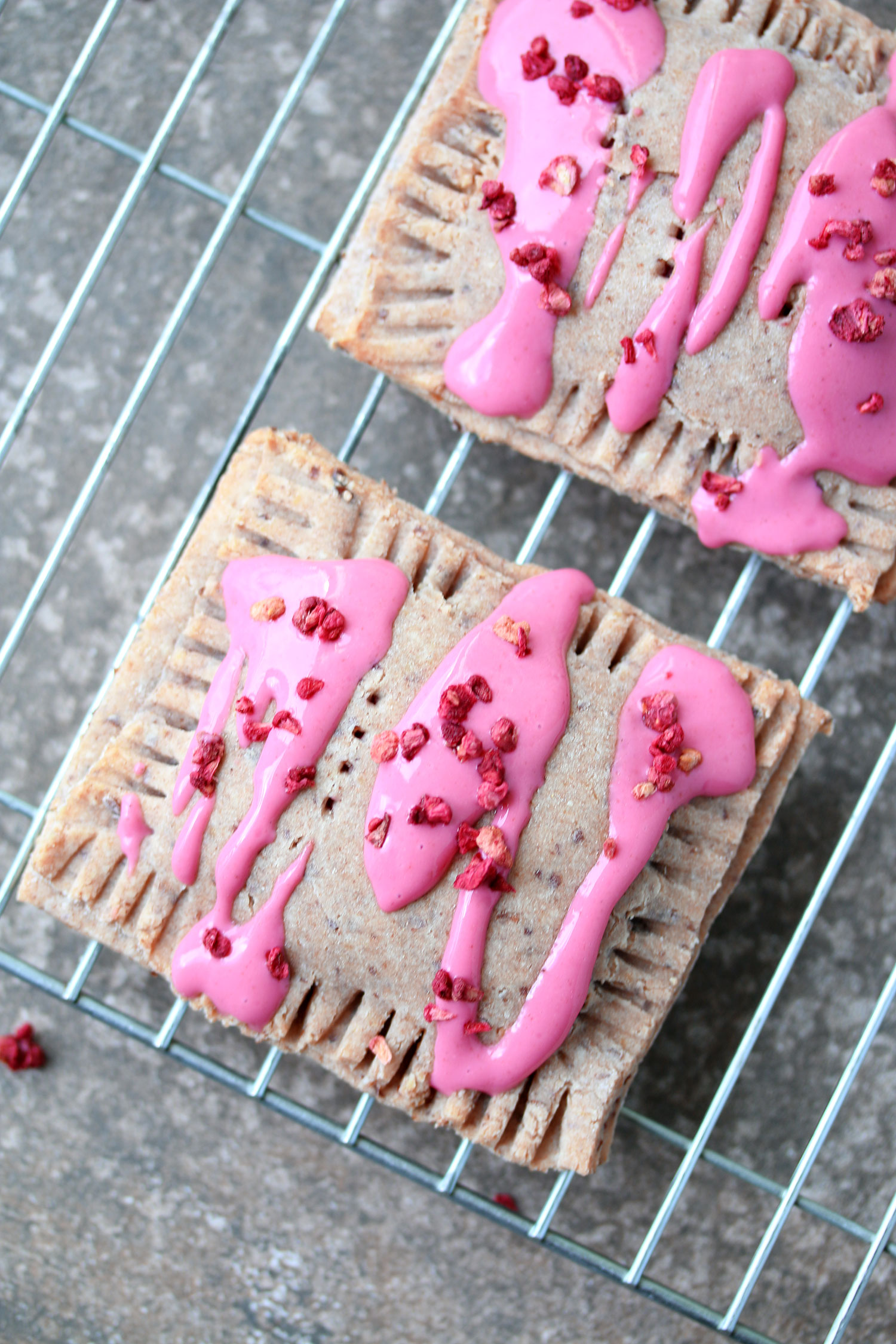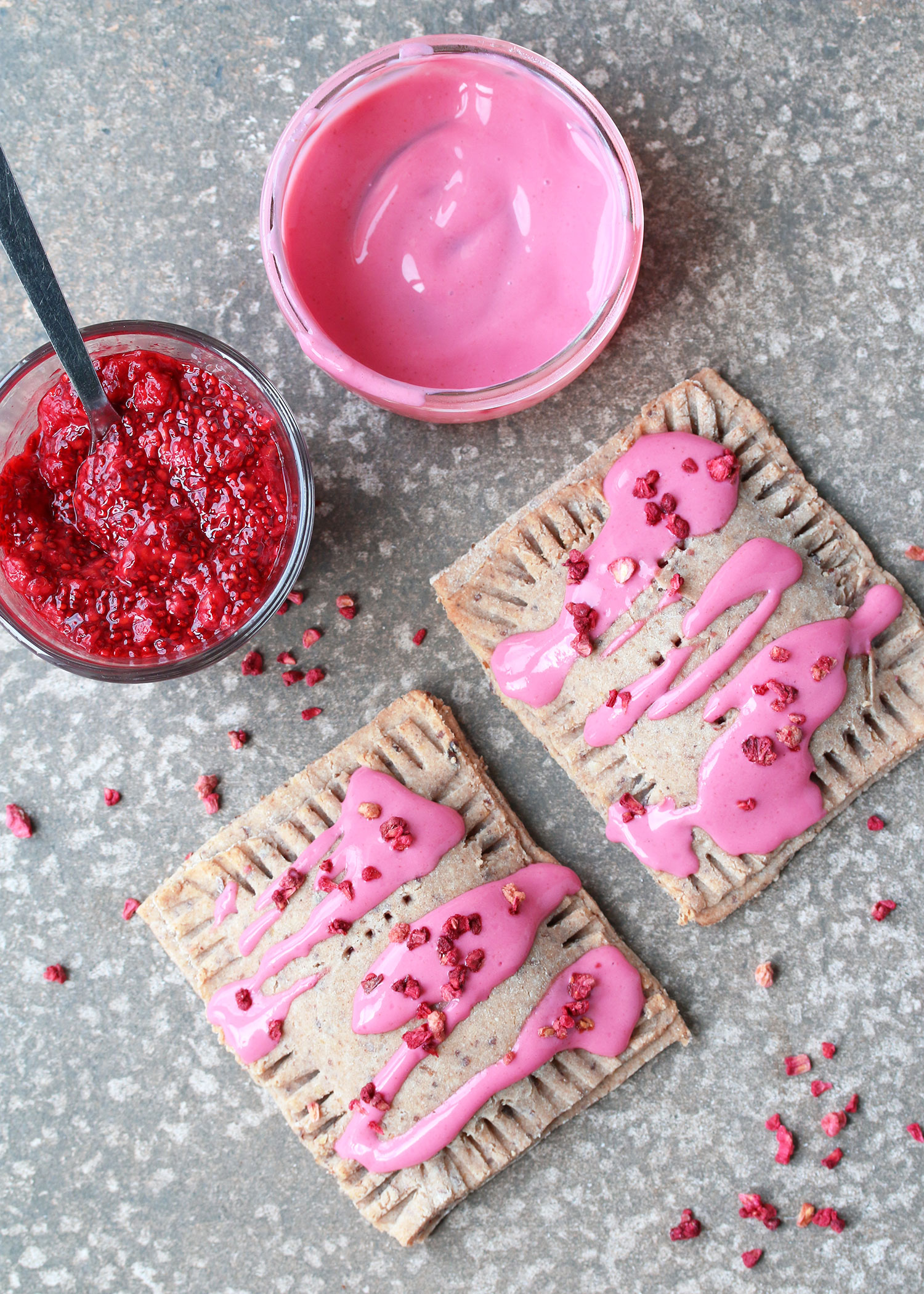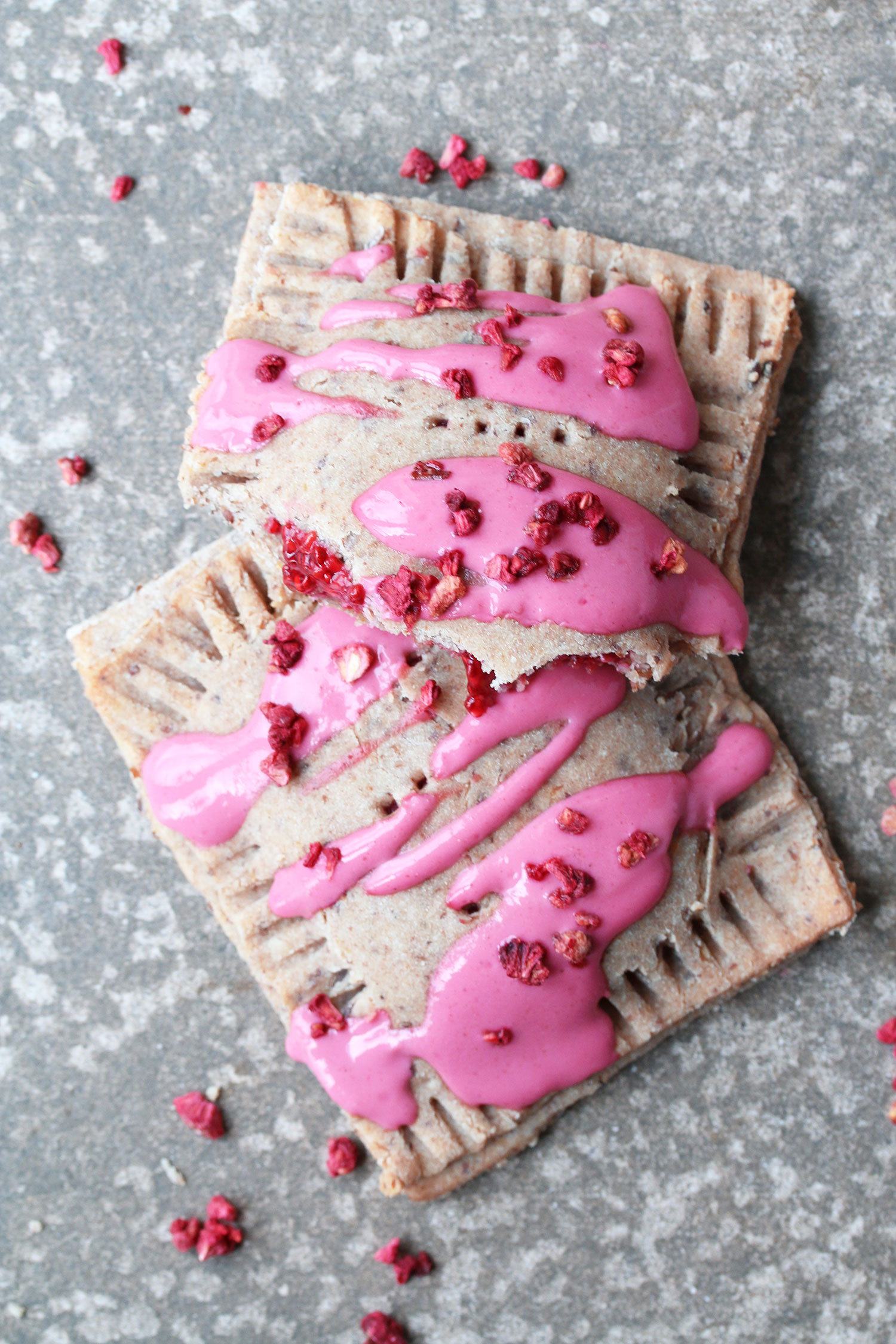 I wanted to create a healthy version of Pop Tarts that are actually healthy enough to enjoy for breakfast! I used a mixture of buckwheat flour and ground almonds for the pastry to make it gluten-free and a simple filling of peanut butter sweetened with a tiny but of maple syrup and some homemade raspberry chia jam.
Since Pop Tarts are an American invention (I'm pretty sure they are anyway!), I wanted to use a classic American flavour combo – PB&J – a taste match that everyone can appreciate. Next, I would like to attempt some sort of chocolate version. Or perhaps fudge/salted caramel?? What do YOU think?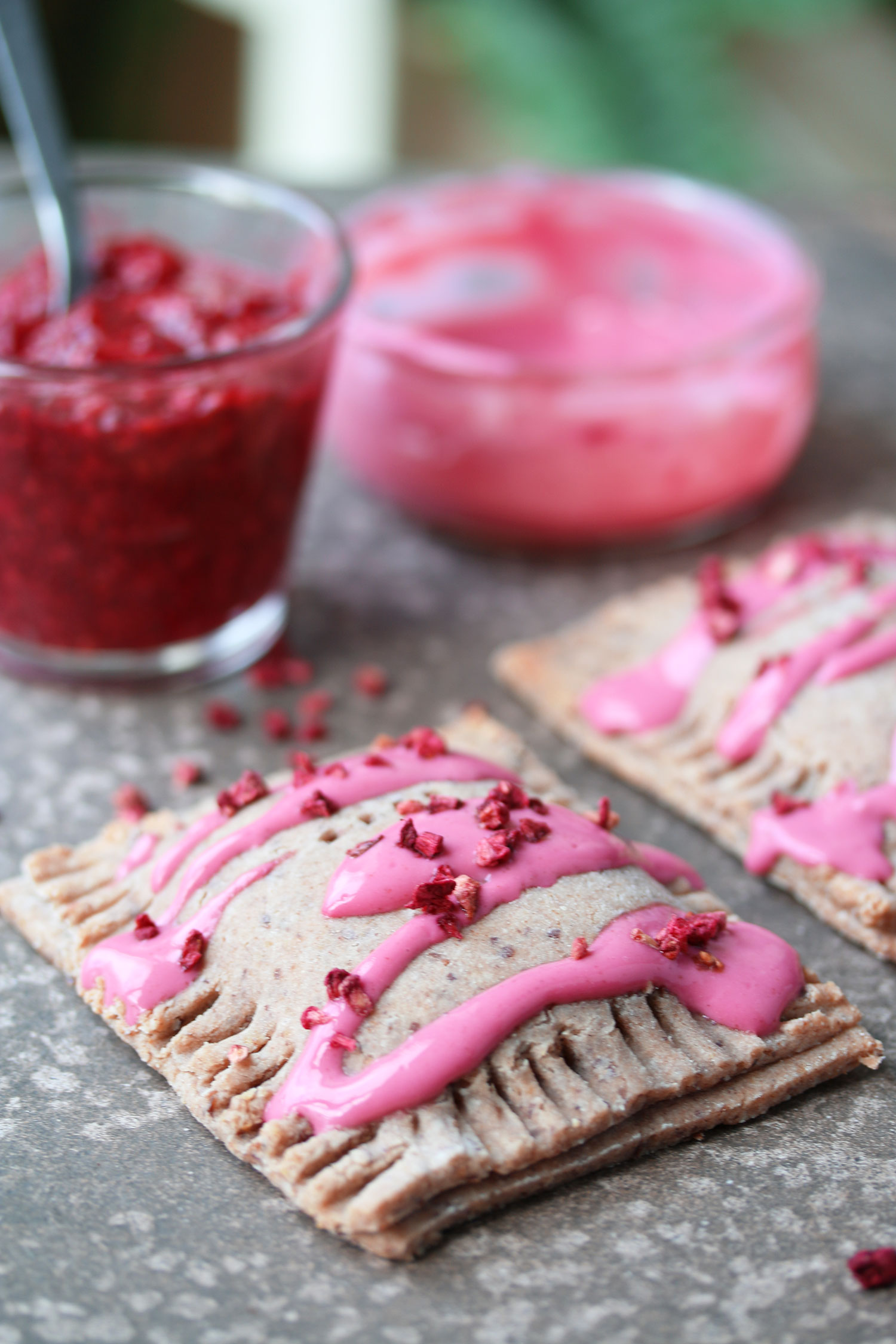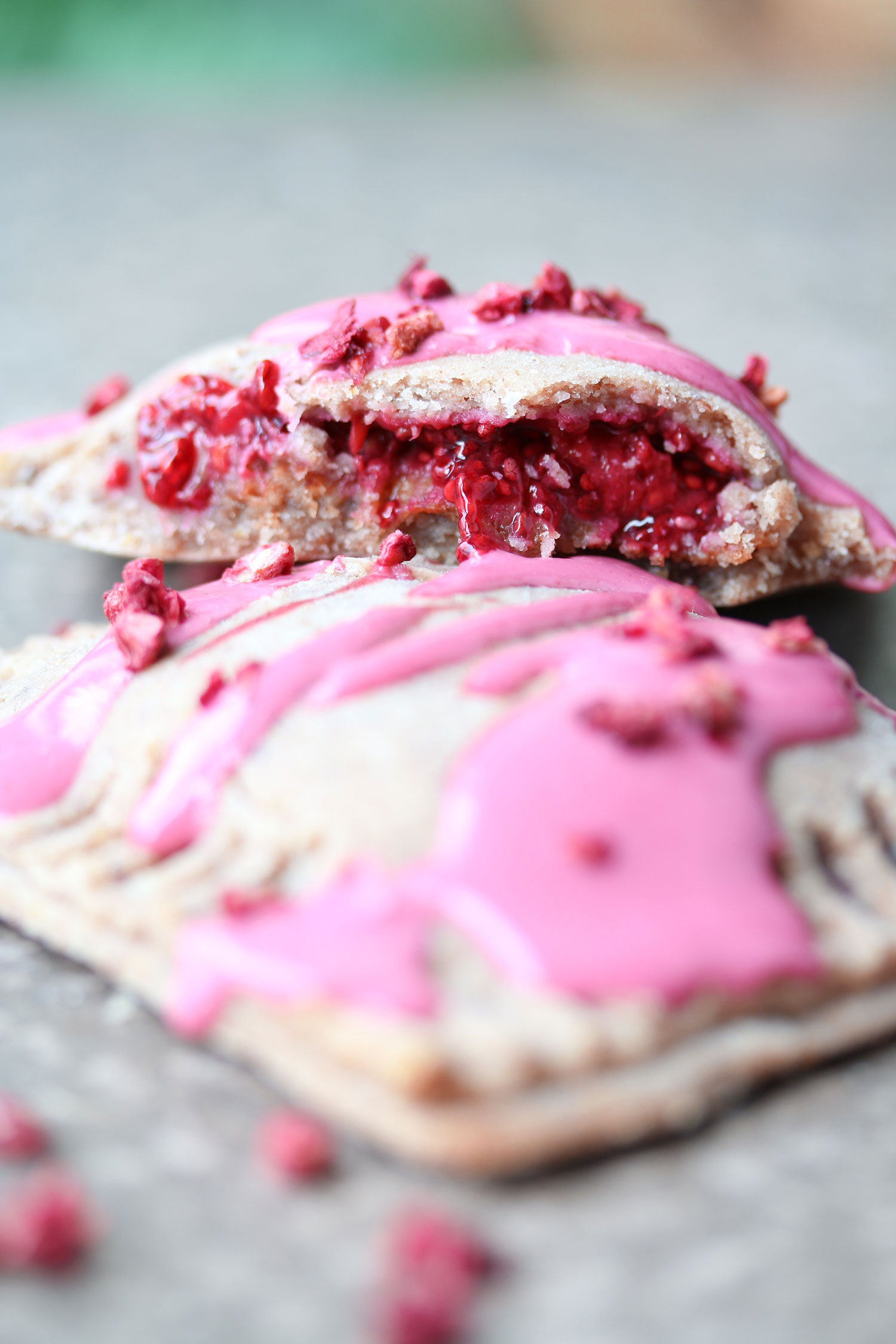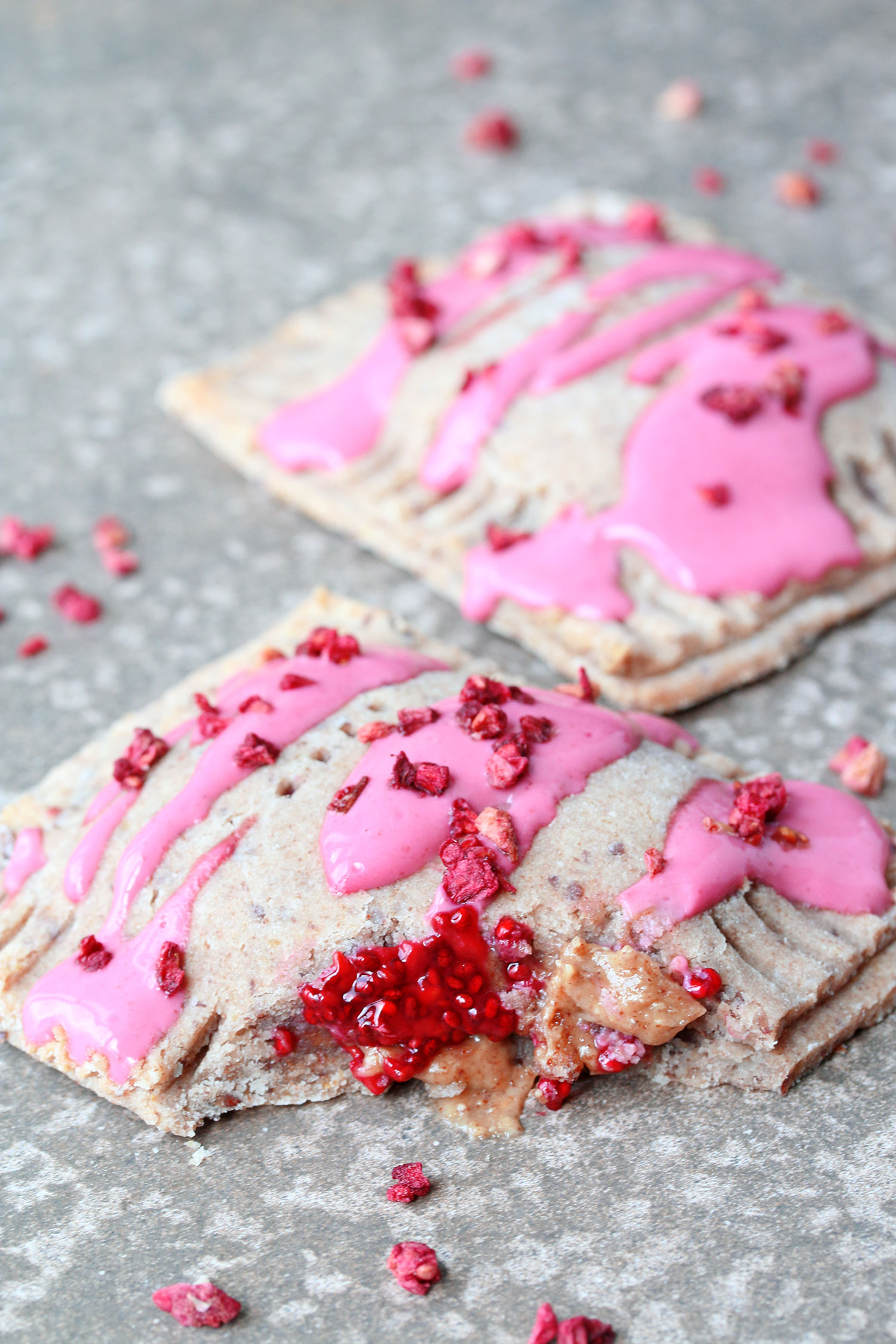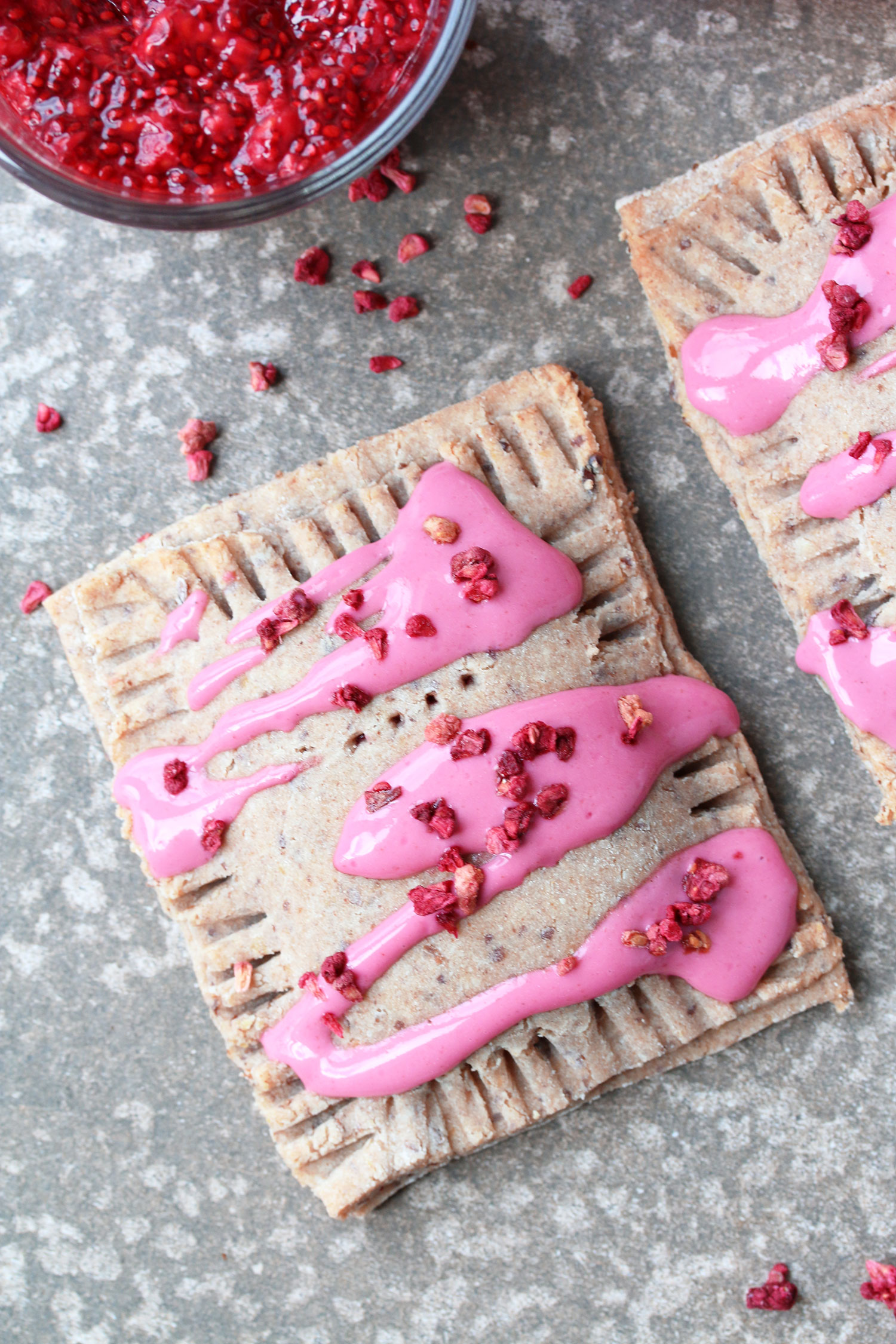 ---
PB&J Pop Tarts – Vegan & Gluten-free
Makes: 2-3 Pop Tarts
Ingredients
For the pink drizzle:
All I did was mix a little bit of soya yoghurt with some maple syrup to sweeten and a pinch of beetroot powder to make it pink.
Method:
WATCH THE VIDEO AT THE TOP OF THE PAGE FOR STEP-BY-STEP INSTRUCTIONS
Prepare the flax egg by mixing 1 tbsp milled flaxseed with 3 tbsp hot water and leave for 10 minutes to set.
Preheat your oven to 180*C (160*C fan assisted)/ 350*F
In a bowl, mix together the flour, ground almonds, baking powder and salt.
Pour in the prepared flax egg, oil and milk. Mix until it comes together into a dough.
Place the dough on a lightly floured surface and roll out into a rectangle about ¼ inch in thickness.
Cut the edges off then slice into 4 even rectangles*.
Mix the peanut butter and maple syrup in a small bowl then spread a thin layer onto 2 of the rectangles and top with the chia jam.
Top with the other two pieces of dough and press the edges down using a fork. Poke a few holes on the top using a fork.
Bake for 15 minutes or until the edges brown a little. Leave it to cool completely before you add the drizzle.
Enjoy!
*Slice into 6 rectangles to make 3 smaller Pop Tarts if you prefer.
---