Middle Eastern Buddha Bowl
Middle Eastern food is by far my favourite cuisine, which shouldn't come as a surprise since I was brought up in the Middle East and grew up eating and loving all the different flavours and amazing ingredients that part of the world and culture had to offer!
Food in the Middle East is extremely important. It's something to be celebrated, shared and enjoyed. Food and eating were never considered merely fuel and a way for us to survive and keep going. We always sat down on the table to eat. Breakfast, lunch and dinner. There was no eating on the go and food was always made from scratch. No ready meals, no convenient packaged stuff and very rarely did we used to eat out.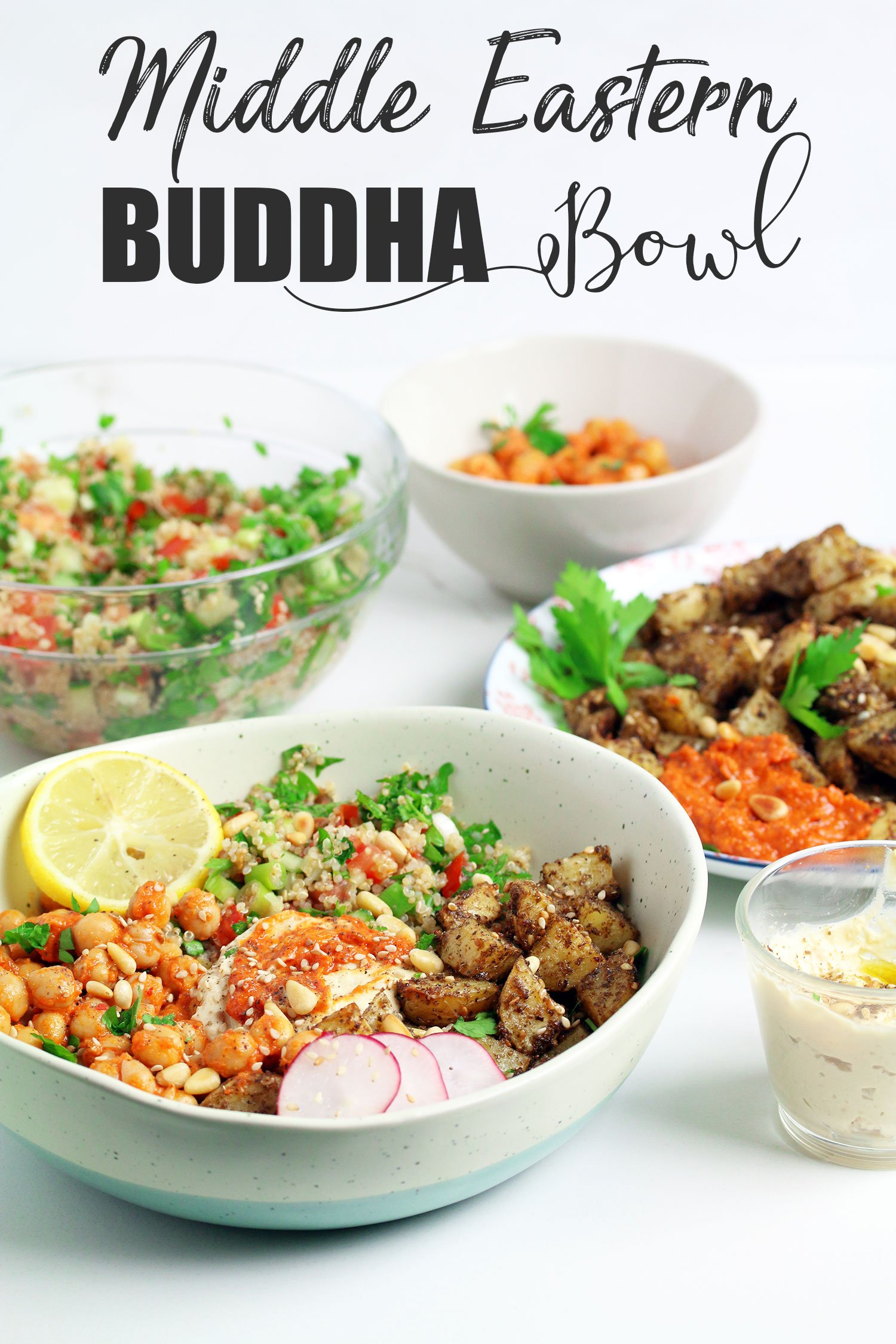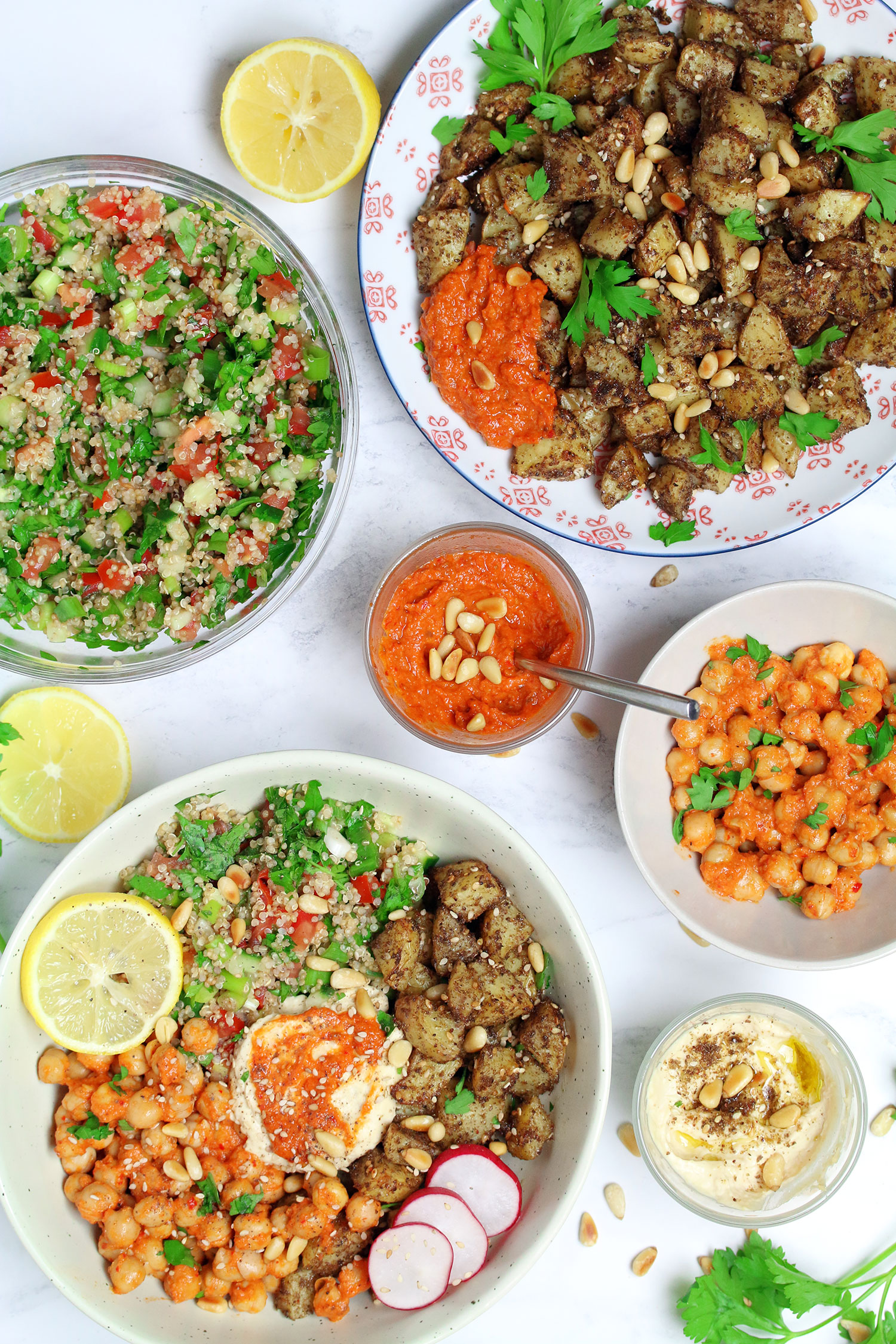 Where I grew up, every family had their own little spin on classics that everyone cooked. No one would venture too far from the original recipe and there was no dish that didn't have a name i.e. there was no experimenting and coming up with new dishes. Also, we never ate from any other cuisine. There were no Indian, Thai, Italian restaurants etc.
How things have changed since moving to the UK. Most of the dishes that I create now have no name and have no background or story behind them. I get inspirations from online, restaurants, cook books and come up with my own dish that isn't necessarily traditional and doesn't come from any particular culture. I also love making foods from different cuisines as I'm a huge foodie at heart and can appreciate different flavours, textures and ingredients.
Having said that, I do miss Middle Eastern food and I try to incorporate the flavours in my cooking wherever possible because I feel it's a cuisine that hasn't yet fully made its way into the hearts of British people and it's definitely not a cuisine that many are familiar with.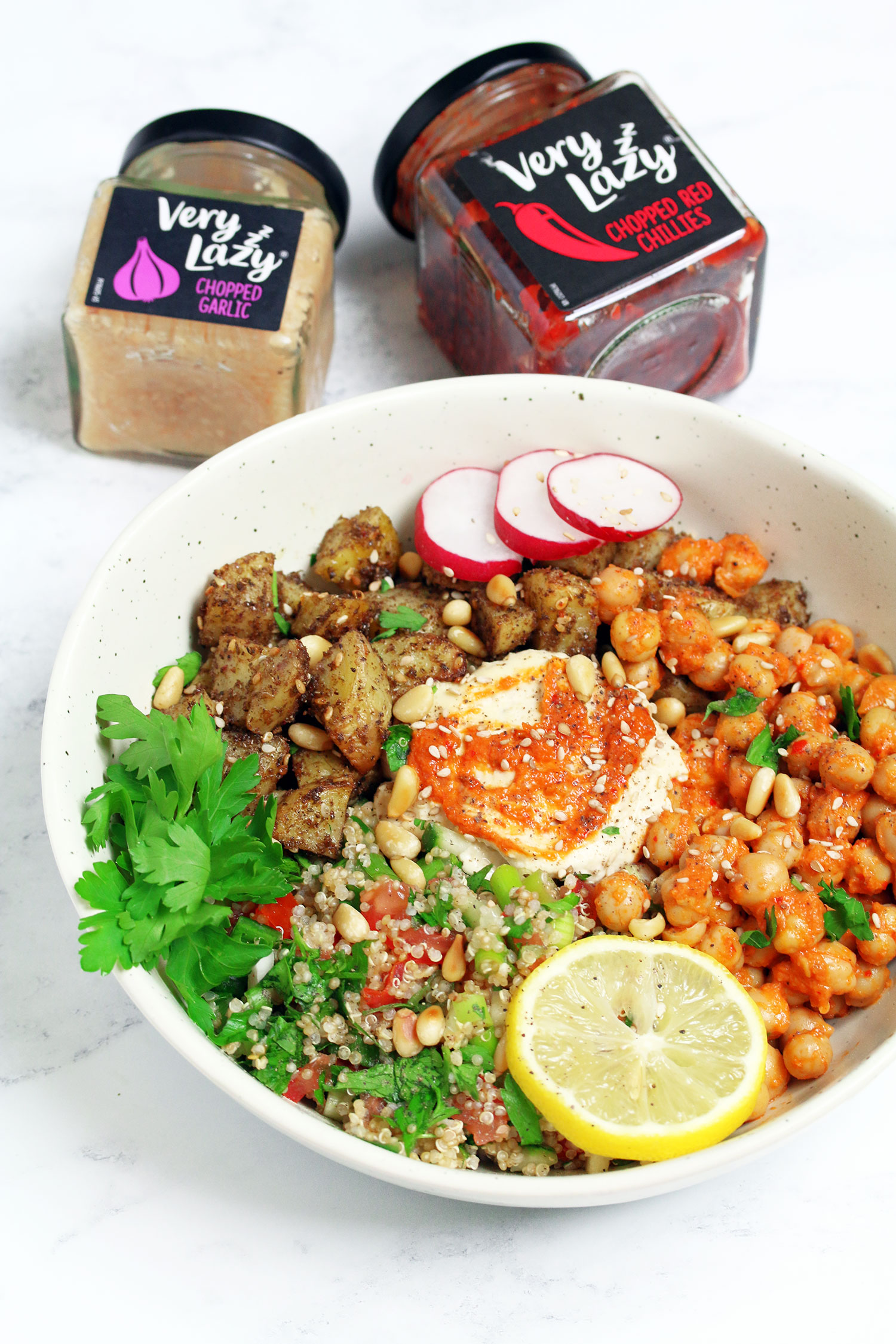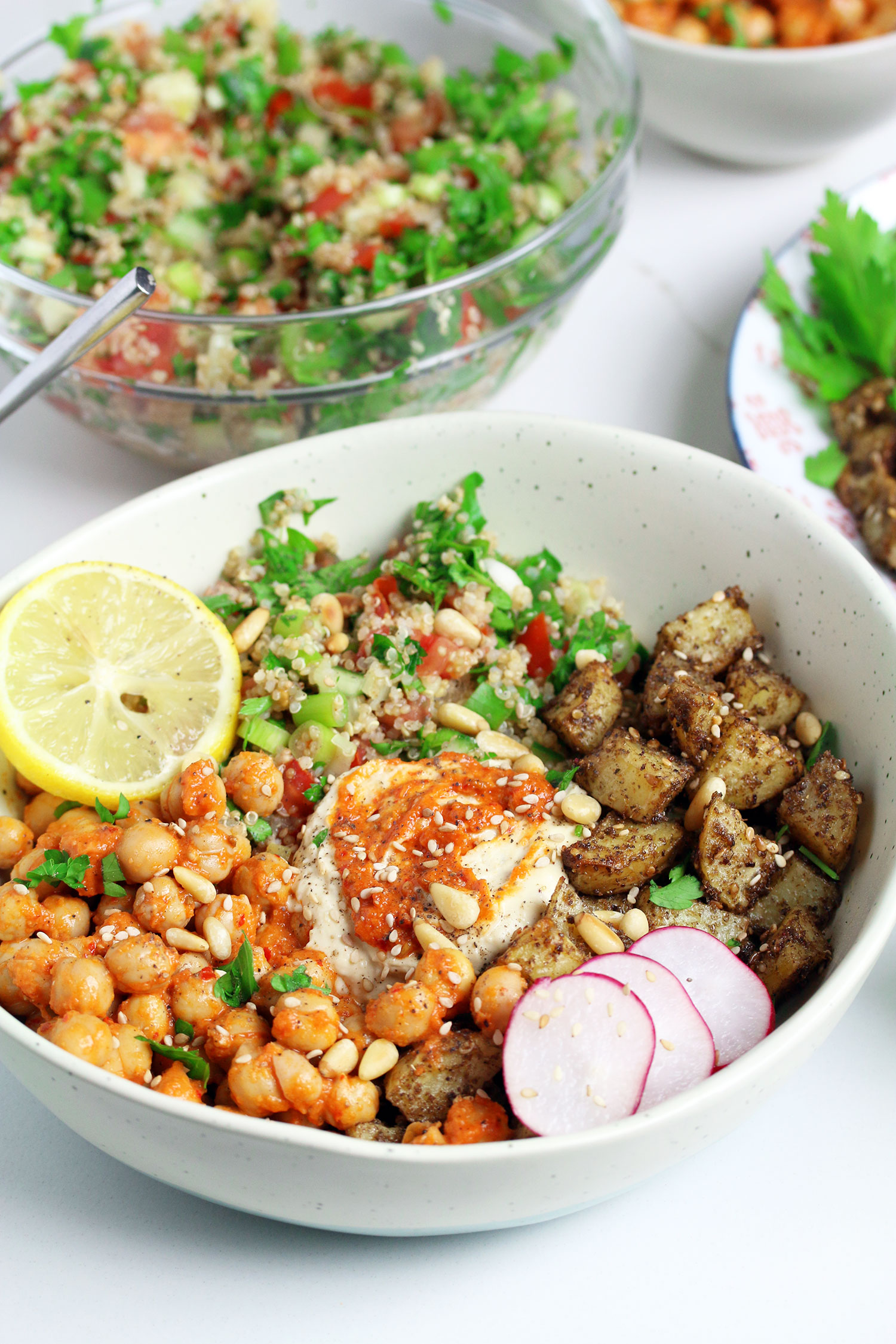 I've teamed up with Very Lazy to create this Middle Eastern Buddha bowl using both their chopped garlic and chopped red chillies. I hate chopping both garlic and chillies! The garlic always leaves my fingers smelling like, well garlic, and who wants to smell like garlic? And I always struggle with chopping chillies as it leaves my sensitive, eczema prone skin burning, again not the most pleasant experience. So I'm thankful to Very Lazy for coming up with a solution and for introducing me to their amazing pre-prepared products!
This recipe is my take on a fairly new concept that has saturated social media over the last couple of years. If you've never heard of Buddha bowls, they're basically a mishmash of ingredients in a bowl presented in a way that's as photogenic as possible. they're very popular in the health & wellness community and are usually made up of lots of greens, vegetables, nuts and plant-based proteins like beans or tofu. My version is of course influenced by the flavours of the Middle East and is made up of harissa chickpeas (with homemade harissa!), quinoa tabbouleh, za'atar potatoes and hummus, because in my option a Middle Eastern meal is not complete without hummus!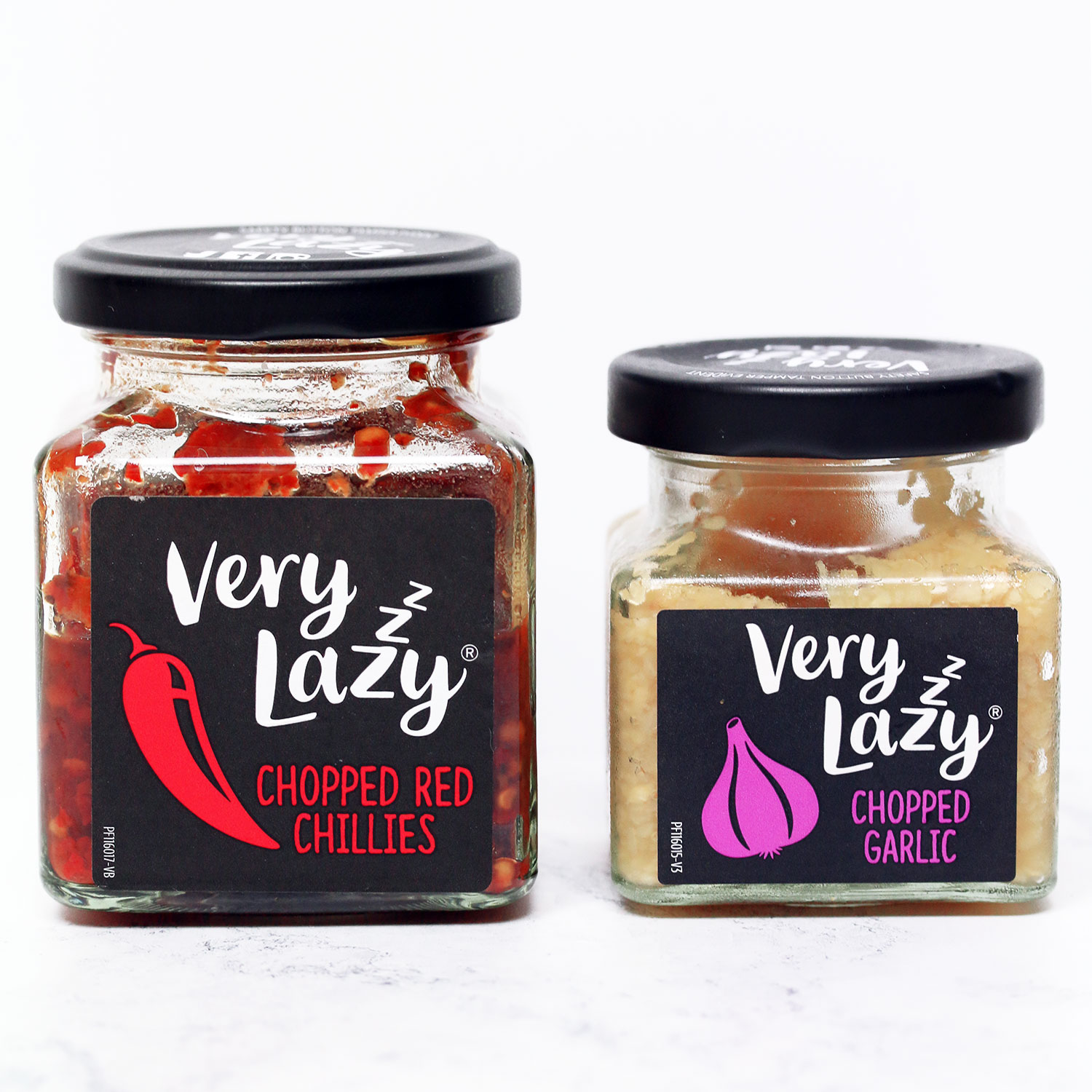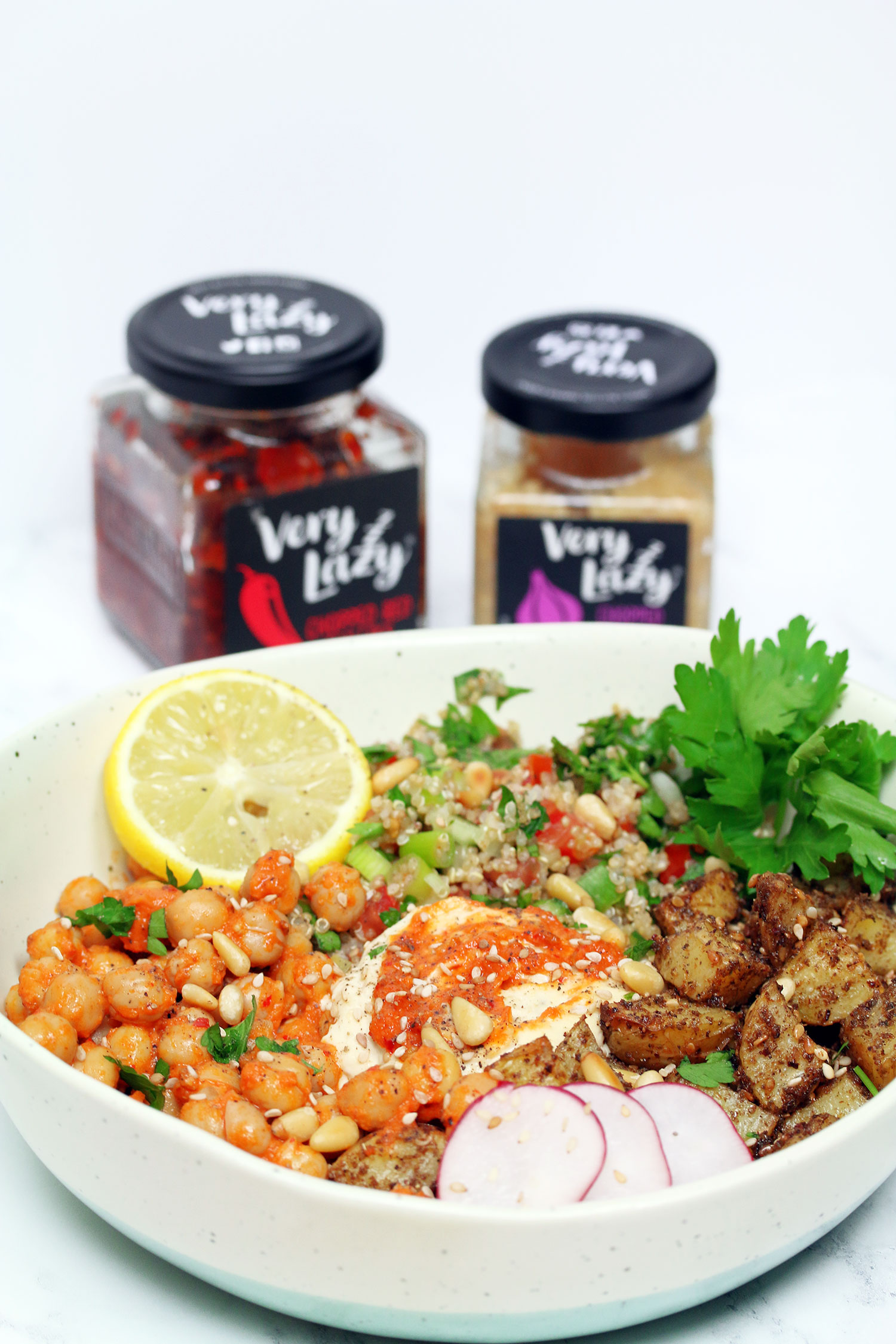 ---
Middle Eastern Buddha Bowl
Serves: 4-6
For the Harissa Chickpeas
3 tsp Very Lazy chopped red chilli
3 tsp Very Lazy chopped garlic
1/2 onion
2 tbsp olive oil
2 tbsp lemon
2 tbsp tomato puree
1 tsp cumin seeds
1/2 tsp coriander
1 tsp caraway seeds
2x 400g chickpea cans
For the Quinoa Tabbouleh
1/2 cup (90g) dried quinoa cooked in 1 cup (253ml) water for 15 minutes – this should yield around 2 cups cooked quinoa.
3 spring onions, chopped
1/2 cucumber, finely chopped
2 tomatoes, finely chopped
1 x 28g pack of parsley, finely chopped
Juice of 2 lemons
Salt & pepper to taste
For the Za'atar Potatoes
700g potatoes, chopped into small chunks
2 heaped tbsp za'atar herb mixture
Salt to taste
2 tbsp coconut oil
Method
To make the Harissa chickpeas: Heat a frying pan over a medium/low heat and add the cumin seeds, caraway seeds and coriander. Dry toast for a few minutes stirring continuously to make sure it doesn't burn. Leave to one side to cool.
Heat 1 tbsp coconut oil in a frying pan over a medium heat and saute the onions for 5 minutes or until they become translucent.
Add in the chopped garlic and continue cooking for another minute.
Transfer the cooked onions, garlic and toasted spices into a blender/food processor.
Add the chopped chilli, lemon juice, tomato puree and season with salt & pepper to taste. Blend until you have a smooth paste.
Drain and rinse the chickpeas then add them to a large bowl. Mix in 4 tbsp of the Harissa mixture. You can use more or less to taste.
To make the tabbouleh: cook the quinoa according to pack instructions, then mix in the onions, cucumber, tomatoes, lemon juice and season with salt & pepper to taste.
To make the Za'atar potatoes: spread the chopped potatoes on a lined baking tray, then toss with the za'atar, olive oil and salt until evenly coated.
Bake in a 220*C (200*C fan assisted)/ 400*F preheated oven for 25-30 minutes.
To serve: Serve with hummus, toasted pine nuts and sesame seeds.
---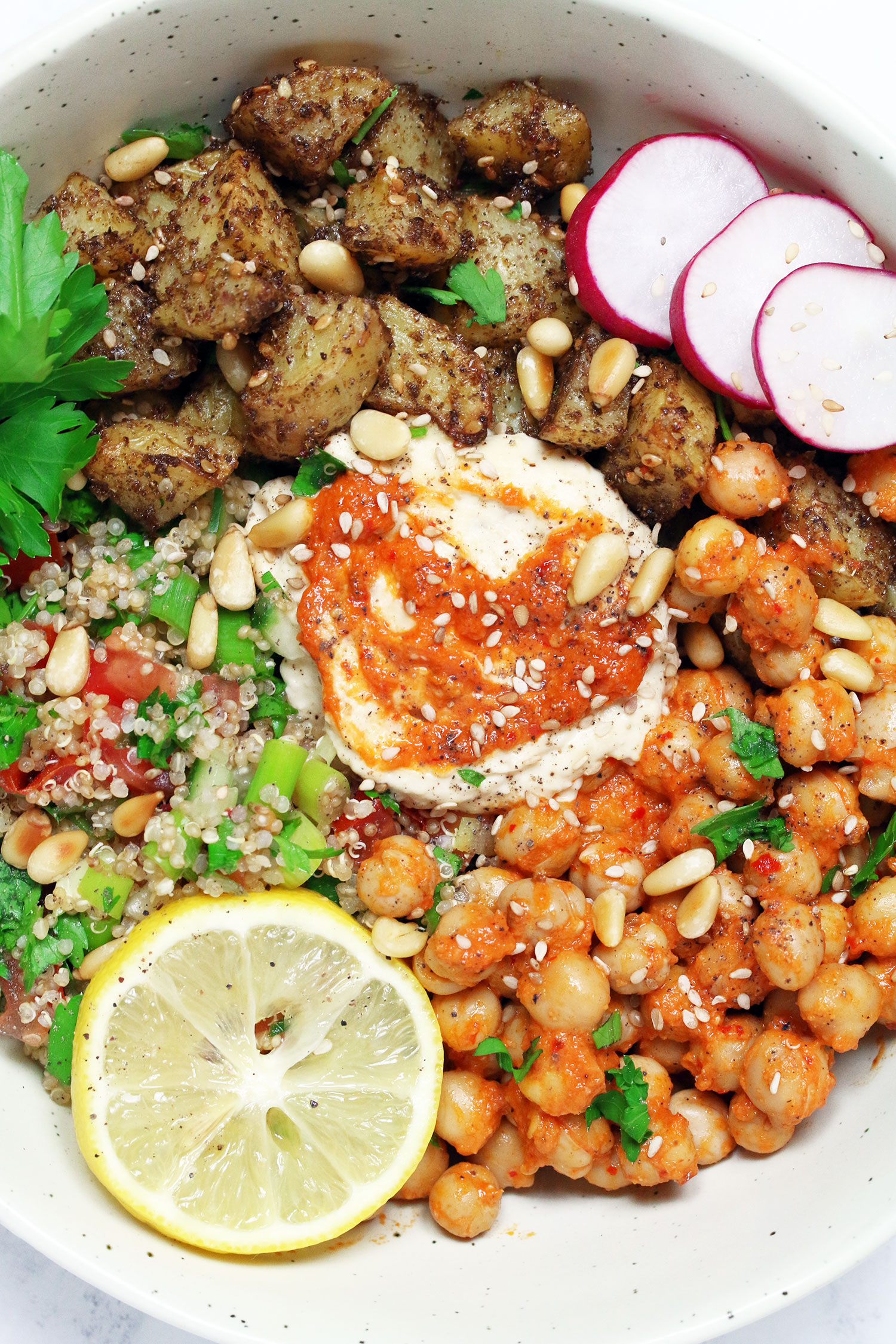 Thanks to Very Lazy for sponsoring this post. Commissioned posts is how I'm able to continue working on the blog and creating recipes and recipe videos for you. As always, all opinions are my own.