Herby Lemon Turmeric Cornish New Potatoes
*This post is sponsored by Seasonal Spuds*
Delicious, zingy and herby potatoes that are packed with flavour and perfect as a summer side dish.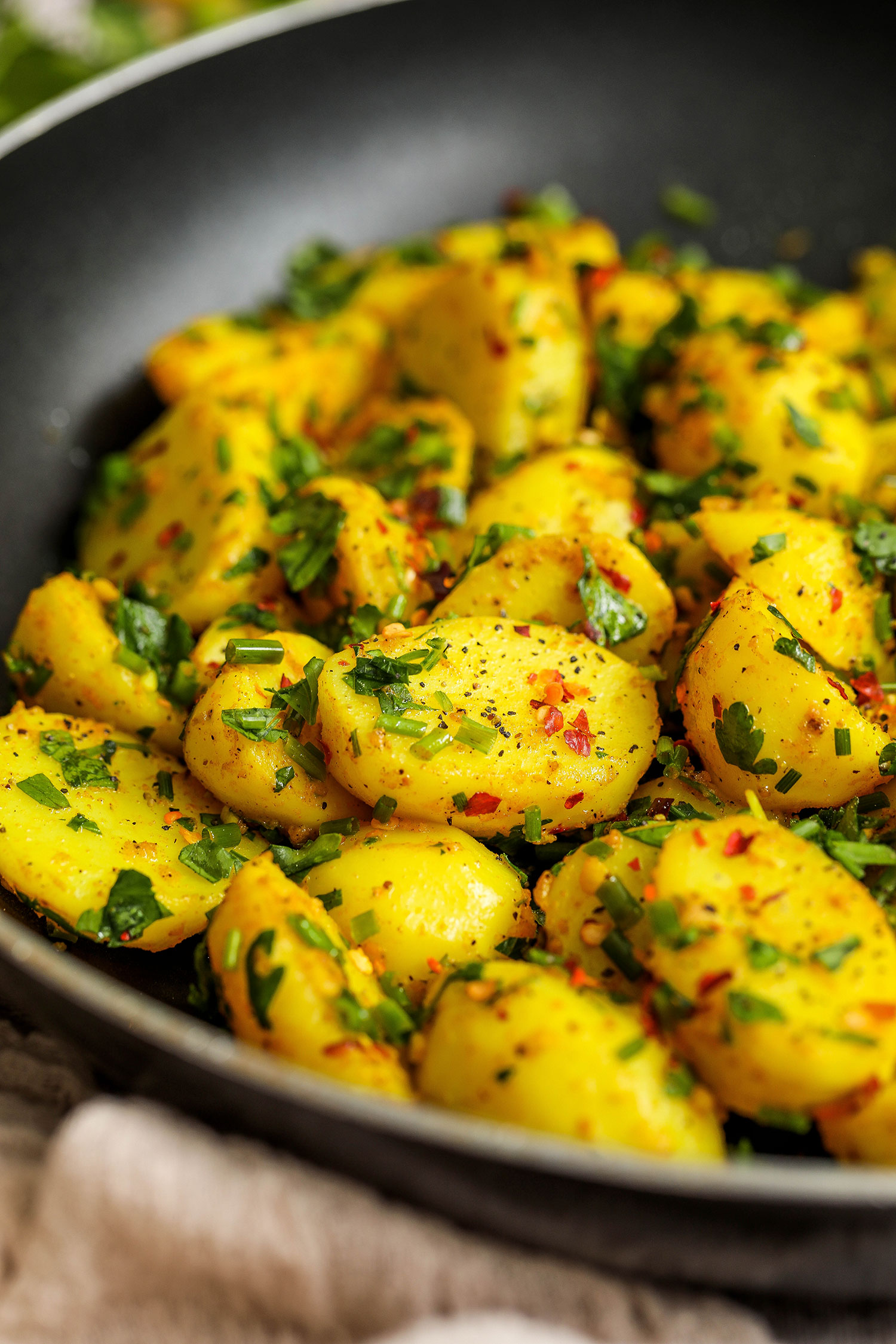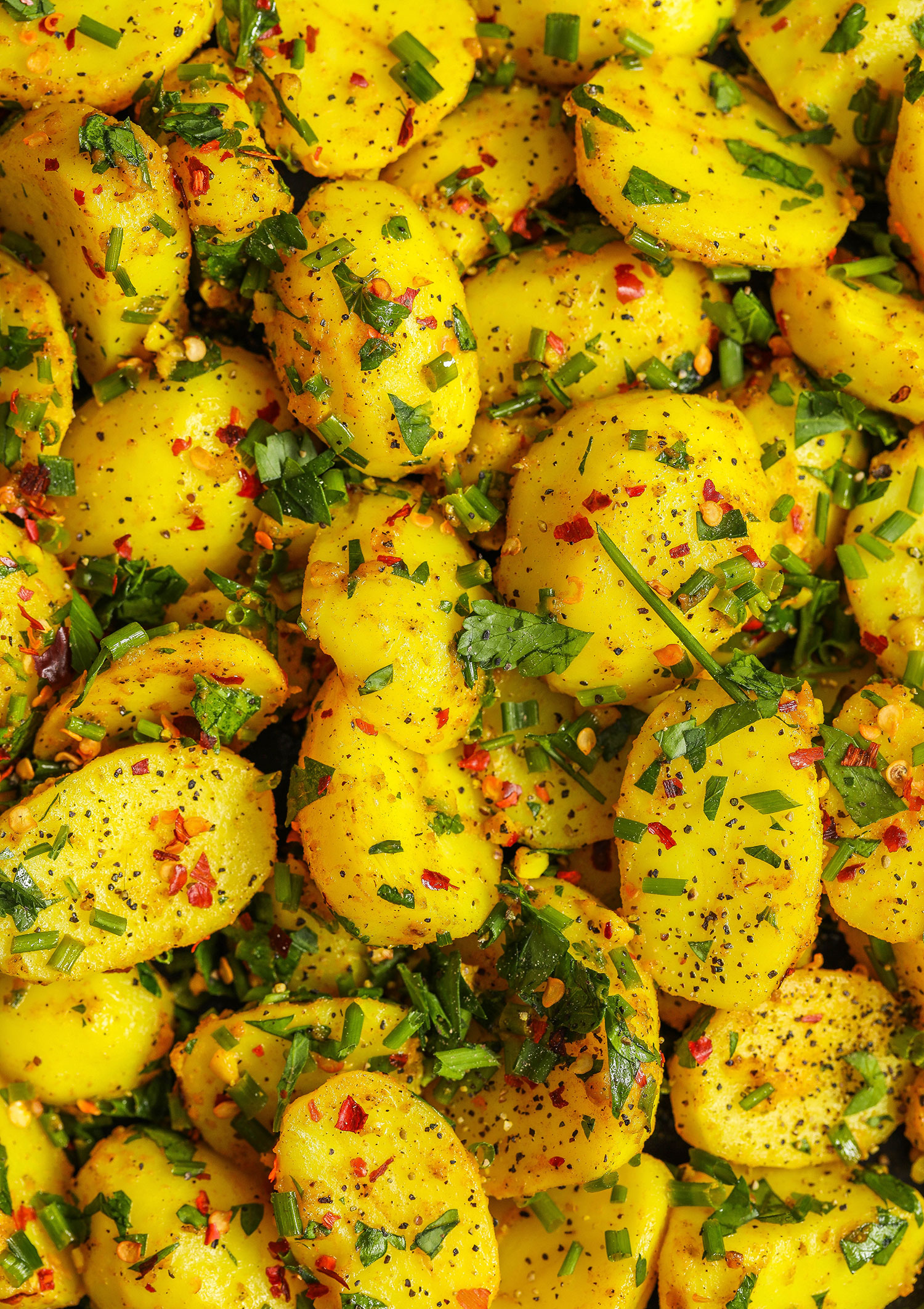 It finally feels like summer is here (hurrah!), so I'm craving all the light and summary flavours. When I was trying to think of a good flavour combination to go with a potato dish, my mind instantly went to turmeric. The lovely bright colour that screams summer, the mild taste and the added anti-inflammatory benefit seemed like the perfect option. I also love turmeric because although it's a spice, it's not "spicy", if that makes sense. It's a great ingredient to add to dishes to jazz them up for those who don't like hot food or pungent spices.
To me a summer savoury dish HAS to have lemon or some sort of zinginess to it. I seem to add lemon to almost every savoury meal I make regardless of the season, but I find it especially essential in spring/summer. It makes food so much more delicious and a little can go such a long way in transforming a meal.
Light herbs like parsley, dill and chives are the obvious choice to be used as a garnish. They add so much flavour, but at the same time they're not too overpowering. They're also packed with antioxidants and are a good source of some nutrients. You can't beat fresh herbs, so whenever I can I always try to use fresh. Whenever I have any leftover that I know I won't be using soon, I chopped them up, stick them in a bag and leave them in the freezer as back up for when I need them again in in the future.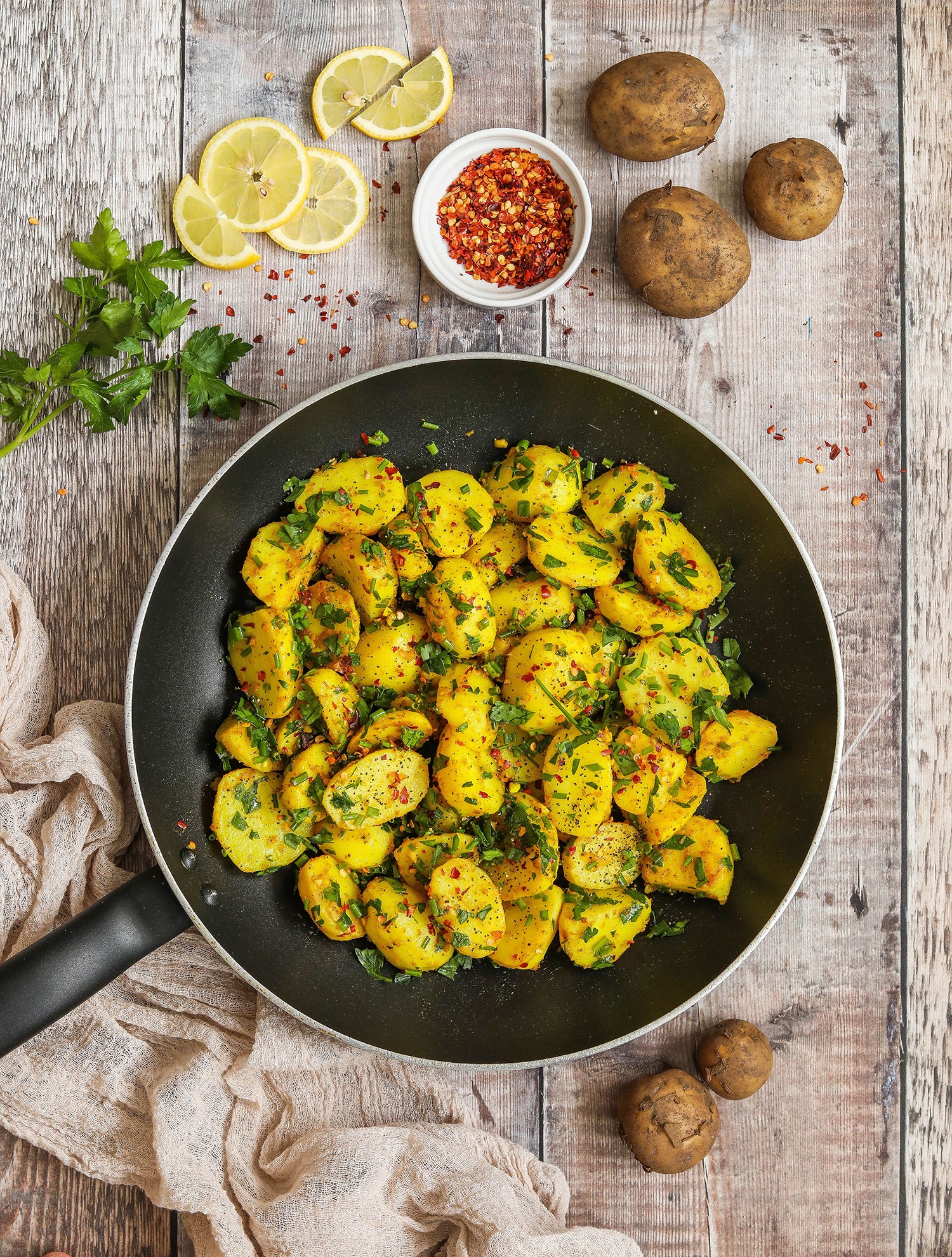 I created this recipe in collaboration with Cornish New potatoes, which are in season now and available to buy for a limited time only. They're harvested while they're still quite immature, giving them soft fluffy skins and a mild fresh taste, which really sets them apart from other baby potatoes both for chefs and home cooks.
Cornish New potatoes are the first UK mainland crop of the year and signal the start of summer. They're naturally fat free and lower in calories than some carbohydrates. They will be available in Tesco stores in 750g packs and as a loose option, both online and in store. So if you would like to take advantage of the goodness that these delicious, in season potatoes have to offer, make sure you grab a bag or two and make this quick, easy and delicious summer side dish 😍 I know you'll love it!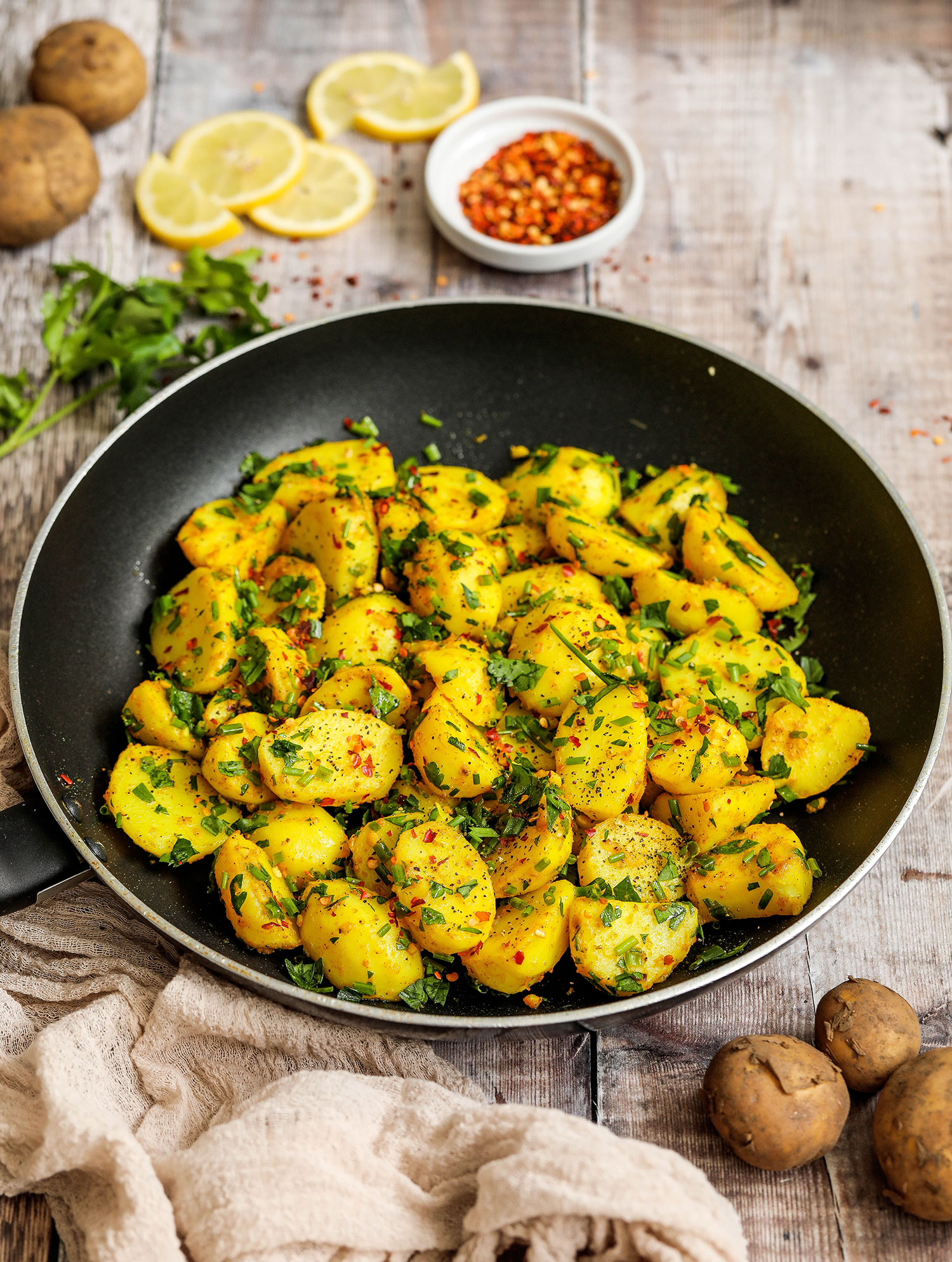 ---
Herby Lemon Turmeric Cornish New Potatoes
Serves – 6
Ingredients
700g Cornish New Potatoes
2 tbsp oil
1 garlic clove, finely chopped
2 tsp turmeric powder
20g fresh parsley,
20g fresh chives or dill
Juice of 1 large lemon
1 tsp chilli flakes
Salt & pepper to taste
Method
Wash and rub the potatoes, slice in half and add them to a large pot. Cover with boiling water, leave to simmer for 10-15 minutes, then drain.
In the meantime heat the oil in a frying pan over a medium heat and add in the garlic. Cook for 1 minute, then add in the turmeric powder and lemon juice.
Add the potatoes and cook for a further 5-7 minutes tossing to coat them evenly.
Take off the heat and add the parsley, chives and chilli flakes.
Enjoy!
---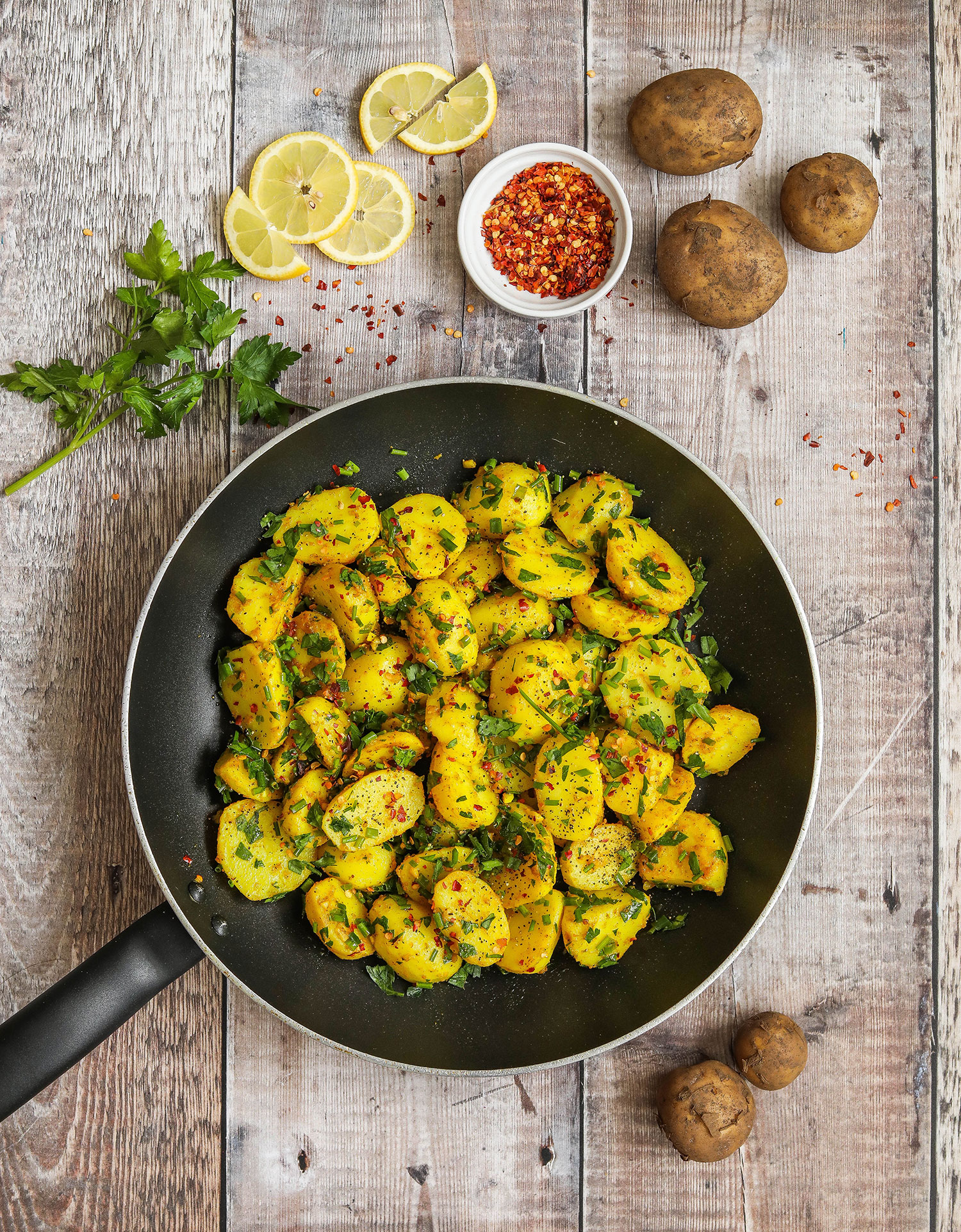 Share This Post