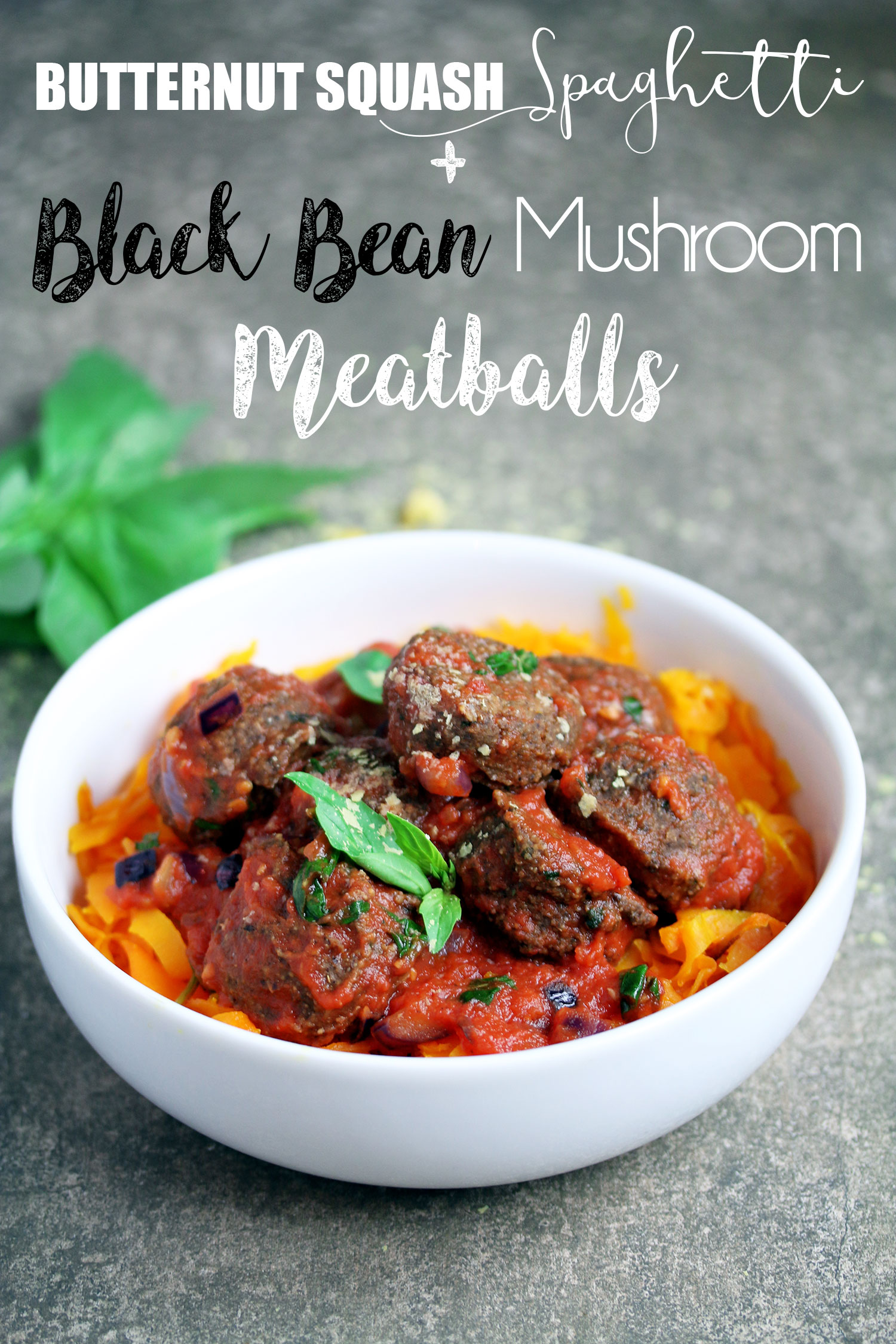 Butternut Squash Spaghetti with Black Bean 'Meatballs'
To me nothing says comfort like a nice big plate of pasta, especially spaghetti with a tomato sauce – yum! It's one of those meals you can always turn to when you need something to lift your mood and spirt.
As delicious as it is, spaghetti usually leaves me feeling heavy and uncomfortable after, which is not the feeling you want to be left with when you're already down and seeking comfort. That's just counterproductive!
So I keep trying to find alternatives that taste delicious, but don't leave me with that same gluttonous feeling. I've tried courgette noodles which I know fools no one and can't exactly be called 'spaghetti' because the taste and texture is nothing like the real thing, but it's a good way to add in some extra vegetables into your meal. It's a fun way to cut down on processed carbs.
I wanted to try something different and a little more hearty. I had seen pictures of sweet potato noodles (which I will be trying next!), but had a butternut squash at home that needed to be eaten so I used that instead.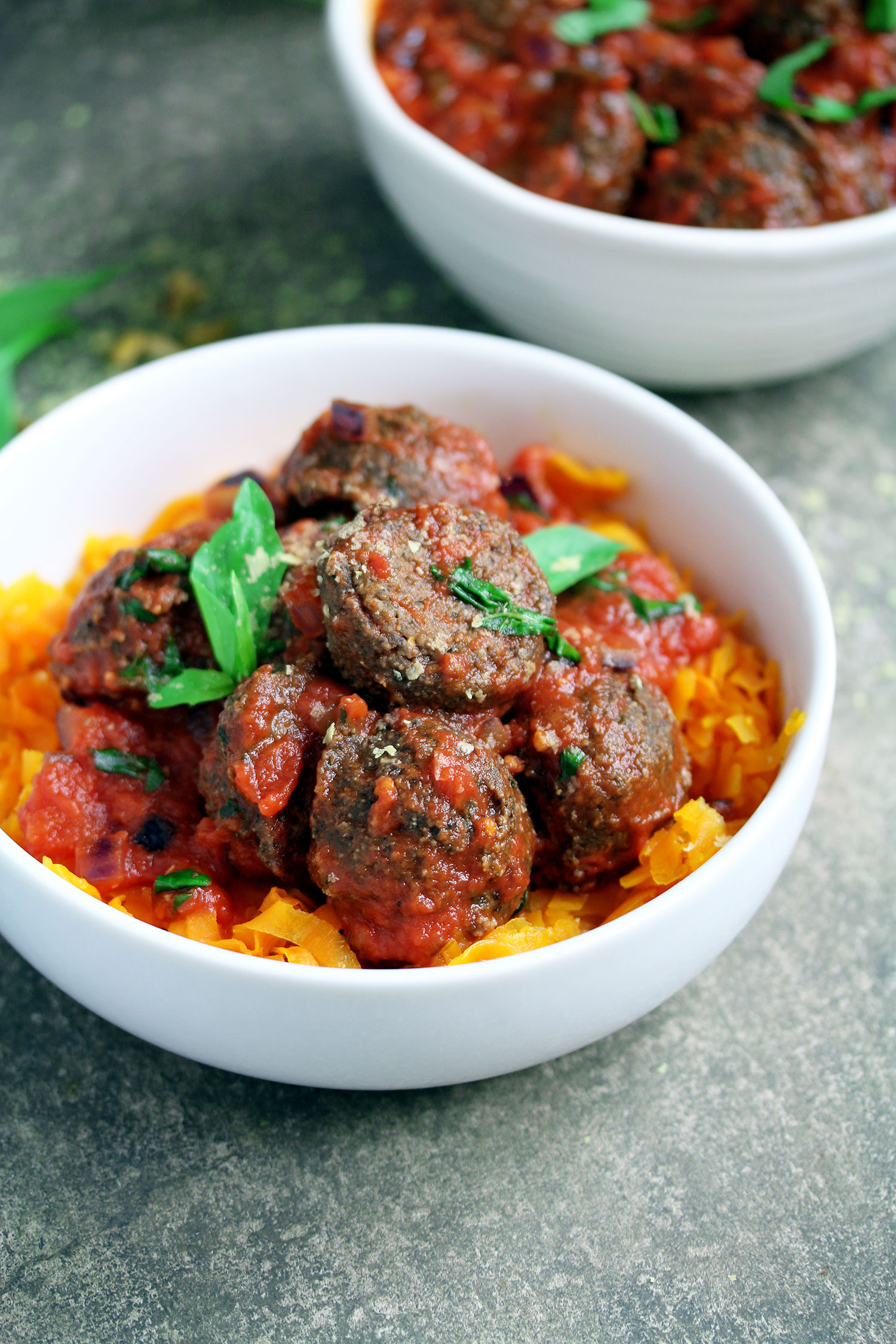 I think butternut squash is such an underrated vegetable (but aren't most vegetables?). They seem to be so popular in the states albeit they have a lot more different varieties of squash (like spaghetti squash which I'm dying to try!). It's a mission of mine this year to experiment with it a lot more and use it in more creative ways rather than simply roasting or using it in soups.
This butternut squash spaghetti with black bean meatballs is a delicious and healthy mid-week evening meal that's a lot easier to put together than it looks. If you don't like the idea of squash noodles you could always just make the meatballs and pasta sauce to use with regular or wholemeal spaghetti 😉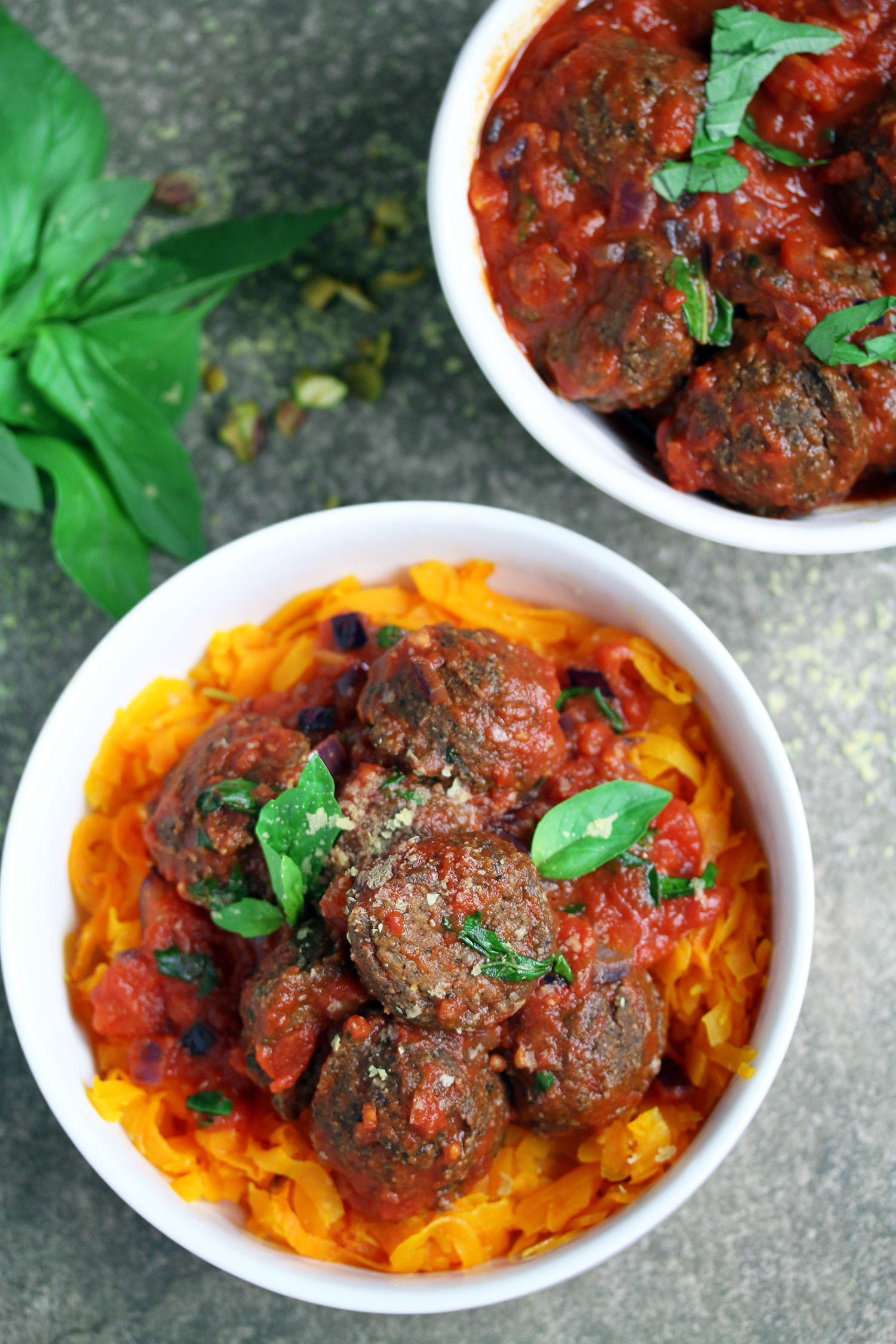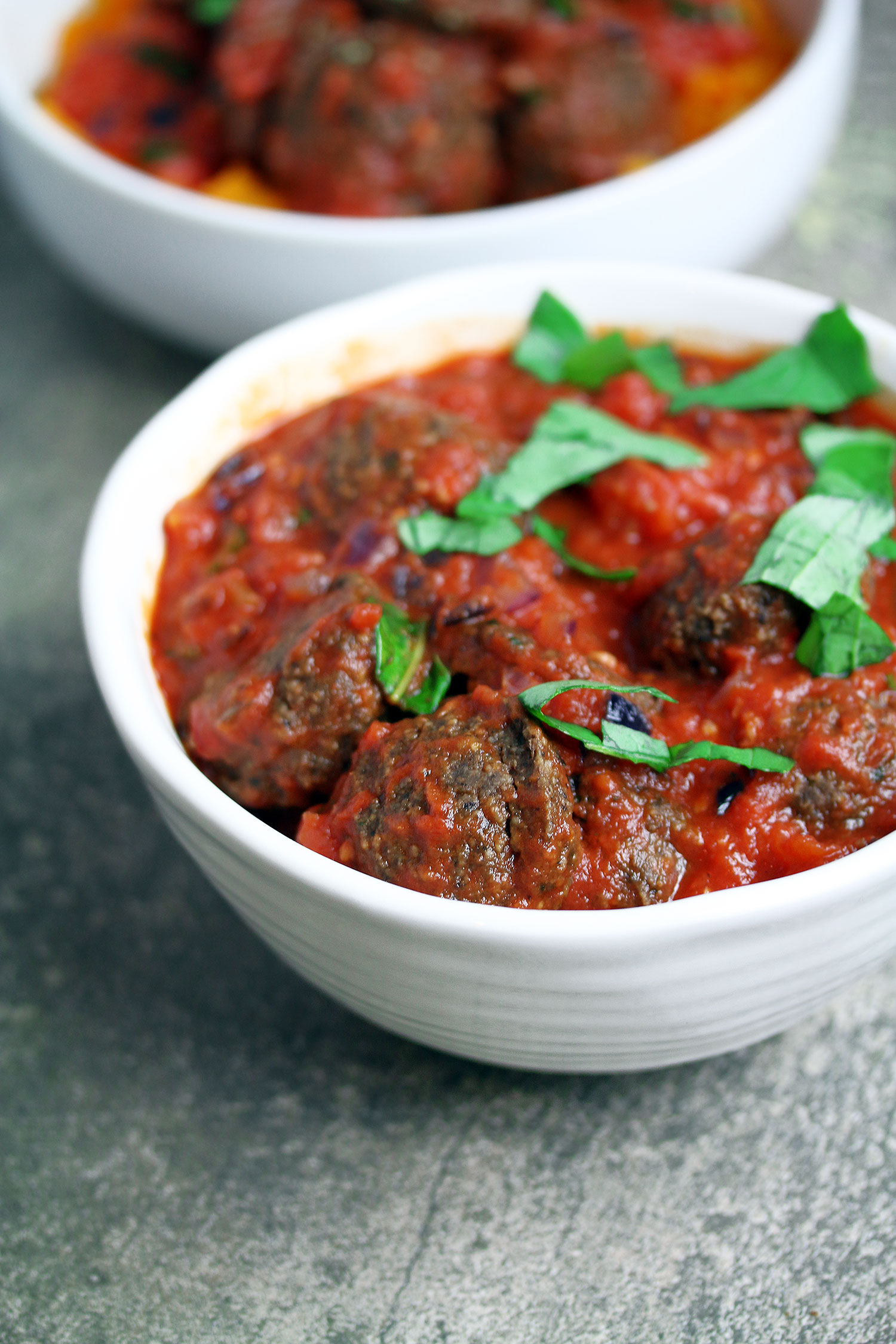 ---
Ingredients:
500g butternut squash
1 can or 225g cooked black beans
200g mushrooms, chopped
1/2 onion, chopped
2 garlic cloves
1/2 tsp salt
1 small red chilli, finely chopped
1/2 cup (55g) oat flour
1 tsp oregano
Handful of fresh basil
Handful of fresh coriander
2 tbsp fresh lemon juice
For the tomato sauce:
1/2 onion, chopped
2 garlic cloves, crushed
1 can chopped tomatoes
2 tbsp tomato puree
1/2 vegetable stock cube
1/4 cup fresh basil, chopped
Salt & pepper to taste
Method:
Start off by making the meatballs – Add all the meatball ingredients into your food processor and blend until smooth.
Preheat your oven to 180*C (160*C fan assisted)/ 350*F
Shape into meatballs (I used a small ice cream scoop to shape into even sized balls). Arrange on a baking sheet and bake for 25-30 minutes.
Use a spiralizer to create the butternut squash noodles. The easiest way to do this is to peel and slice a large butternut squash in half and attach the top half (the long, thinner part of the squash that doesn't contain the seeds) onto the spiralizer.
Arrange the noodles on a large baking sheet. Sprinkle with a pinch of salt and some black pepper and drizzle with a bit of olive oil. Toss to evenly coat the noodles then bake for 15-20 minutes or until soft.
Make the sauce by melting 1/2 tbsp coconut oil in a saucepan and add in the onions. Cook on a medium heat until transparent – around 5 minutes.
Add in the garlic and cook for another minute then add in the chopped tomatoes, vegetable stock, tomato puree and fresh basil. Simmer for about 5 minutes or until the sauce thickens slightly.
Fold the baked meatballs into the sauce.
Serve and enjoy!
---