Healthy Baked Waffles (Vegan & Gluten-free)
Healthy waffles made with oat flour instead of plain flour, almond butter instead of oil and sweetened with stevia. they're also egg-free and suitable for vegans and those with a gluten allergy/intolerance.
Do you own a waffle maker? I used to, but I rarely used it. I found it so difficult to create a healthy vegan, egg-free waffle without the batter sticking to the waffle iron. It almost always ended up in a huge mess, and trying to get the stuck batter off was a nightmare! That really put me off using my waffle maker.
I must admit it was a cheap waffle maker and I haven't owned one since, so my waffle maker experience is very limited. I ended up getting rid of mine after only using it a handful of times because of the reasons above and because it used to take up extra space in my kitchen that I just didn't have. I live in a small city apartment and I don't have the luxury of having extra kitchen counter space or storage space.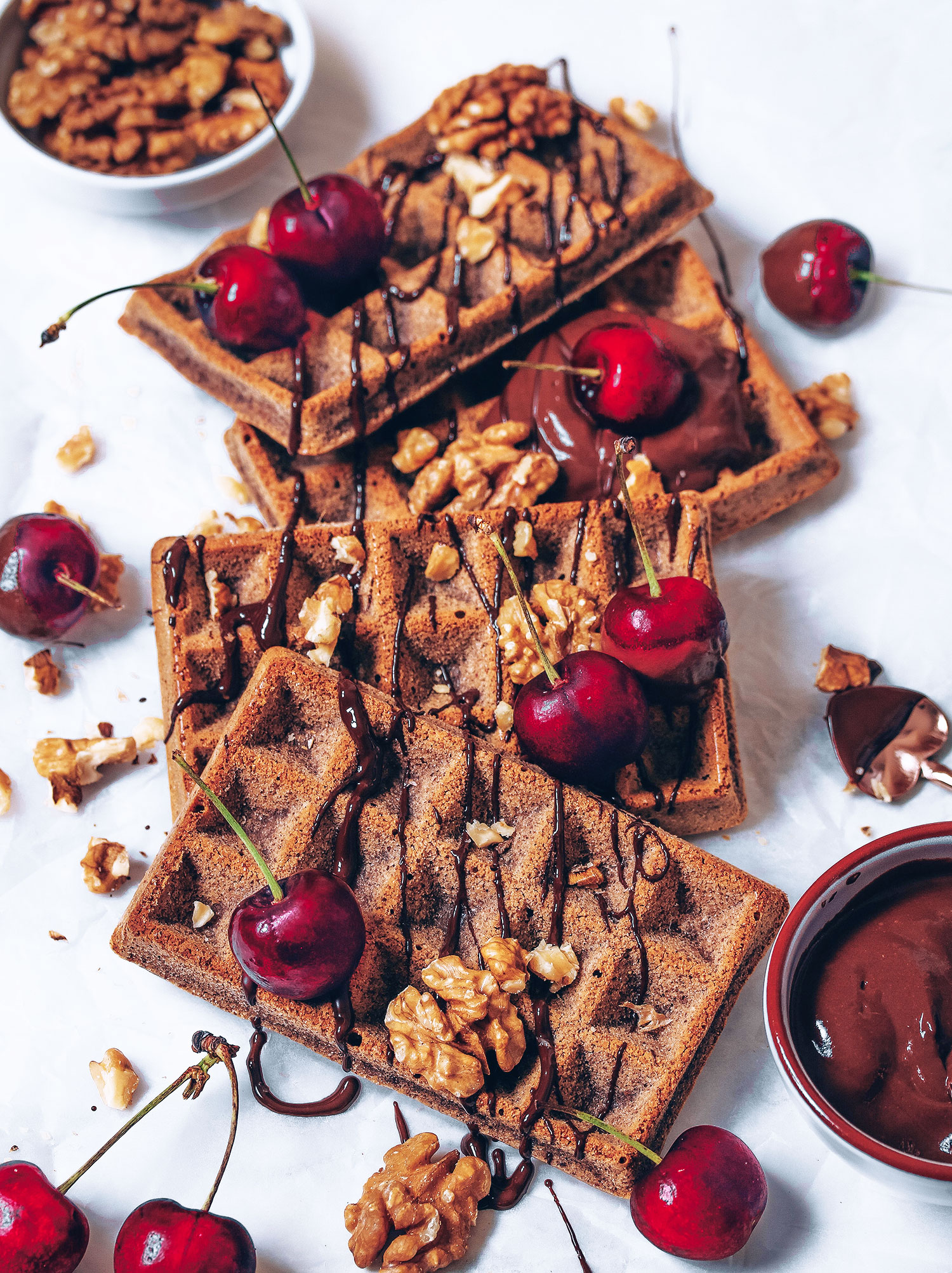 I wanted to try an alternative way to make waffles, one without having to use a waffle maker. How? Well I found these waffle moulds on amazon and I thought they would be much more convenient and I figured the batter was less likely to stick to the mould, so I wouldn't have to deal with the pain of failed waffles! The moulds are also much easier to clean and don't take up as much storage space, which was perfect for me!
The only down side to using a waffle mould is timing. You can make waffles in a waffle maker in 3 minutes, but to bake them in the oven takes 15-20 minutes, which I don't actually mind! I only make waffles when I have time in the morning anyway, so while they're baking I go off and do other things around the house, which also works for me.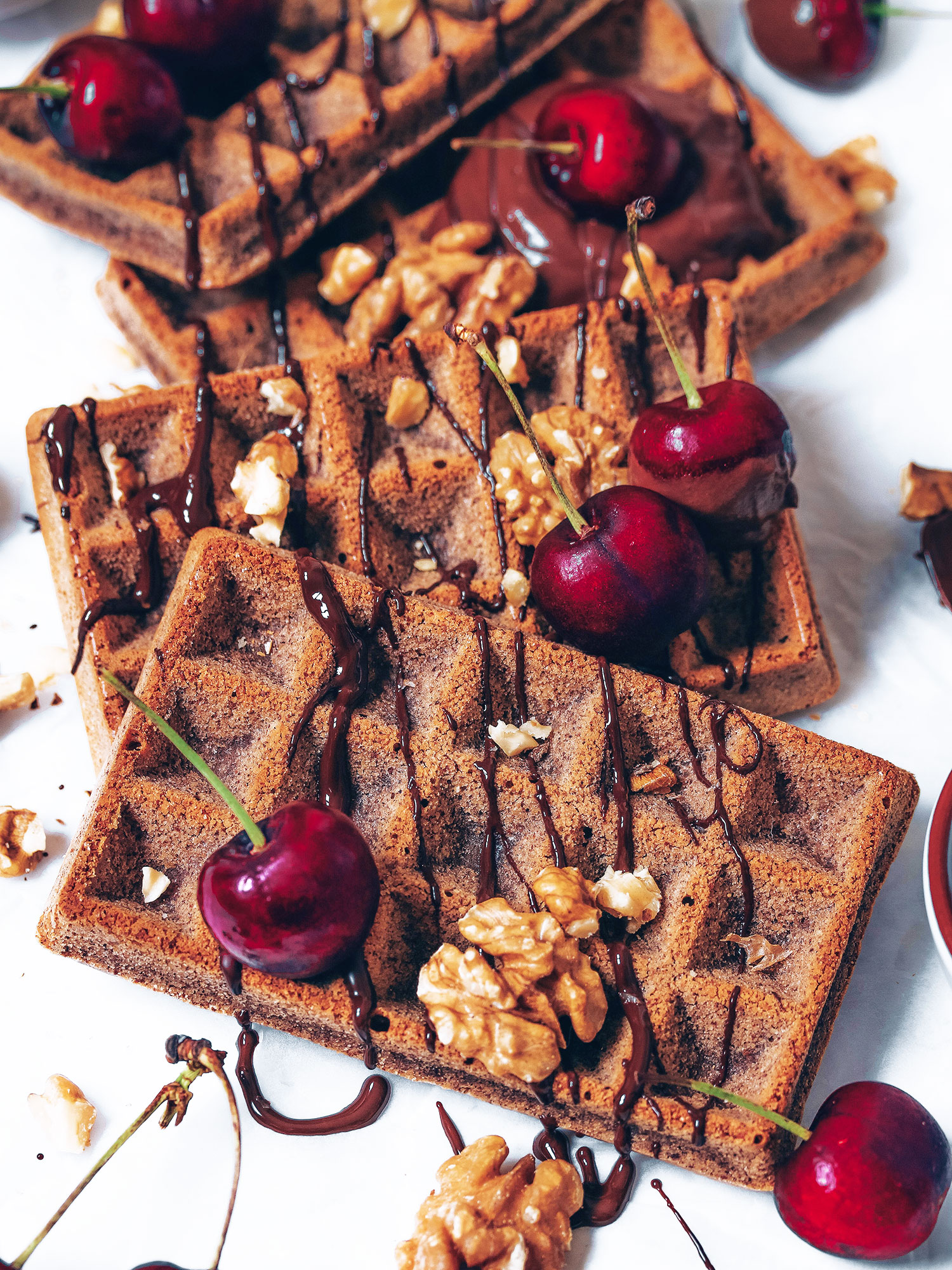 If you already have a waffle maker and don't see the point in buying a waffle mould, you CAN use this recipes in a regular waffle maker. Just cook it the way you cook any other waffle recipe. Depending on the waffle maker it should take 1-3 minutes cooking time.
Have you ever tried baked waffles? Do you prefer using a mould or a waffle maker?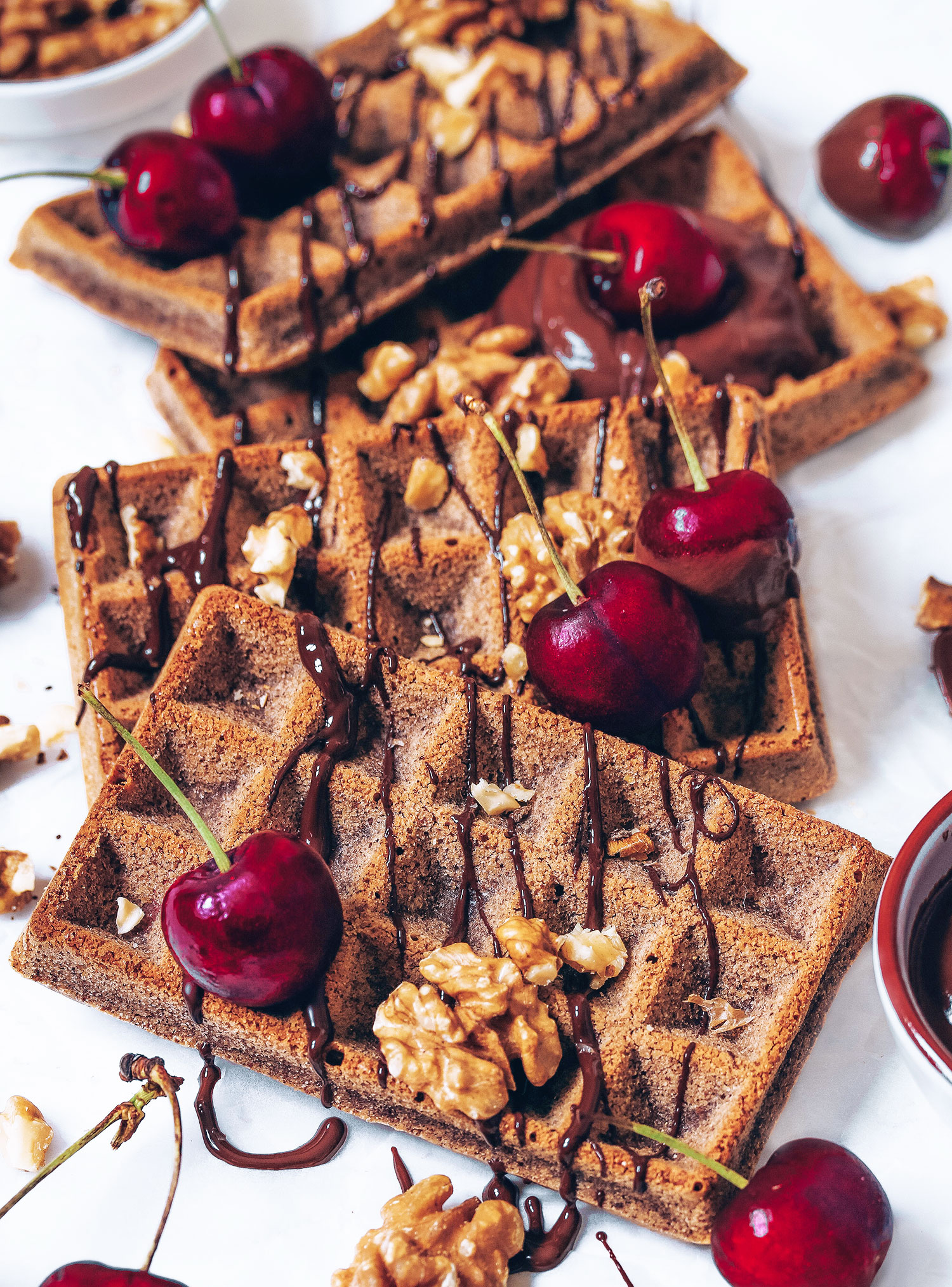 ---
Healthy Baked Waffles (Vegan & Gluten-free)
Makes – 4
Ingredients
1 cup (110g) oat flour – plain oats ground into a flour in the food processor. Use gluten-free oats if allergic/intolerant
1 tsp baking powder
1 tsp cinnamon
2 tbsp stevia – or granulated sweetener of choice
1/4 cup (4 level tbsp) almond butter – or nut butter of choice
1/2 cup + 2 tbsp (140ml) milk of choice
Method
Preheat your oven to 200°C/180°C fan/400°F
Mix all the ingredients in a bowl until you have a smooth batter.
Divide the batter equally between the 4 waffle moulds and bake for 15-20 minutes.
Optional step – take the waffles out of the moulds, arrange them on a baking sheet and return them back in the oven for another 5 minutes to makes them extra crispy.
Serve with nut butter, nuts, fruit or what ever else your heart desires 😀
Enjoy!
---