Avocado Courgette Spaghetti
You've all probably heard of the popular dish that is courgette spaghetti (aka zoodles or zucchini noodles) it's so popular now that you can even find it being sold in supermarkets along with other popular 'dishes' like cauliflower 'cous cous'.
Courgette spaghetti is basically a raw courgette, sliced into long noodles using a spiralizer, nothing fancy really, but it's a great way to add more raw vegetables into your diet. It's definitely a lot more fun eating courgette in the form of noodles, because let's face it, most of us won't even consider eating a courgette raw otherwise!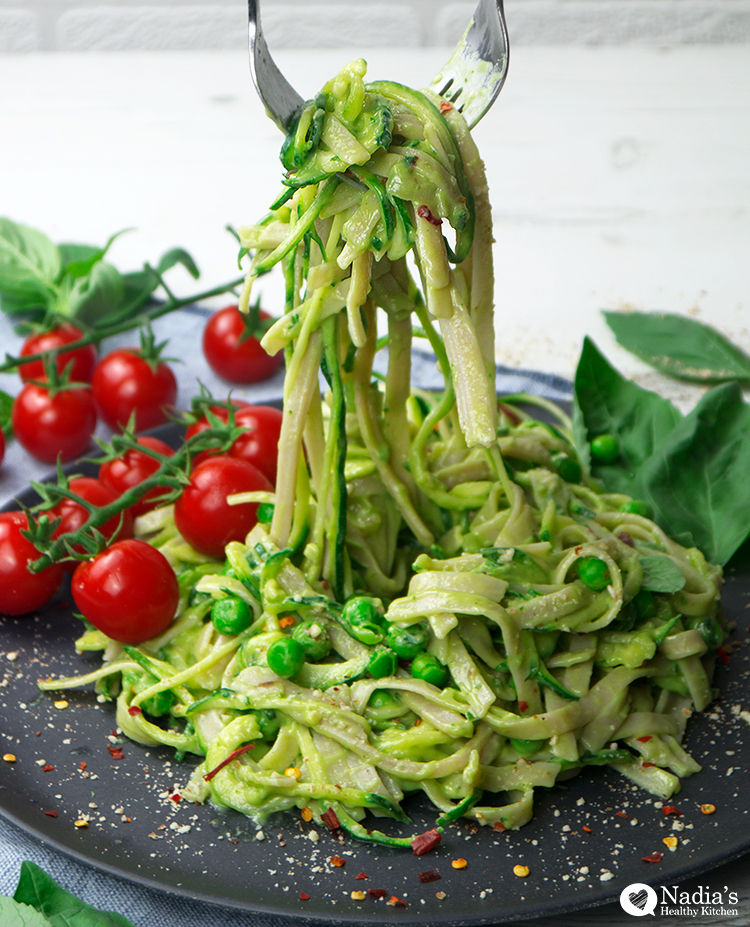 If you don't fancy the idea of eating courgettes as your main source of carb in a meal, a good idea is to bulk up regular spaghetti with courgette ribbons. That way you feel like you're eating spaghetti but you're getting the goodness of courgettes in there as well.
To make this recipe gluten free I'm using brown rice spaghetti, but of course you can use any type you like!
I'm also adding in some peas for some protein, but again you can add other forms of protein like tofu, tempeh, prawns, chicken…etc.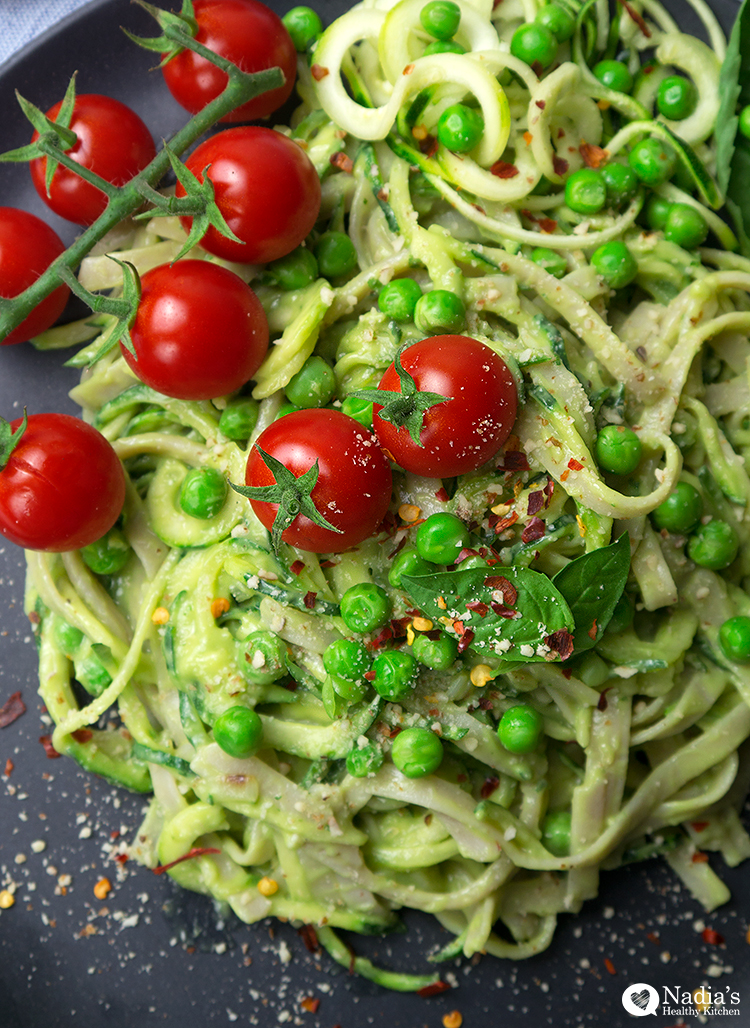 This avocado courgette spaghetti makes a great evening meal – high in healthy fats, iron, magnesium, potassium, B vitamins as well as vitamins A, C, E and K. It also has around 9g protein and 10g fibre!
As well as being gluten-free, this recipe is also vegan and dairy-free.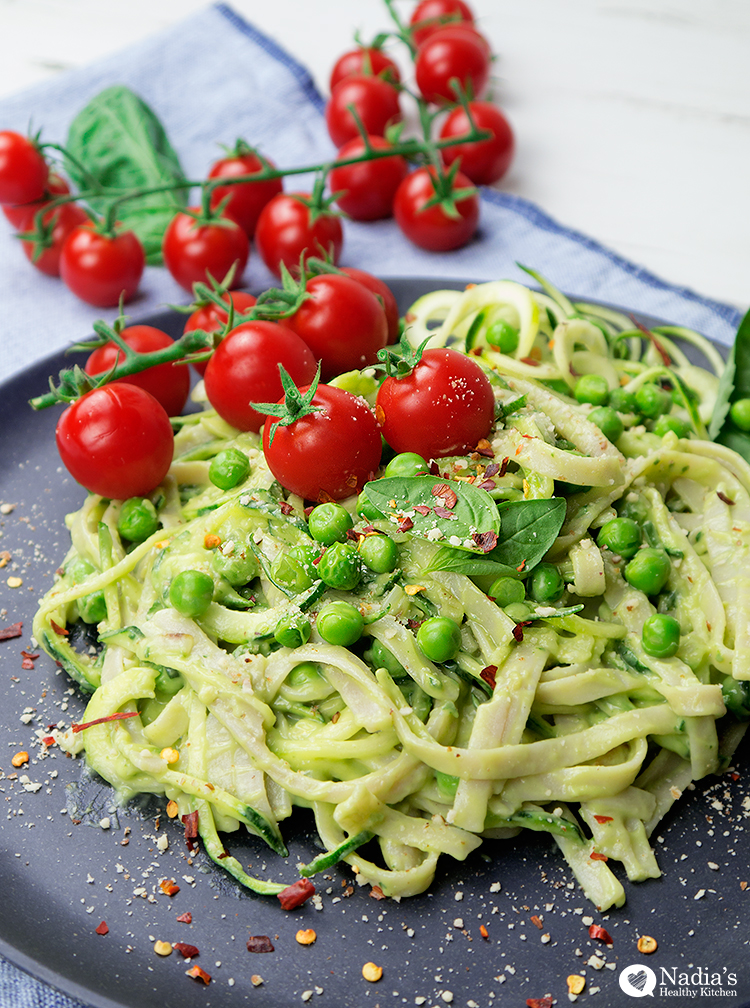 Avocado Courgette Spaghetti
2016-01-20 10:34:24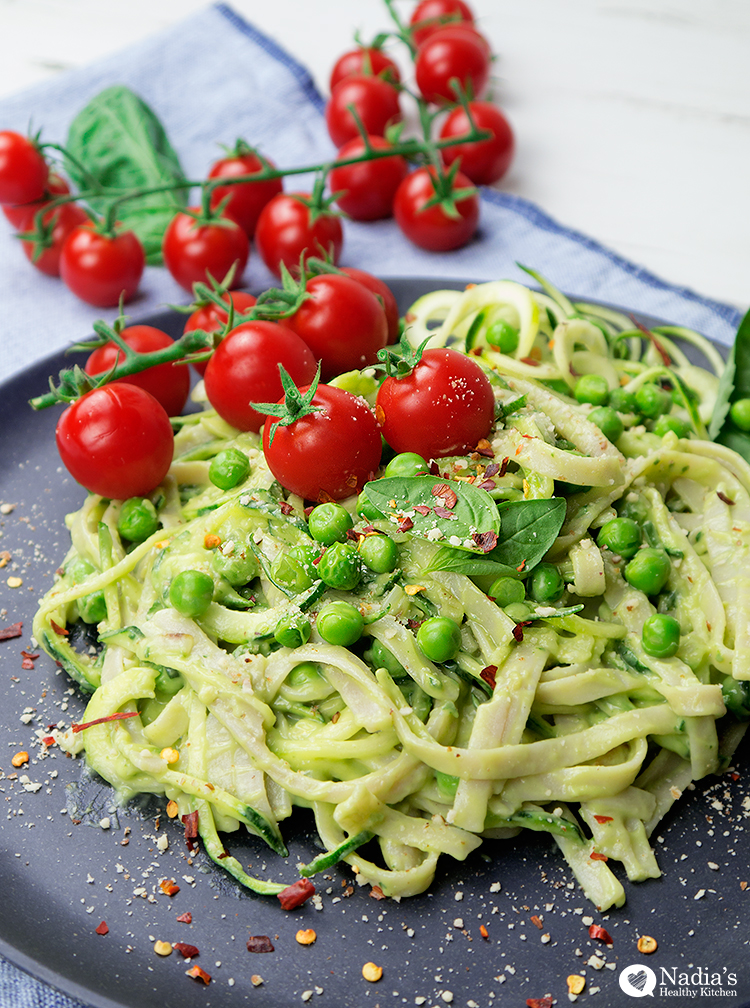 Serves 4
Ingredients
3 medium (350g) courgettes
170g brown rice spaghetti
2 ripe avocados
1 cup (140g) frozen peas - lightly steamed or cooked in the microwave
2 garlic cloves
1/4 cup (4 tbsp) chopped onion
A good handful of fresh basil leaves
1 lemon
Salt & pepper
To serve
Chilli flakes
Sriracha
Cherry tomatoes
Instructions
Using a spiralizer to turn the courgettes into noodles. If you don't have a spiralizer, you could use a potato peeler to create thick ribbons instead.
Heat a little coconut oil in a small pan then add in the chopped onions. Saute on a medium heat for about 5 minutes then add in the crushed garlic. Continue cooking for 1 minute then take off the heat and leave to the side.
Add the avocado flesh, basil leaves and juice of 1 lemon to your food processor. Season well with salt & pepper. Blend until smooth.
Cook the pasta according to pack instructions. Drain and rinse under cold water for a few seconds*.
Return the spaghetti to the pan, add in the courgette noodles/ribbons, onion & garlic mixture, the cooked peas and then mix in the avocado mixture.
Transfer to your serving plate and top with chilli flakes or a drizzle of sriracha for some heat and some cherry tomatoes.
Enjoy!
*Note: If you prefer the courgette noodles a little softer, add them to the pan of simmering pasta a few minutes before draining.
Notes
Nutritional information (estimated per serving)
Calories: 377 calories
Protein: 9 g
Carbs: 51 g
Fats: 15.6 g
Fibre: 10.3 g
Nadia's Healthy Kitchen https://nadiashealthykitchen.com/
*Disclaimer: This post contains affiliate links. If you click on one of the links above and purchase a product I will receive a small percentage that will go towards allowing me to maintain this blog. All opinions are my own.