Asian Vegetable Peanut Butter Rice
It shouldn't come as a surprise that Asian food is one of my favourite types of cuisines. I've fallen in love with every single Asian dish I've tried. I can't get enough of dishes like sushi, pad thai, katsu curry, pho and ramen and the list goes on! Each dish has it's own unique flavour but they're all equally as comforting, aromatic and satisfying.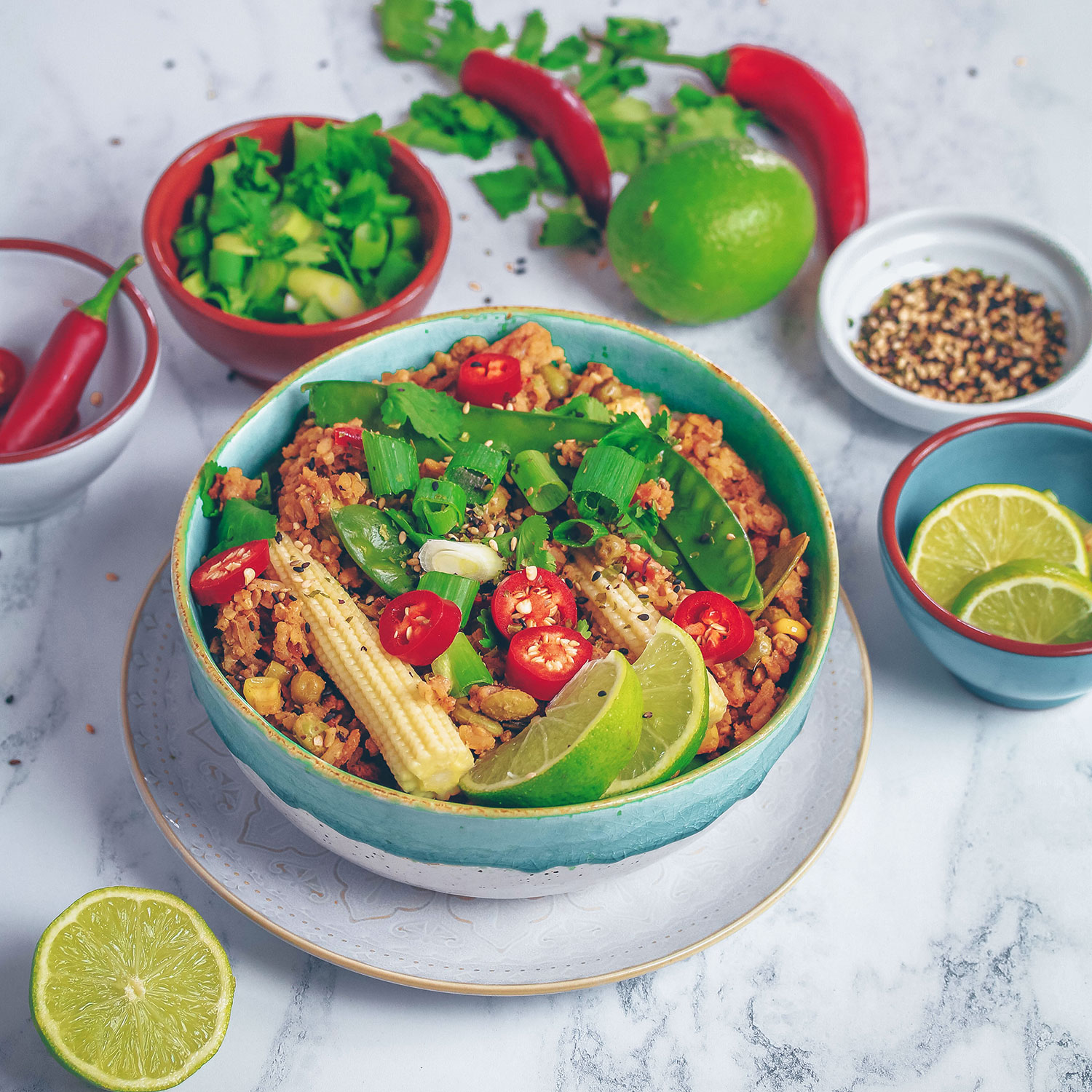 The reason I used the word 'Asian' in the title rather than specifying a country is simply because the recipe has no origin and is not based on any one specific traditional dish. I used Asian inspired ingredients like spring onions and edamame beans and flavours like ginger, chilli and miso to put together this delicious and super easy rice dish. I also added smooth peanut butter to give it extra richness and creaminess. Peanut butter goes so well with the pungent, salty and umami tones of the miso paste.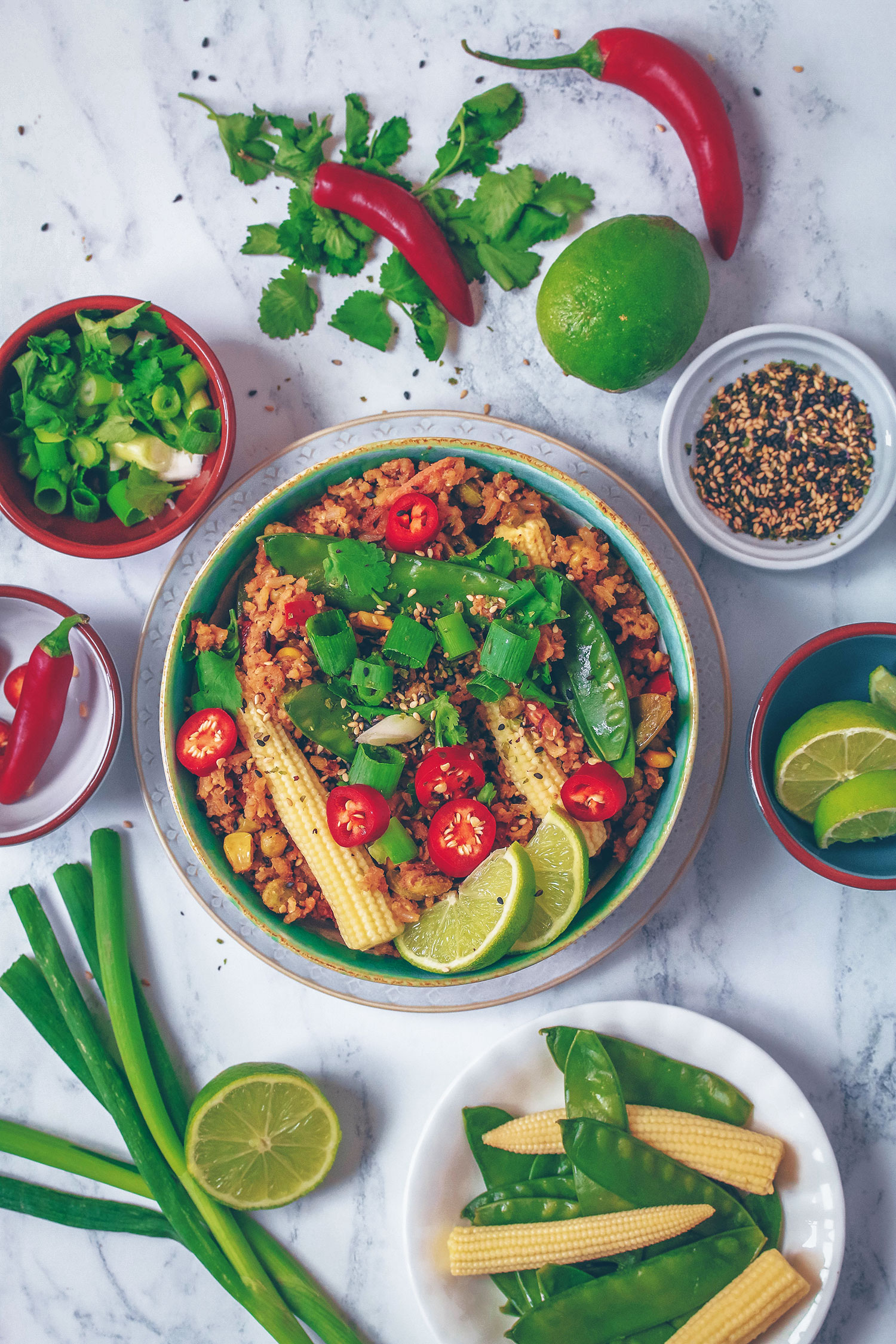 I created this Asian vegetable peanut butter rice with the help of Very Lazy products. If there's something I hate most about cooking it's chopping things like garlic and chilli! The first leaves my fingers stinking of, well, garlic. The latter always burns my skin as I often get eczema on my hands and let me tell you, cracked sore skin just doesn't handle fresh chilli very well. Not very well at all! So for me, pre-chopped chilli that comes in a jar is a life (and time) saver. I also used their ginger paste, which is another handy ingredient to have in the fridge for when I don't have time or the patience to peel and grate fresh ginger.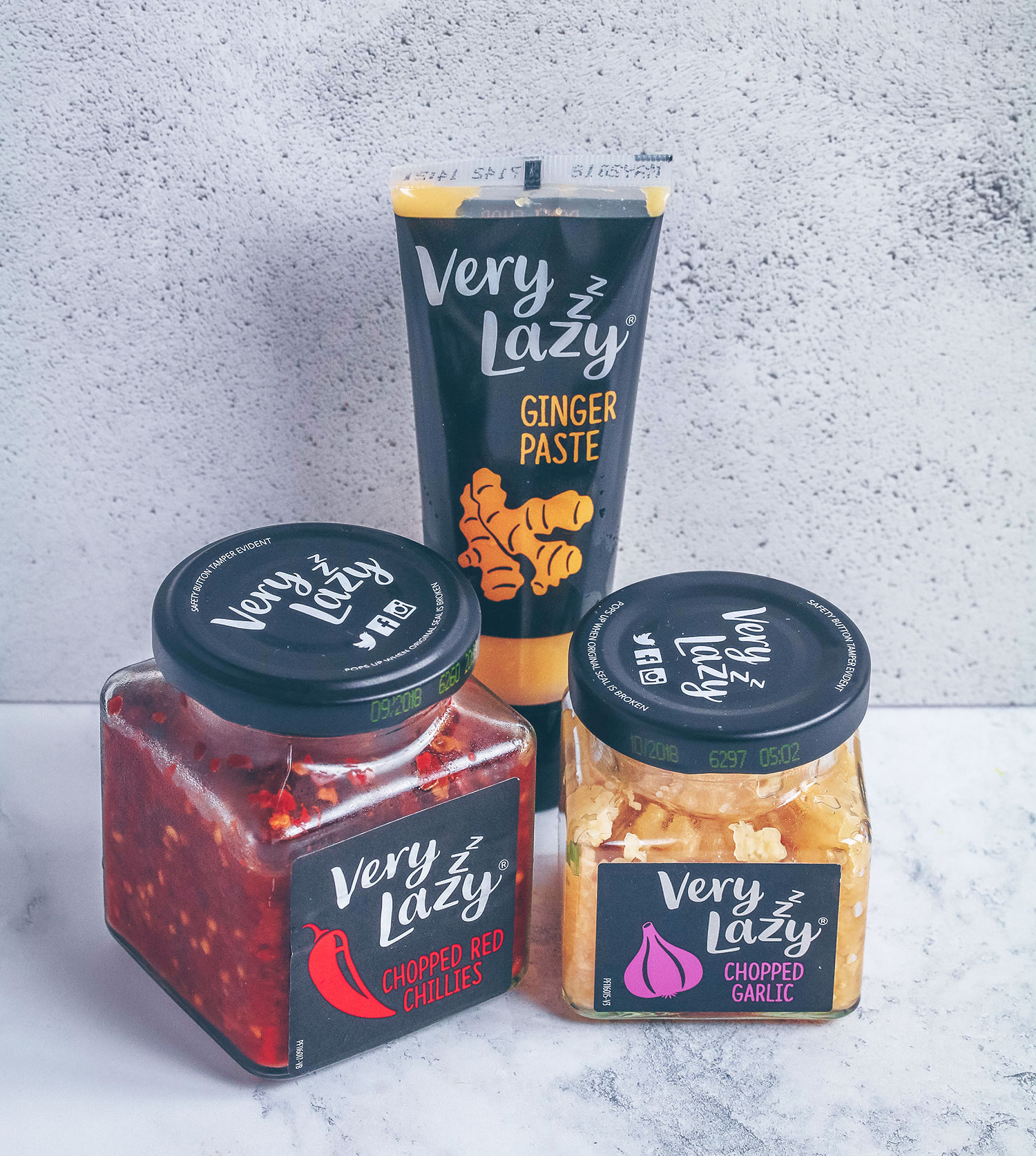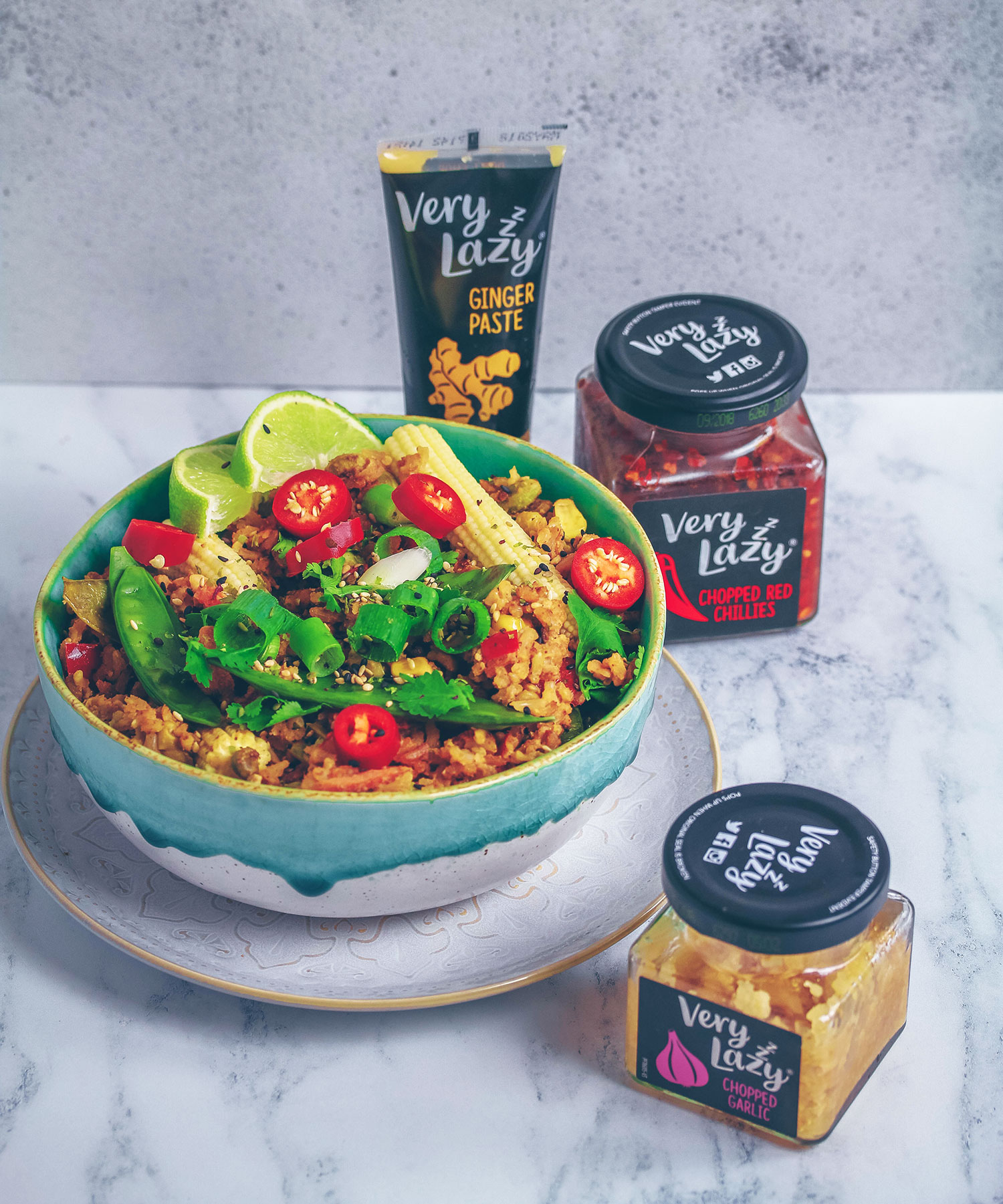 Even though there is no meat in this recipe, the addition of edamame beans adds a good amount of protein. That along with the fibre from the vegetables and rice makes it super filling and satisfying. You always have the option of adding some baked or fried tofu to bump up the protein content.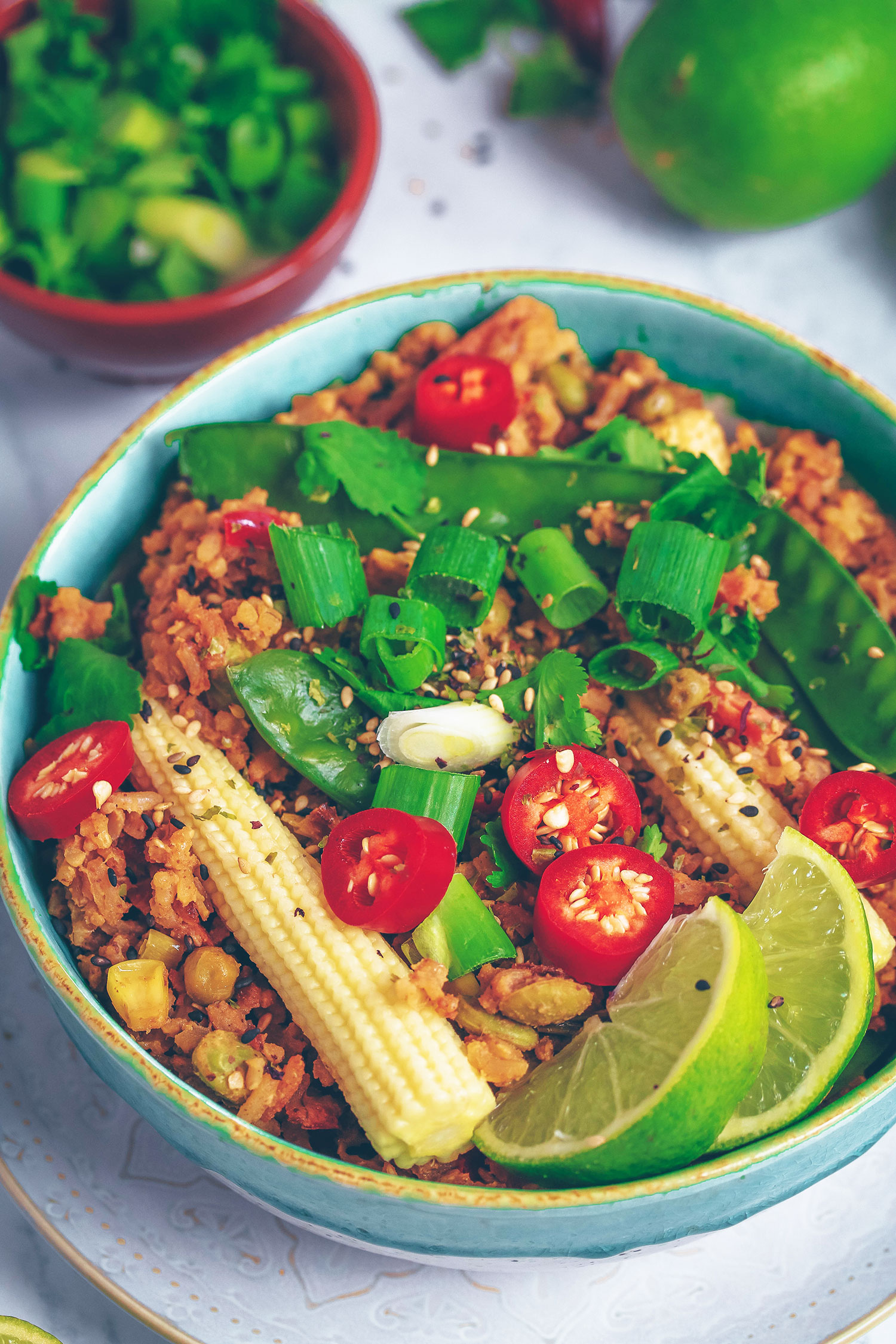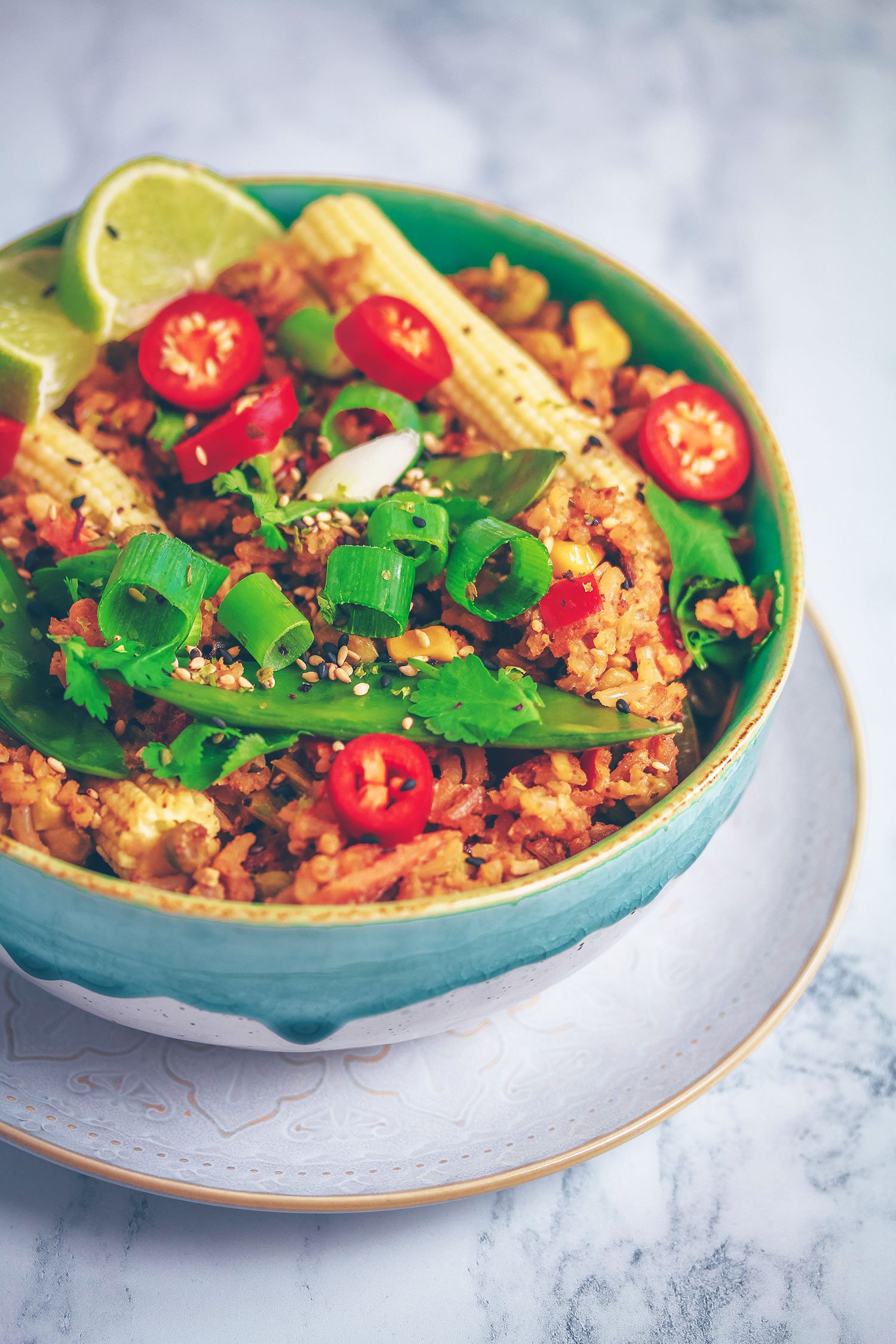 ---
Asian Vegetable Peanut Butter Rice
Serves: 4-6
Ingredients
1 tbsp oil
3 spring onions, chopped
2 tsp Very Lazy chopped garlic
1 tsp Very Lazy chopped red chilli
2 tsp Very Lazy ginger paste
240g mixed frozen vegetables
160g frozen edamame
1 red pepper, chopped
170g brown (or white) rice cooked according to pack instructions
3 tbsp peanut butter
2 tbsp miso paste or soy sauce. If you're using soy sauce you may need to add more depending on preference.
Juice of 2 limes
1 tbsp maple syrup
Optional – 175g baby corn & mangtout cooked according to pack instructions
Optional (but recommended) toppings – fresh coriander, more chopped spring onions, fresh chilli, Furikake/sesame seeds.
Method
Add the frozen vegetables and edamame beans in a large bowl and microwave on high for 5-7 minutes.
Heat the oil in a large frying pan. Add in the chopped spring onions and cook on a medium/high heat for a couple of minutes.
Stir in the chopped garlic, chopped red chilli and ginger paste. Cook for a few seconds.
Add in the microwaved vegetables and cooked rice.
In a small bowl, mix together the peanut butter, miso paste/soy sauce, lime juice and maple syrup. Pour the mixture over the rice and mix until the sauce is evenly coating everything. Continue cooking for a few more minutes until everything is thoroughly heated through.
Top with the cooked baby corn and mangtout and the suggested toppings.
Enjoy!
---
رز اسمر نباتي بصلصة الفستق السوداني
١ ملعقة كبيرة زيت
٣ بصل اخضر مفروم
٢ فص ثوم مفروم
١ فلفل حار مفروم
٢ ملعقة صغيرة معجون الزنجبيل
٢ كوب خضروات مجمدة
١ كوب إدامام مجمد
١ فلفل احمر مفروم
١ كوب رز اسمر كامل مطبوخ
٣ ملعقة كبيرة زبدة الفول السوداني
٢ -٤ ملعقة كبيرة صلصة الصويا
٢ ليمون
١ ملعقة كبيرة شراب القيقب أو سكر
للتزين كزبرة الطازجة بصل أخضر وبذور السمسم
الطريقة
إضف الخضار المجمدة في وعاء كبير وضعه في الميكروويف لمدة ٥-٧ دقائق
سخن الزيت في مقلاة كبيرة. اضف البصل المفروم وسخن على نار متوسطة لبضع دقائق
إضف الثوم المفروم، الفلفل الأحمر المفروم ومعجون الزنجبيل. اقلى لبضع ثوان
إضف الخضار المطبوخة والأرز المطبوخ
في وعاء صغير، اخلط زبدة الفول السوداني، صلصة الصويا ،عصير الليمون وشراب القيقب. صب الخليط على الأرز واخلط جيدا .استمر في الطهي لبضع دقائق أخرى حتى يتم تسخين كل شيء جيدا
بالهنا

Thanks to Very Lazy for sponsoring this post. Commissioned posts is how I'm able to continue working on the blog and creating recipes and recipe videos for you. As always, all opinions are my own.