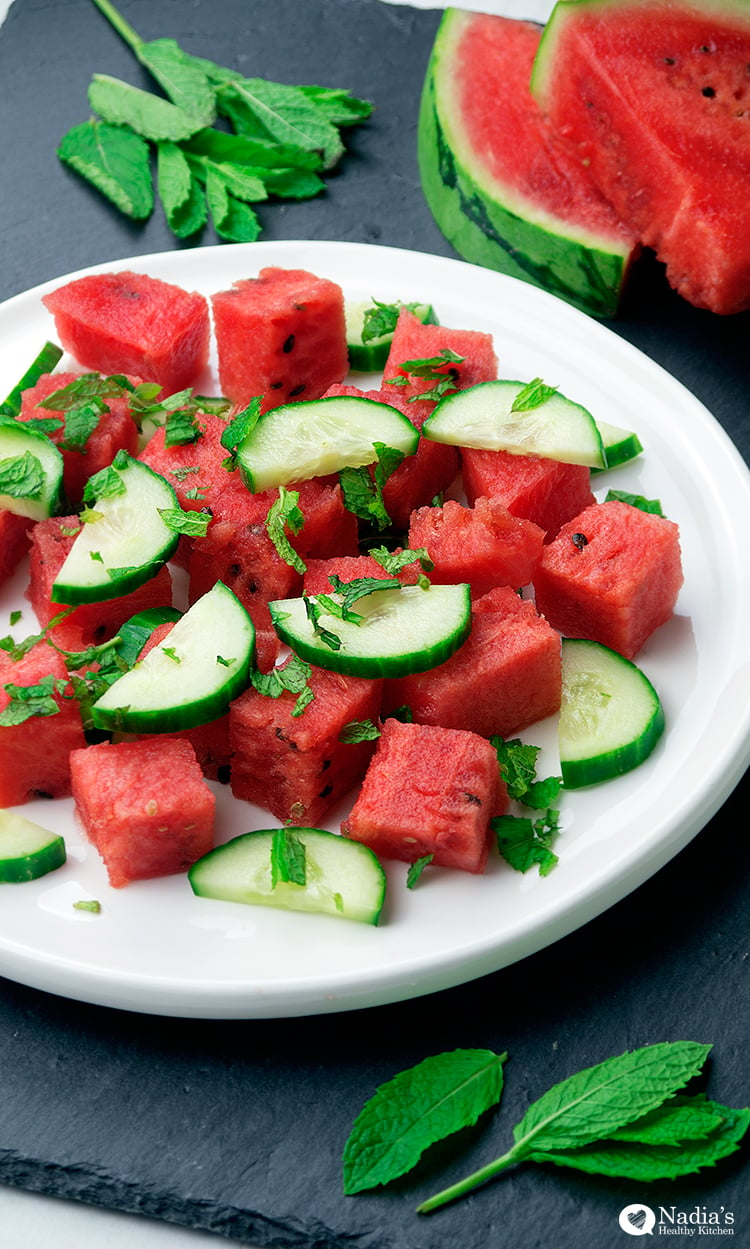 Watermelon Cucumber and Mint Salad
I feel summer is passing by and I've hardly made any summery recipes so far! It stills feels like summer hasn't kicked in properly so I don't feel inspired to make summer recipes which is such a shame. I was really looking forward to putting my creative cap on and coming up with all kinds of dishes I wouldn't usually go for. I guess there is still time? I think I'm just feeling a little down since we've had so much rain the last few days here up north and I'm really fed up of it! Having said that, the sun decided to come out today (yay!) so it's the perfect opportunity to share this simple watermelon cucumber and mint salad. To me, those three ingredients define summer, especially watermelon! When combined, they make the perfect side salad or snack.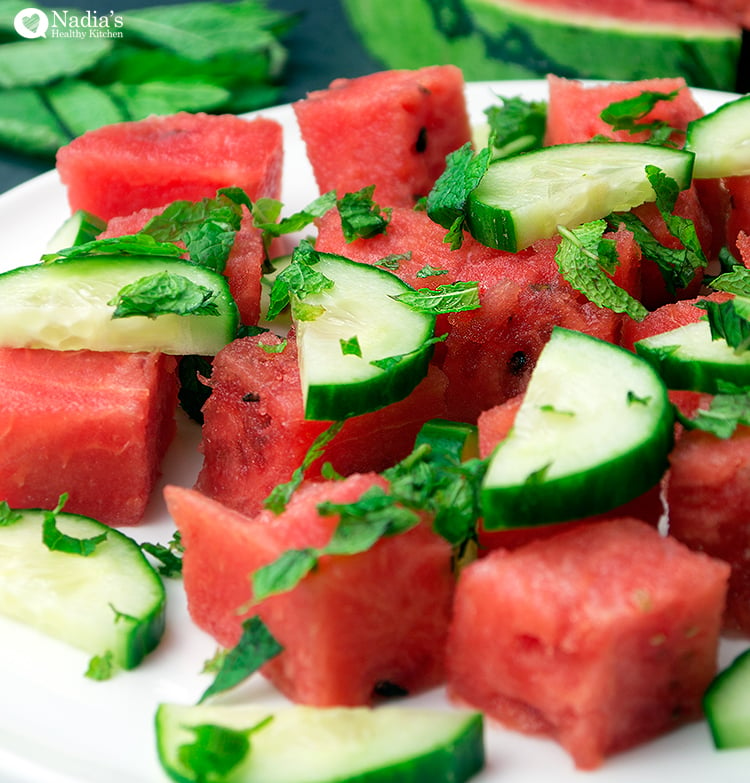 Watermelon is one of those foods I've really missed since moving to the UK. Even though you can easily find them here in summer, they just don't taste the same as the ones I used to eat growing up in Iraq and they're definitely a lot more expensive! Our watermelons were HUGE and so red and delicious inside. I remember feeling so happy when my dad came home holding a watermelon, the kind of excitement you would feel as a kid when your mum or dad came home with sweets or a tub of ice cream. Since we couldn't afford any of that fancy stuff, watermelons were our treat!
On hot days, my mum would slice it up and leave to to chill in the freezer for a couple of hours. Genius idea! The result was so refreshing, cool and thirst quenching. I could have eaten it all day long and I still can now on hot days.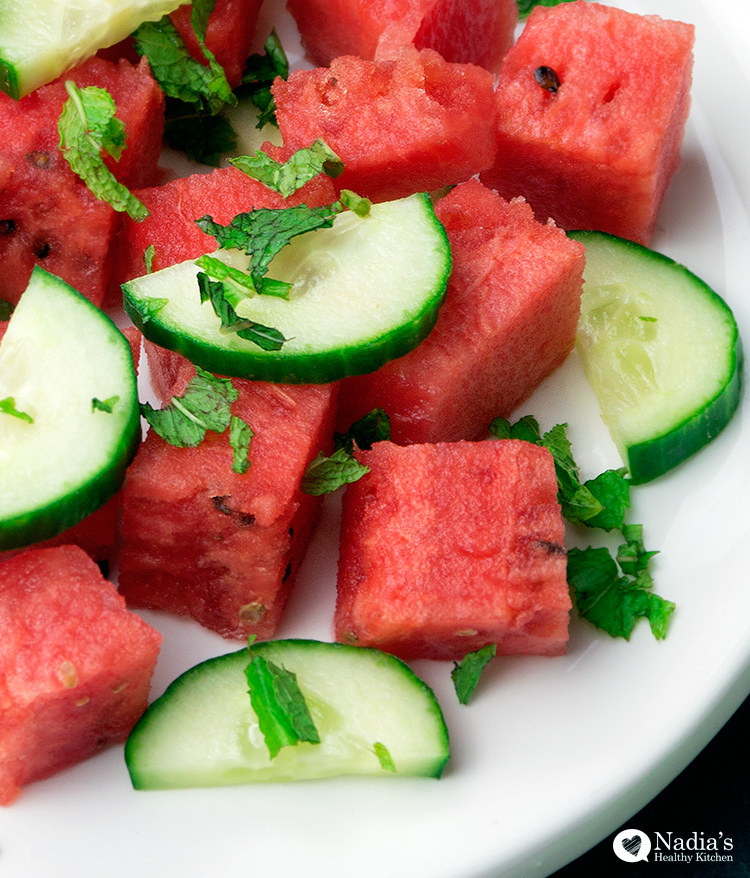 This watermelon cucumber and mint salad is so simple, it literarily is only three ingredients, nothing too fancy, just simple and amazing flavours! To add a little more depth to the flavour, you can add some salty cheese like feta to complement the sweetness of the watermelon. I wanted to keep it as simple as possible so I left the cheese out. Also, my eczema is misbehaving so I'm staying away from dairy anyway.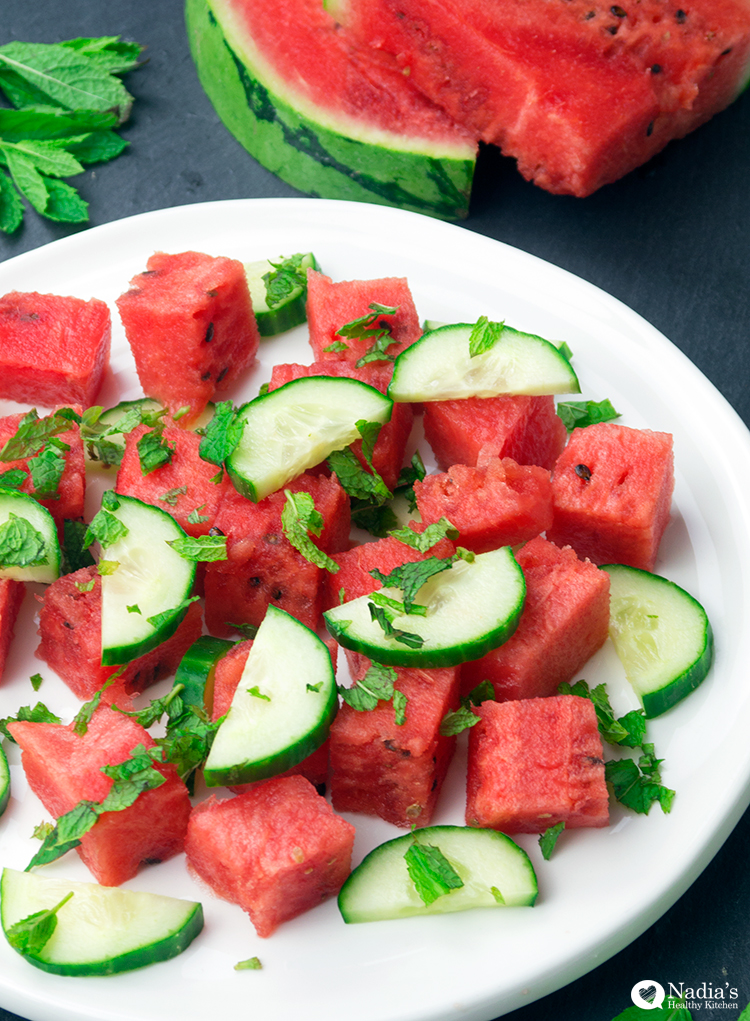 Watermelon Cucumber and Mint Salad
2015-07-30 09:27:32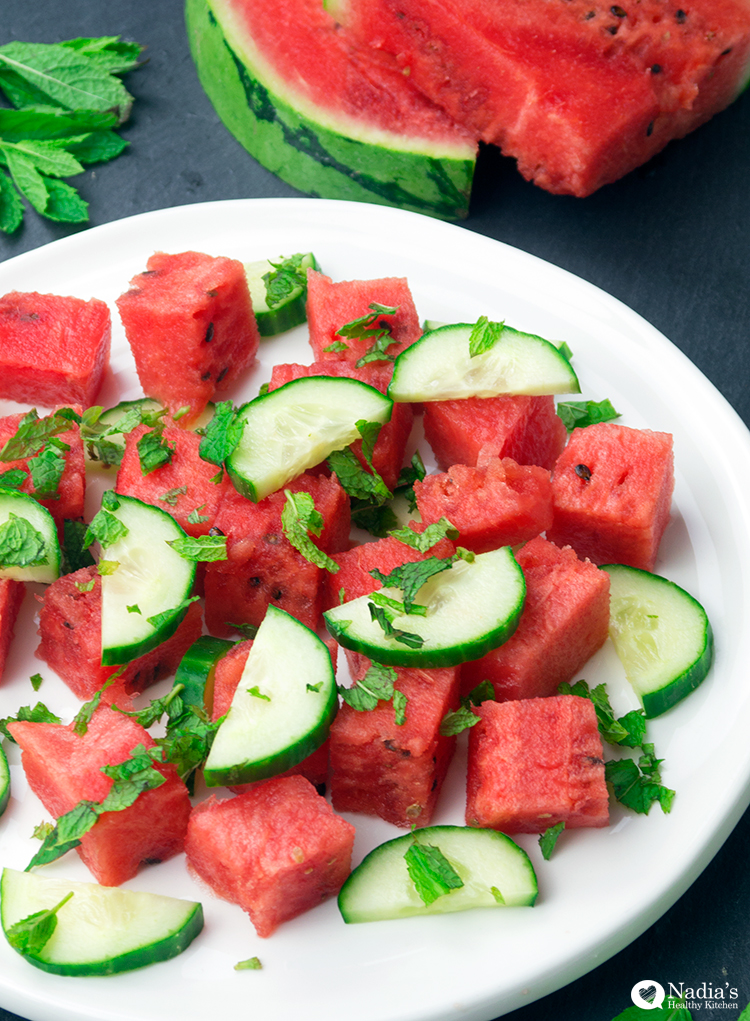 Serves 2
Ingredients
2 cups watermelon, cubed
1 cup cucumber slices
Fresh mint leaves, minced
Optional - feta cheese, crumbled
Instructions
Slice the cube the watermelon and add to a large bowl.
To that, add the sliced cucumber.
Sprinkle the minced mint on top.
Add the crumbled feta cheese if using any.
Nadia's Healthy Kitchen https://nadiashealthykitchen.com/
Looking for more watermelon recipes?