Vegan & Gluten-free Gingerbread Cupcakes
Gingerbread is probably one of my favourite flavours around this time of year. It just gives me so much comfort and reminds me of cosy evenings on the sofa surrounded by loved ones watching Christmas movies.
I usually make my gingerbread men around Christmas time, but this year I wanted to try something a little different, but not too different. So I made these vegan gluten-free gingerbread cupcakes! With a spiced base and a rich and creamy cashew maple frosting.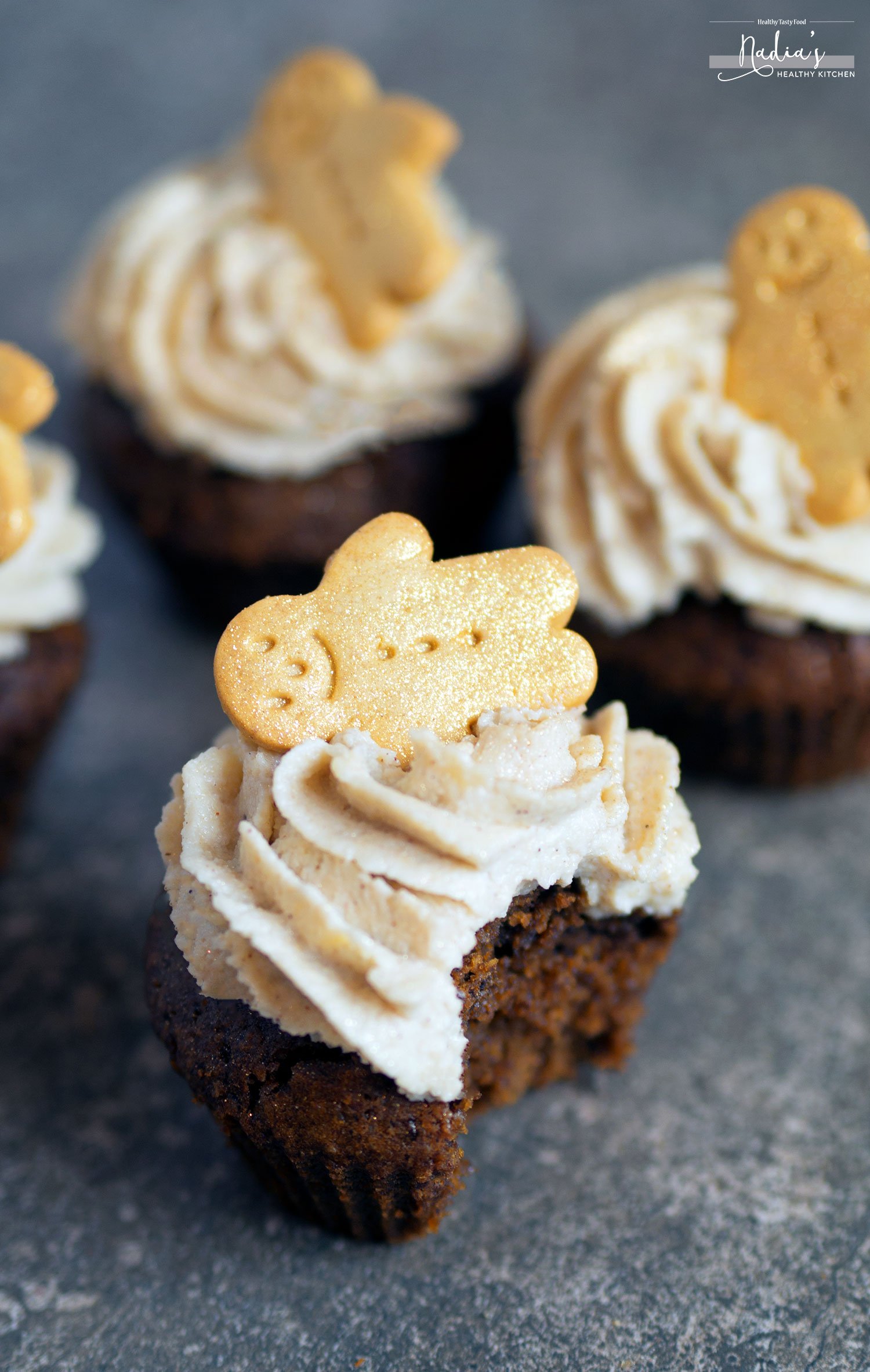 I used a simple mixture of oat flour and ground almonds to make it gluten-free. I LOVE using those 2 ingredients in my healthy baking. Oats are so cheap and easy to get hold of and they're so good for you! Almonds are high in fibre, protein and good fats and well as being rich in vitamin E (a vitamin a lot of us don't get enough of!), magnesium and manganese. So much better than bleached, white flour that's stripped of all its benefits!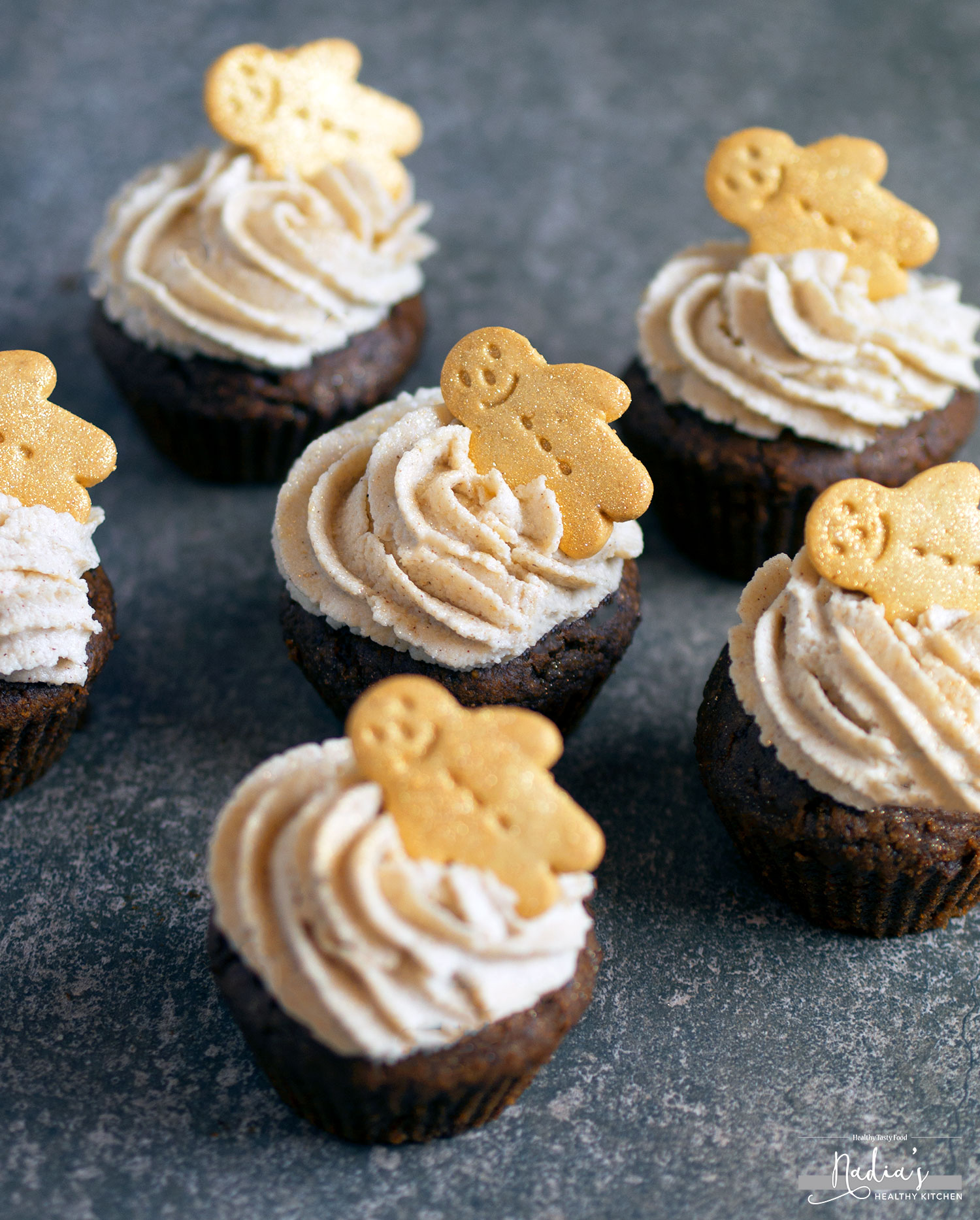 If you've read my about me section, you'll know that I don't follow any kind of strict diet. I'm not a vegan but I eat plant-based foods 95% of the time. I still eat things like eggs and fish every now and then, probably once or twice a month. I usually only eat meat when offered to me at a relative's house for example and don't buy it or cook it at home.
Over time I naturally started leaning towards creating vegan recipes, for both health and ethical reasons. It can be quite tricky baking without eggs – I know you can get things like powdered egg replacer, but I prefer avoiding packaged foods and like to use ingredients that are easy for everyone to get hold of.
So in baking, I almost always use flax 'eggs' to replace normal eggs. If you've been following my blog for a while you'll notice that I use milled flaxseed in so many of my recipes, both baked and raw!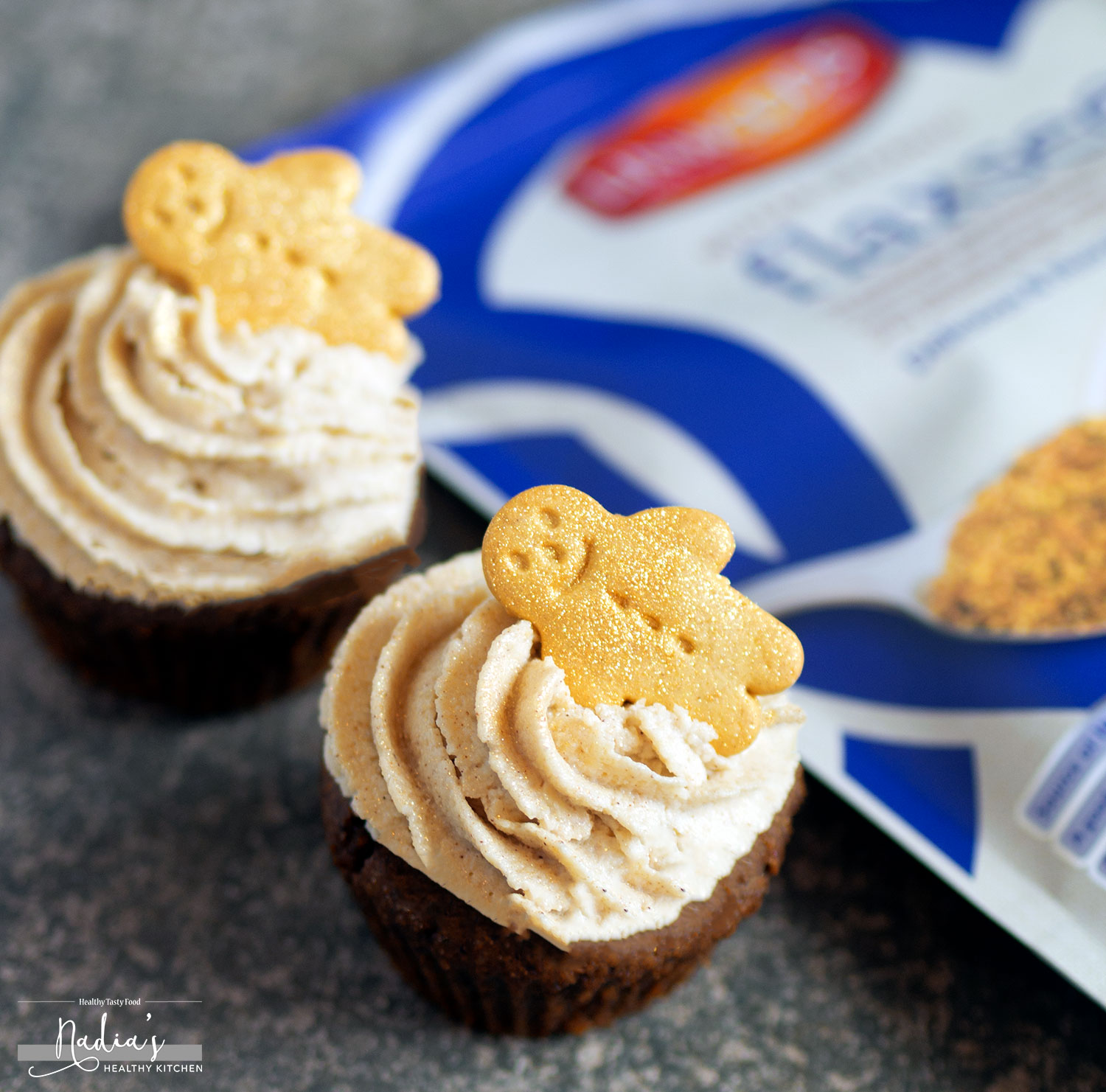 I've tried different brands of flaxseed but for some reason some brand work better than others as flax 'eggs'. My favourite brand is by Linwoods who recently asked me to create some recipes for them which I was so thrilled by as I've been using and loving their products for years! As well as their original milled flaxseed, they also have a variety of different flavours and mixes to choose from. Another favourite is their milled flaxseed with bio cultures & vitamin D! They also recently released Snackettes – a healthy seed snack which I haven't yet tried but can't wait to get my hands on all three flavours!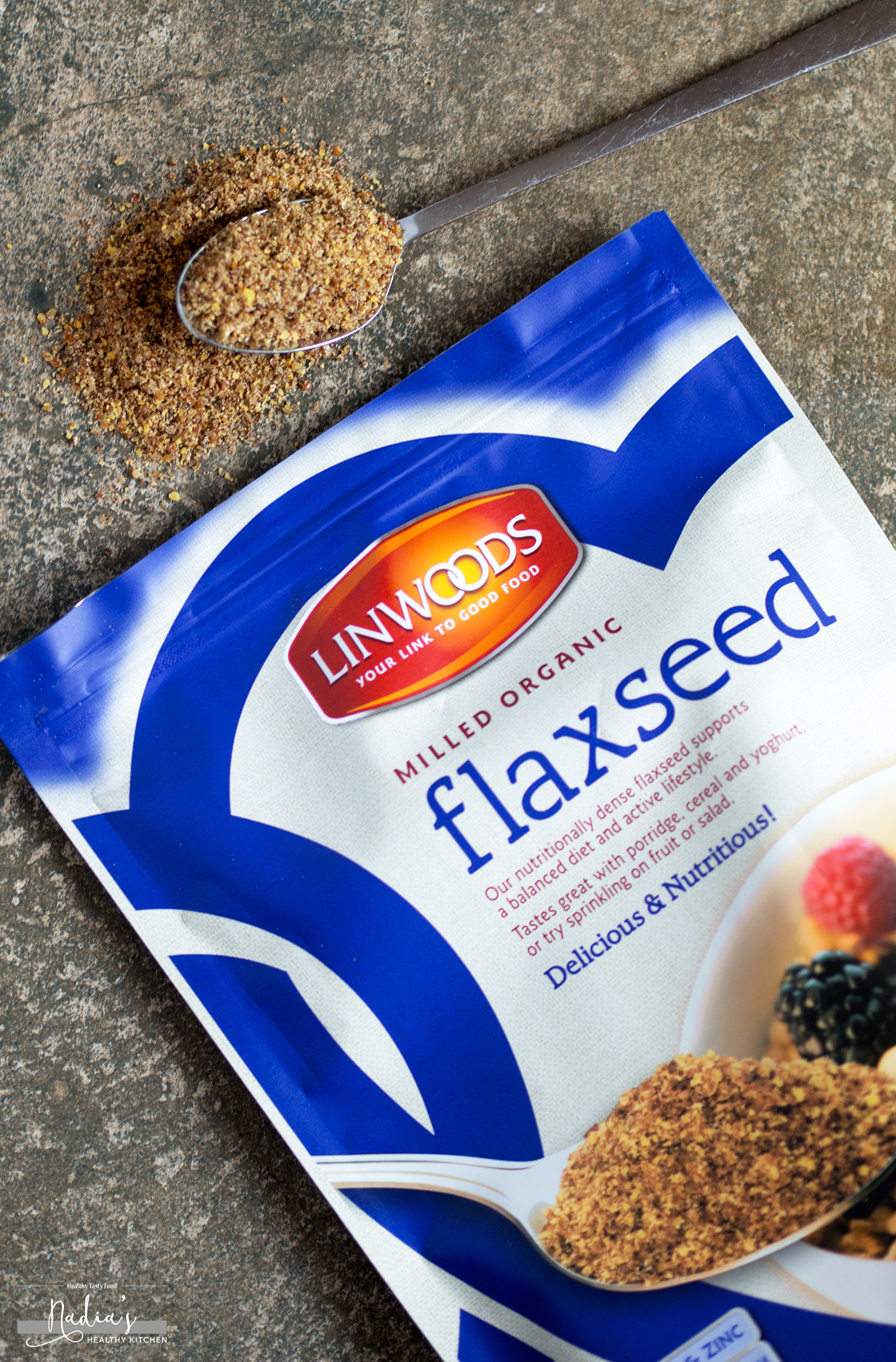 Why I eat flaxseed on a daily basis
To me, flaxseed is one of the best 'superfoods' out there (although I don't necessarily like using that term)! It may not be as trendy as acai, maca or spirulina powders, but it's an ingredient that I make sure I include everyday in my diet. Again, as someone who doesn't consume many animal products, it's important for me to make sure I consume a sufficient amount of plant-based omega-3 and flaxseed is one of the best sources for that!
A research showed that consuming 1 tbsp of flaxseed a day for a month improved insulin sensitivity in type 2 diabetic subjects*. Another research suggested it may be protective property against prostate cancer**. It's also associated with a reduced risk of cardiovascular disease and cancer in general***.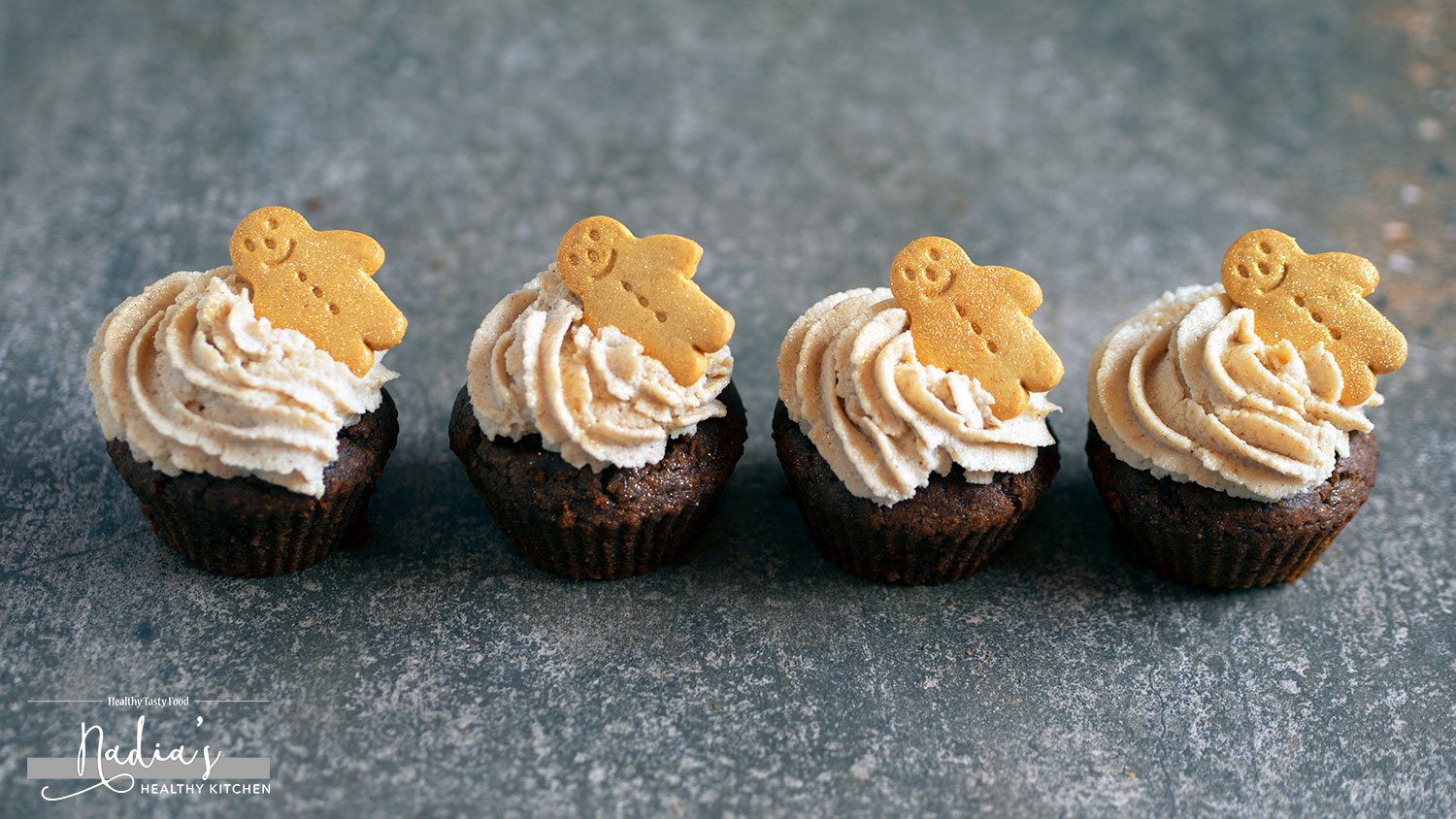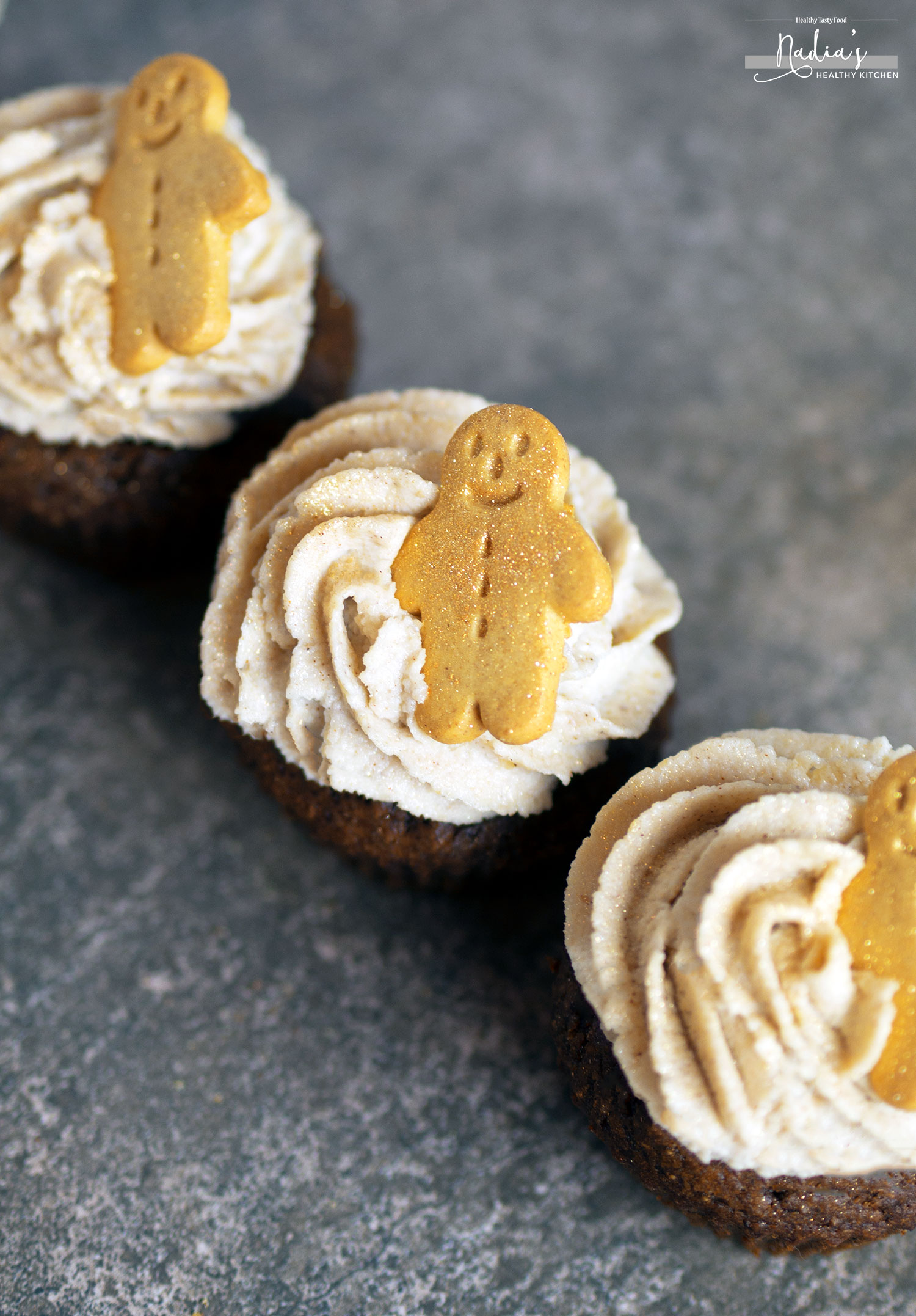 How to use flaxseed in baking
Mix 1 tbsp of milled flaxseed with 3 tbsp warm water and leave it to set for 15 minutes to create the equivalent of 1 egg. The flaxseed will absorb the water and create a gel that helps hold your bakes together, just like an egg would.
Not only do I use flaxseed in baking, but also in no-bake treats (like my raw mince pies) I also add to to my porridge (like my basic porridge recipe), to savoury bakes like pizza crusts and vegan 'pastry' (like my Calzone recipe).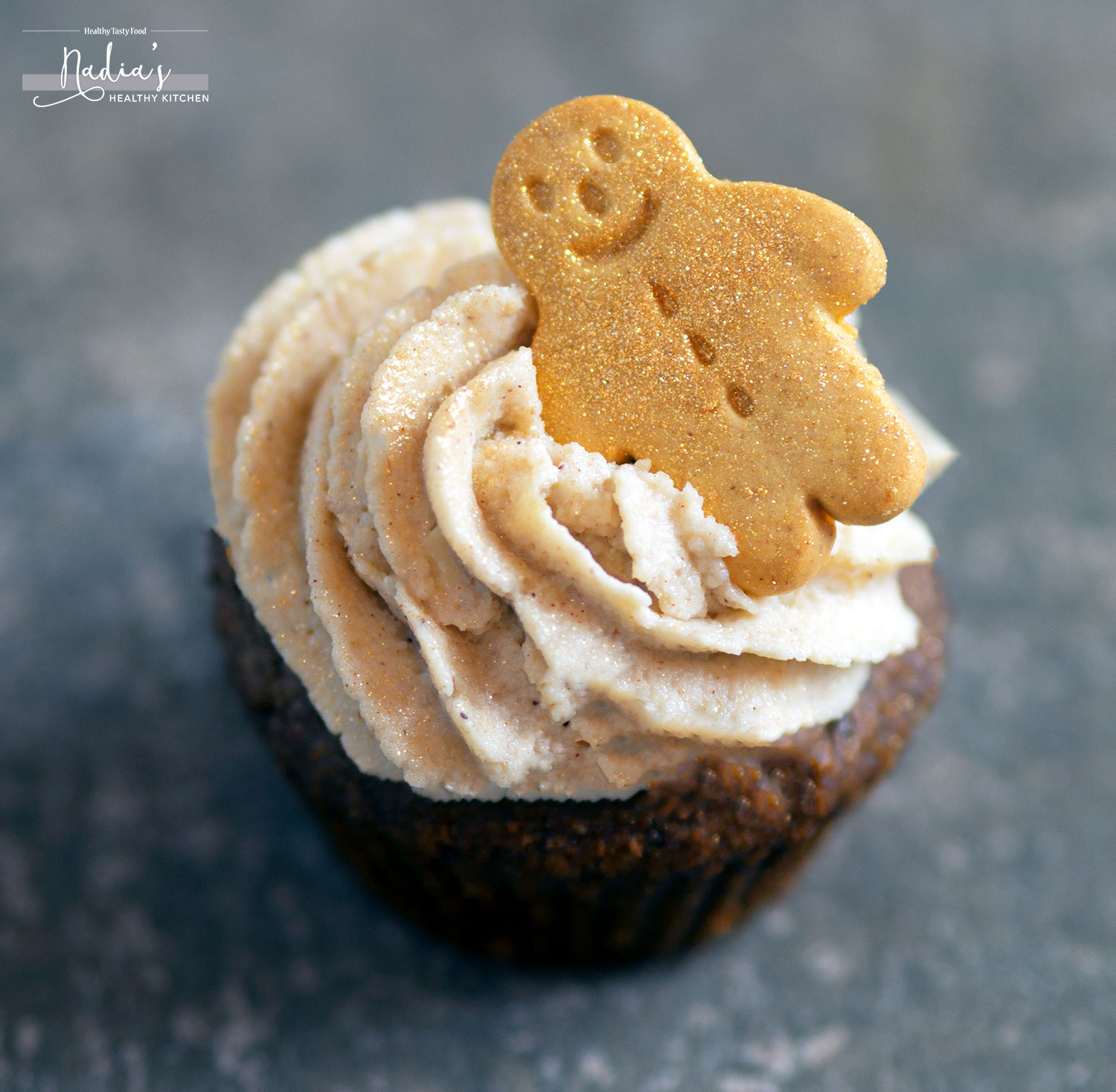 Vegan & Gluten-free Gingerbread Cupcakes
2016-12-11 17:37:23
Serves 12
Ingredients
2 cup (220g) oat flour - oats blended into a fine flour in the food processor - use gluten-free oats if you're allergic/intolerant
1 cup (100g) ground almonds
1 tsp baking powder
1/2 tsp baking soda
1/2 cup coconut oil, melted
2/3 cup milk of choice + 1 tsp Apple Cider Vinegar
1/2 tsp salt
1 1/2 tsp cinnamon
1/2 tsp ginger
1/4 tsp allspice
1/4 tsp nutmeg
1/4 tsp cloves
4 tbsp coconut sugar or brown sugar
4 tbsp molasses
2 tbsp Linwoods milled flaxseed
6 tbsp hot water
For the frosting
1 1/2 cups cashews - soaked for in water for 4 hours.
3 tbsp coconut oil, melted
3 tbsp maple syrup
6 tbsp milk of choice
Pinch of salt
Instructions
Make the flax 'eggs' by mixing 2 tbsp milled flaxseed with 6 tbsp hot water. Leave to set for 15 minutes.
Add the apple cider vinegar to the milk and leave to sit for 10-15 minutes.
In a large bowl, mix the flour, ground almonds, baking powder, baking soda, coconut/brown sugar salt and spices.
Add in the coconut oil, milk, molasses and flax eggs. Mix to combine.
Divide the mixture between 12 muffin cases and bake for 25-30 minutes. Leave to cool completely before icing.
To make the frosting simply blend all the ingredients in a food processor until smooth.
Pipe onto cooled cupcakes.
Enjoy!
Nadia's Healthy Kitchen https://nadiashealthykitchen.com/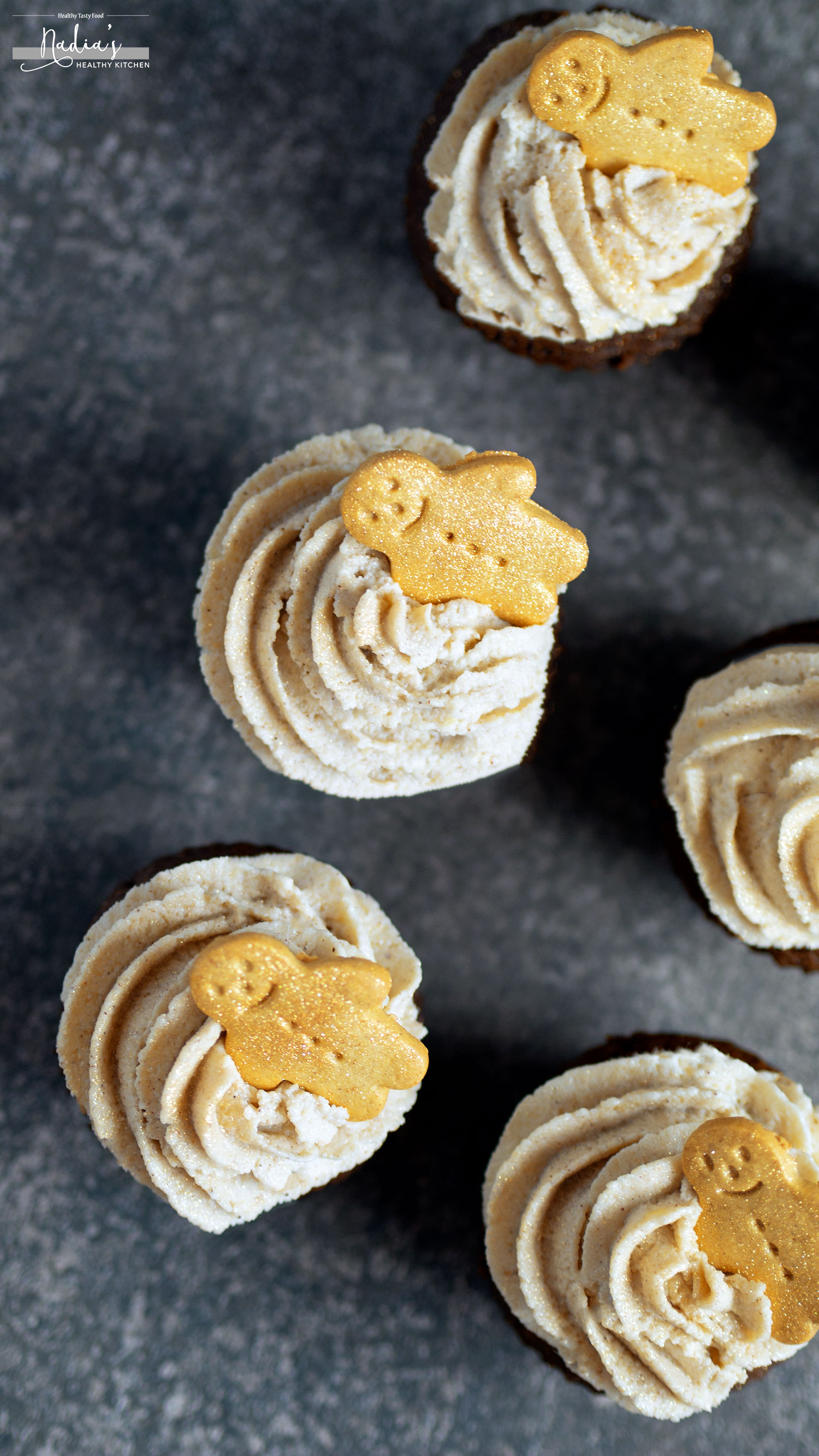 * https://www.ncbi.nlm.nih.gov/pubmed/22432725
** http://cebp.aacrjournals.org/content/17/12/3577.long
*** https://www.ncbi.nlm.nih.gov/pubmed/23261749
* This post was commissioned by Linwoods; however, all opinions are my own.