Mini cups filled with crunchy nuts – these vegan gluten-free baklava are the perfect light sweet treat!
Baklava is probably the one dessert you'll find served at every celebration in the Middle East or any Arab speaking country. It's such a decadent dessert and one that is served to show hospitality and generosity. Diamond shaped delights made up of layered crispy phyllo pastry, crunchy nuts flavoured with cinnamon and cardamom all drenched in a rose water and orange blossom infused syrup.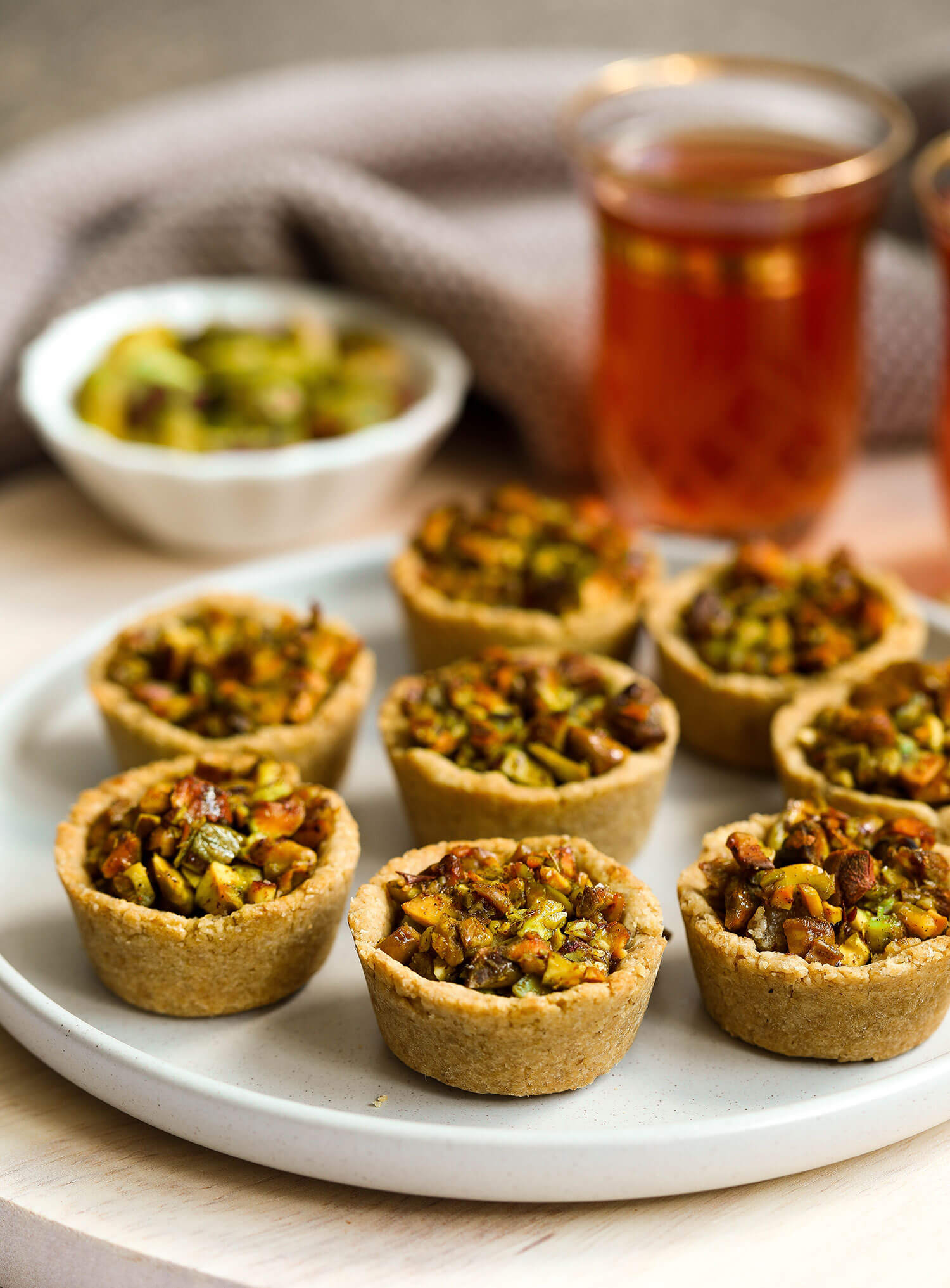 Baklava is also the go-to dessert during the holy month of Ramadan and is served on Eid, the celebration that marks of end of Ramadan. Since Eid is in a couple of days, I thought it would be the perfect time to share this easy recipe!
They're usually so hearty and sweet that I can only manage a couple of bites or a really small piece, otherwise it sits quite heavy in my stomach and I don't like that feeling. So I decided to create a healthier alternative to baklava – one that's made with oat flour, ground almonds and lightly sweetened with maple syrup instead of layers of pastry brushed with butter and drenched in sugar. This way they're also vegan and gluten-free!
I created oat cups and filled them with frangipane and topped them with maple sweetend chopped nuts. They may not seem anywhere near the 'real thing', but they definitely taste like baklava with the nuts, cinnamon, cardamom, orange blossom and rose water. A much lighter and healthier version for you to enjoy! I also made them bite size, perfect for a light post-dinner treat!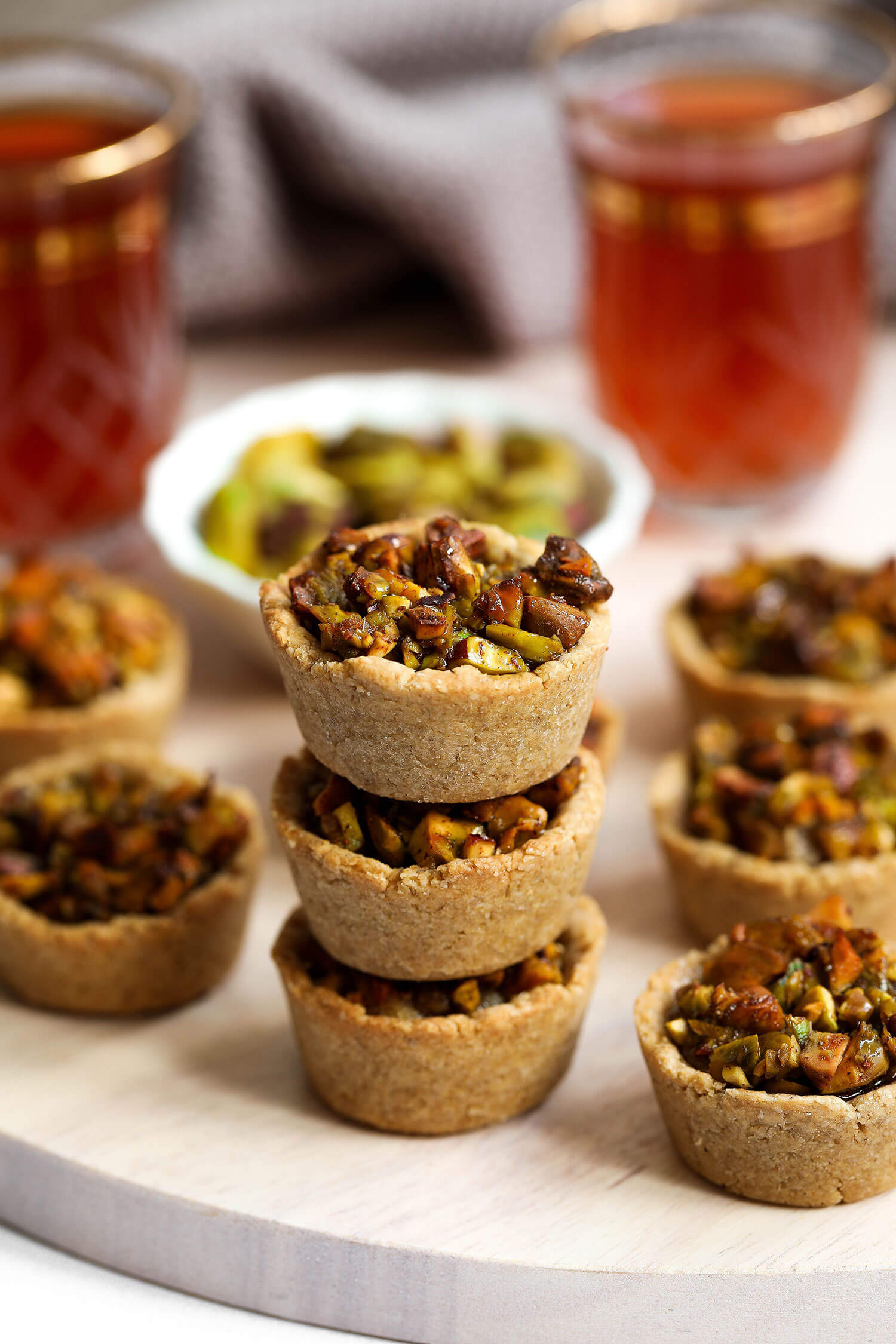 Vegan Gluten-free Baklava Cups
Makes – 9 mini cups
Ingredients
For the base
125g oat flour – oats blended into a fine flour in the food processor. Use gluten-free oats if you're allergic/intolerant to gluten
Pinch of salt
50g coconut oil or dairy-free spread
1 ½ tbsp maple syrup
For the frangipane layer
50g ground almonds
1/2 tsp baking powder
A pinch of salt
1/2 tbsp flaxseed + 1 ½ tbsp water – mix in a small bowl and leave to set for 10 minutes
1 ½ tbsp maple syrup
1 tbsp coconut oil or dairy-free spread
1/2 tbsp milk of choice
For the nut layer
35g pistachios, chopped
1 tbsp maple syrup
1/2 tsp cinnamon
1/2 tsp cardamom
1/4 tsp orange blossom
1/4 tsp rose water
Method
Preheat your oven to 180C/160C fan/350F
Mix all the base ingredients in a bowl, then press into mini silicon cupcake moulds (you can use regular size cupcake moulds) lightly brushed with oil to make them easier to remove once baked.
Mix the frangipane ingredients in a separate bowl, then divide between the cups making sure you leave room for the nut topping.
Mix the nut layer ingredients in another bowl, then scatter over the top of the cups.
Bake for 15-20 minutes, then leave to cool completely before removing from their moulds.
Enjoy!