Vegan and Gluten-Free Crepes
Delicious vegan and gluten-free crepes made with oat flour and filled with a protein yoghurt filling to help you feeling full and sustained until lunch time.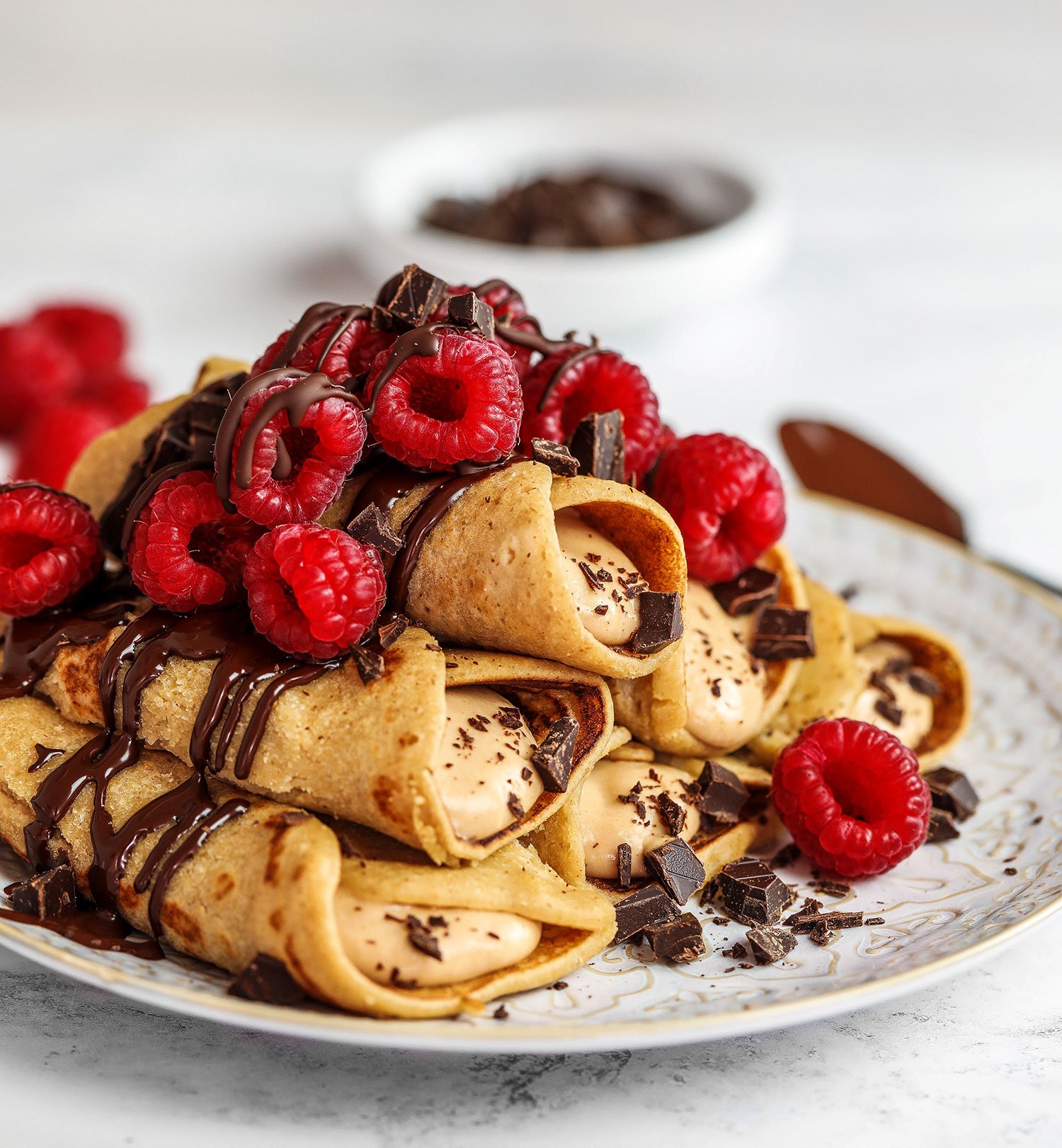 I try to start my day with oats. It's such a nutritious alternative to white bread/flour especially first thing in the morning. I also try to make sure my breakfast contain some protein and a bit of fat to help keep my blood sugar steady. Eating a carby breakfast like bread, cereal or even porridge without any form of fat and protein leaves me with terrible sugar crashes feeling jittery, irritable and unable to concentrate only an hour after eating! Not ideal when trying to have a productive day.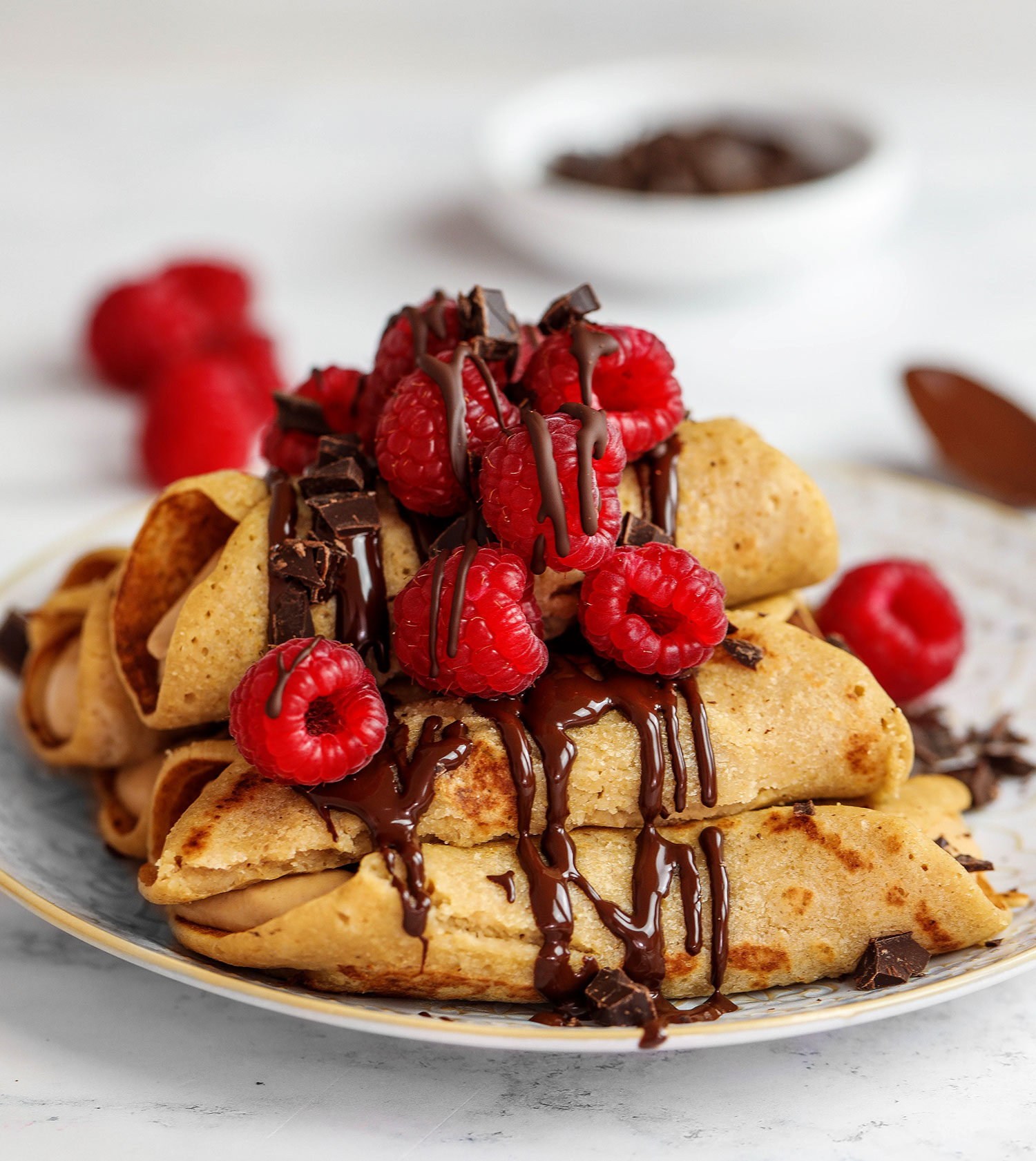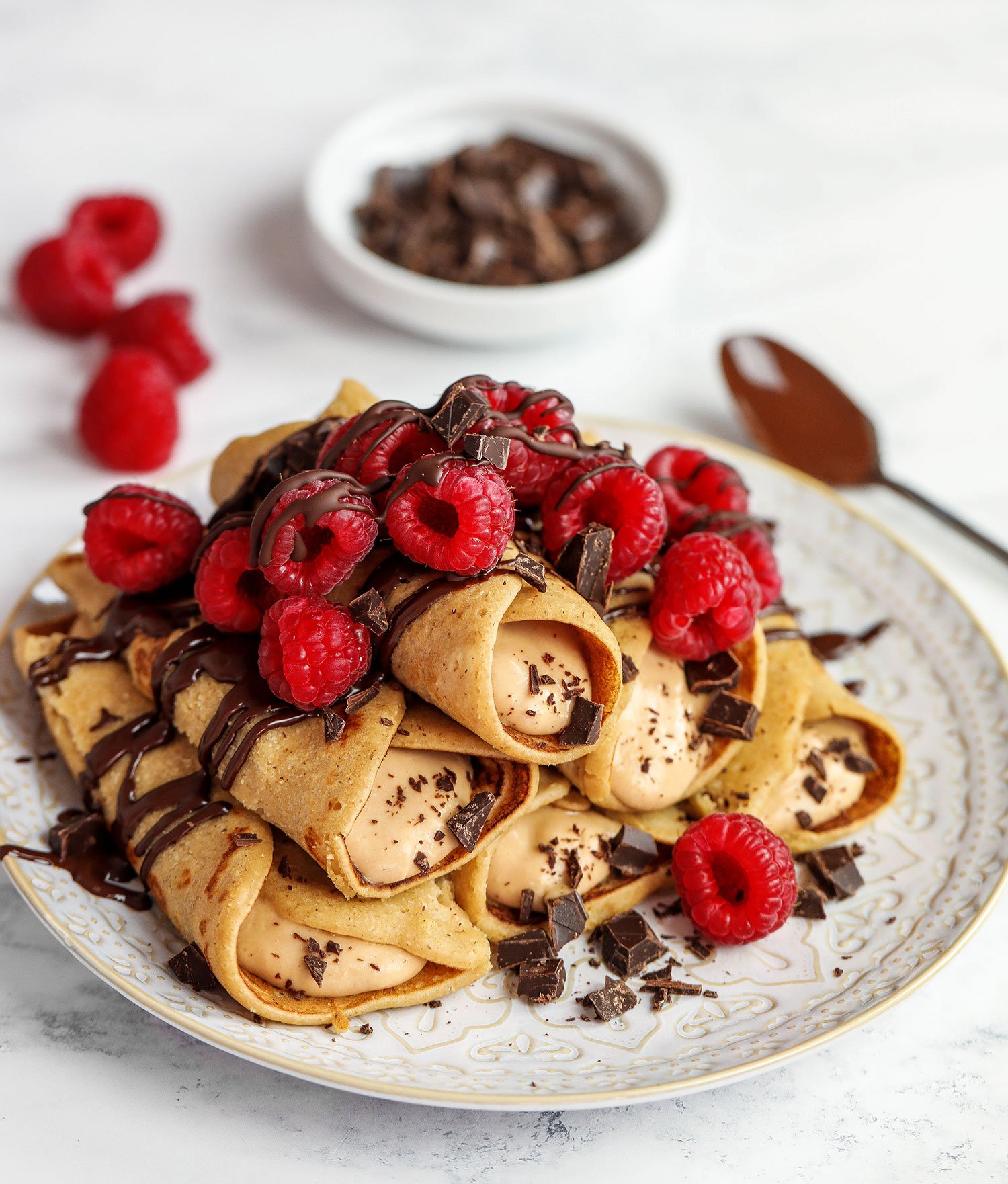 I really do believe that breakfast is the most important meal of the day. I know for myself when I don't eat a good hearty breakfast, I feel so much hungrier later on in the day especially in evenings when I start craving sweet foods. Skipping breakfast is the worst for me. I'll be fine during the day, but come 8-9pm you'll find me raiding the cupboards for anything carby and sugary. I'll feel this hollow feeling and void in my stomach that no food will satisfy. That's until I've eaten half the cupboards content and suddenly find myself feeling sick.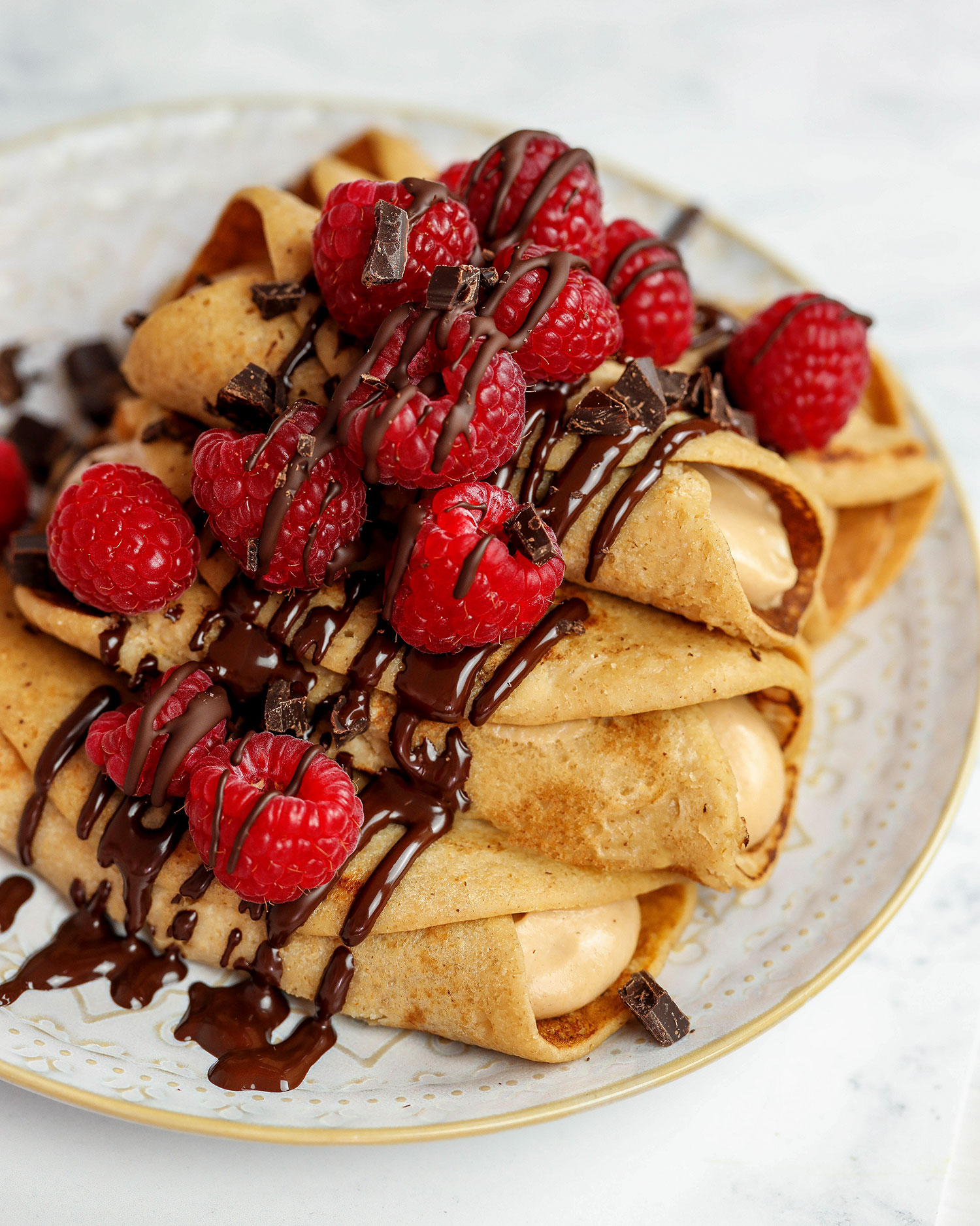 These vegan and gluten-free crepes are so easy to make and they're quite filling because of the fibre in the oats as well as protein and healthy fats in the filling. They would make the perfect Sunday brunch treat with the family.
I don't usually indulge in chocolate first thing in the morning, but I used it in this case for aesthetic/photography purposes. Chocolate just makes food look so much more inviting! Plus a little drizzle of melted chocolate never hurt anyone. If you want to leave out the chocolate, drizzling a bit of runny tahini or nut butter would be the healthier option.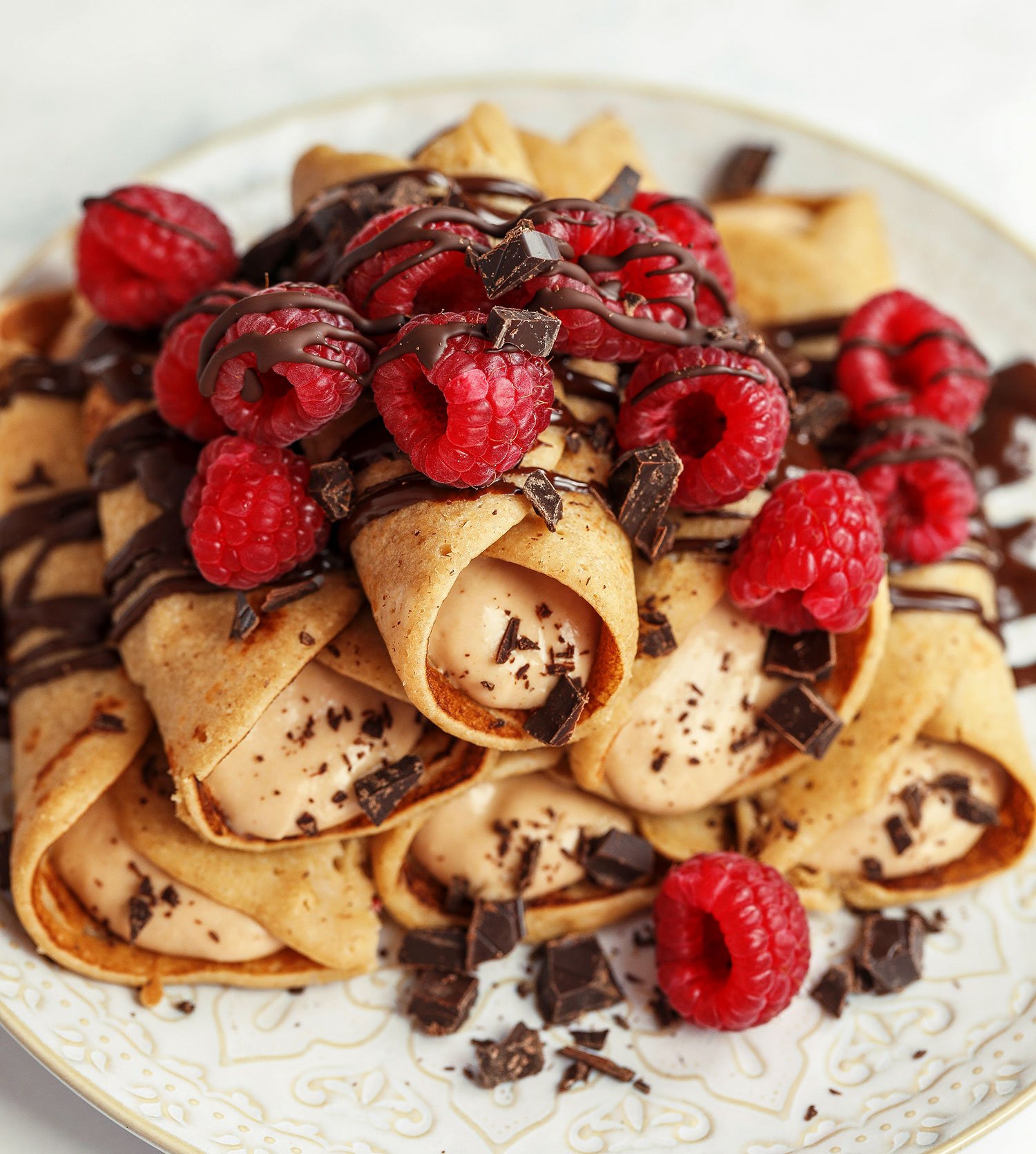 ---
Vegan and Gluten-Free Crepes
Serves: 2-4
110g (1 cup) gluten-free oat flour – gluten-free oats blended into a flour in the food processor
Pinch salt
2 tbsp maple syrup
2 tbsp oil
235ml (1 cup) milk of choice
Protein yoghurt filling
120ml (1/2 cup) coconut yoghurt
1 scoop protein powder
2 tsp tahini
1/4 tsp vanilla
Method
Mix together the oat flour and salt in a large bowl, then pour in the milk, oil and maple syrup.
Heat a little bit of oil in a frying pan on a medium/high heat. Once the oil is hot, transfer about 1/4 cup of the batter into the pan tilting it a little to spread it out a bit. Cook for 1 minute on each side, or until golden brown.
Mix the filling ingredients in a small bowl. Serve with fresh berries, fruit and/or nuts.
---

Share This Post