Turmeric Spiced Roasted Nuts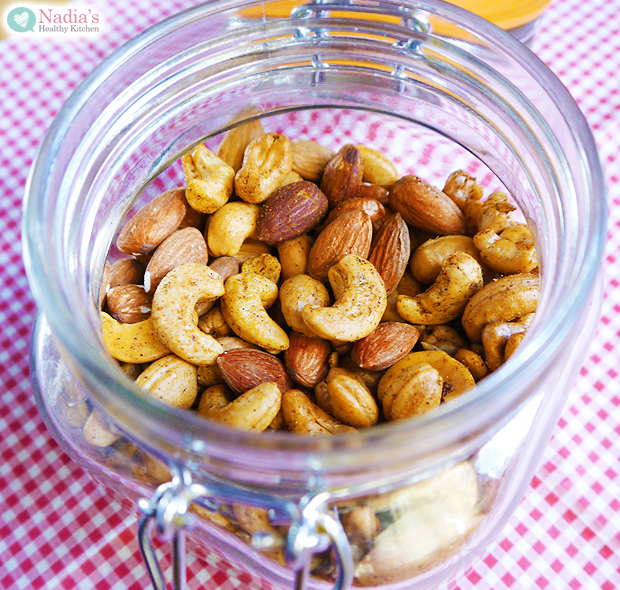 These turmeric spiced roasted nuts are my favourite new thing to snack on, especially mid-morning time. I usually start feeling peckish 2-3 hours after breakfast and need to have something between breakfast and lunch to keep me going otherwise I start feeling a little irritable. When I say 'a little' I actually mean 'very!'.
Snacking doesn't work for everyone, some people prefer eating three big main meals and no snacks, whereas I like to eat three small meals and many snacks in between! My IBS gives me a hard time when I eat big meals and I feel uneasy if I leave a big gap between meals without having some sort of energy boost. Nuts are my go to snack, usually accompanied by a piece of fruit of dried fruit.
I've been making these turmeric spiced roasted nuts in large batches, that way I know I have my munchies sorted for the next coming weeks. Of course there is the danger of overeating since they're so addictive! Once I start, I can't stop reaching out for more. I'm thinking it might be a good idea to divide them into individual portions to stop that from happening in the future!
Turmeric is one of my favourite spices to use in savoury dishes. I even sometimes add it to my smoothies and oatmeal. Why I hear you ask? Because it's so underrated in my opinion! If anything should be dubbed a 'superfood' it should be turmeric! It has amazing anti-inflammatory properties and research suggests that it helps combat diseases like Alzheimer's, heart disease and even cancer. It doesn't have an overly strong flavour so it can be easily masked which can be a good thing.
To make this recipe you will need 2.5 cups of nuts and/or seeds. You can use anything you like. I'm using a combination of almonds, cashews, walnuts and pumpkin seeds.
You will need to add some kind of sweetener to balance the flavours. I'm using turmeric and tamarind coconut sugar from Coconom.com. It's so unique and goes perfectly with this recipe. Plain coconut sugar will also work just as well 🙂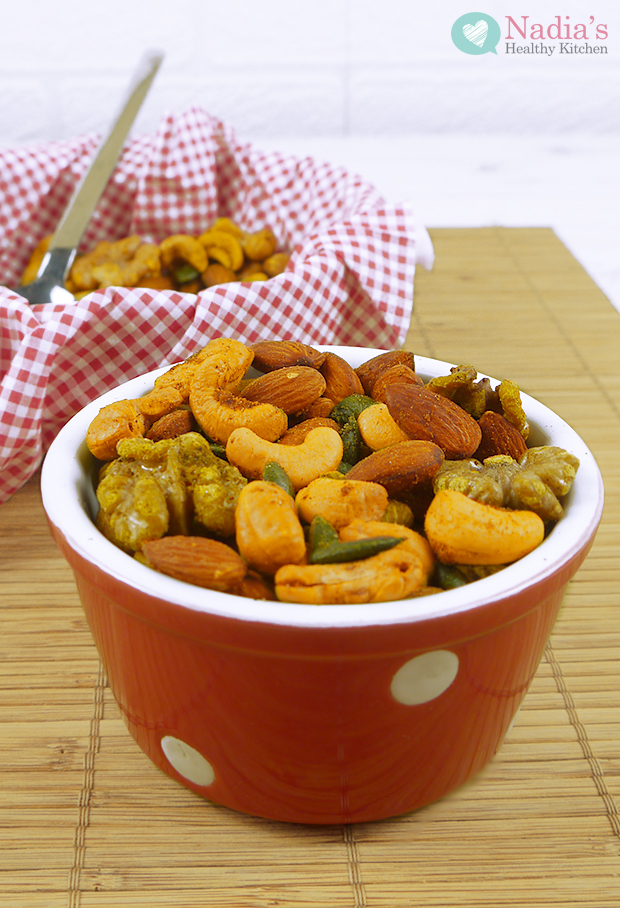 [recipe_box]
Turmeric Spiced Roasted Nuts
Ingredients:
Directions:
Preheat your oven to 180*C (160*C fan assisted)/ 350*F
In a large bowl, add the nuts and seeds and give them a toss.
Melt the coconut oil in the microwave, then mix in the sugar and spices.
Pour the oil and spices mixture on top of the nuts and mix until they're well coated.
Transfer the nuts onto a baking sheet covered with parchment paper. Make sure the nuts are on a single layer to ensure they all brown equally.
Bake for 15 minute, give them a toss half way.
[/recipe_box]
Notes:
If you don't have coconut sugar you can replace it with brown sugar. You can even try using honey. Honey goes perfectly well with roasted nuts.
Share This Post