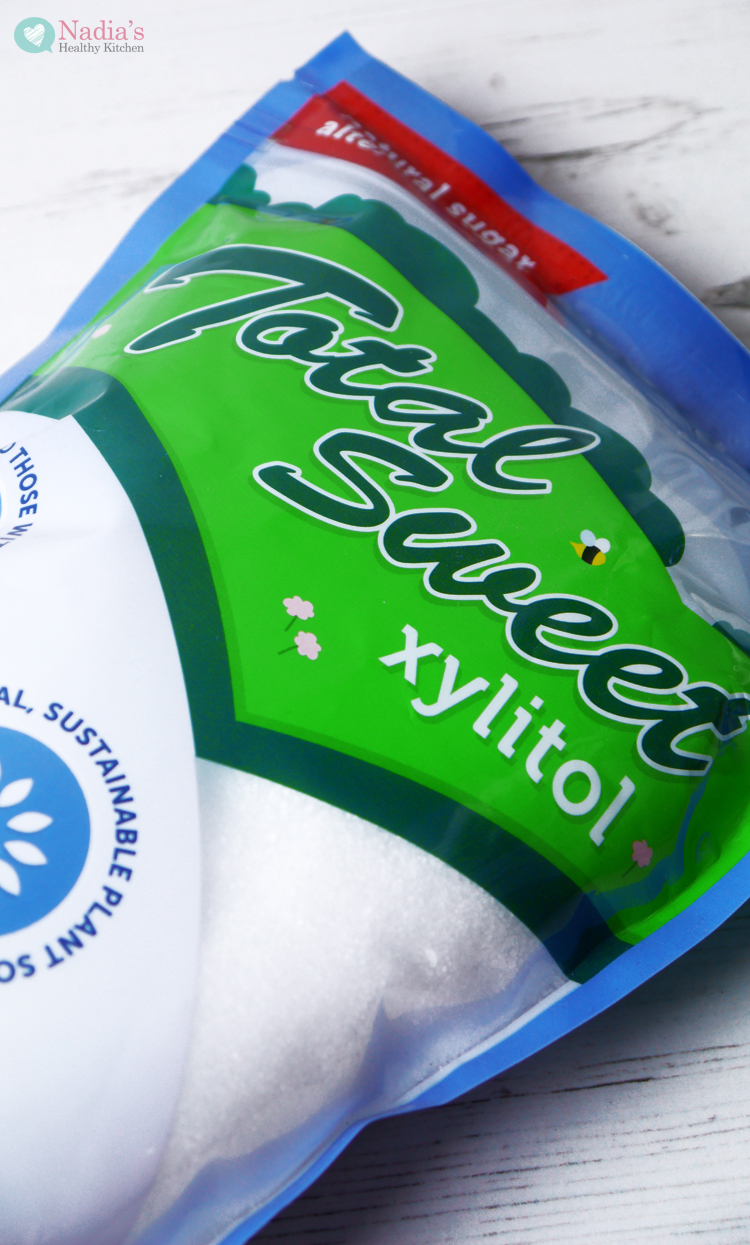 Total Sweet is my favourite brand of xylitol. I've been using xylitol, particularly in my baking, since I started my blog. It's a great natural alternative to sugar and although it's not calorie free, it does have many other benefits.
Whenever I mention xylitol, I hear something along the lines of "it sounds too much like a chemical, so I think I'm going to stay away from it". I don't think you should dismiss an ingredient just because you don't like the name of it! The name xylitol comes from the Greek word 'xyl' meaning wood because it's extracted from the bark of birch trees – it doesn't get any more natural than that!
Xylitol is my favourite sugar-free alternative. It's true that stevia has zero calories but I'm not the biggest fan of the aftertaste that stevia leaves and I know many others complain of that too. To me, xylitol tastes much more like regular sugar.
Xylitol benefits
So as mentioned before, xylitol is sugar-free and contains less calories compared to table sugar

Calories in 1 Teaspoon of sugar: 15 calories
Calories in 1 Teaspoon of Xylitol: 9.6 calories

It's good for teach and oral health – xylitol is not metabolised by oral bacteria which means it does not contribute to tooth decay the way that normal sugar does. It has shown to create an alkaline environment when broken down. Research has shown that this results in up to a 60% reduction of cavities and can help prevent plaque build up. Also, xylitol helps remineralise the tooth enamel. This is one of the reasons why it's commonly used in chewing gum.
It has a very low Glycemic Index (GI) which means it has a low impact on blood sugar levels and therefore insulin production.

Table sugar: GI of 65
Xylitol: GI of 7

The higher the GI number the faster the glucose is absorbed into the blood stream. Sugar's GI of 65 means it's absorbed fairly quickly into the blood stream leading to a sugar rush and a spike of insulin in the blood. Xylitol is absorbed slower (much slower!) so it's considered a great alternative for diabetic patients who need to keep their blood glucose under control.

Xylitol is toxic to dogs so if you use it in your desserts, baked goods or other recipes, do not feed any of it to your dog!
Where do I get Total Sweet?
I buy mine from Holland and Barrett or amazon.co.uk, but you can also find it in some supermarkets and you can buy it directly from Total Sweet's website.
Share This Post