Watch the short video above to learn how to make this quick, easy and delicious
quest bar berry tart
.
If you would like to WIN a selection of QUEST BARS make sure you watch the video to find out the simple rules to enter.
Quest Bar Berry Tart
The first I tried a Quest bar was when my lovely Instagram friend (Evie @evscleanstart) sent me some for my birthday last year and I instantly fell in love with them! They were all over social media and I was so eager to try them, but they were no where to be found here in the UK which was so annoying. To have them shipped from the US would have cost a fortune! Luckily I have an amazing friend all the way in Canada who was kind enough to hook me up with a few of their amazing flavours!
Fast forward a year later and now I'm starting to find quest bars in health food shops like coconut cashew and cookies and cream)
2. You can use them to make healthy desserts – you can even make speedy cookies by dividing one bar into 4 pieces and then baking them in the oven for 5 minutes!
3. Made of good quality ingredients!
4. High in protein (20g per bar on average)
5. High in fiber (17g per bar on average)
I'm showing you how to make this super easy Quest bar berry tart recipe using homemade chia raspberry jam and decorating with blueberries.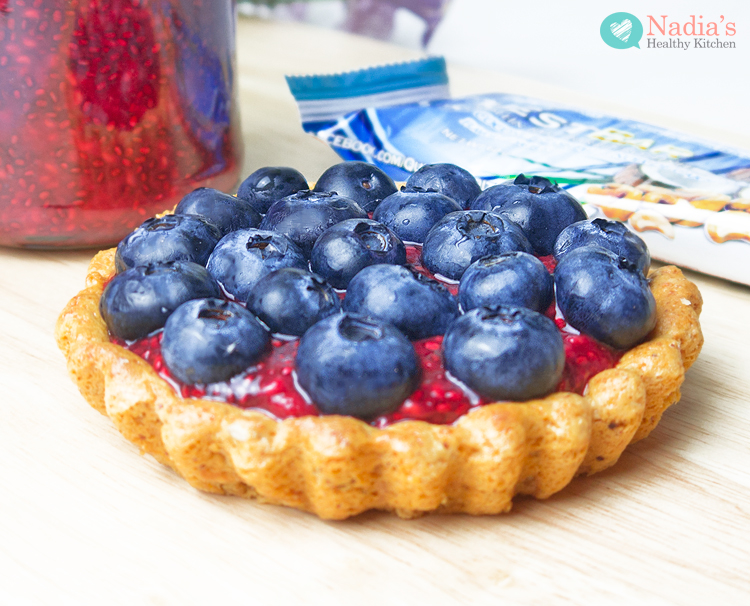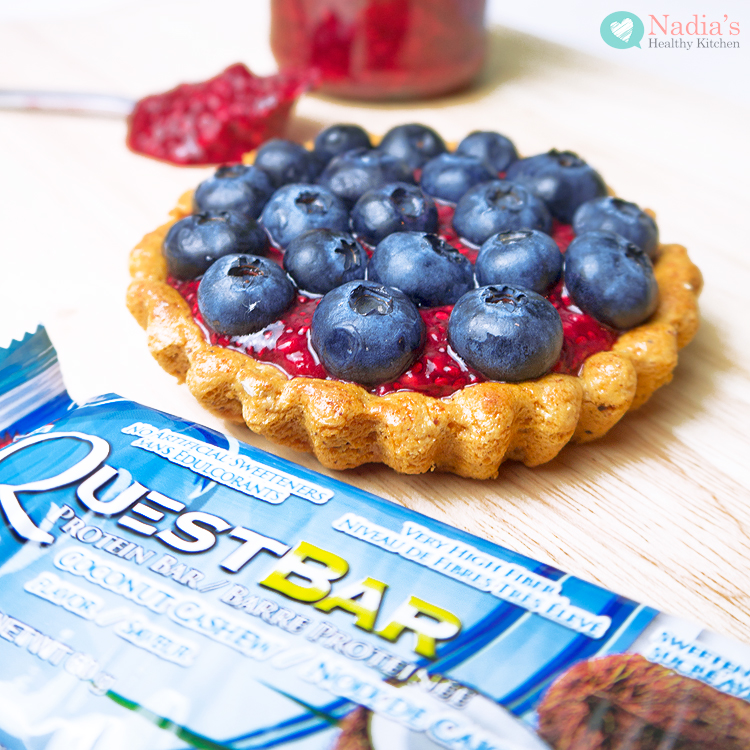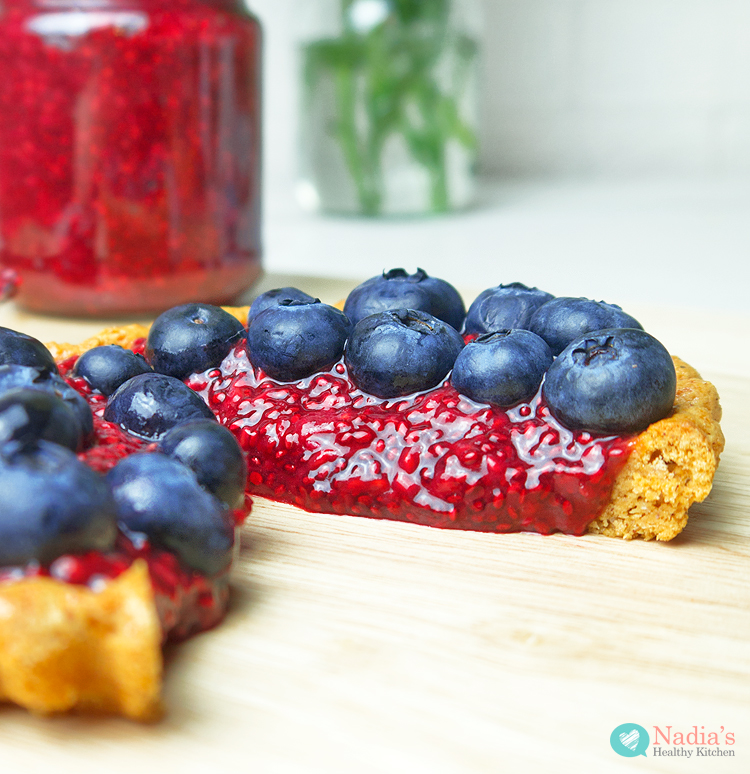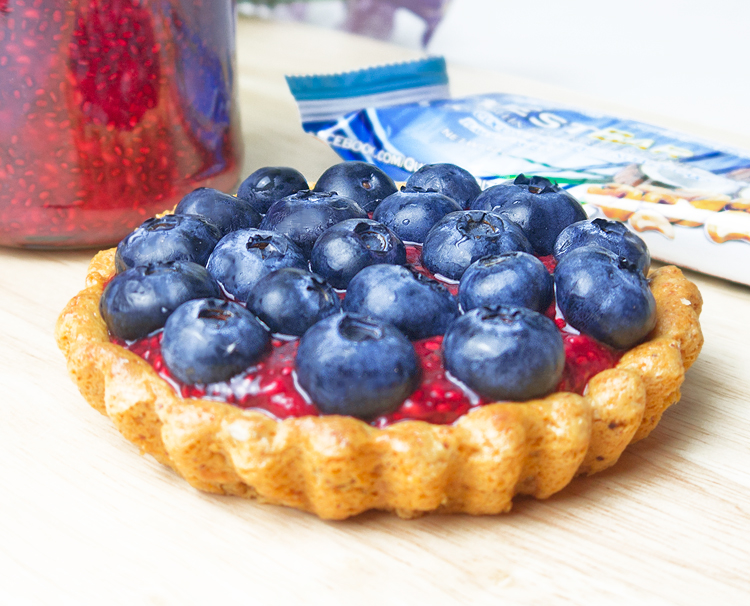 Quest Bar Berry Tart
2015-03-22 17:02:51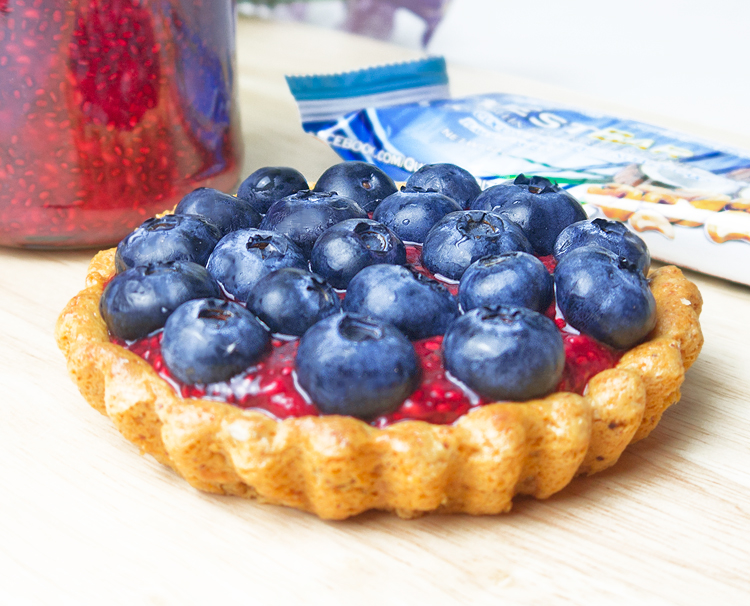 Chia Raspberry Jam
3 cups (350g) frozen raspberries
4 tbsp chia seeds
3 tbsp maple syrup (or sweetener of choice)
1 tbsp lemon juice
Quest bar base
1 coconut cashew quest bar
Instructions
Make the raspberry chia jam - heat a small pan over a medium heat then pour in the raspberries. Stir for a few seconds.
Add the lemon juice and maple syrup.
Stir raspberries and start mashing them with the back of a wooden spoon as they cook. Continue doing this until all the raspberries have been mashed and you're left with a smooth sauce.
Turn the heat off then add in the chia seeds. Leave the mixture to cool slightly then transfer to a bowl/jar and store in the fridge for a couple of hours to set into a jam.
To make the Quest bar berry tart - preheat your oven to 160*C (320*F)
Microwave your quest bar for 10-15 seconds just to soften it up slightly.
Press the softened quest bar into a small tart tin.
Bake for 4-5 minutes or until the edges have browned.
Fill the tart with a few teaspoons of the raspberry chia jam and decorate with blueberries or any other berries/fruit you prefer.
Enjoy!
UK Health Blog - Nadia's Healthy Kitchen https://nadiashealthykitchen.com/
Share This Post