Healthy Pumpkin Oatmeal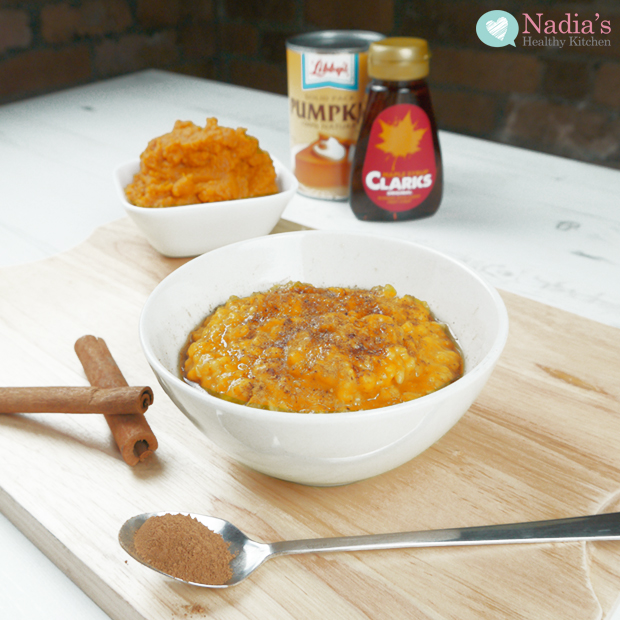 There is no denying that winter has arrived. The joys of numb toes, fingers and in my case, a very red nose.
I felt the cold, crisp air hit me this morning more than ever! But I'm not sad about it, on the contrary, I'm one of those people who embraces the cold season and actually looks forward to it. The only things I'm not keen on is the shorter days, the increased rain probability and…weight gain! I've already put on 2kg and it's not even Christmas yet! *sigh*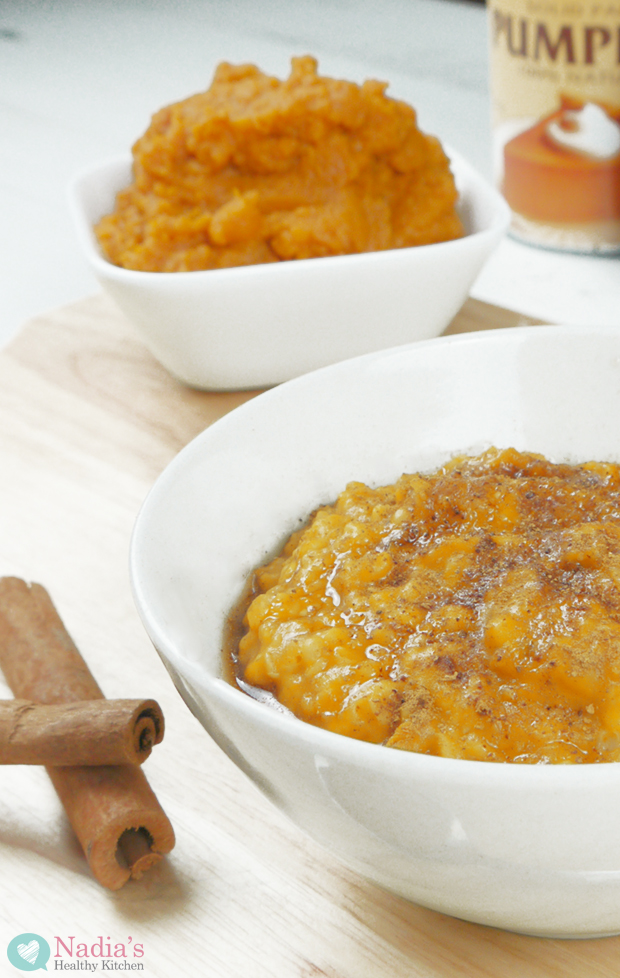 This Healthy Pumpkin Oatmeal recipe is perfect for those cold, dark mornings when you have to drag yourself out of the comfort of your warm bed to start your day. I can promise you that this bowl of comforting deliciousness will make you feel much better, that and a large cup of hot tea or coffee, of course 😉
To me winter means more warm drinks, baking, and using more warming spices. Cinnamon, ginger, nutmeg, cloves and cardamom all remind me of the holidays and that Christmas is near. And they all have their own health benefits which is a bonus. Cinnamon in particular helps blood circulation to your hands and feet, so I try to add more cinnamon into my daily diet because I have a problem with overly cold finger and toes!
Pumpkin Puree:
The good thing about using pumpkin is that it's low in calories and adds some protein into recipes. I use Libby's 100% natural pumpkin puree which only contains pumpkin without any other added ingredients.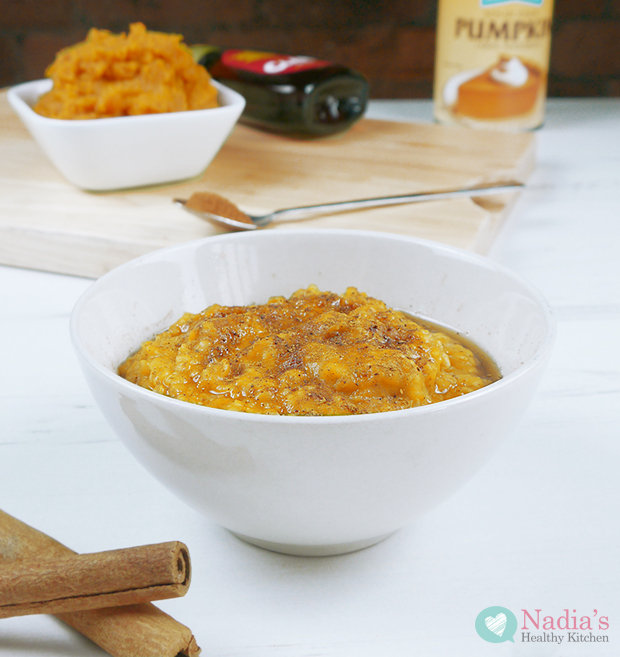 Who is this recipe suitable for?
This recipe is vegan
Dairy free
And can be made gluten free by using gluten free oats
Low in calories with only 223 calories per serving
[recipe_box]
Healthy Pumpkin Oatmeal
Serves: 1
Ingredients:
1/3 cup oats
2/3 cup milk (I used unsweetened almond milk, but you can use any kind of milk)
3 tbsp pumpkin puree
¼ tsp pumpkin spice
2 tsp maple syrup (or you can use any other sweetener)
pinch of salt
5 walnut halves (optional)
Directions:
Heat the oats and milk in a pan until it starts to boil
Reduce the heat and leave to simmer for a few minutes until the mixture thickens
Mix in the pumpkin puree then add in the salt, pumpkin spice and maple syrup
Once everything is mixed well, turn the heat off the transfer into a bowl. Add more milk and/or maple syrup if needed.
[/recipe_box]
Additions:
This is a very basic healthy pumpkin oatmeal recipe and since it's fairly low in calories, feel free to add in some extra ingredients, like protein powder, nut butter or some mashed banana.

Nutritional information:
Calories: 223 calories

Protein: 6.7g

Carbs: 33g

Fat: 8.3g

Fiber: 5.3g
Share This Post