Pumpkin Chocolate Chip Muffins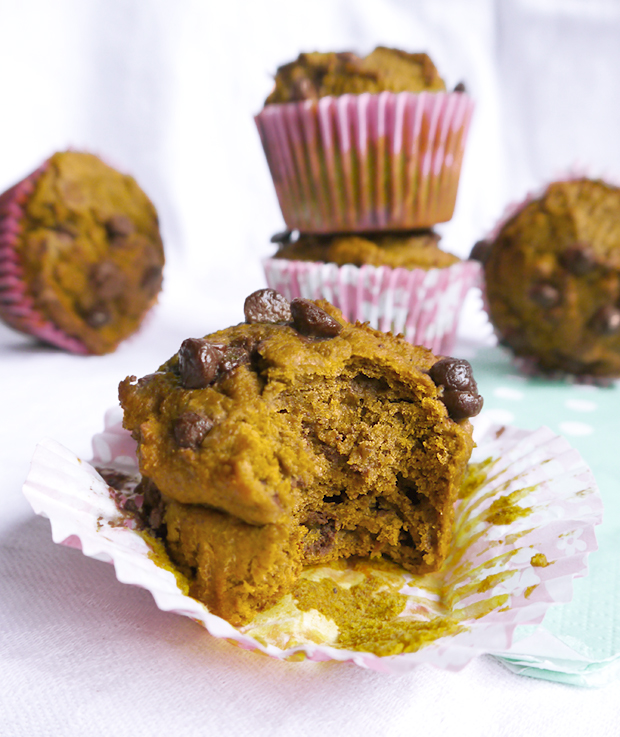 It's not often that I would feel OK about eating a muffin for breakfast. But these pumpkin chocolate chip muffins are so healthy that I CAN eat one for breakfast without feeling guilt or remorse. The only 'not so good for you' thing about them is the chocolate chips, but a little chocolate never hurt anyone 😛
These muffins are the perfect snack for this time of year. They go so well with a cup of hot coffee, or even a glass of milk if you're more of a cold drink kind of person. The pumpkin spice blend makes me so happy because it reminds me that Christmas is near!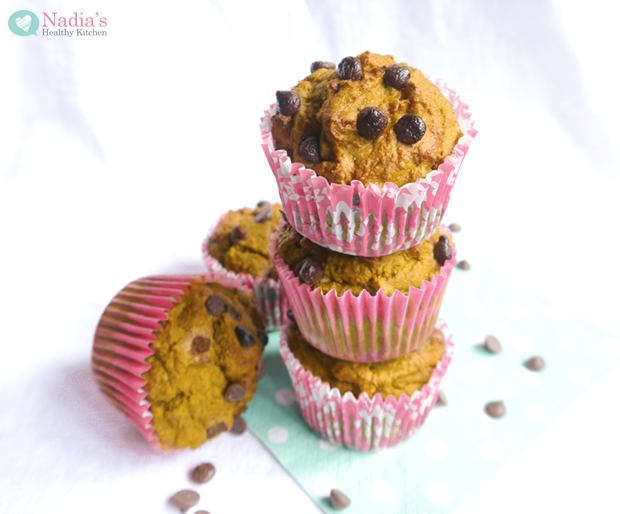 Wholemeal (wholegrain) spelt flour has a lower gluten content compared to wheat flour and it's a good source for vitamin B, iron, potassium and fiber.
I'm not the biggest fan of stevia. It has a bitter aftertaste that I just can't seem to get used to. Some people agree with me but it doesn't bother others. I still like to use it though, but instead of using only stevia to sweeten a recipe, I use half stevia and half Xylitol, coconut sugar or brown sugar. If you don't mind the taste of stevia and would like to lower the sugar content of this recipe, feel free to substitute the coconut sugar with stevia.
To lower the fat content and make the recipe a little lighter, I halved the oil content and used yogurt in its place. however coconut oil has many nutritional benefits so if you don't mind a slightly higher fat content than you can use 1/2 cup coconut oil and leave out the yogurt. I do like using yogurt as it's a source of extra protein.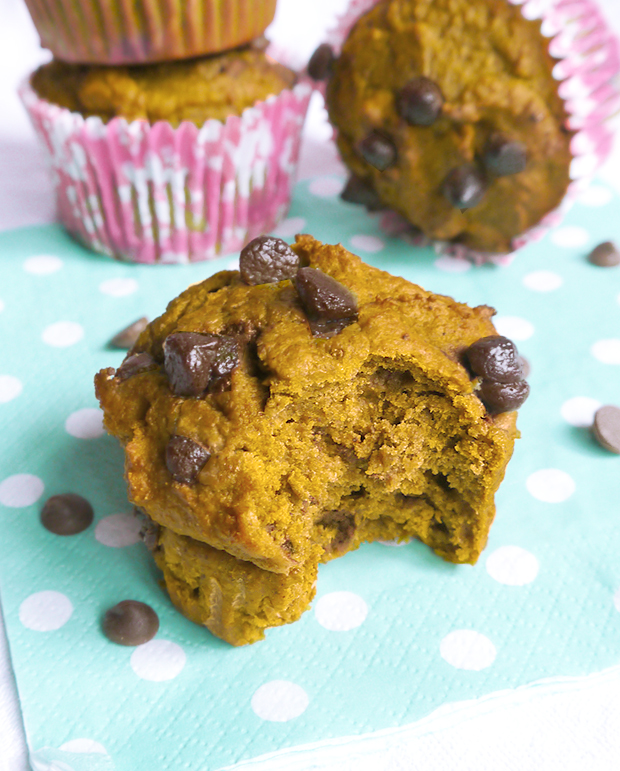 If you live in the UK you'll know how impossible it is to get your hands on pumpkin, apart from Halloween of course, so I use Libby's 100% Pure Pumpkin which I get online from amazon.co.uk. I recently found in my local supermarket and I have bought it from Aldi in the past. You can also buy it from tesco.com. It's made up of 100% pumpkin with no other added ingredients which is great. Pumpkin is low in calories and adds moisture so it's great to use in baking.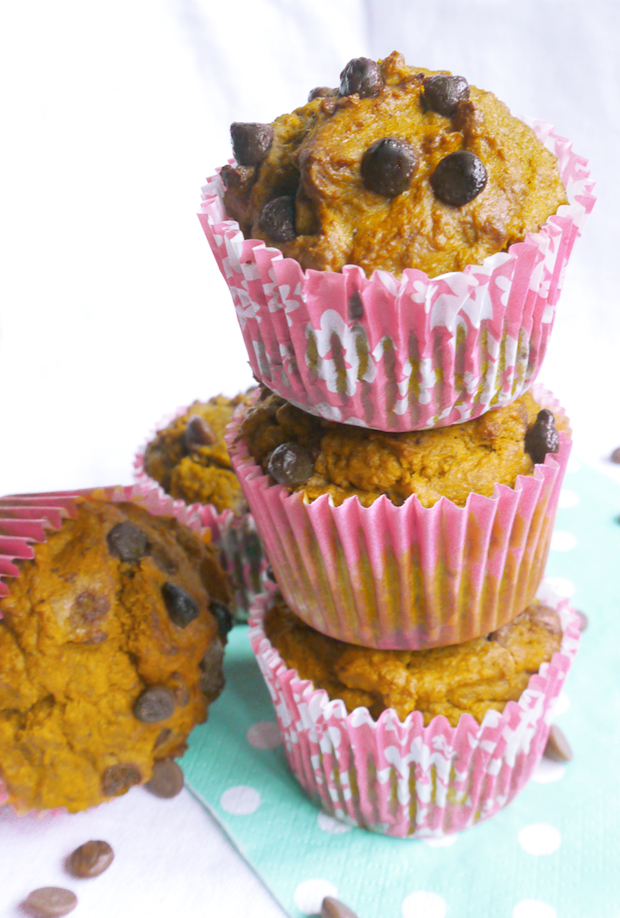 [recipe_box]
Pumpkin Chocolate Chip Muffins
Makes: 12 muffins
Dry ingredients
Wet ingredients:
2 large eggs
¼ cup coconut oil (you can use any oil)
¼ cup yogurt (or another ¼ cup oil)
½ cup chocolate chips
Directions:
Preheat the oven to 200*C (or 180*C fan assisted oven)/400*F.
In a large bowl, mix together all the dry ingredients.
In another bowl, mix the wet ingredients apart form the chocolate chips.
Pour the wet ingredients into the bowl of dry ingredients and mix until well combined.
Fold in the chocolate chips.
Line a 12 muffin tin with cases then distribute the batter into the cases evenly.
Bake for for 15-20 minutes.
[/recipe_box]
Nutritional information: (if using coconut sugar)
Calories: 188 calories
Protein: 5.1g
Carbs: 26.5g
Fat: 8g
Fiber: 4g
Share This Post