Pumpkin Cauliflower Lentil Curry – Vegan & Gluten-free
A delicious, fragrant and healthy curry full of fibre, plant-based protein and nutrients to keep you warm during the freezing winter evenings.
This was my first time ever cooking a fresh pumpkin. Seriously?? Yes, seriously! I've played around with canned pumpkin before, but never fresh. If you're wondering why it's taken me this long, well there are a couple of reasons for that:
a) Up until recently, pumpkin didn't seem to be a popular ingredient in the UK. Even now, the only time I see fresh pumpkins is right before halloween and shortly after it end when the supermarkets are trying to shift the pumpkins that didn't sell in October.
b) It's too heavy for me to carry 😛 I don't own a car and I usually do the food shopping myself as my husband is usually busy with his work, so having to walk back home carrying a pumpkin + the rest of my shopping always puts me off from getting one, or any other heavy fruit like melons etc. Also, I have a chronic back pain which only makes things worse!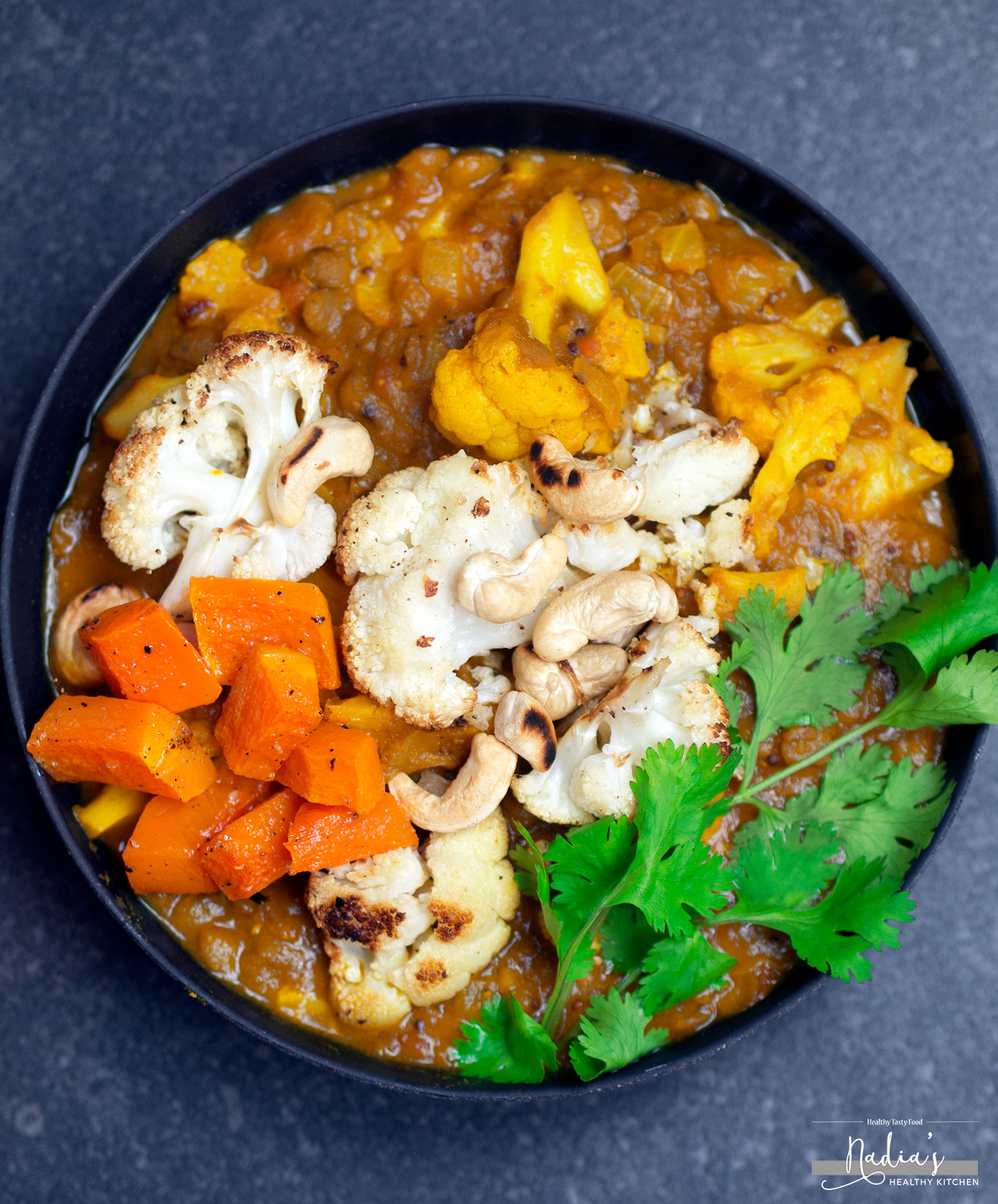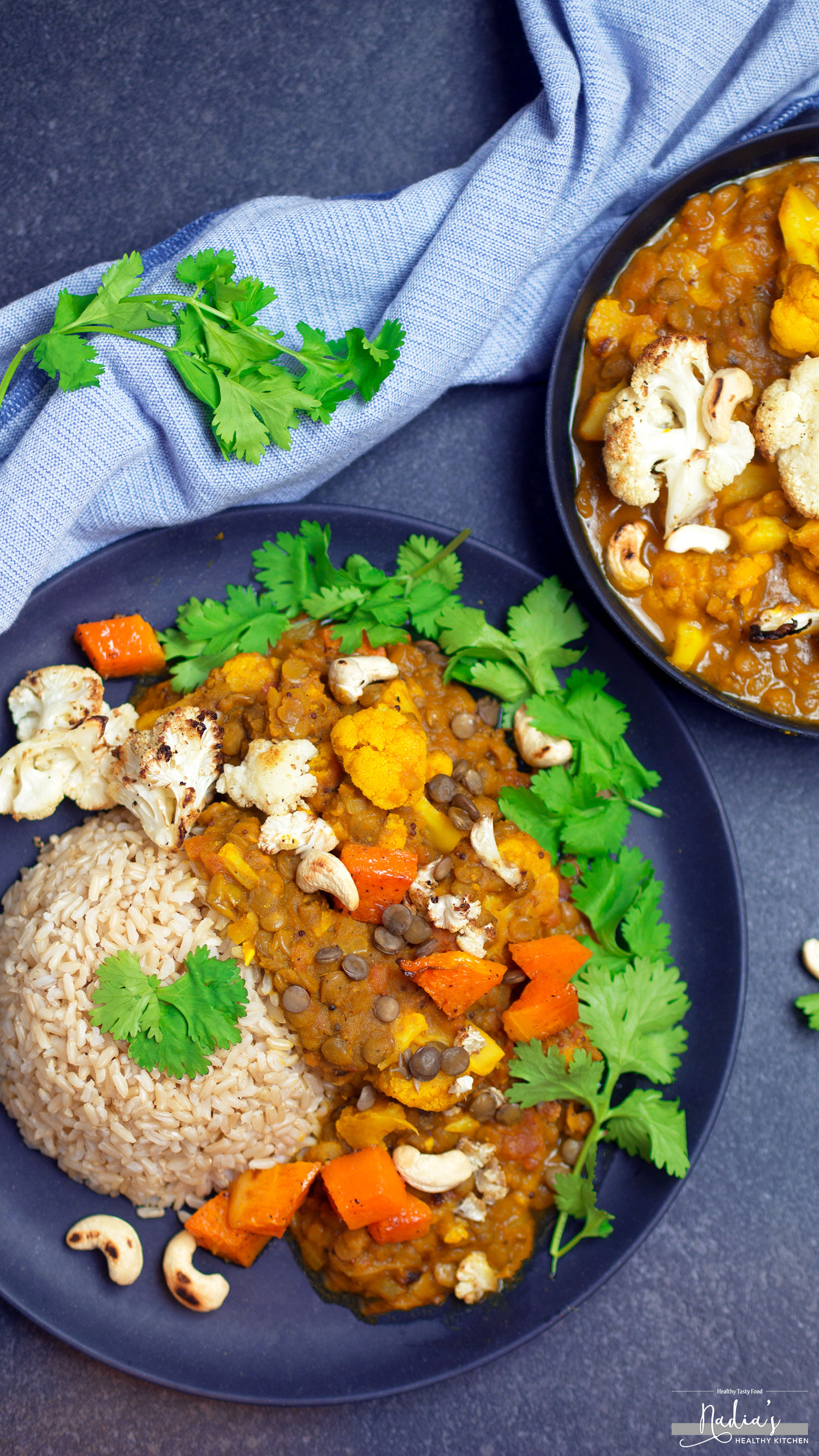 I wanted to create a super healthy vegan curry that's high in protein with a good portion of veggies to help you (and me!) get as many nutrients in as possible after the holidays. Instead of having chunks of pumpkin in the curry, I decided to cook and blend it into a paste and use it as part of the curry base. It turned out so delicious with the coconut cream and the aromatic blend of spices from East End Foods.
Whenever I make a curry, I always serve it with brown rice. It's so much better for you compared to white rice even though they're the same thing. The only difference being white rice is stripped from the germ and bran which are basically the best part of the grain where most of the fibre and minerals live. White rice is classed as 'empty calories' as it doesn't offer much in terms of nutrition AND it's broken down into sugar and released into the blood stream quickly causing a spike in insulin.
Along with the lentils, cauliflower and cashews, all of which have a low GI number, make it a great nutritious meal that will make you feel fuller for longer. This is my ideas of a comfort meal – warm, aromatic and filling!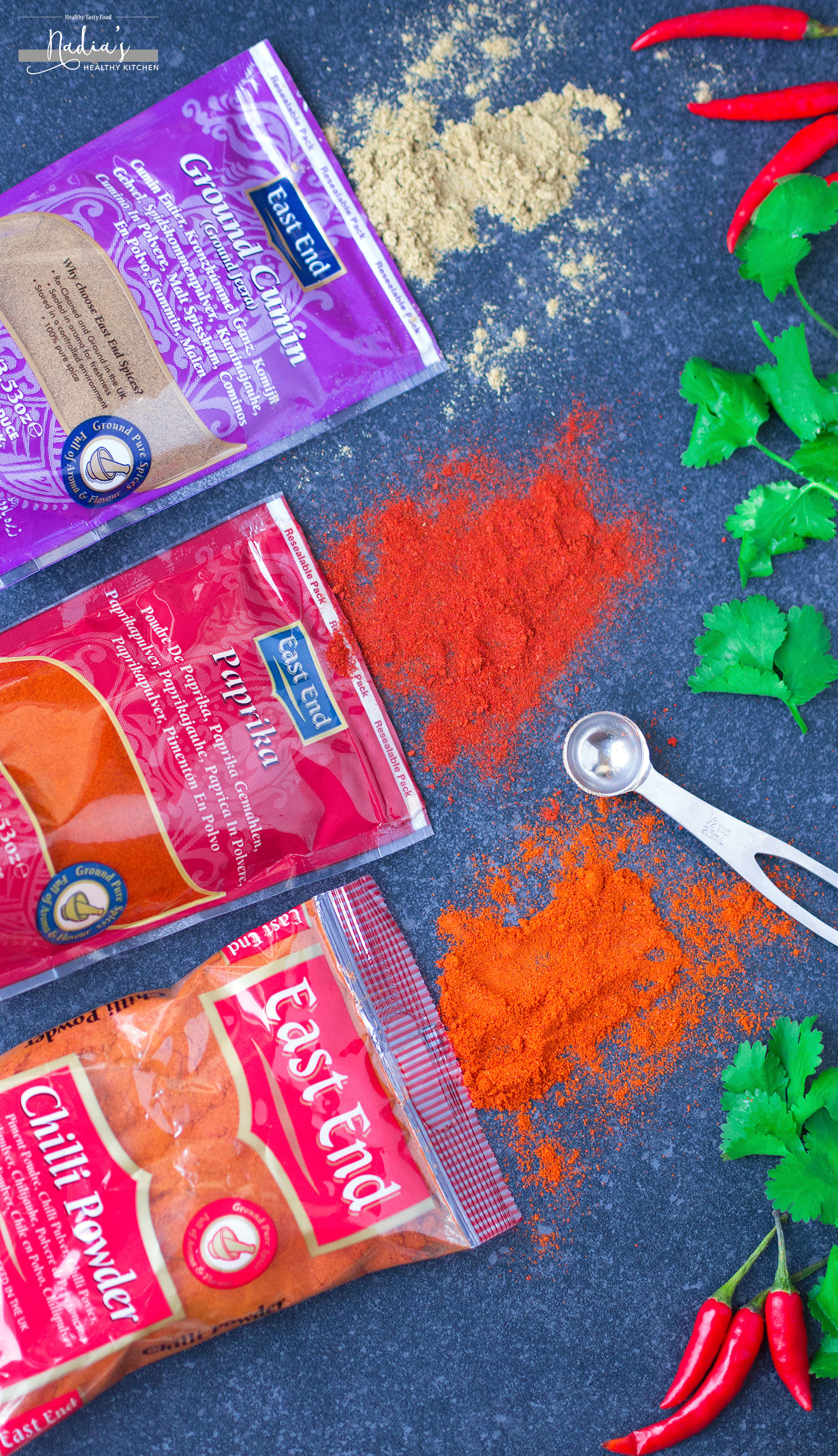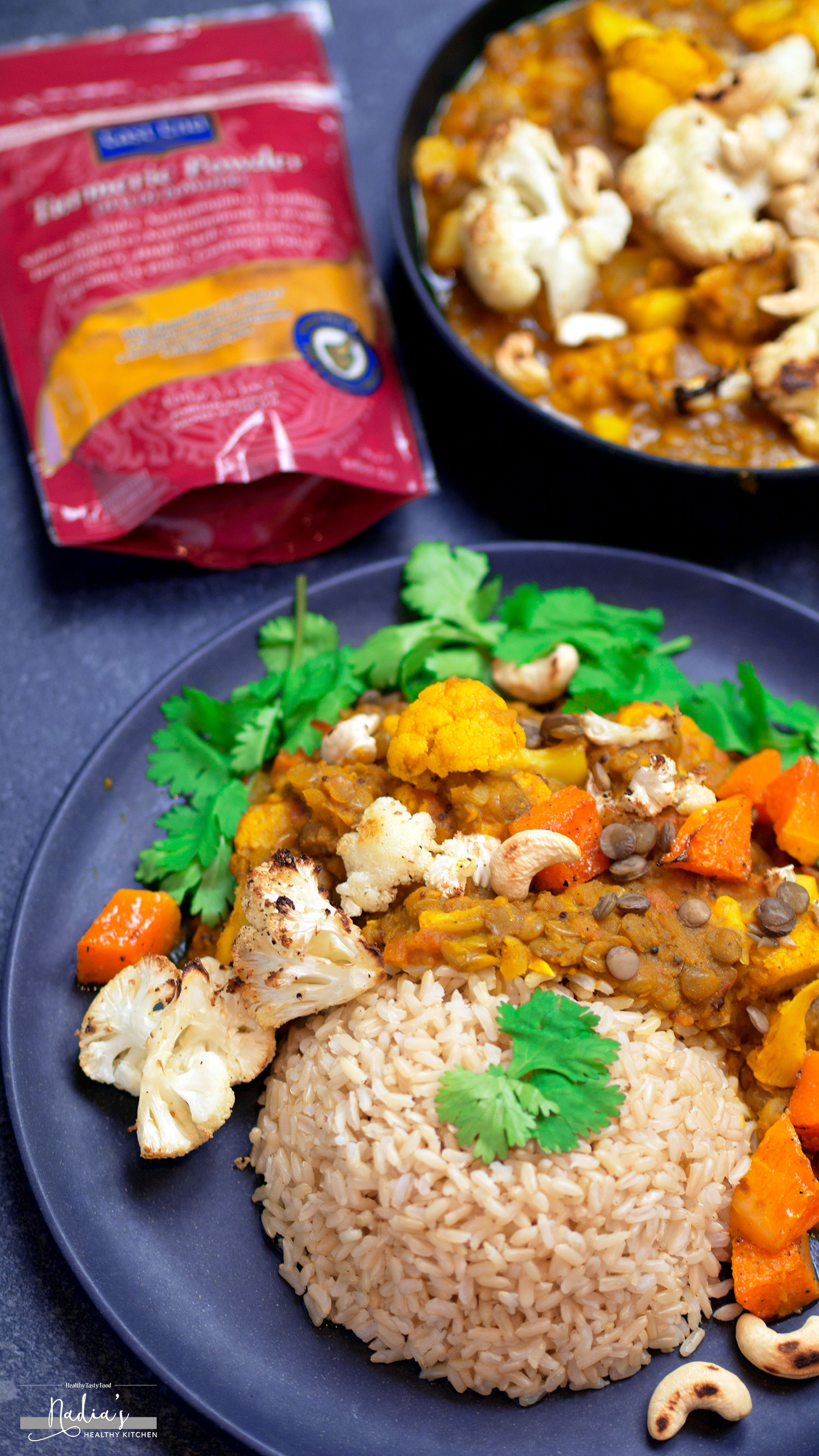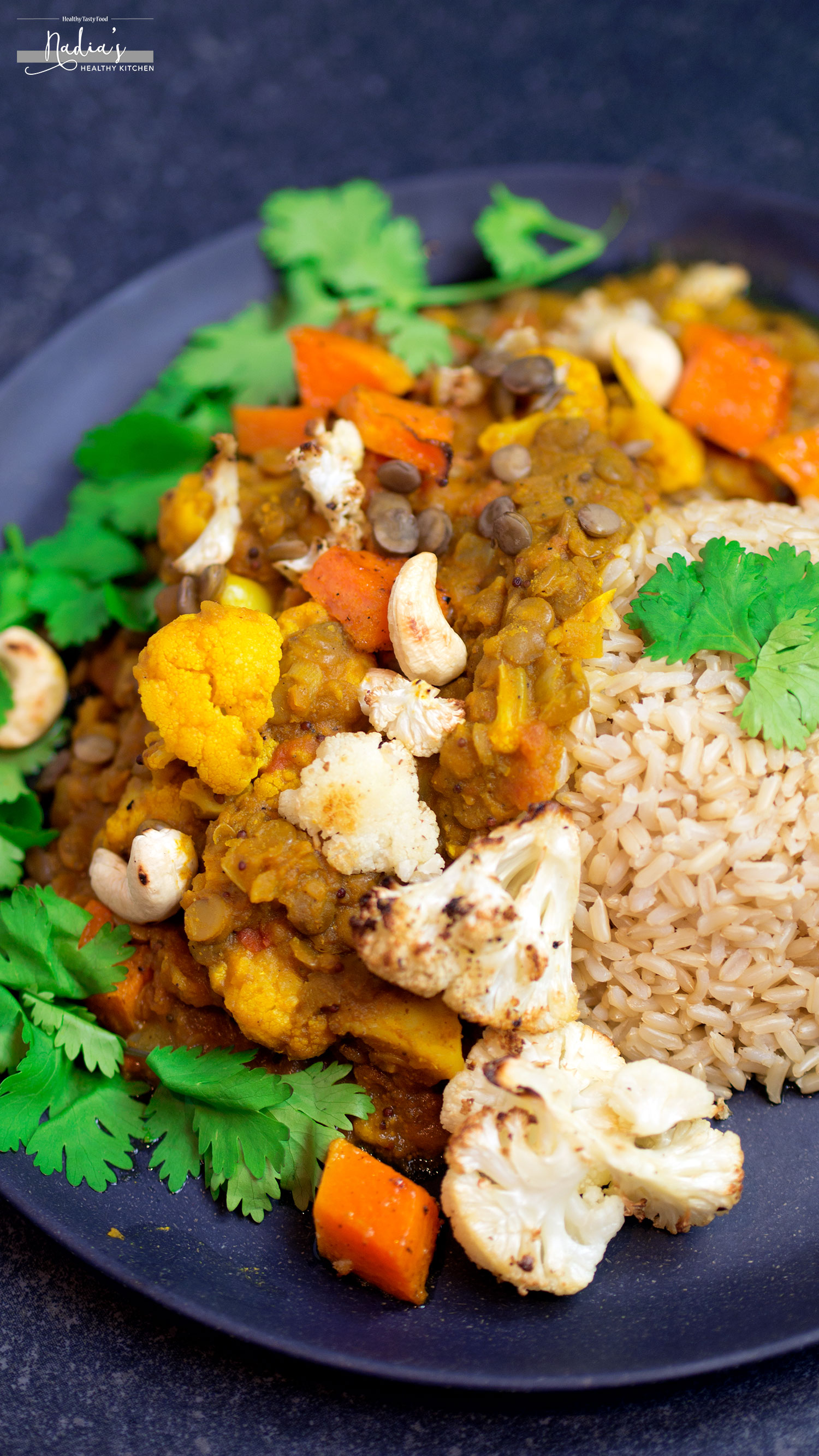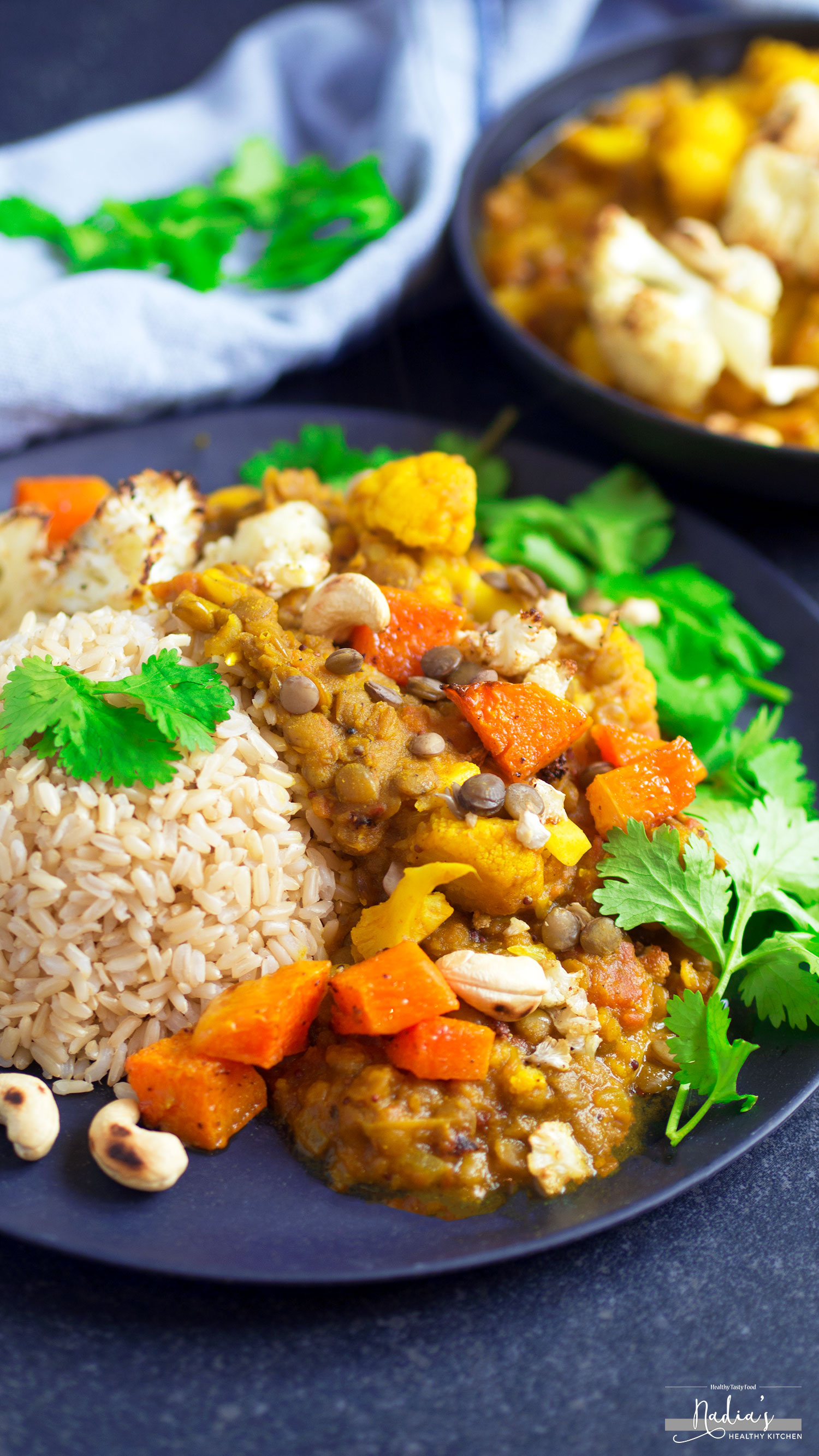 Pumpkin Cauliflower Lentil Curry
2016-12-08 17:51:41
Serves 6
Ingredients
1 cup (220g) pumpkin puree - cubed pumpkin, steamed and mashed into a puree
1 cup (190g) East End Foods green lentils
1/2 large head of cauliflower, cut into small florets
1 onion, chopped
5 garlic cloves, crushed
A thumb-sized piece of ginger, peeled and grated
1 can coconut milk - full fat gives it a creamier texture
1/2 can East End Foods chopped tomatoes
1 vegetable stock dissolved in 1 cup (235ml) of hot water
2 tsp East End Foods turmeric
3 tsp East End Foods cumin
1 tsp East End Foods coriander
3 tsp curry powder
2 tsp mustard seeds
2 tbsp maple syrup or sweetener of choice
Juice of 1/2 lemon
Salt & pepper to taste
To serve - brown rice, toasted cashews and fresh coriander
Instructions
Make the pumpkin puree by steaming cubed fresh pumpkin until soft enough to mash - about 20 minutes. Mash with a potato masher or in the food processor.
Heat 1 tbsp coconut oil in a large pan over a medium heat. Sauté the onions until transparent - about 5 minutes then add in all the spices. Add a splash of water to help mix the spice and create a paste.
Add the garlic and cook for another 1 minute.
Add in the lentils, cauliflower, pumpkin puree, chopped tomato, coconut milk and vegetable stock. Bring to a boil, lower the heat and simmer until the vegetables are soft, around 30 minutes. Keep an eye on it while cooking and add more water if needed.
Top with toasted cashews, lots of coriander and serve with brown rice.
Nadia's Healthy Kitchen https://nadiashealthykitchen.com/

** This post was commissioned by East End Foods; however, all opinions are my own.