Is it movie night tonight? Do you fancy a bowl of salty, crunchy snack to go with that? Yes? Well I've got just the thing for you. And NO, it's not crisps!
I don't know about you, but I'm a big fan of Chickpeas (also known as Garbanzo beans). This will become more apparent as the days go by and you'll see more and more of my recipes featuring this humble little legume.
Roasted chickpeas may sound like a foreign concept to some, but not for me! I remember eating then when I was young and I loved them back then. So it made sense to me to start making my own.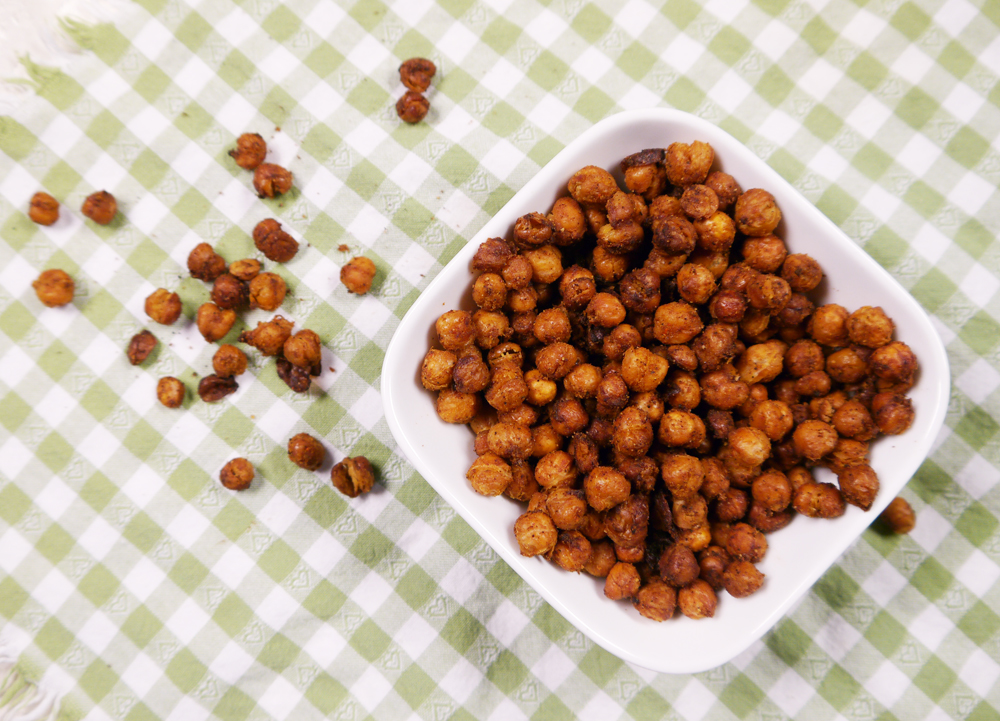 Chickpeas are high in protein so a good ingredient to add to your cooking, baking and even desserts (I know sounds weird, right?).
I would say this recipe is best to snack on whilst watching a film, because for me, that's when I crave something crunchy that doesn't finish after one bite!
Here's what you'll need
[recipe_box]
Ingredients:
1 can (400g/15oz) of Chickpeas
2 tbsp olive oil
1 tsp paprika
1 tsp cumin
1 tsp garlic powder
salt and pepper (to taste)
Method:
Pre-heat your oven to 200°C (400°F)
Drain and rinse the chickpeas
Place on a clean kitchen towel and leave to dry
Mix together the spices and seasoning
Once chickpeas are dry, place on a baking sheet and coat with the spice mixture and olive oil (you may want to use your hands to make sure all the flavours are distributed evenly)
Bake in the oven for 30-40 minutes or until crisp. Take them out of the oven and give them a little shake after 20 minutes so they don't burn.
[/recipe_box]
Roasted chickpeas are so much better for you compared to your average potato crisps/chips. They're higher in protein and lower in carbs. They're also low in saturated fats as they're roasted not fried. And you have full control over the flavour and salt content.
Enjoy!
Share This Post