Nakd Bar Recipe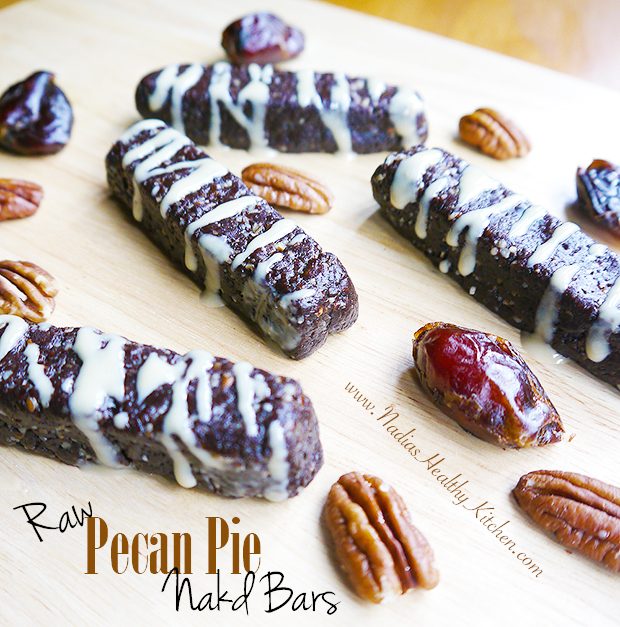 If you live in the UK, you may be familiar with Nakd bars. They're basically raw bars made up of 2 main ingredients – dates and nuts! Although depending on the flavour, some bars also contain ingredients like raisins, banana chips…etc.
Nakd bars are the British equivalent of larabars!
These bars tend to be expensive and because of their minimal ingredient content, they're so easy to make at home! And you can make them exactly the way YOU want! all you need is a couple of ingredients and a food processor…Oh and a fridge to cool them in!
Today, I'm sharing with you a Nakd bar recipe made up of..
Dates
Pecans
Cocoa
Maple syrup (optional)
That's how basic this Nakd bar recipe is! And the end result tastes so good! very much like the real thing except it will cost you a fraction of the price!
[recipe_box]
Nakd Bar Recipe
Makes: 6 bars
ingredients:
1 cup soft dates
1/2 cup pecans
2 tbsp cocoa
1 tbsp maple syrup
a pinch of salt to enhance the flavours.
Directions:
Place the dates in a food processor with a pinch of salt and blend for a few minutes, then add in the pecans and cocoa. Pulse until everything is well combined. I added a tbsp of maple syrup at this point to help everything stick together, but you can omit if you wish.
Shape into bars, then refrigerate for a few hours or leave overnight.
[/recipe_box]
Feel free to add other types of nuts, dried fruit or flavours (e.g cinnamon, vanilla, coffee!) It's all about you finding the combination that you prefer.
Let me know in the comments what you would use to make your perfect Nakd/Larabar! x
Share This Post