Middle Eastern Inspired Almond Milks – Halva & Turkish Delight
Both these desserts, halva and turkish delight, have a special place in my heart.
I grew up loving, but rarely eating either of them. We only had treats like this when visiting relatives or at special occasions. Not too long ago I made another 'halva' recipe – my Halva overnight oats. As you can probably tell I'm OBSESSED with tahini and tahini flavoured goodies!
The Turkish delight we used to get in Iraq was usually pink, with a hint of rose flavour and crunchy pistachios in the middle.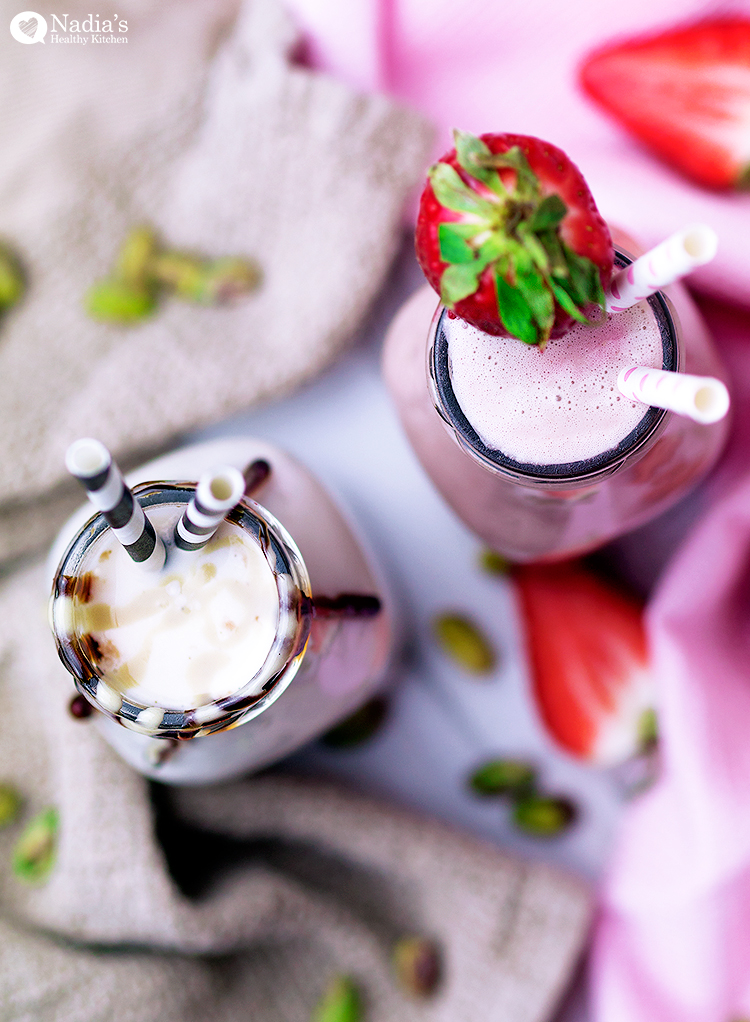 I love using funky flavoured milks to pour over my granola (like this and this), chocolate or hazelnut milk is usually my faves but I wanted to try something different, and thought a pink milk would look so adorable! Initially, this recipe was going to be a simple strawberry milk, but then the image of turkish delight came into my head (I know turkish delight and strawberries have nothing to do with each other, it's just how my brain works!) and I just had to create it!
Since there was a Middle Eastern theme going on here, why not make Halva version as well?
For the Halva almond milk – I'm using tahini, dates, cinnamon, cardamom and a pinch of salt.
For the Turkish Delight variation – I'm using dates again to sweeten, strawberries to give it a pink colour, rose water for the authentic turkish delight taste, pistachios and a pinch of salt.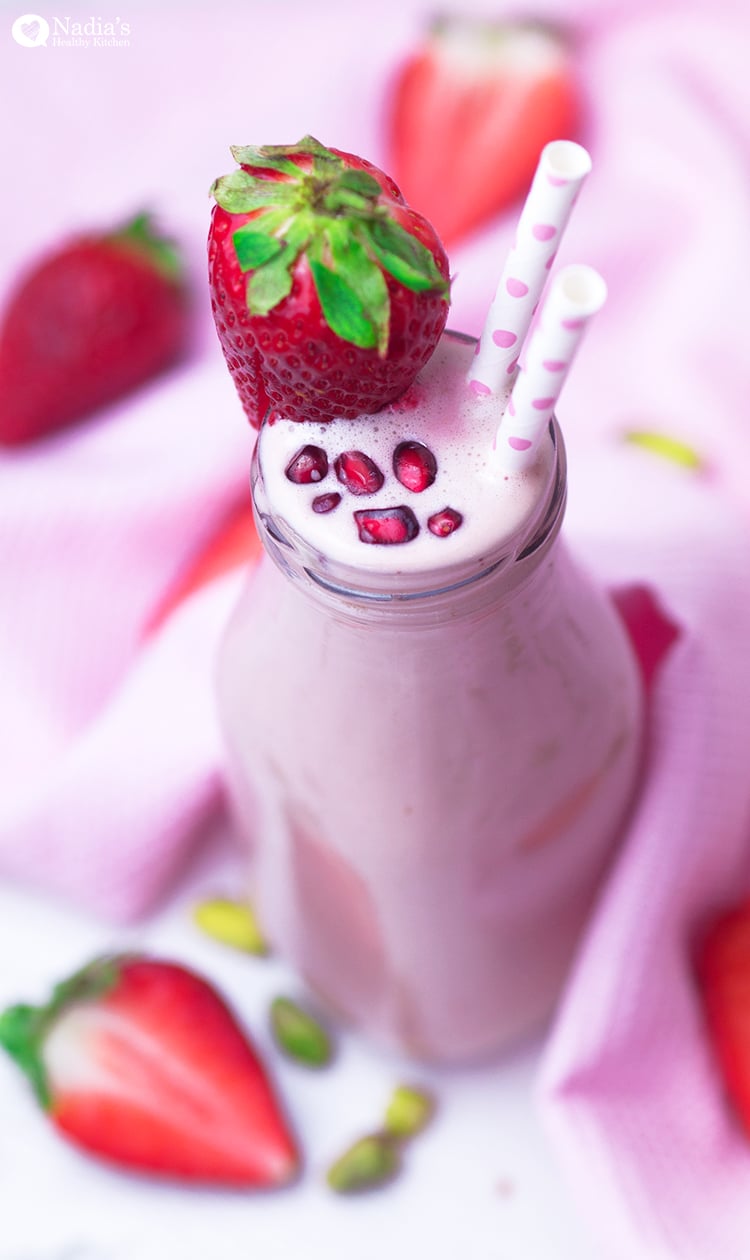 Rose water is often used in Middle Eastern and Indian desserts so you can get it from Middle Eastern or Asian shops. I've even seen it in the international section in Tesco. Alternatively you can usually find it in health shops.
Watch this video to see how easy it is to make almond milk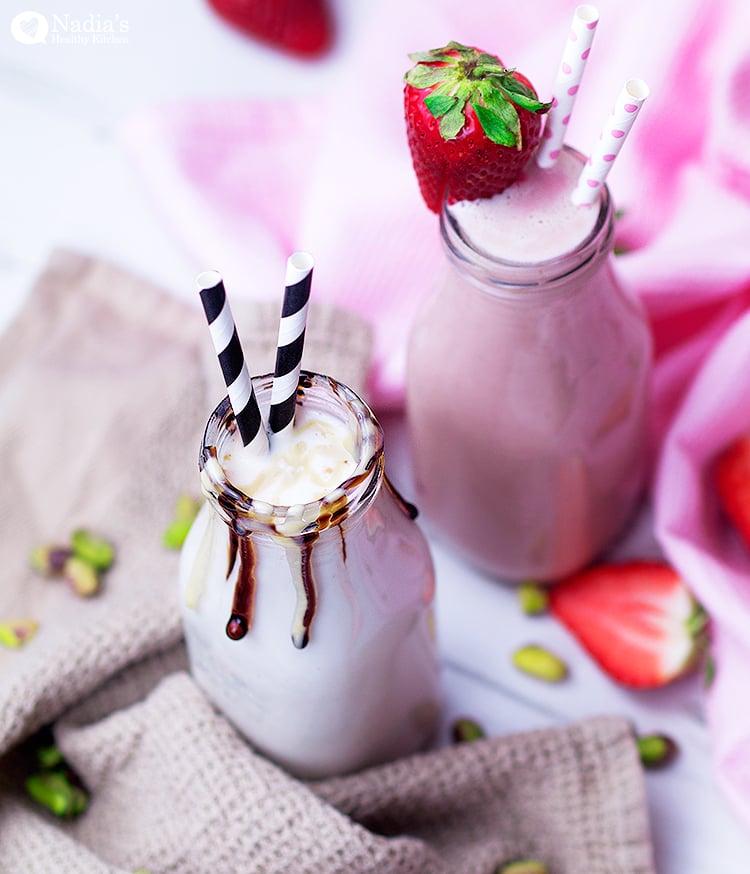 Halva & Turkish Delight Almond Milk
2016-04-07 07:29:54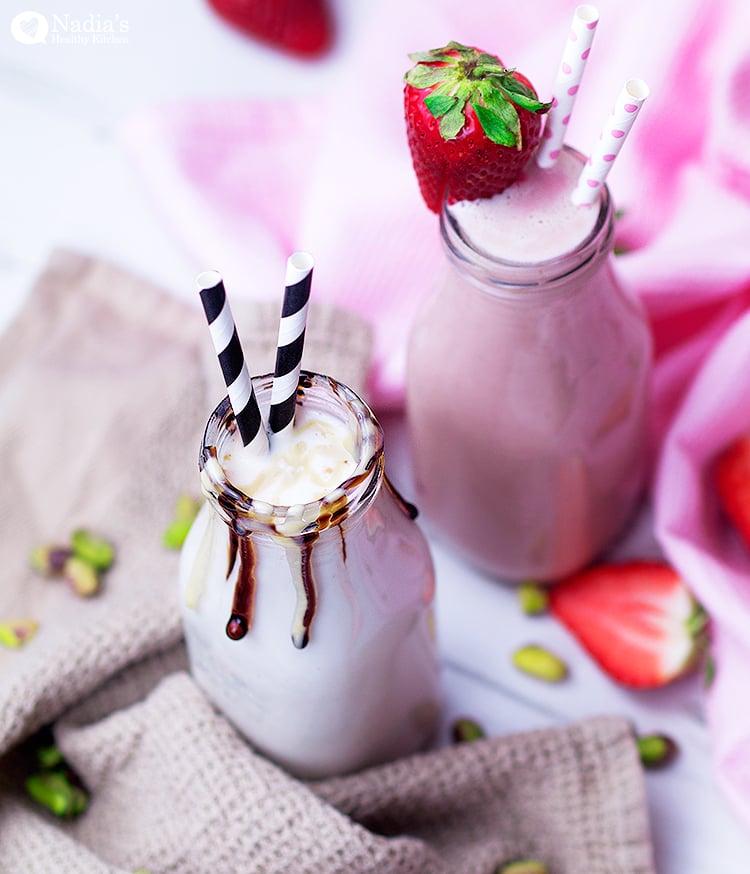 Turkish Delight Almond Milk
1/2 cup almonds - soaked in water for at least 8 hours
2 cups of water
5-7 large strawberries
3 medjool dates - add more if you want it sweeter
1/4 cup pistachios OR 1 tbsp pistachio butter
1 tsp rose water
Pinch of salt
Halva Almond Milk
1/2 cup almonds - soaked in water for at least 8 hours
2 cups of water
1 tbsp tahini
1/4 tsp cardamom
1/4 tsp cinnamon
Pinch of salt
Turkish Delight Almond Milk
Drain and rinse the almonds then place them in your blender.
Add the water and blend on high. I use my high powered Froothie blender so I only had blend on high for 60 seconds. If you have a regular blender you may want to blend longer to make sure the milk is as smooth as possible.
Using a nut milk bag or a fine strainer and a large bowl - pour your milk into your nut milk bag and start squeezing the milk out. Try to get as much of the milk out as possible.
Return the milk to the blender and add the remaining ingredients. Blend until completely smooth
Transfer to a bottle and store in the fridge.
Halva Almond Milk
Same instructions as above.
*Use the left over almond pulp to make almond pulp balls - scroll down for the recipe.
UK Health Blog - Nadia's Healthy Kitchen https://nadiashealthykitchen.com/
Don't throw away the almond pulp that's left behind, that would be such a waste! Instead, make these
almond pulp balls
that you can enjoy as a nutritious snack…
Share This Post