Matcha Energy Balls
I'm a serious snacker and can't go through a day without snacking in between meals.
As many of you already know, I I suffer with IBS (irritable bowl syndrome) and have basically endured abdominal and digestive discomfort for most of my adult life – on a daily basis! I haven't had a day where I haven't felt bloated at some point during the day. I've tried all kinds of things and have cut out different foods to try to determine a food sensitivity, but without any luck.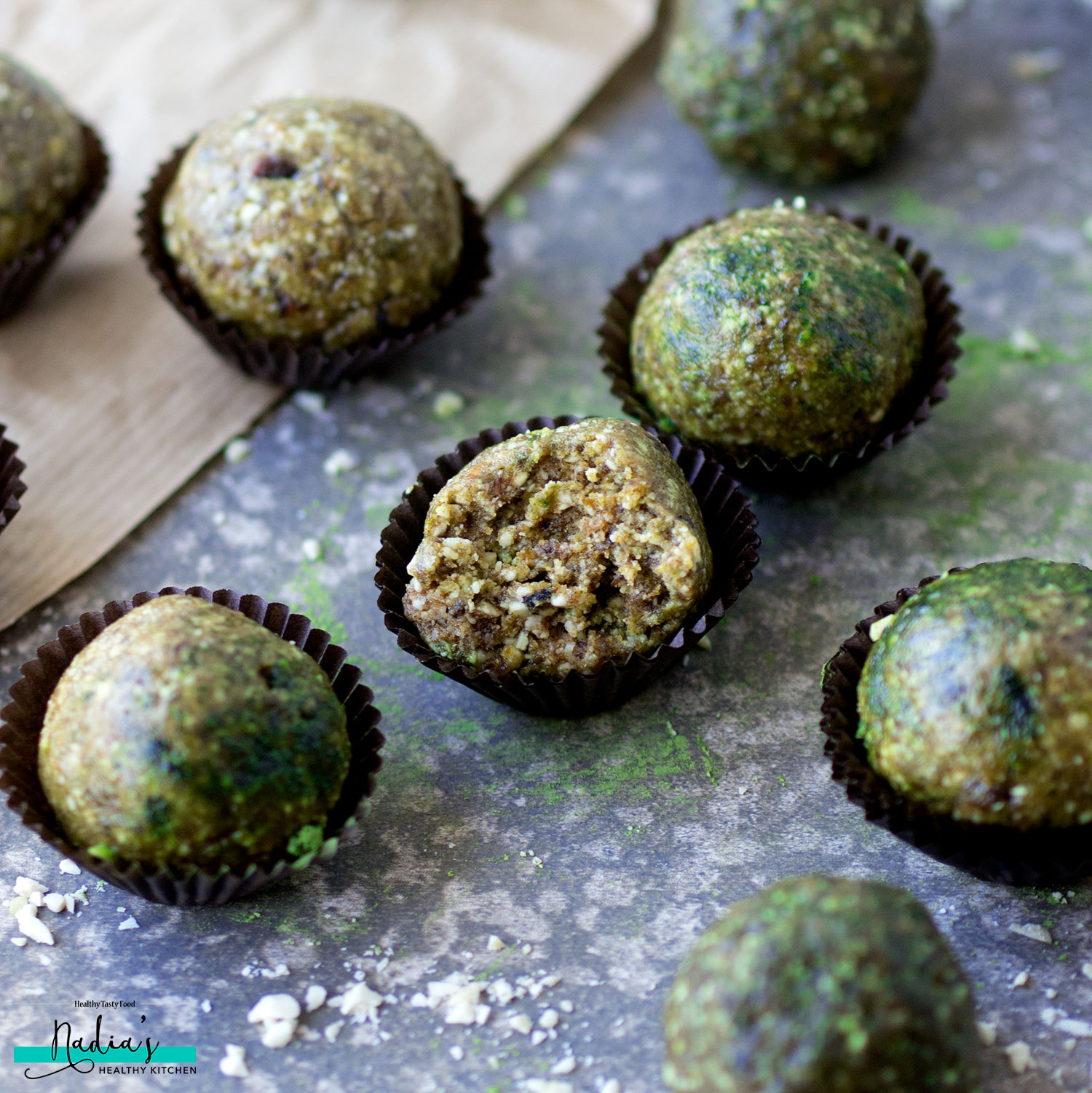 Early on in the year, I went to see a nutritional therapist who advised me to take a comprehensive gut test to check the health of my bowels. To cut the story short it turned out that I had 2 parasites and one form of bad bacteria lurking in my gut. To be honest I'm not at all surprised. Growing up in a third world, war torn country meant that not everything I ate was clean. I remember times when we turned on the tap only to find the water was brown!
Anyway, so I've been following a protocol to hopefully eradicate these nasties and get my gut to a tip top condition. Until then, I need to continue trying to manage the symptoms.
One of the things that does help with my IBS is to eat little and often. So I generally eat smaller meals which means I start feeling peckish 2-3 hours later. That's when I get a snack attack and need to eat something to keep me going and to increase my energy levels.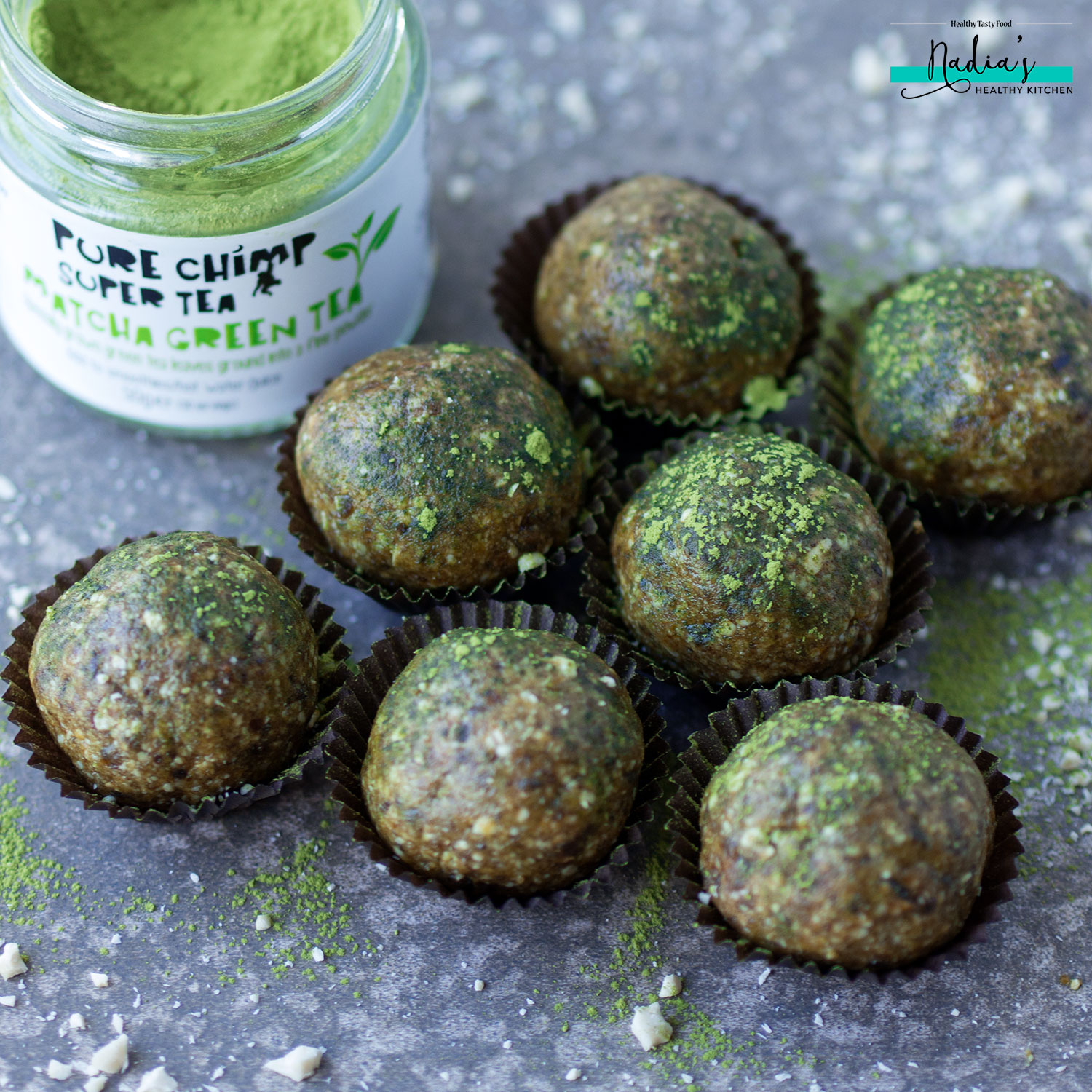 Energy balls are one of the best snacks out there! Really easy to make, packed with fibre and healthy fats making them low GI meaning they're digested slowly. They're naturally sweet so there is no need to add processed or refined sugars, and they're really easy to make. I like to prepare a big batch at the beginning of the week and store them in the fridge. That way I know I have something healthy and delicious to snack on throughout the week.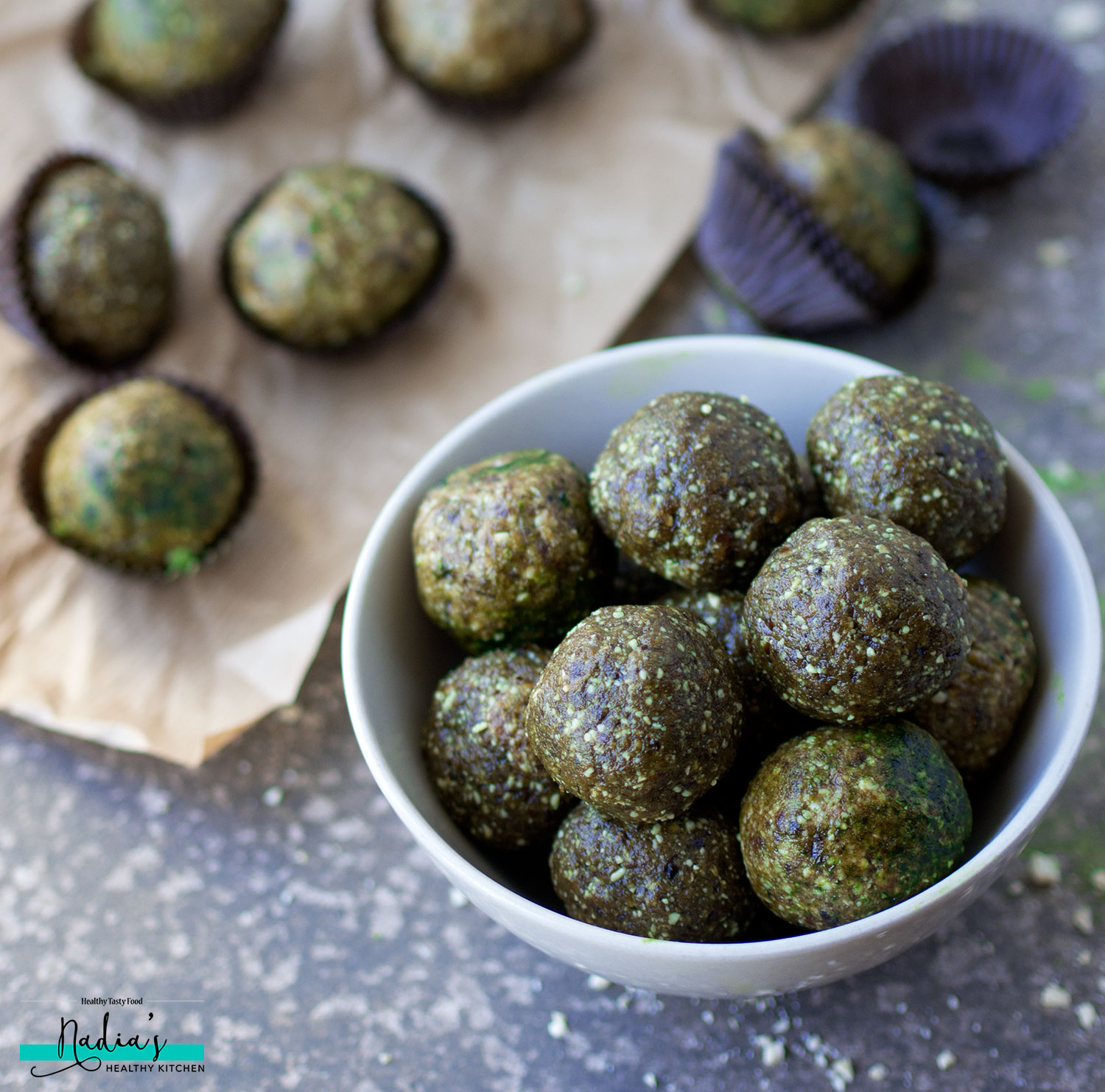 These matcha energy balls only call for 4 ingredients – dates, cashews, matcha and coconut oil to help the mixture hold together.
As I mentioned in my vanilla matcha latte post, matcha is one of the best sources of antioxidants. It's also naturally high in caffeine making it an amazing addition to snacks to increase their energy boosting properties.
Matcha Energy Balls
2016-10-07 10:19:44
Ingredients
1 cup (160G) dates
1 cup (150g) cashews
1 tsp PureChimp matcha green tea powder
2-3 tbsp coconut oil (depending on how soft your dates are)
Instructions
WATCH THE VIDEO ABOVE FOR INSTRUCTIONS
Nadia's Healthy Kitchen https://nadiashealthykitchen.com/
If you liked this
matcha energy balls
recipe, you will also like these recipes: