Mango, Banana and Raspberry Smoothie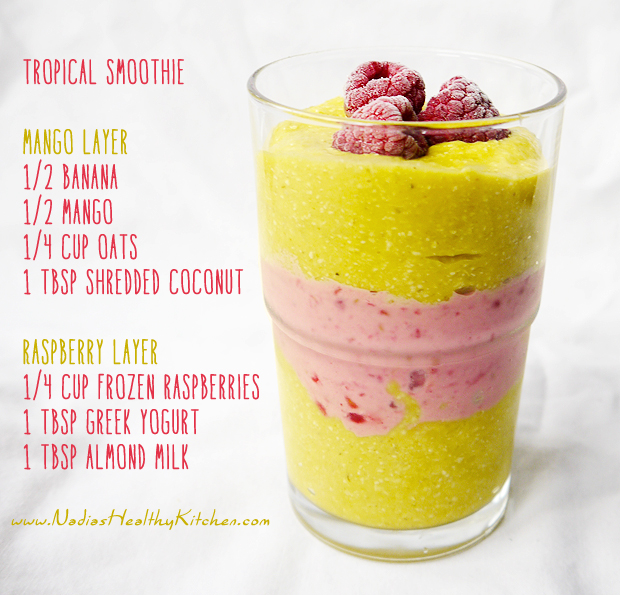 For years now, we've been told that we should eat our 5-a-day; that is at least five portions of fruit and vegetables (I don't know about the rest of the world but that seems to be the rule in the UK) but now, scientists are urging us to eat at least 7 portions of fruit and veg. We should really be eating as much fruit and veg as we possible can! But with life being so hectic in this day and age it may seem less than doable.
I find a great way to get a decent serving of fruit (and veg!) is to make smoothies. You can make a smoothie using whatever fresh fruit and veg you have available in your fridge, no recipe needed!
Another great thing about smoothies is that they're really fast to prepare and you can pour it into a flask and take it with you if you're in a hurry. To save even more time, just blitz your ingredients in the food processor the night before and store it in the fridge so there is no fuss the next morning.
This is just a simple example of a delicious simple smoothie with 3 portions of fruit (plus some healthy carbs, fats and protein)
[recipe_box]
Breakfast Mango, Banana and Raspberry Smoothie
Serves: 1
For the Mango layer:
1/2 ripe mango
1/2 banana
1/4 cup oats
1 tbsp shredded coconut
For the Raspberry layer:
1/4 cup frozen raspberries
1 tbsp low fat Greek yogurt
1-2 tbsp almond milk
All you need to do is blend the mango layer and the raspberry layer separately and serve! Alternatively you could just blend all the ingredients together (saves time and washing up :P) I just like to layer it because it looks pretty 🙂
[/recipe_box]
You could always add in some vegetables like carrots, spinach, kale, celery…etc. Also, nut butters add loads of flavour and protein 😛
Nutritional Information:
Share This Post