Lemon Energy Cookies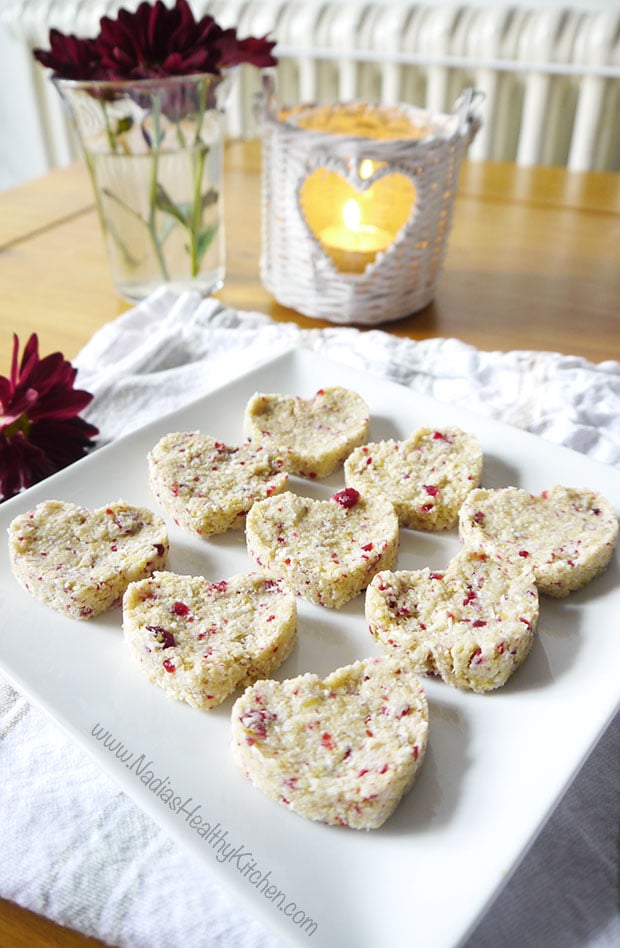 My mum and I had this delicious almond and lemon cake as an afternoon treat the other day and since then I've had really bad cravings for lemony desserts!
Given the option, I wouldn't usually go for a citrusy dessert. In fact, I almost never choose a citrus dessert. I would always go straight for the chocolate options! So I was quite surprised to find that I was craving lemony, zesty things all of a sudden. And with the weather warming up, lemon does feel much lighter and more refreshing than chocolate (although chocolate will never cease to be one of my main options! haha).
So to satisfy my cravings, I came up with these really quick and easy no-bake lemon energy cookies. They're gluten free, low carb and high in protein. Absolutely perfect for a quick snack. I've been taking them with me to the library for a mental boost to help me concentrate!
These lemon energy cookies are full of healthy fats that will keep your skin and hair healthy and nourished.
Some of the ingredients I used to make my lemon energy cookies:
Ground almonds are a great source of protein, biotin, Vitamin E, magnesium and fiber.
Shredded coconut and coconut oil are high in healthy fats that will keep you feeling full and satisfied for longer. Coconut is also great for your skin, hair, nervous system and there are studies that suggest it will also help you burn fat and lose weight!
Oats is one of my favourite carbohydrates because it's high in fiber and helps lower your 'bad' cholesterol.
Consuming a sufficient amount of protein is crucial for maintaining optimal body functions. I'm not a big meat eater so I like adding protein powder to my snacks.
Maca powder is a great source of natural energy.
[recipe_box]
Lemon Energy Cookies
makes: 12-14 cookies
Ingredients:
1 scoop vanilla protein powder (I use impact whey protein from Myprotein)
¼ cup gluten-free oat flour
¼ cup shredded coconut
¼ cup ground almonds (almond flour)
2 tsp maca powder (I use Organic Burst) – optional
2 tbsp honey (or maple syrup, rice syrup…etc)
3 tbsp coconut oil
2 tbsp cranberries
pinch of salt
1 tbsp lemon juice
1 tsp lemon grind
Directions:
In a bowl, mix together the protein powder, oat flour, shredded coconut, ground almonds, maca and salt.
Transfer to a food processor. Melt the coconut oil then add to the food processor along with the honey. Process for a couple of minutes.
Add the lemon grind, lemon juice and the cranberries and process for a few more minutes until everything is well combined. You should be left with a dough like texture that's not too sticky but holds well together.
Press into cookie cutters or you can simply shape them into balls if you prefer.
(Scroll down for nutritional information)
[/recipe_box]
You can store them in the fridge or at room temperature. I like to store mine in the fridge to keep them cool but they will be softer at room temperature so it just depends on your preferences 🙂
Nutritional information: (estimation per cookie out of 14 cookies)
Calories: 73
Carbs: 5g
Protein: 2g
Fat: 5g
Share This Post