How to Make Cashew Cheese (5 ingredients recipe)
I decided it was about time I created a short video showing you just how quick and easy it is to make cashew cheese. A dairy-free alternative to regular cream cheese that you can use to use on pizza, salad, pasta, pies, pasties or simply spread on a piece of bread!
I've used cashew cheese in a couple of previous recipes like my recent cranberry butternut squash cheese tarts I'm obsessed with the stuff! Whenever I ask a vegan what non-vegan food they miss the most, more often than not the answer is "cheese!", because it's such a huge part of the British diet and it's on/in so many foods! If you go out to a restaurant and look at the vegetarian section of the menu, cheese is very heavily featured.
Since cutting out dairy, I get the odd cheese craving, usually when I see a juicy slice of pizza. And every now and then I crave cheese on toast (this used to be one of my guilty pleasures), but apart from that I don't miss cheese too much. It's true that certain foods are just not the same without cheese, but it's definitely not a life changer for me.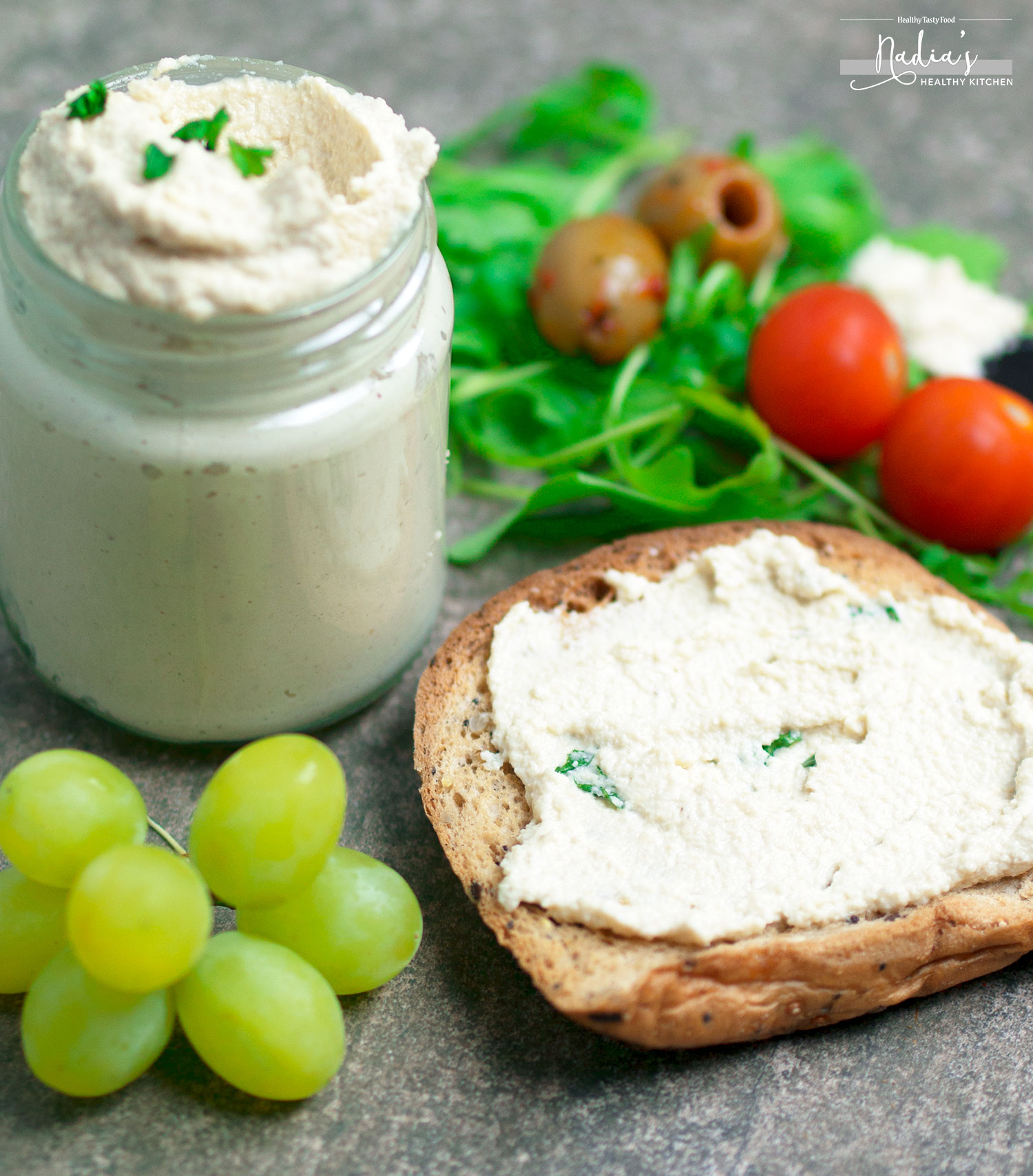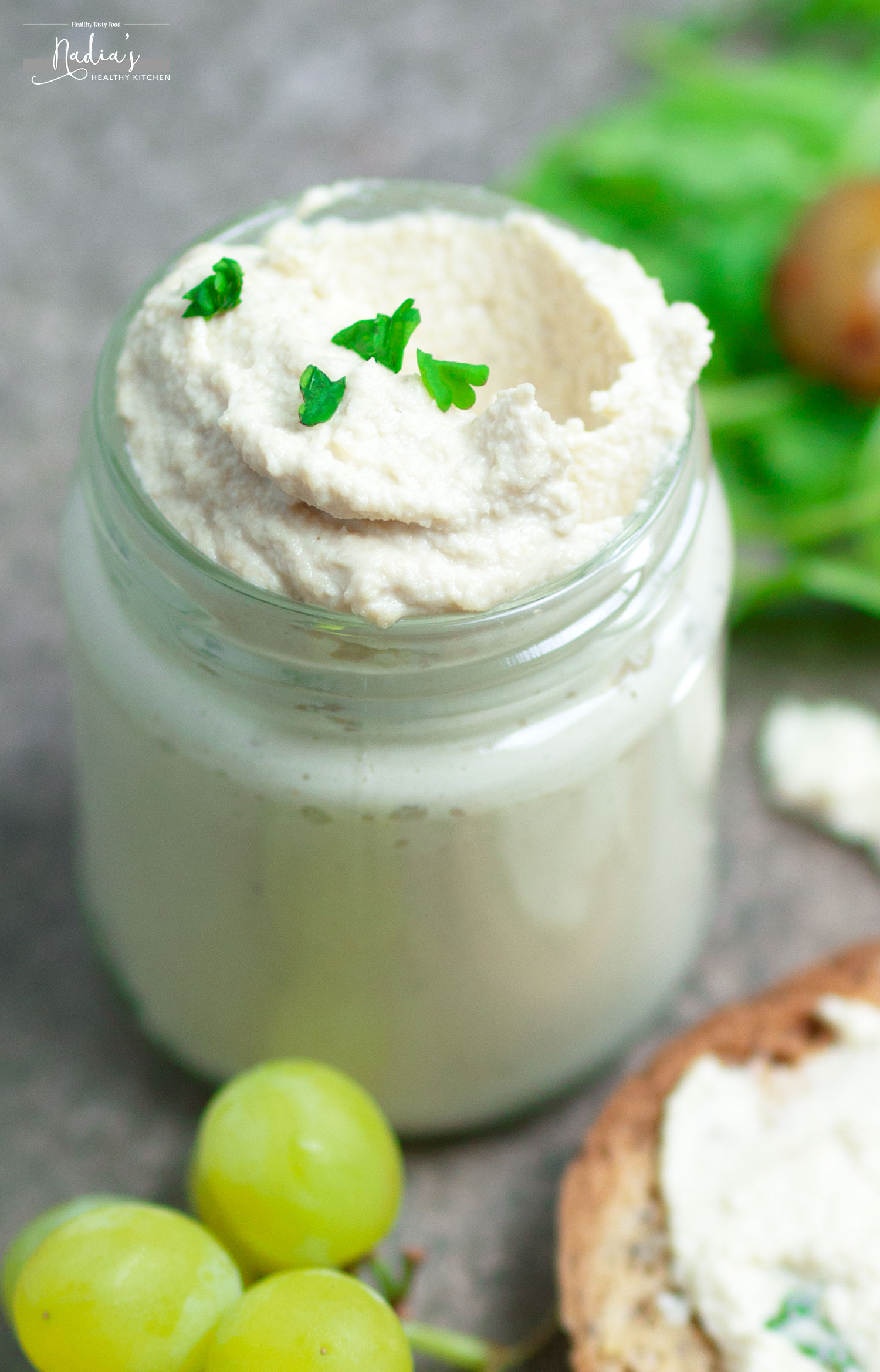 Having said that, I still want the option of enjoying 'cheese' every now and then 😛
Finding a dairy-free cheese alternative used to be very difficult not too long ago. Even this time last year. I only remember seeing a couple of none dairy cheeses in my local health/vegetarian shop. They definitely didn't stock anything like it in my local supermarket. By the end of last years however, vegan cheeses seemed to be everywhere!
Even though there are more cheese options out there now, I still feel more comfortable making my own version with basic wholesome ingredients.
Here's how to make cashew cheese using only 5 basic ingredients. Tastes delicious and surprisingly cheesy without having to add any artificial flavourings.
This homemade cashew cheese goes great on some crackers or a piece of toast with some grapes or fresh figs. I've also used it to make my chickpea pizza. It's so delicious spread on the chickpea base topped with some grilled vegetables like courgette, aubergine and tomatoes – YUM!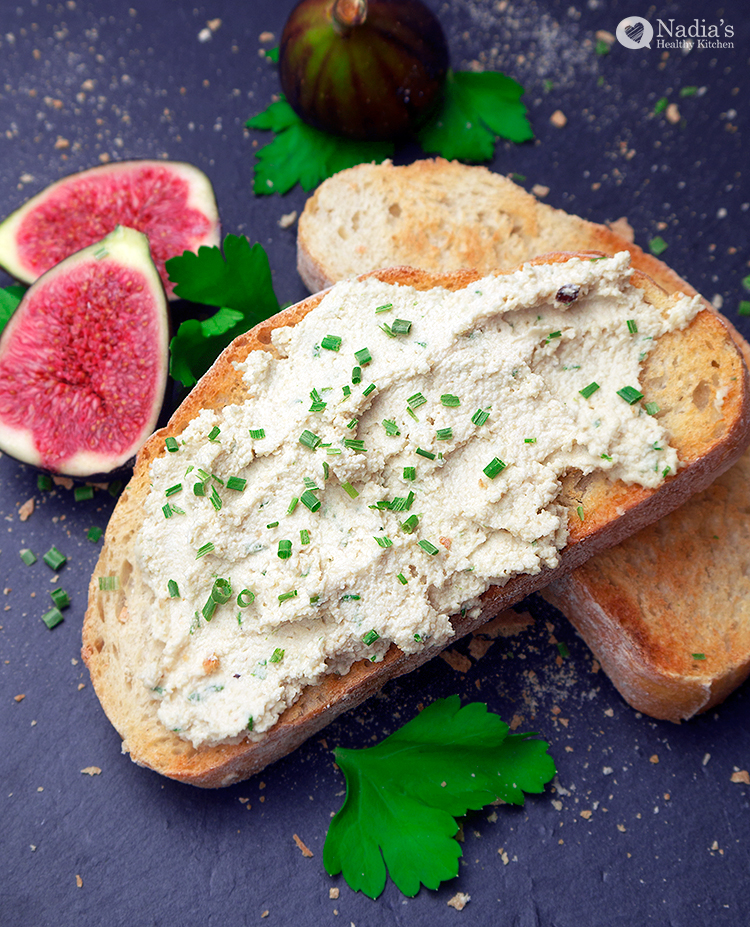 How to Make Cashew Cheese (5 ingredient recipe)
2015-11-22 17:02:09
Ingredients
2 cups cashews (280g) - preferably soaked for 4-8 hours.
1/2 cup (118ml) water
6 tbsp nutritional yeast
3/4 tsp salt - or to taste
1/4 tsp garlic powder
Juice of 1 lemon
Fresh or dried chives
Instructions
Watch the video at the top of the page for instructions
Notes
Store in an air tight container the fridge for up to 5 days.
Nadia's Healthy Kitchen https://nadiashealthykitchen.com/