Healthy Easter Baskets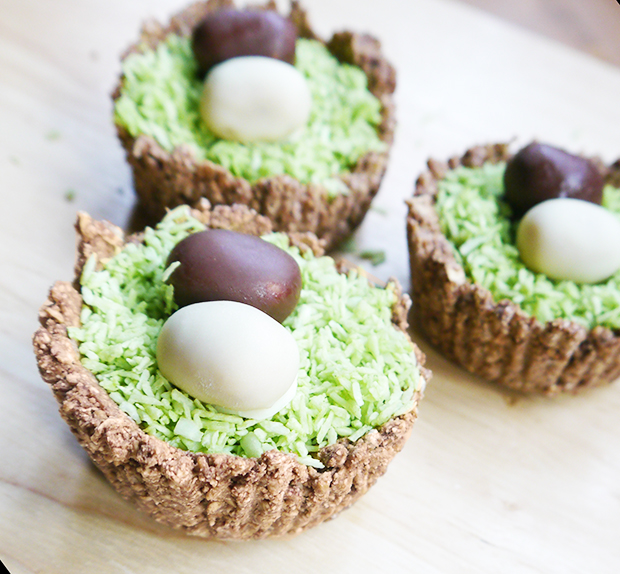 Are you thinking of making a special treat for Easter? Looking for a healthy and clean dessert for your family or friends? Maybe something fun for your young ones? Then look no further because I have just the thing for you 😉
I wanted to make something healthy, yet still fun and tasty. To me, Easter is about spring, colours and … eggs! of course. And after having a quick search online for ideas and inspirations, I had the idea of making healthy Easter baskets filled with green grass and eggs.
Initially I was intending on taking a shortcut by adding shop bought mini easter eggs to place in the baskets, but then that would be cheating now wouldn't it? So I decided to make my own mini eggs using a few healthy ingredients…and now I'm so glad I didn't take the shortcut 😀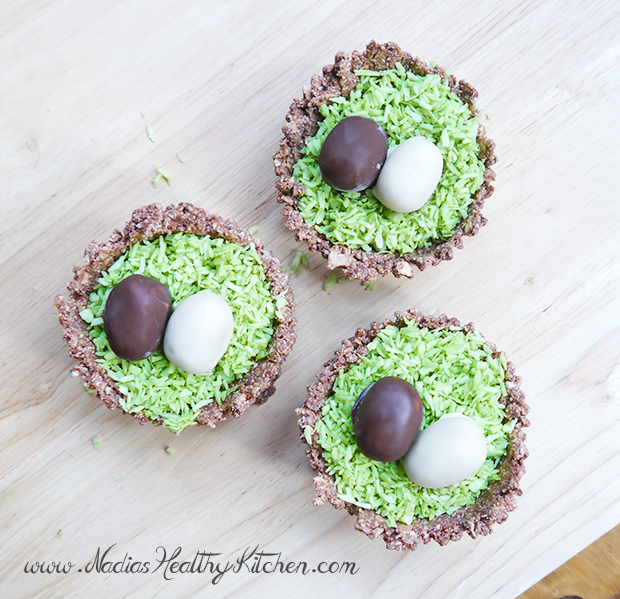 These healthy Easter baskets may look tricky, but they're not at all hard to make. Honestly! And you could always skip making the eggs yourself and use shop bought ones instead (i.e. cheat like I almost did!), but I wouldn't recommend it because these healthy mini eggs are so delicious! And everyone will be impressed to know that they were hand made by you, making them all the more special.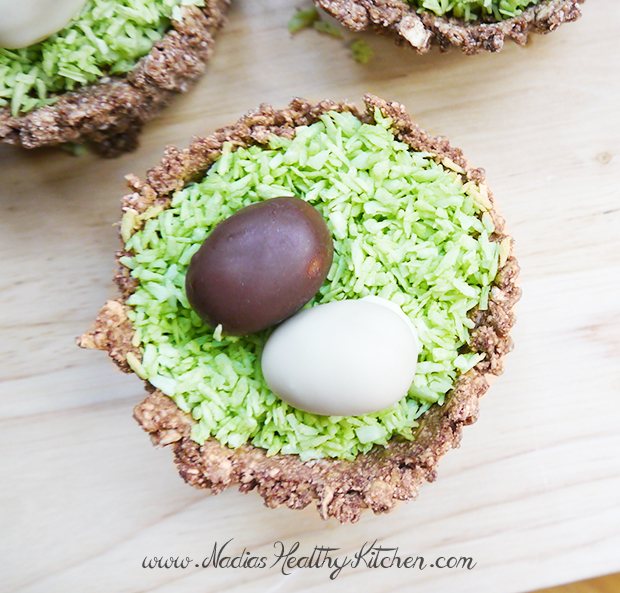 They're gluten-free, dairy-free and vegan. They're also non-bake! So they could be classed as raw (if you leave out the part where I melt the chocolate in the microwave).
Oh and another thing…the green 'grass' is coloured naturally using a very simple method 😉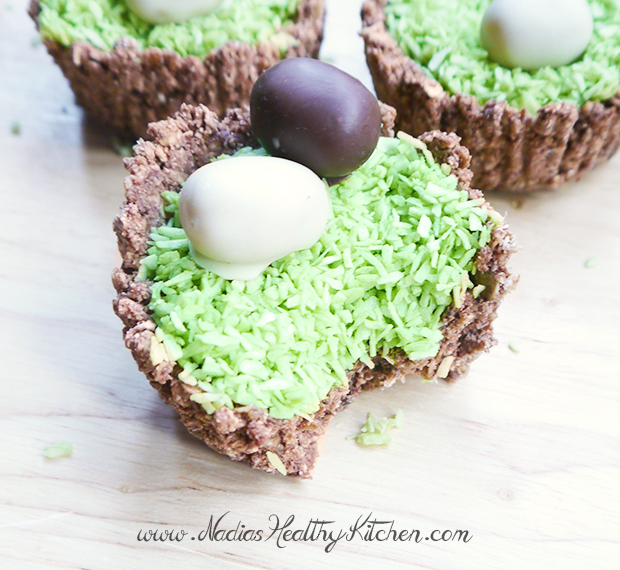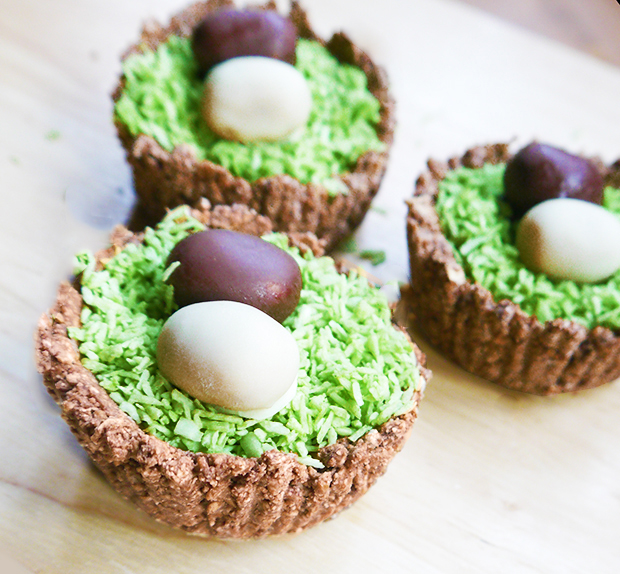 Healthy Easter Baskets
2015-03-23 08:00:06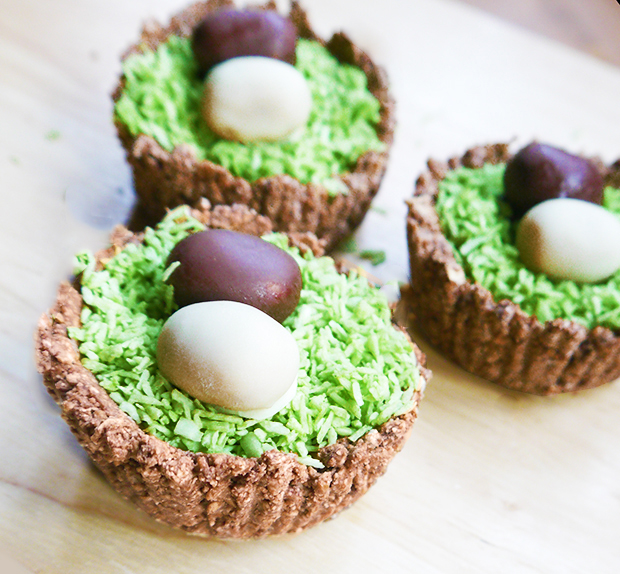 Serves 6
For the Chocolate Baskets
Dry ingredients
1 cup gluten-free oats
¼ cup coconut flour
¼ tsp salt
2 tbsp cocoa
1 tbsp xylitol
Wet ingredients
2 tbsp rice syrup (or honey, maple syrup...etc)
¼ tso vanilla paste
¼ cup milk (I used unsweetened almond milk)
¼ cup coconut oil
Mini Easter eggs
¼ cup cashew butter (or any other type of nut butter)
1 tbsp rice syrup (or honey, maple syrup...etc)
pinch of cinnamon
pinch of salt
2 tsp coconut flour
Chocolate for coating (any type you like!)
Coconut Grass
See instructions below
Baskets
Mix all the dry ingredients in a bowl.
In a small microwavable dish, melt the coconut oil in the microwave then mix in the rest of the wet ingredients.
Pour the wet ingredients into the bowl of dry ingredients and mix until everything is well combined.
Spoon the mixture into paper cups, pressing the mixture down and up along the sides of the case to form a 'nest'.
Place in the fridge for a few hours to firm up.
Easter eggs
In a bowl mix all the ingredients then start shaping them into egg shapes. Place in the fridge for an hour or so for them to set.
Melt the chocolate in the microwave, coat each egg then place on a plate covered with foil/parchment paper. Place back in the fridge and allow the chocolate to harden.
UK Health Blog - Nadia's Healthy Kitchen https://nadiashealthykitchen.com/
Coconut 'grass'
To make the green 'grass' in the basket, I used shredded coconut and coloured it with a little bit of spinach juice. What's spinach juice? Basically what I did was blend a few leaves of spinach with a little bit of water using a hand blender, then strained it. You end up with a dark green 'juice'. I added a teaspoon at a time of this juice and mixed it into the shredded coconut until I was happy with the colour. I know what you're thinking – but then the coconut will taste spinachy! Trust me, it will still taste like shredded coconut, it adds no flavour at all because you only need to use a very small amount to add colour. It only took a couple of minutes to make and it's natural, easy and so much better for you than those chemical filled food colourings!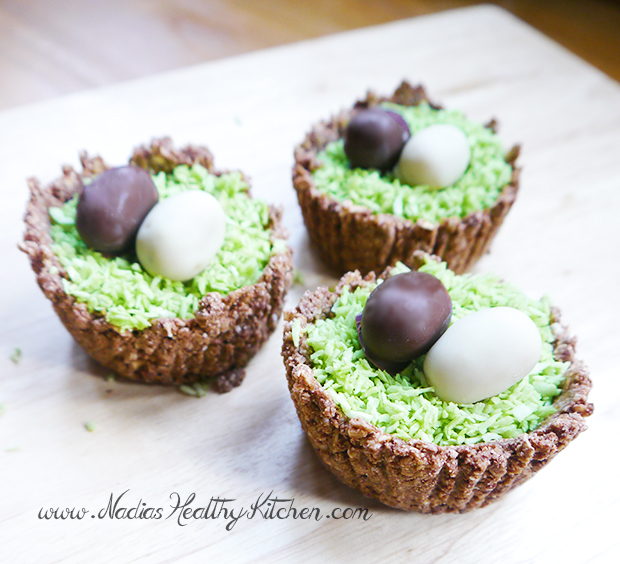 Happy Easter everyone 😀 x
Share This Post