Healthy Christmas Day Recipes – Breakfast, Lunch and Dinner
Most households have their own tradition when it comes to Christmas day meals. There is usually a lot of emphasis on the Christmas dinner, but hardly any thought goes into the other meals during the day. Most don't even eat anything else! Apart from maybe mince pies and chocolate in between.
I for one prefer eating 3 smaller meals rather than skipping breakfast or snacking on unhealthy festive foods while waiting for the 'main event' by which time I would be starving and end up eating way too much than my stomach can handle leaving me feeling uncomfortable, lethargic and tired the rest of the day.
To me, it makes more sense to have a proper breakfast, lunch and dinner to balance out my blood sugar levels during the day so I can actually enjoy it, rather than feeling hungry one half of the day then overlly full the other half.
Lékué have challenged me to create a healthy 'Christmas day menu' with a festive breakfast, lunch and dinner. They sent me a few products from their extensive baking range and let me lose with my imagination to come up with something that's festive, healthy and delicious!
Of course I had to make all three recipes healthy, vegan and gluten-free. If you're allergic to dairy or gluten, or just want to enjoy something delicious that's still good for you and packed with nutrients.
BREAKFAST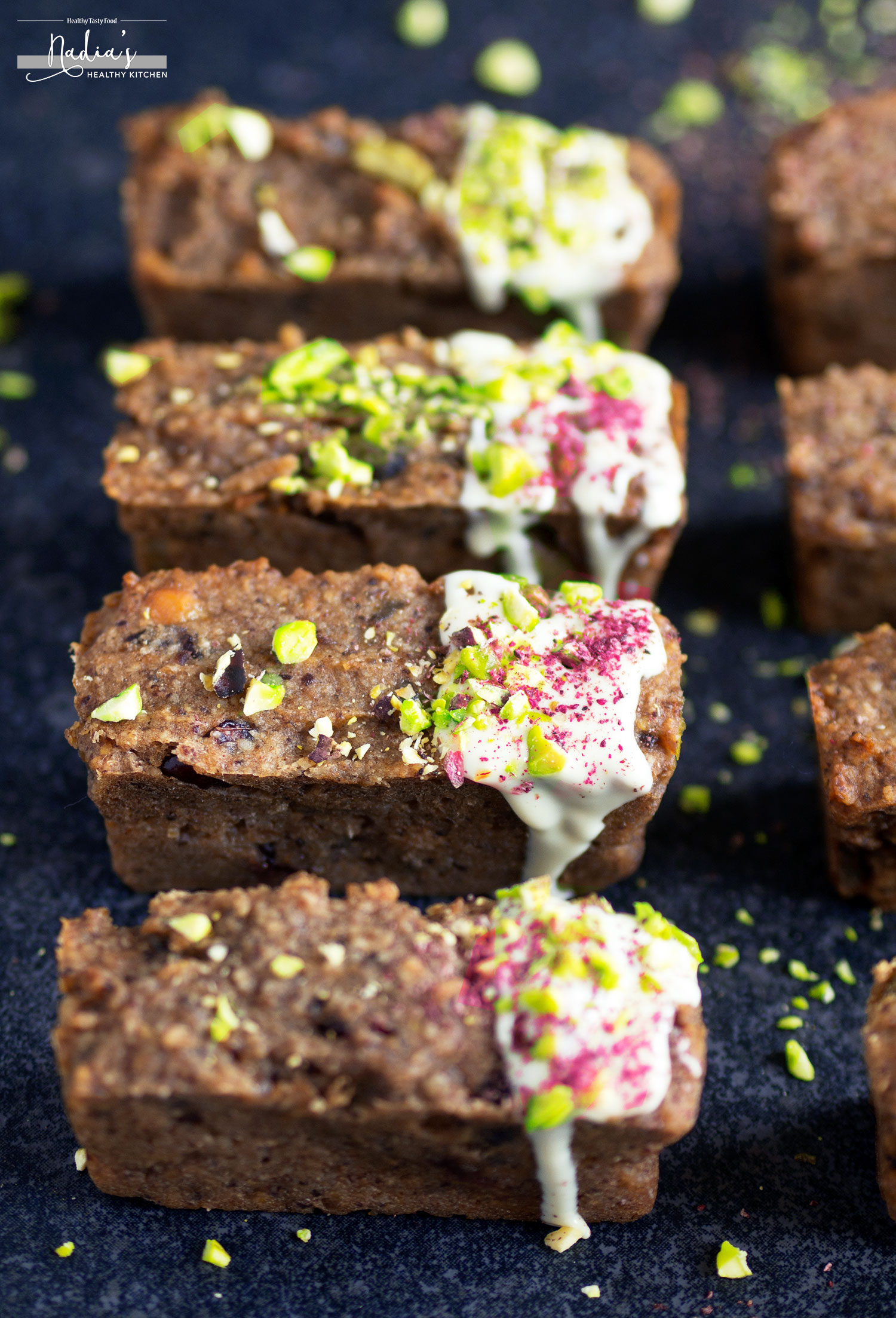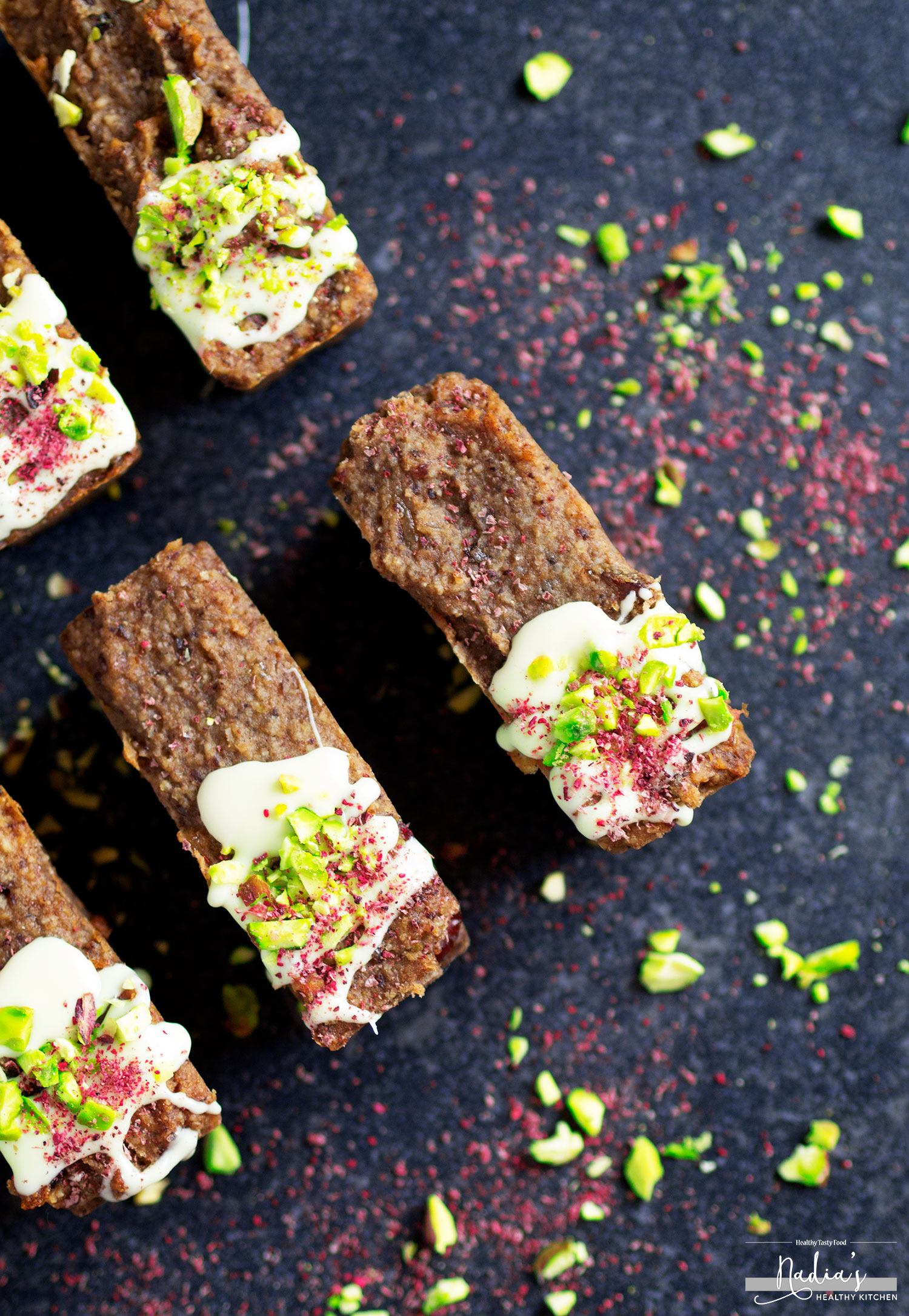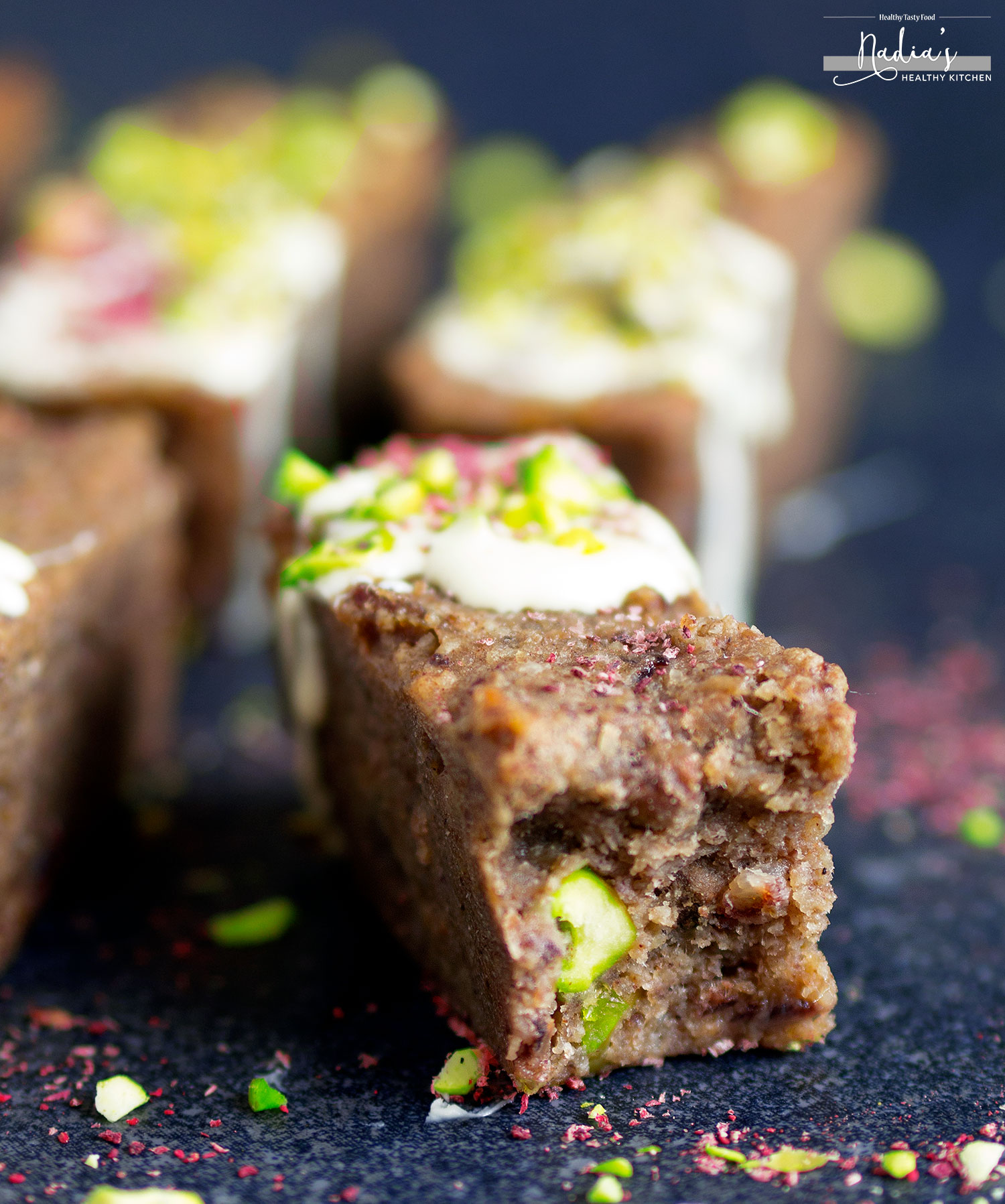 For breakfast, I decided to make festive Spiced Cranberry Pistachio Bars using Lékué Mini Cake Moulds. I like the idea of making these breakfast bars before hand so on Christmas morning all you have to do is enjoy them!
They're really healthy with the base consisting of oats (low GI, high fibre, cholesterol lowering) and ground almonds (good fats, high in vitamin E, also cholesterol lowering). Sweetened naturally with dates and banana (unprocessed, high in fibre, high in minerals) with added spices, cranberries and pistachios to give them that festive feel.
Spiced Cranberry Pistachio Breakfast Bars
2016-12-16 08:37:51
Serves 9
Ingredients
1/2 cup (55g) oat flour - use gluten-free if allergic/intolerant
1/2 cup (50g) ground almonds
155g soft dates
1 medium, ripe banana
1 tbsp milled flaxseed + 3 tbsp hot water
1/2 tsp baking powder
1/4 tsp salt
1 tsp mixed spice
1/2 tsp cinnamon
1/2 cup (60g) dried cranberries
1/3 cup (45g) pistachios
1/4 cup (4 tbsp) coconut oil, melted
1/4 cup (4 tbsp) milk of choice
Instructions
Prepare the flax egg by mixing 1 tbsp milled flaxseed with 3 tbsp hot water. Leave for 15 minutes to set.
Preheat your oven to 180*C (160*C fan assisted)/ 350*F
In a large bowl, mix together the oat flour, ground almonds, baking powder, salt and spices.
Add the dates, banana, milk and coconut oil to a food processor and blend until smooth.
Pour the wet mixture over the dry and mix to combine.
Fold in the cranberries and pistachios.
Divide equally between the Lekue Mini Cake 9 Cavity Mould.
Bake for 30 minutes.
Leave to cool completely before removing from the moulds.
Decorate with melted white chocolate and chopped pistachios.
Enjoy!
Nadia's Healthy Kitchen https://nadiashealthykitchen.com/
LUNCH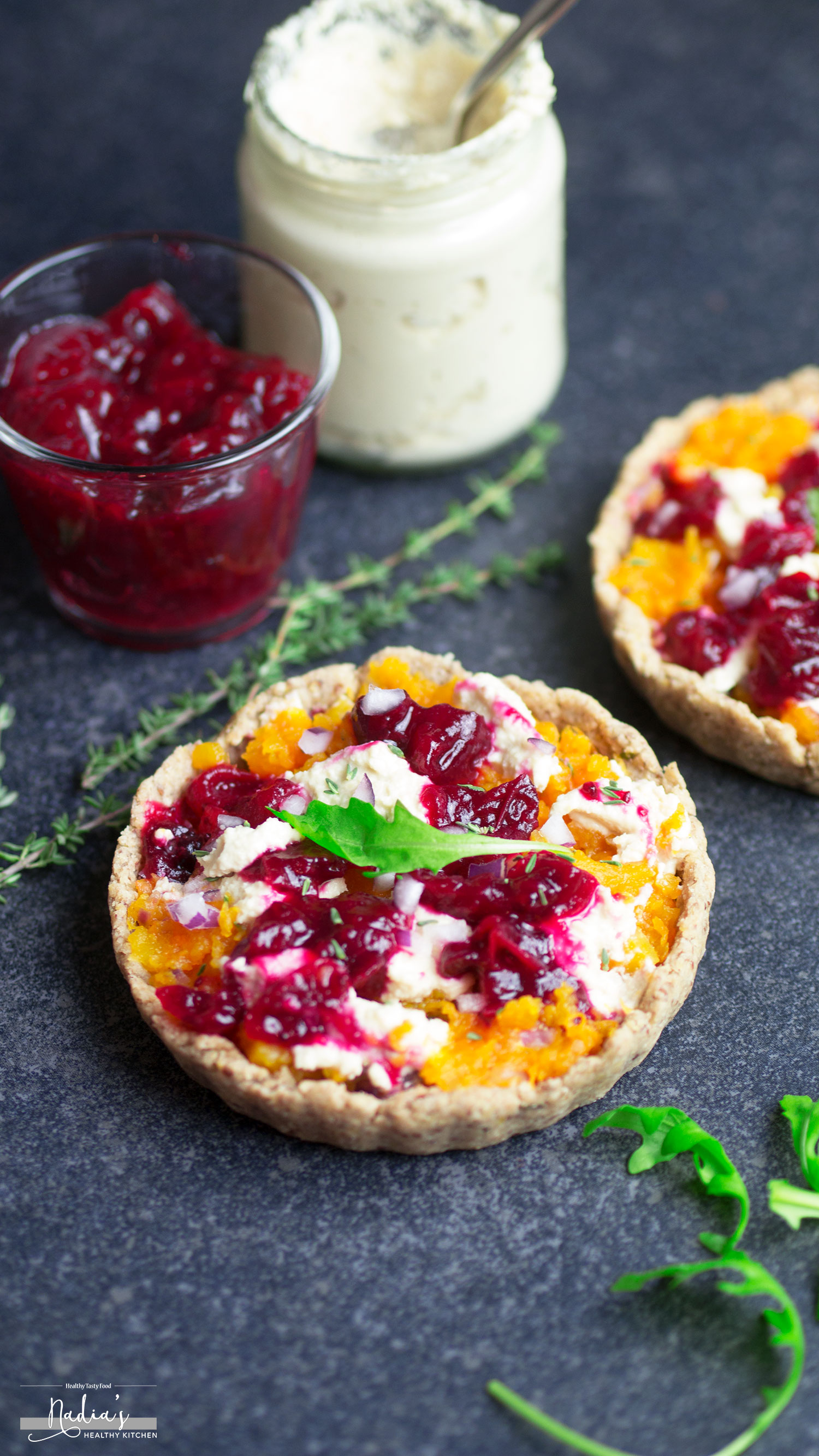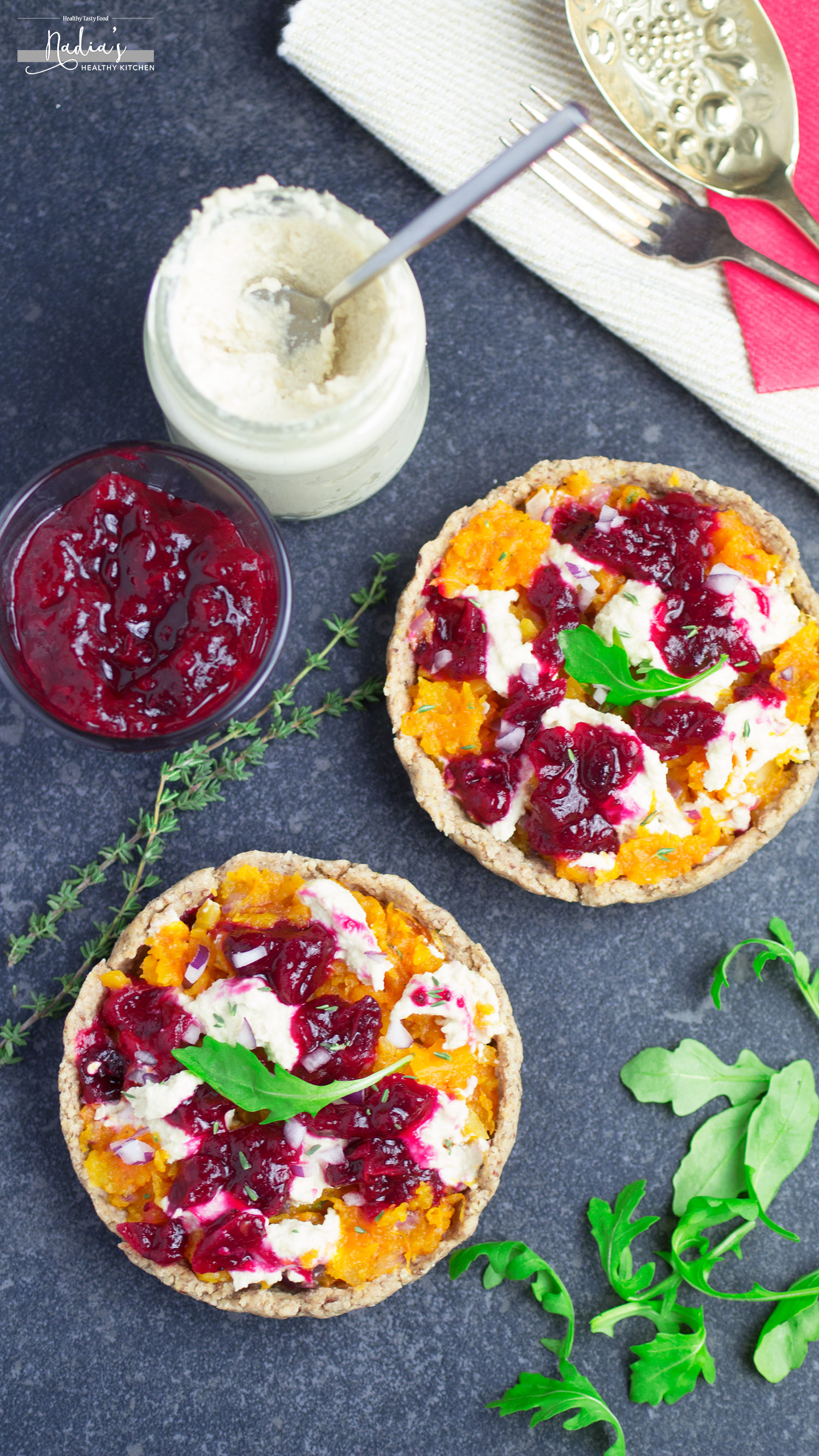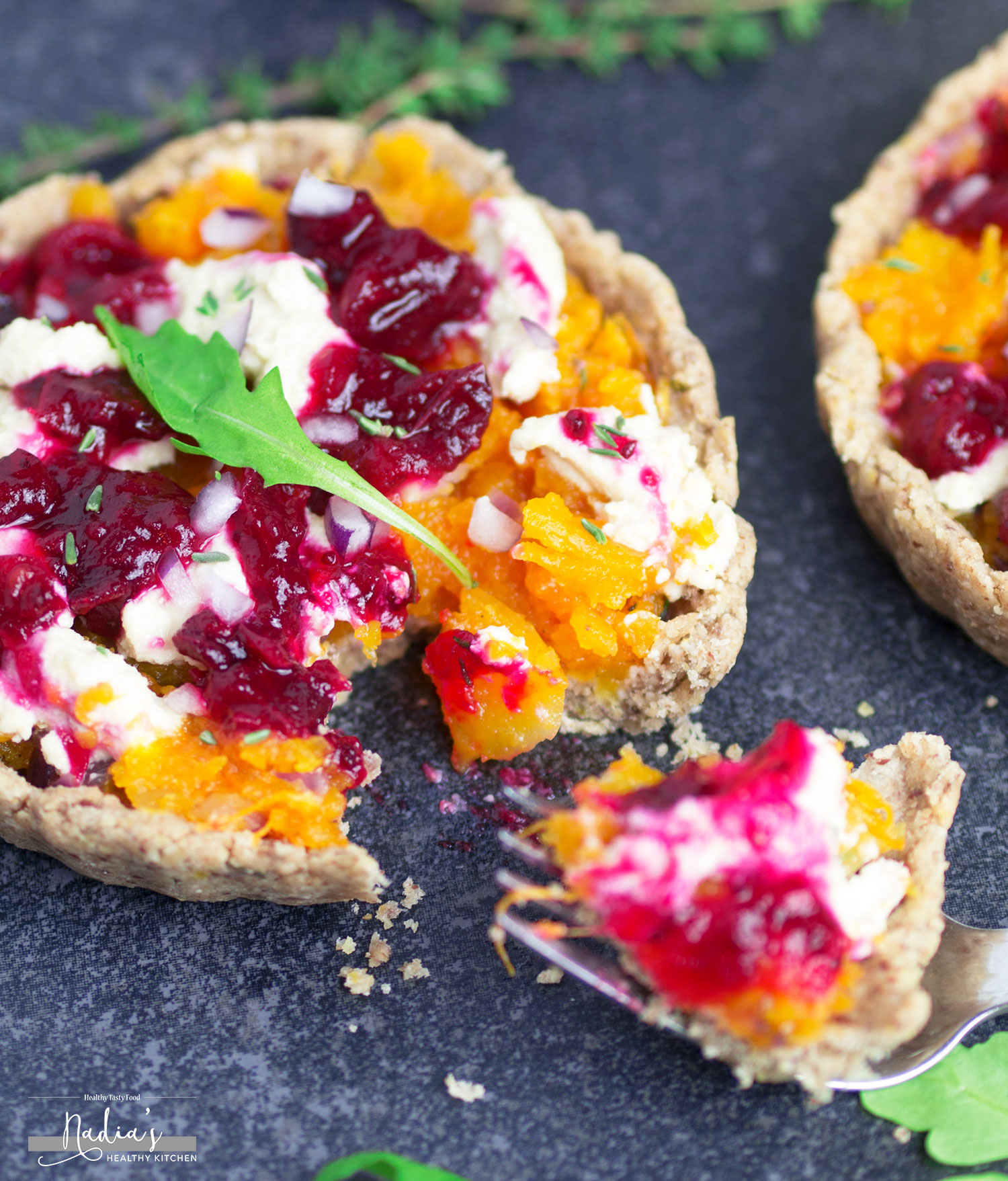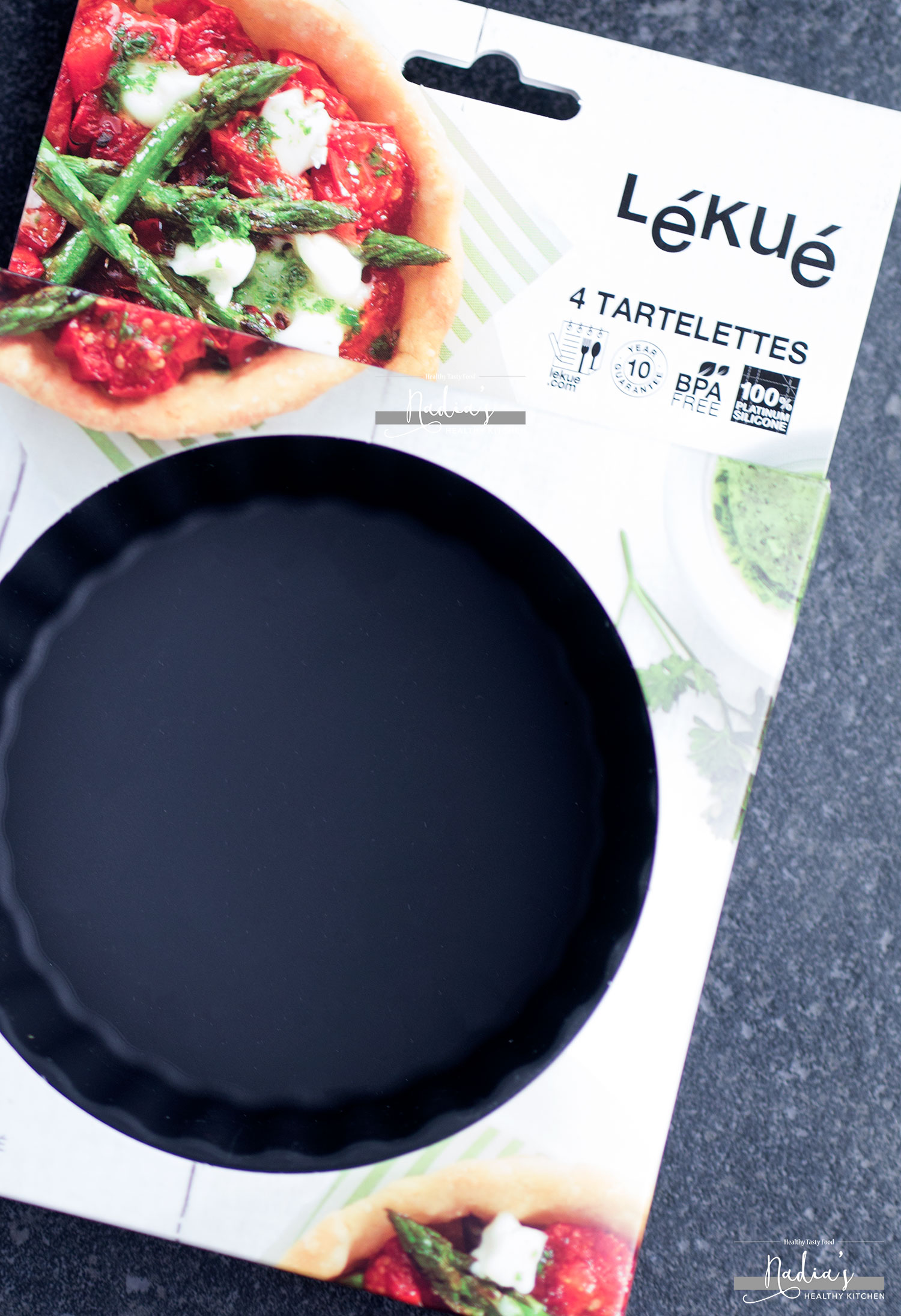 I'm really excited about sharing this recipe as it turned out so delicious! I've long been a huge fan of pastries, pasties and anything with dough like pizzas and calzone. If they weren't unhealthy and if I didn't have gut and autoimmune problems I would live of them 😛 I completely understand why people find these treats so difficult to avoid!
I cut out these types of foods from my diet long ago, and haven't attempted to recreate things like pastires because I thought there would be no way I could make something anywhere as delicious as pastry. After a few hours of research and looking for inspiration online, I decided to give it a go and came up with these savoury CRANBERRY BUTTERNUT SQUASH CHEESE TARTS using Lékué Single Tartelette Moulds. They're completely vegan and gluten-free.
This recipe has a few more steps, simply because it involves making your own cranberry sauce and cheese before hand, but you can totally use shop bought cranberry sauce and any type of cheese you like, dairy or non-dairy.
The good news is that you can make both the cranberry sauce and cashew cheese a few days before hand. You can even make the tarts in advance and just warm them up on Christmas day to enjoy as a yummy, festive lunch with a side salad or roasted vegetables.
Cranberry Butternut Squash Cheese Tarts (Vegan & Gluten-free)
2016-12-16 09:05:26
Serves 4
Base
3/4 cup (85g) oat flour
3/4 cup (80g) ground almonds
1/2 cup (65g) buckwheat flour
1/2 tsp salt
1/4 cup (4 tbsp) oil
1 tbsp flaxseed + 3 tbsp hot water
More water if needed
Cranberry sauce
1 cup (100g) cranberries
4 tbsp orange juice
4 tbsp water
3 tbsp sweetener - I used xylitol
1 tbsp orange zest
Cashew cheese
140g cashews
3 tbsp nutritional yeast
1/2 tsp salt or to taste
1/8 tsp garlic powder or to taste
Juice of 1/2 lemon
4 tbsp water
Butternut squash
500g butternut squash, cubed and steamed until soft then mashed with a potato masher.
1/4 red onion, chopped
2 garlic cloves, crushed
2 tbsp fresh thyme
Salt & pepper to taste
To make the base
Prepare the flax egg by mixing 1 tbsp flaxseed with 3 tbsp hot water. Leave to set for 15 minutes.
Preheat your oven to 200*C (180*C fan assisted)/ 400*F
Mix together the dry ingredients then add in the flax egg and oil. Kneed with your hands. Add 1 tbsp of water at a time until you have a dough that hold together (you shouldn't need more than 3 tbsp)
Press into 4 Lekue 12Cm Tartelette Moulds. Bake for 10 minutes then leave to cool slightly.
To make the cranberry sauce
Add all the ingredients to a small pan. Bring to a boil, lower the heat and simmer until the sauce thickens (about 15 minutes)
To make the cashew cheese
Blend all the ingredients in the food processor until smooth
To make the butternut squash
Heat 1 tsp coconut oil in a frying pan and sautee the onions for 5 minutes. Add the garlic and thyme and cook for a further 1 minute. Mix in the mashed butternut squash to infuse the flavours. Take off the heat and start assembling your tarts.
To assemble
Add some butternut squash into each case then top it with dollops of cashew cheese and cranberry sauce.
When you're ready to serve, heat it up in a 200*C (180*C fan assisted)/ 400*F oven to 5-10 minutes.
Top with orange zest and rocket.
Enjoy!
Nadia's Healthy Kitchen https://nadiashealthykitchen.com/
DINNER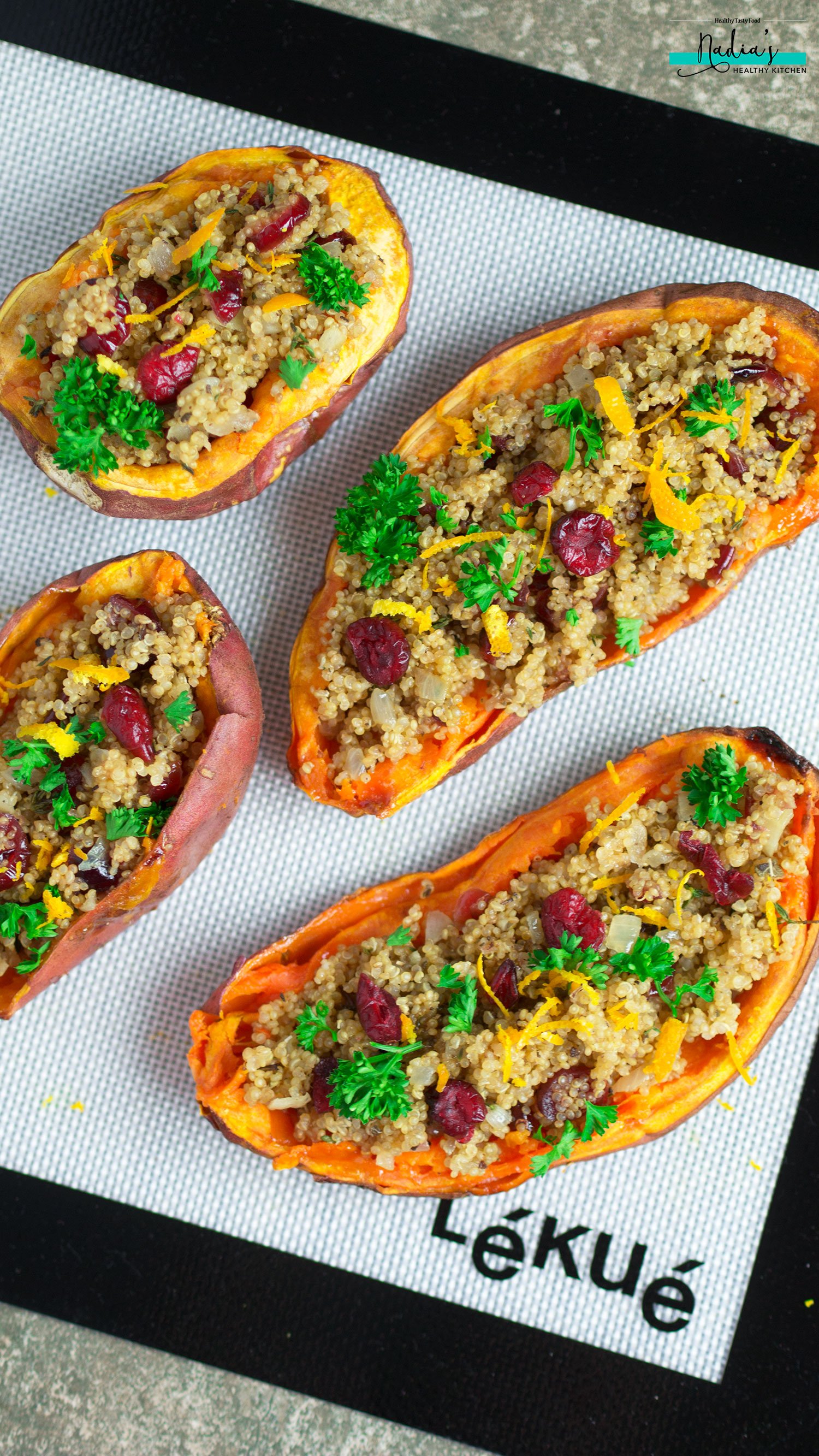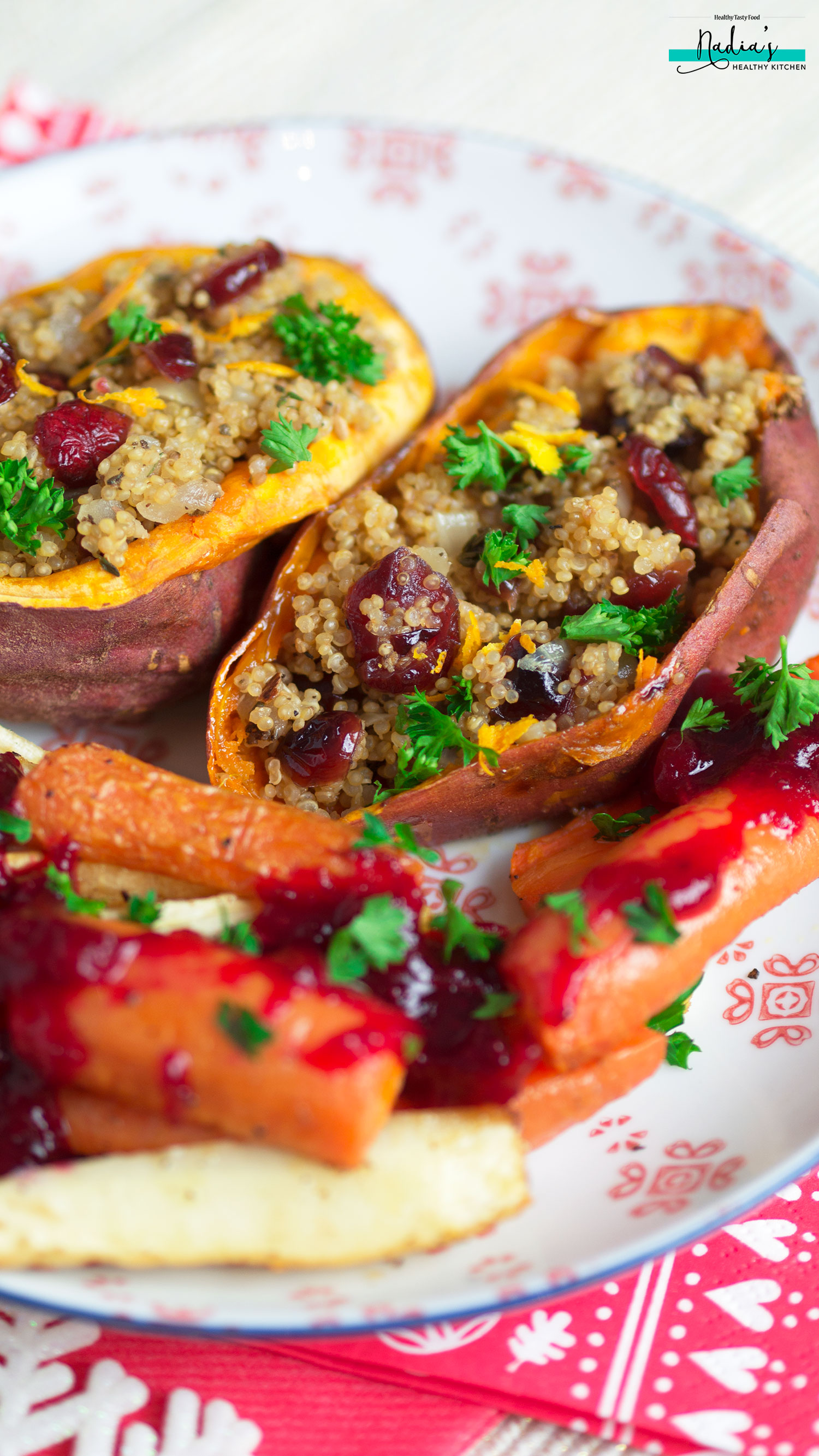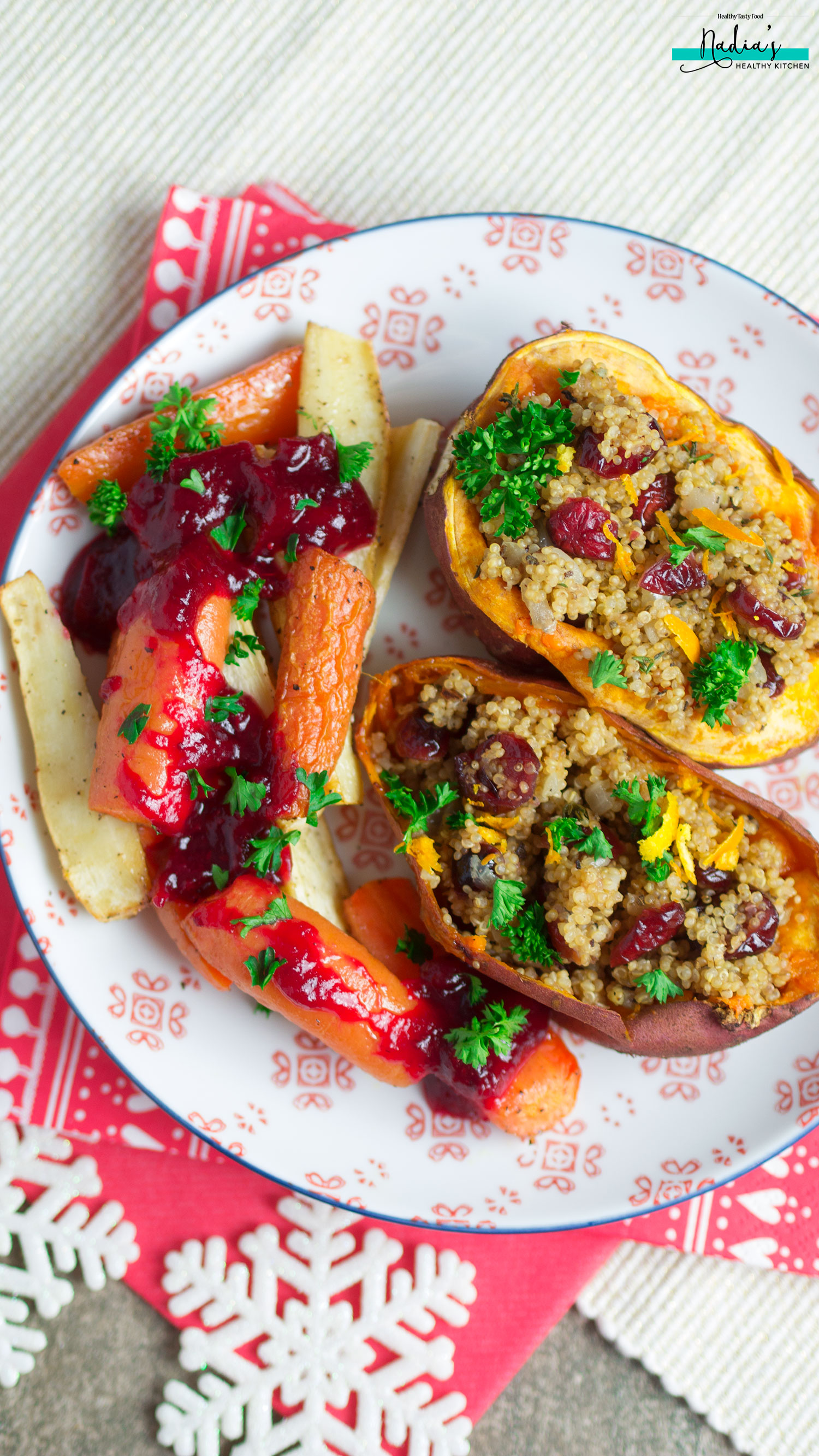 I have to have roasted vegetables on Christmas day, that one for me is a must! As long as I can have roasted vegetables, I'm happy. So for dinner I had to make something to go with a side of roasted veggies – my favourites are roasted carrots and parsnips. Such a simple side dish but once I start eating them I can't stop! I don't do anything fancy, just chop, sprinkle on some salt and pepper and drizzle with olive oil. They naturally taste so good you really don't need to do anything fancy with them.
How about this for a healthy festive dinner – roasted sweet potato stuffed with festive quinoa! Flavoured with cranberries, thyme, sage and orange zest. This recipe couldn't be simpler to make and it's really filling and satisfying.
I used Lékué Silicone Baking Mat to roast both the sweet potato and roasted carrots and parsnips. It's so handy as it's reusable which means less parchment paper has to go wasted!
Quinoa Stuffed Sweet Potato (Vegan & Gluten-free)
2016-12-16 11:21:56
Serves 4
Ingredients
2 medium sweet potatoes, scrubbed and sliced in half lengthways
1/2 cup (85g) quinoa
1/2 vegetable stock cube
1 cup water
4 tbsp orange juice
1/4 onion, chopped
1 garlic, crushed
1 dried tsp sage
2 tbsp fresh thyme
Decoration - dried cranberries, orange zest and parsley
Instructions
Preheat your oven to 220*C (200*C fan assisted)/ 400*F
Place the sweet potato halves onto the Lekue Silicon Baking Mat. Bake for 30-40 minutes until soft.
Heat 1 tbsp coconut oil in a pan over a medium heat. Add the chopped onions and cook for 5 minutes. Then add in the garlic, sage and thyme and cook for another 1 minute.
Add in the quinoa, water, orange juice and stock cube into a pan. Bring to a boil, lower the heat and leave to simmer for 10-15 minutes until the quinoa has soaked up all the water.
Scoop out the sweet potato leaving a thin layer in the skins so they don't collapse.
Divide the quinoa between the 4 sweet potato halves and decorate with dried cranberries, orange zest and fresh parsley.
Enjoy!
Nadia's Healthy Kitchen https://nadiashealthykitchen.com/
* This post was commissioned by Lekue; however all opinions are my own.