Healthy Blueberry Bowls
Last week was actually warm enough for a frozen treat, looks like summer is finally here (even though it's raining now as I'm writing this!!) I've really been craving some banana ice cream (nice cream, nana ice cream…or whatever you want to call it!) lately, which is basically frozen bananas blended into a thick ice cream like consistency. If you haven't tried it, it's definitely something you NEED to add to your 'recipes to make' list.
Ice cream is one of those things you never think to make at home because for starters, you would need an ice cream maker, and it's just easier and less hassle to buy it. But what if you want to enjoy ice cream that is healthy? I'm not talking about those low-fat, high sugar, full of additives 'lighter' ice creams. I'm talking about an ice cream recipe that has only ONE ingredient and requires only a blender/hand blender/food processor to make it.
literally all you need is a banana, sliced and frozen – throw it into your blender or food processor (I usually just use a hand held blender), blend and enjoy! Of course there are endless ways to flavour banana ice cream. You can add in some cocoa, more frozen fruit, nuts, nut butters, spices…the possibilities are endless!
Since I had some frozen blueberries (I get mine from the frozen section in Tesco) in the freezer, I felt like making a blueberry version today! You just need 3 ingredients! I topped mine with some blueberry powder from Arctic Berries, coconut chips and a strawberry, but they're completely optional.
This recipe is vegan, gluten free, dairy free and refined sugar free. It makes a really nice snack on a warm summer afternoon. You can even have it for breakfast with some granola sprinkled on top to make it more filling!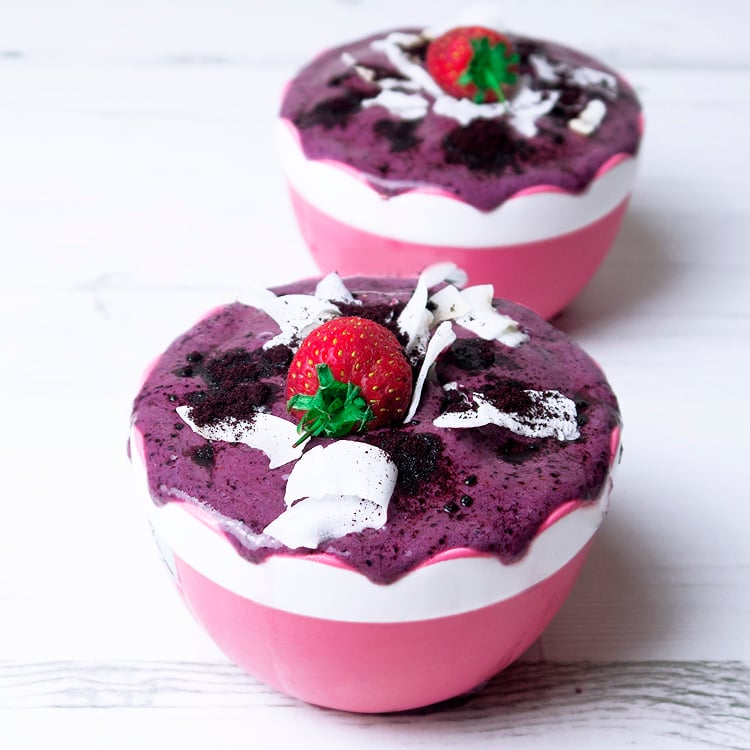 Frozen Blueberry Bowl
2015-04-28 11:41:32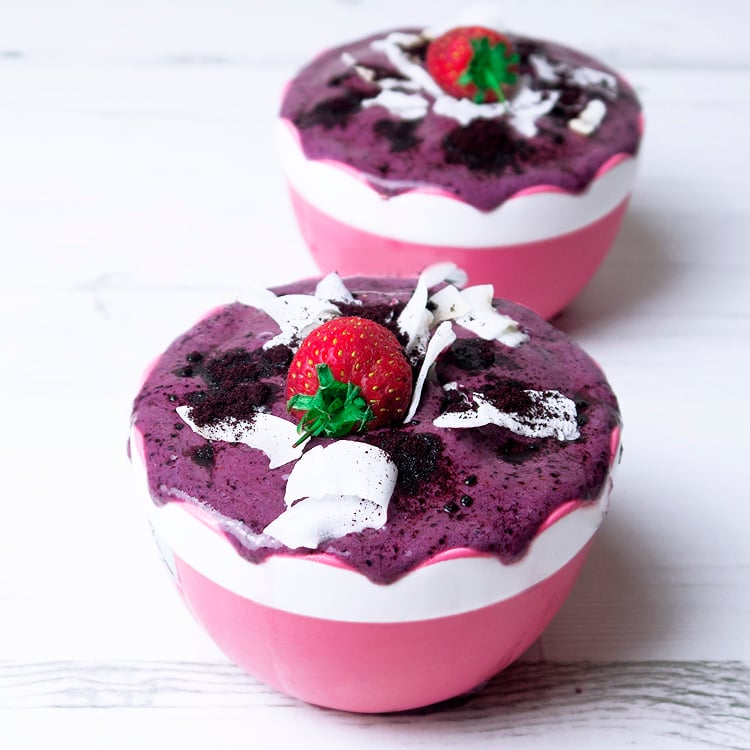 Serves 2
Ingredients
2 frozen banana
1 cup frozen blueberries
Dash of milk (I used hemp milk) Use as much or as little as you like, depending on the texture you're looking for. You can even turn it into a smoothie by adding more milk.
Optional toppings (blueberry powder, coconut chips, strawberries)
Instructions
Take out your bananas from the freezer and leave them out for a few minutes to thaw a little.
In blender/food processor or in a hand blender jug, add the frozen bananas and blueberries.
Add a dash of milk to help with the blending. You can add more if you want a thinner texture. You can even turn this recipe into a banana blueberry smoothie.
Notes
Nutrition information (estimated per serving)
Calories: 147 calories
Protein: 1.8g
Carbs: 37.5g
Fat: 0.6g
UK Health Blog - Nadia's Healthy Kitchen https://nadiashealthykitchen.com/
Share This Post