Healthified Vegan Matcha Freakshake
If you've never come across the term 'freakshake' before, they're mega milkshakes with lots and lots of sugar, fat and calories. It's a trend that started in Australia and recently found it's way to the UK.
A freakshake is basically a regular milkshake with added extras like chocolate, chocolate sauce, caramel, whipped cream, all topped off with a brownie, cheesecake or a doughnut. A mashup of drink and dessert. Because a milkshake or a brownie alone is never enough 😛 You'll either think this sounds like the best thing ever invented or your worst nightmare!
For me, it's both! As someone with a massive sweet tooth constantly craving sweet treats, this sounds amazing! All my favourite things served in one glorious looking dessert. But as an IBS sufferer, it's also my worst nightmare. Just looking at a freakshake gives me stomach pains and sweats 😛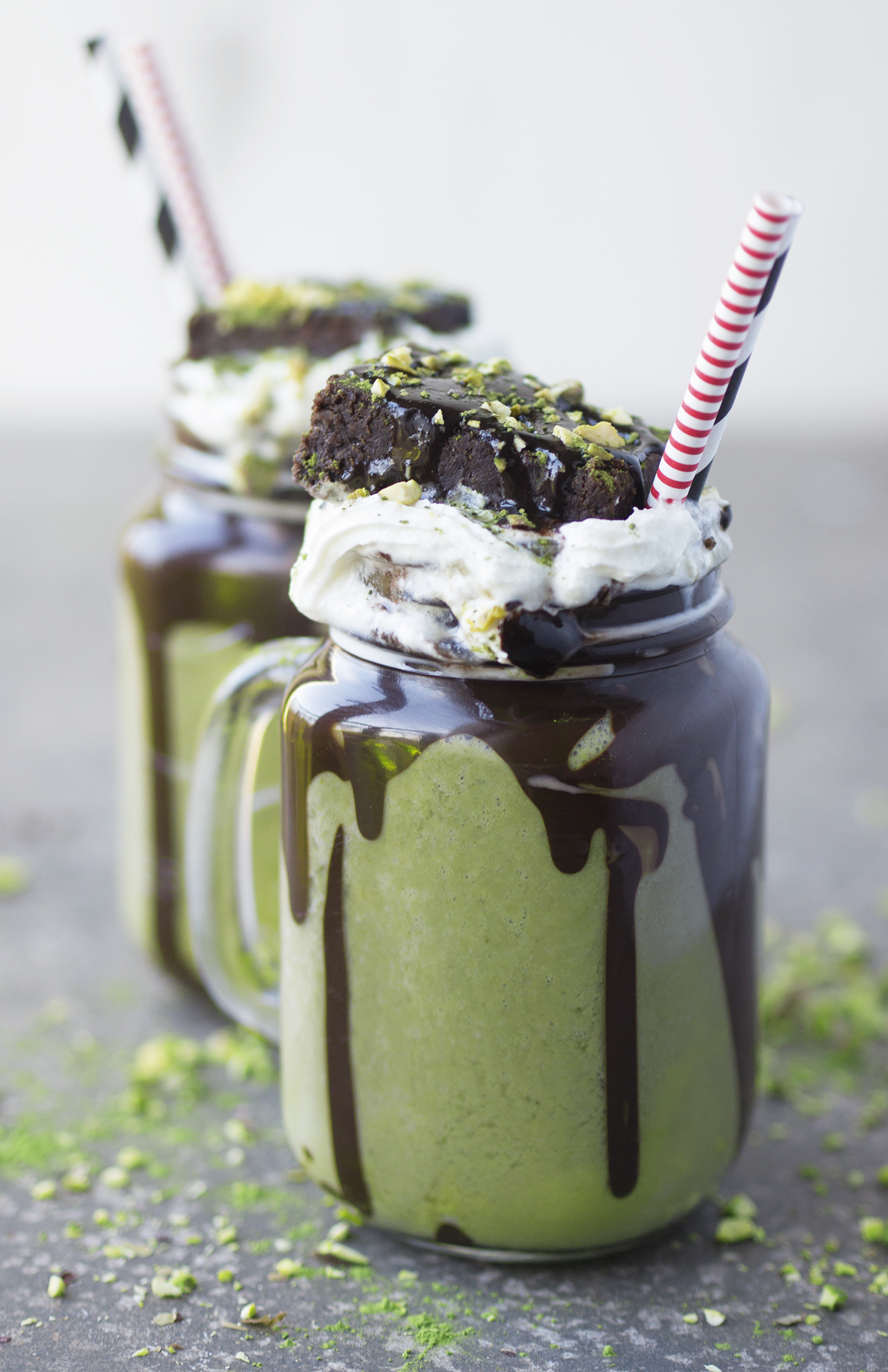 I must admit I've never tried one nor will I ever order a 'proper' freakshake. Packed with full fat milk, God knows how much sugar and drowning in saturated fat. As a nutrition student, this to me is one of the worst inventions ever! It's not like we need anything else to contribute towards our society's ever growing obesity crisis and rising chronic disease rates.
Instead, I have come up with my own, much healthier version. Let me introduce you to my healthified vegan matcha freakshake. Like a regular freakshake, only much lower in fat, calories, sugar and completely vegan! With added PureChimp matcha green tea powder to make it pack with antioxidants.
Made using frozen bananas packed with vitamin B6, Manganese, Potassium, Vitamin C and fibre without any of the saturated fat. I also added cashew butter to make it extra creamy and sweetened it with some maple syrup, but of course if you're concerned about the sugar content you would always cut it out or use a zero calorie sweetener instead.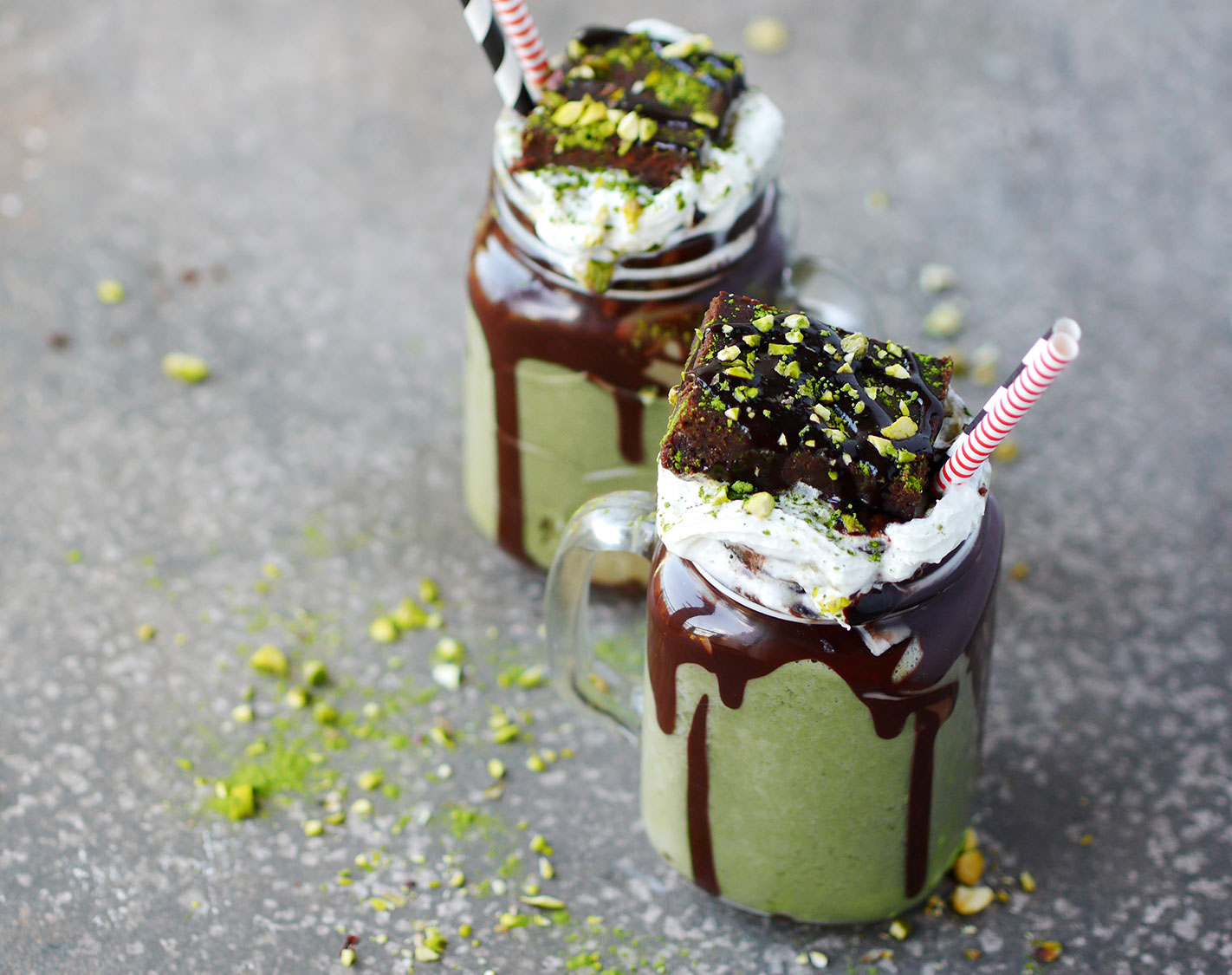 Freakshakes are said to contain a whopping 2000 calories per serving – that's the daily recommended intake of calories in one treat! That shouldn't even be allowed! My version comes at just over 500 calories per serving including the vegan cream and homemade brownie. It's still a lot, but can be enjoyed as a treat since the ingredients are good for you. You could always leave out the brownie and cream and enjoy it as a milkshake. I've included the nutritional information at the bottom with and without the brownie.
This healthified vegan matcha freakshake would make an amazing New Year's Eve treat for this weekend, or a delicious healthy breakfast on New Year's day – perhaps without the brownie though.
Healthy Vegan Matcha Freakshake
2016-12-28 13:34:36
Serves 2
Ingredients
2 ripe bananas, chopped and frozen
2 tbsp cashew butter (or almond butter)
2 tbsp maple syrup or sweetener of choice
2 cups milk of choice - I used soya milk to make it creamier
1 tsp PureChimp matcha green tea powder
Dark chocolate
Vegan whipped cream or homemade coconut whipped cream
1 homemade matcha chocolate brownie
Instructions
WATCH THE VIDEO AT THE TOP OF THE PAGE FOR INSTRUCTIONS.
Notes
Nutritional information (with without cream & brownie)
Calories: 327 kcal
Protein: 11.6g
Fat: 12g
Carbs: 49g
Fibre: 6g
Nutritional information (with cream & brownie)
Calories: 520 kcal
Protein: 13.6g
Fat: 25g
Carbs: 69g
Fibre: 8.4g
UK Health Blog - Nadia's Healthy Kitchen https://nadiashealthykitchen.com/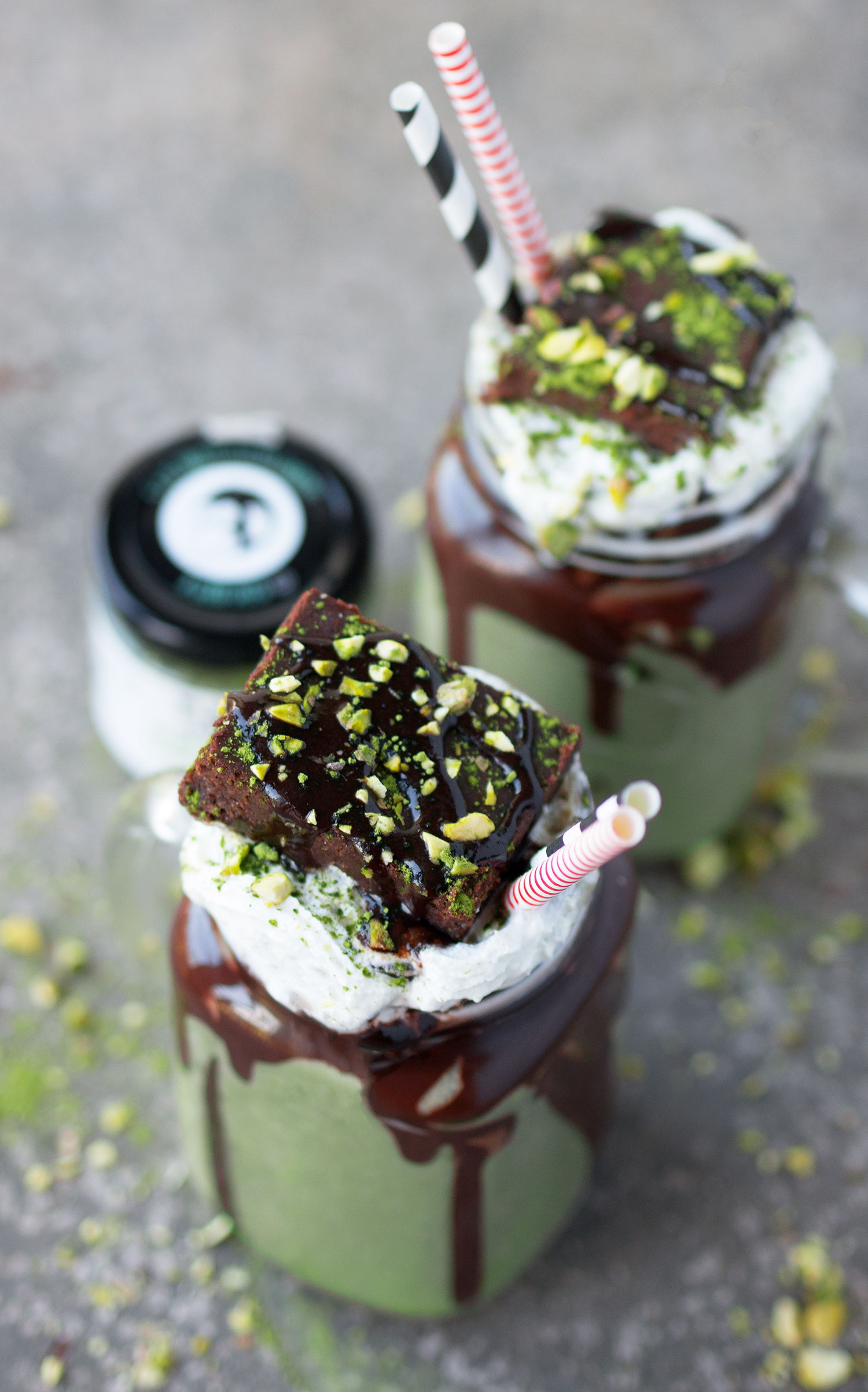 Share This Post