Glitter Vegan & Gluten-free Cake Pops
It's almost time to say farewell to one year and welcome another. Welcome 2017 in style with these adorable glittery cake pops!
Edible glitter is my new obsession. I know that by saying that I'm coming across as a hypocrite as it's probably NOT good for you. But it makes everything sparkle! I wouldn't usually use it, but since it's that time of year when everything shines, sparkles and glistens, it seemed fitting that I created a treat or two which did the same. Because of the nature of ingredients used in healthy treats, sometimes they may not look as appetising and mouth watering as unhealthy treats, so using a little bit of glitter every now and then is allowed 😛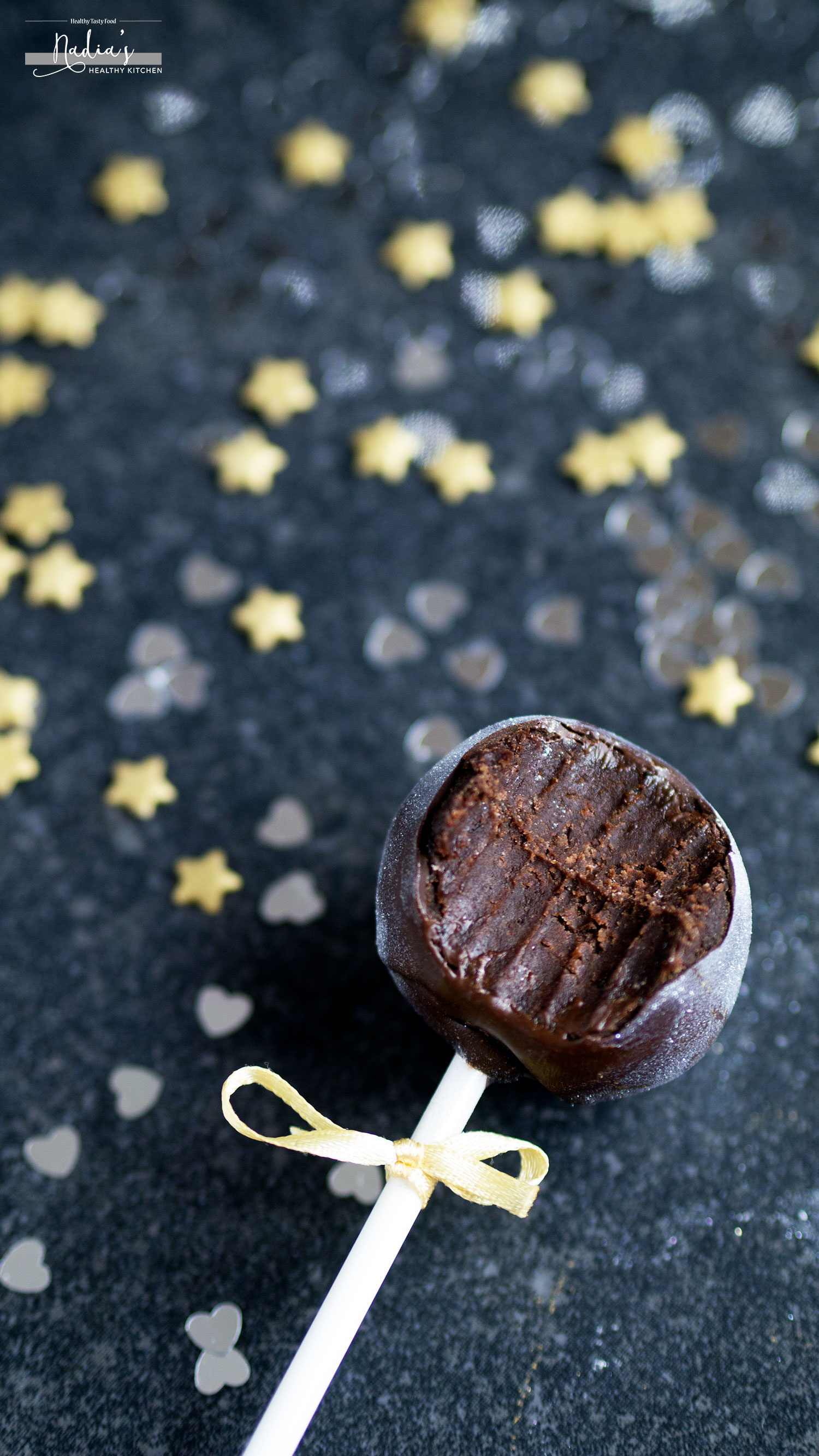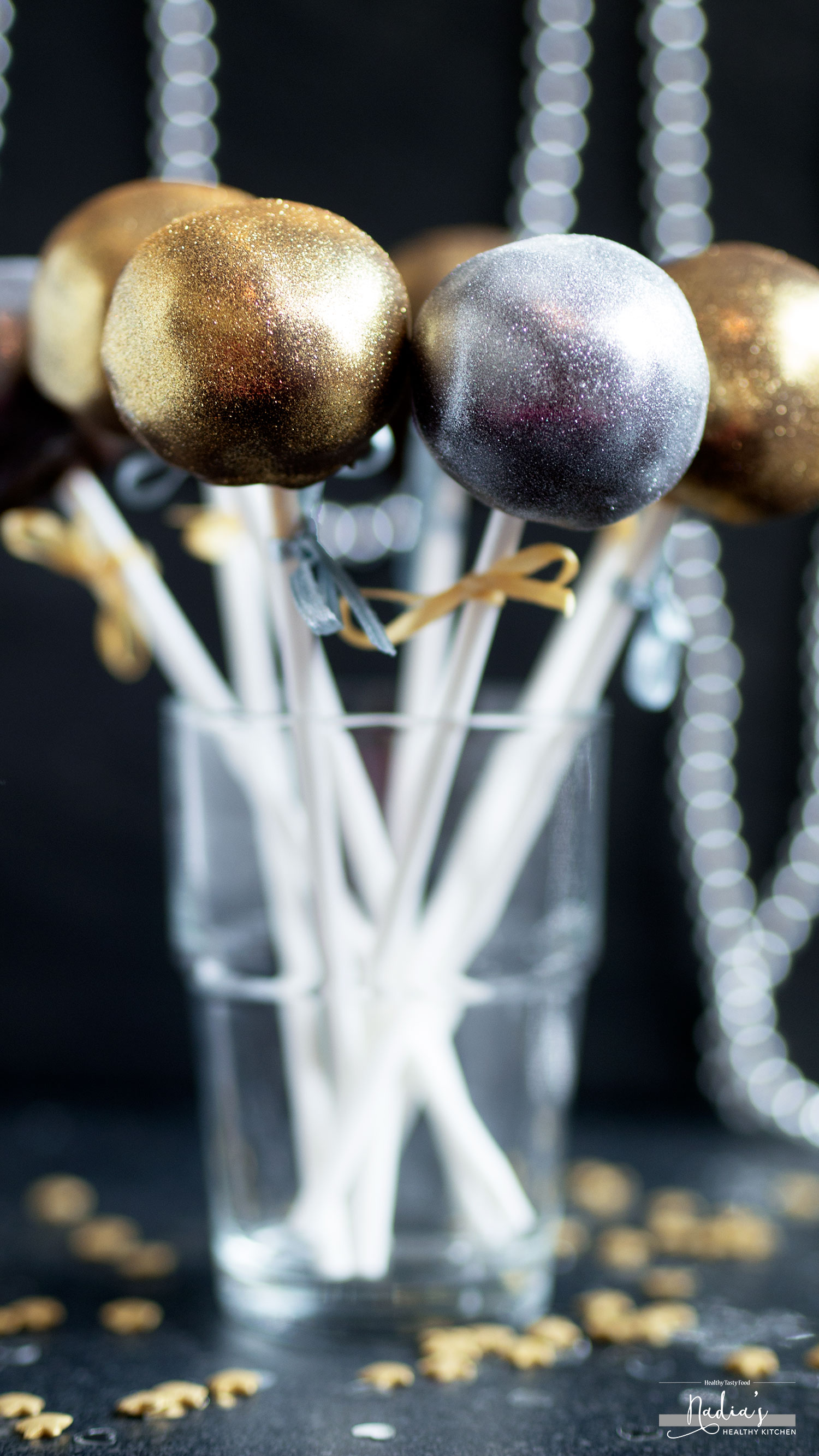 I'm a huge fan of cake pops. Cake, with added shaped into a balls and dipped in chocolate to create bite size pieces of heaven! The first time I tried them was when I made some for my niece's first birthday a few years ago. I didn't do much baking at the time so of course I used a shop bought cake mix and ready made frosting. I remember ordering pink chocolate or 'candy buttons' online to make them look extra special and girly and decorated them with pretty pink sprinkles. Oh they looked so cute. And everyone loved them 🙂
I don't know why it's taken me this long to create a healthy, vegan and gluten-free version!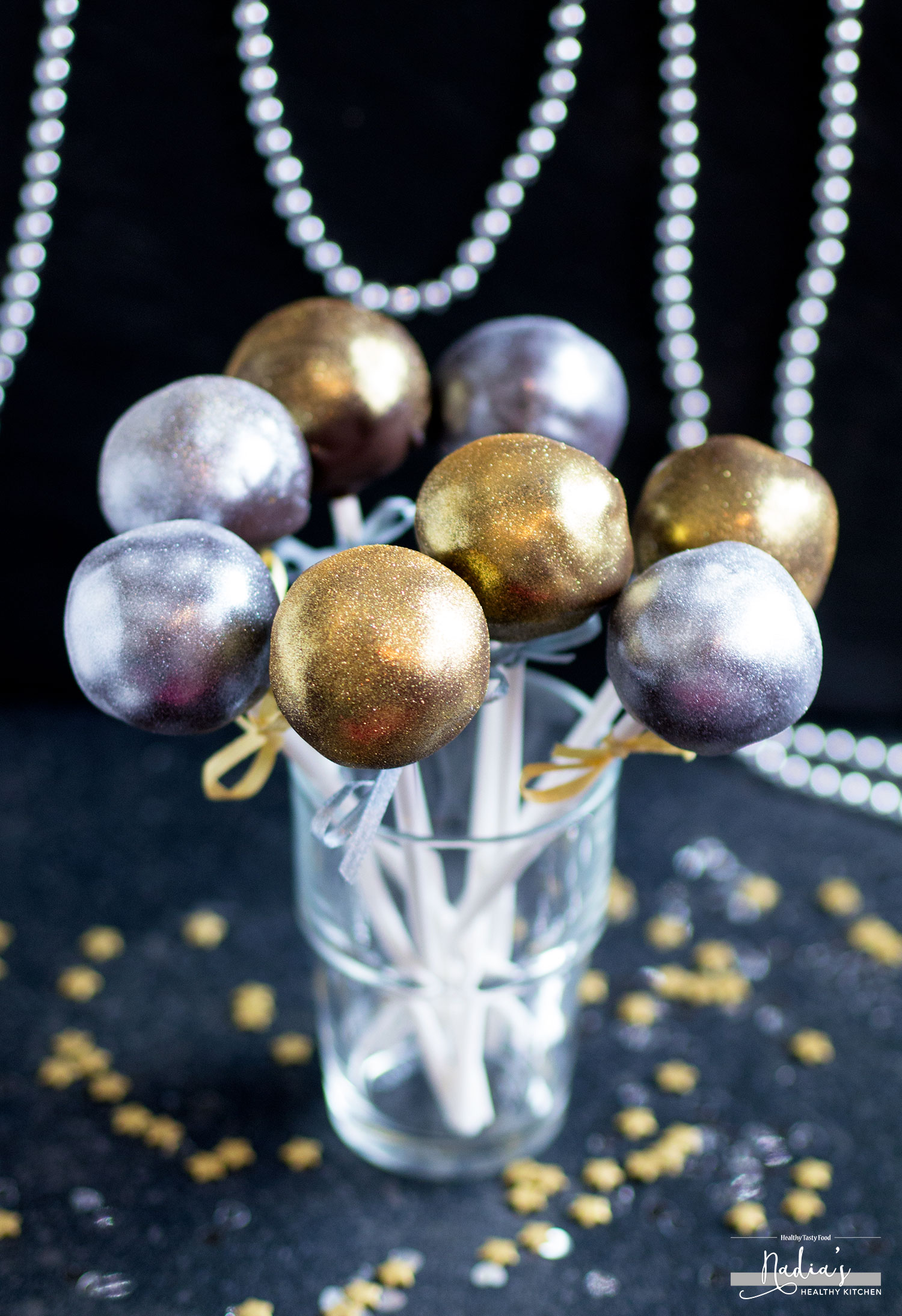 I have the pleasure of working with Linwoods on creating some delicious, healthy and vegan recipes, like these glitter vegan gluten-free cake pops. I've been using their milled flaxseed for years and always have a pouch in my cupboard. It makes a daily appearance in my diet, usually mixed into my morning porridge, smoothie and of course baking. Read more about flaxseed and why I make sure I include it in my daily diet here. I also explain how best to use it in baking as a substitute for eggs.
For the base of the cake pop, I made a simple vegan & gluten-free chocolate cake using a mixture of buckwheat flour, cocoa and coconut sugar to make it low GI. I know not everyone has access to coconut sugar so substituting with brown sugar works just fine, it actually results in a sweeter cake. But in the interest of making these cake pops as healthy as possible, I opted to use coconut sugar.
Instead of using an egg (which any home economics teacher will tell you is an essential ingredient in baking a cake), I'm actually using a flax 'egg' which is basically milled flaxseed mixed with hot water and left to set into a thick, gloopy mixture. If you've been following me for a while or you're tried my recipes before, you will be very familiar with this technique as I use it A LOT in my baking.
As well as New year's, these glitter vegan & gluten-free cake pops are perfect for parties, celebrations and weddings.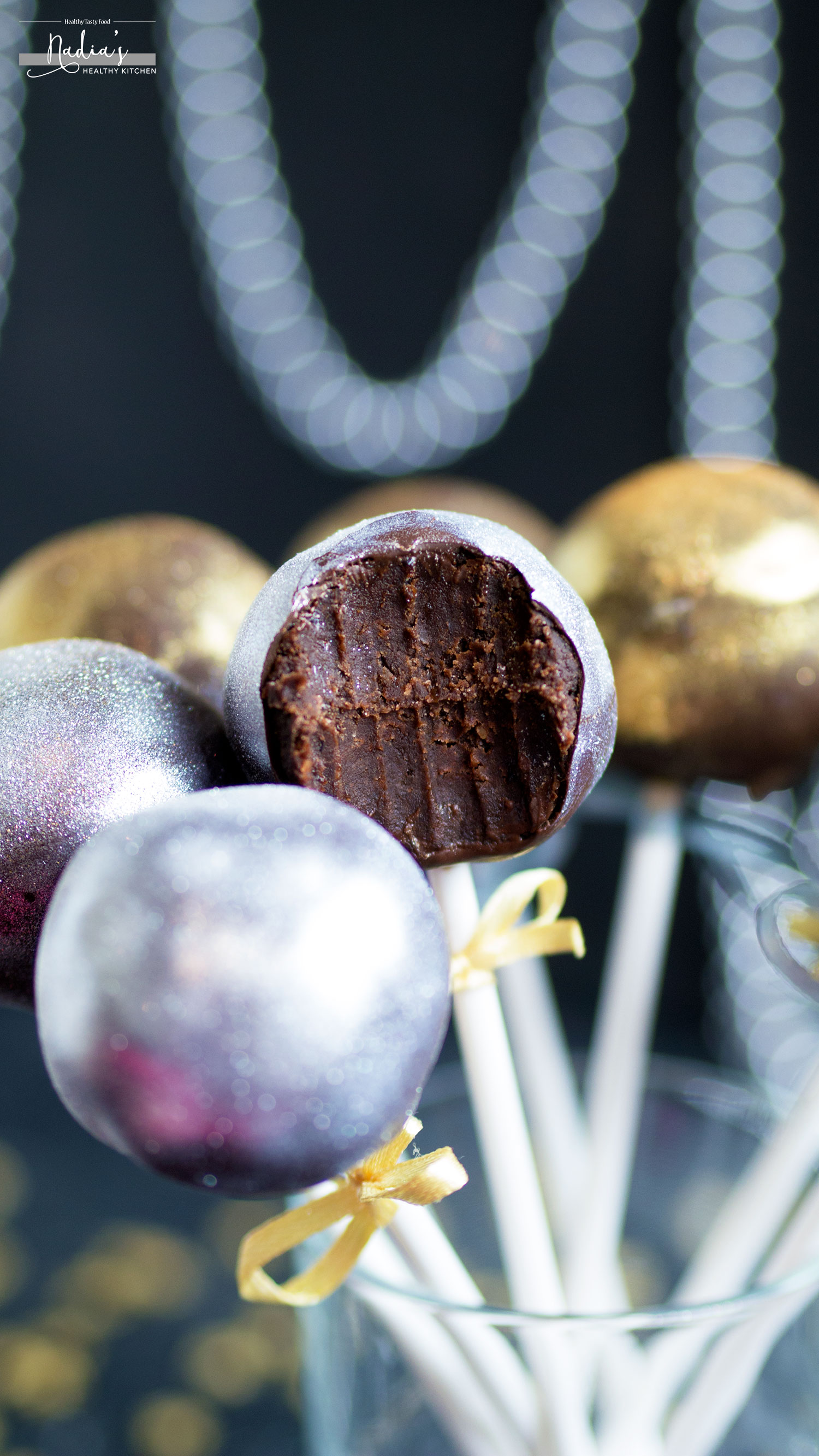 Glitter Vegan & Gluten-free Cake Pops
2016-12-30 08:18:30
Serves 24
For the vegan & gluten-free chocolate cake
2 tbsp Linwoods milled flaxseed + 6 tbsp hot water
3/4 cup (130g) buckwheat flour
1/4 cup (30g) ground almonds
1/3 cup (45g) cocoa powder
1/3 cup (70g) coconut or brown sugar
1/2 tsp instant coffee granules mixed in 1 tbsp hot water.
1 tsp baking soda
1/4 tsp salt
1/2 cup (125ml) coconut oil, melted
3/4 cup (180ml) milk of choice
1 tsp apple cider vinegar
3 tbsp maple syrup
To make the cake pops
3 tbsp whipped coconut cream - refrigerate a can of full fat coconut milk overnight, remove the solid part only and whip for a few minutes using a hand mixer.
1 tbsp maple syrup
100g dark chocolate, melted
Cake pop sticks
Glittery edible dust/spray
Instructions
Make your flax 'eggs' by mixing 2 tbsp milled flaxseed with 6 tbsp hot water. Leave to set for 15 minutes.
Preheat your oven to 180*C (160*C fan assisted)/ 350*F.
In a large bowl, mix together the flour, ground almonds, cocoa, sugar, baking soda and salt.
In another bowl, mix together the melted coconut oil, milk, maple syrup, vinegar and coffee.
Pour the wet mixture over the dry ingredients along with the set flax eggs. Mix well to combine.
Transfer mixture into an 8" square cake tin covered with parchment paper.
Bake for 20-25 minutes. Leave to cool completely.
Crumble the cake into a large bowl and add in the whipped coconut cream and maple syrup. Mix well then start shaping into balls.
Place in the freezer for 30 minutes.
Dip one of the sticks about half an inch in the melted chocolate, then push into a cake pop.
Dip in the melted chocolate, place in a glass and spray with the glitter.
Repeat with the rest of the cake pops. Leave to the side to allow the chocolate to set.
Enjoy!
UK Health Blog - Nadia's Healthy Kitchen https://nadiashealthykitchen.com/

Share This Post