Coffee Blackcurrant Banana Ice Cream
Banana ice cream is such a genius invention and who ever came up with the idea surely deserves winning some sort of award, don't you think?!
I could never have imaged something as simple as blending a frozen banana could result in something so delicious! The texture really is like ice cream and by freezing it the banana tastes so much sweeter. It really is the perfect substitution for regular ice cream 🙂
If you're an ice cream fan (as if there's such a thing as someone not liking ice cream!), then you must try this. I never buy ice cream anymore, not even for the hubby as this really is the most amazing substitute EVER!
Banana ice cream (aka nice cream or nana ice cream) is probably one of the healthiest AND cheapest treats out there. It only consists of 1 ingredient (yes ONE!), no additives, sweeteners, saturated fat, colouring…none of that, just a humble banana. And one of the great things about making your own ice cream is that you can let your imagination run wild when it comes to flavour combinations. Chocolate, strawberry, matcha, peanut butter, you name it! I can never get bored of banana ice cream because there is just so much I can do with it!
Banana ice cream doesn't make a regular appearance on my blog, why I hear you ask, especially since I love it so much? The simple answer is because it's so easy, I can't even class it as a recipe! AND it's all over the internet, everyone is making it!
Having said that, I have come up with an interesting flavour combination that I haven't seen used before in nana ice cream – coffee and blackcurrant, so I thought I would share it with you all because this flavour combination is phenomenal!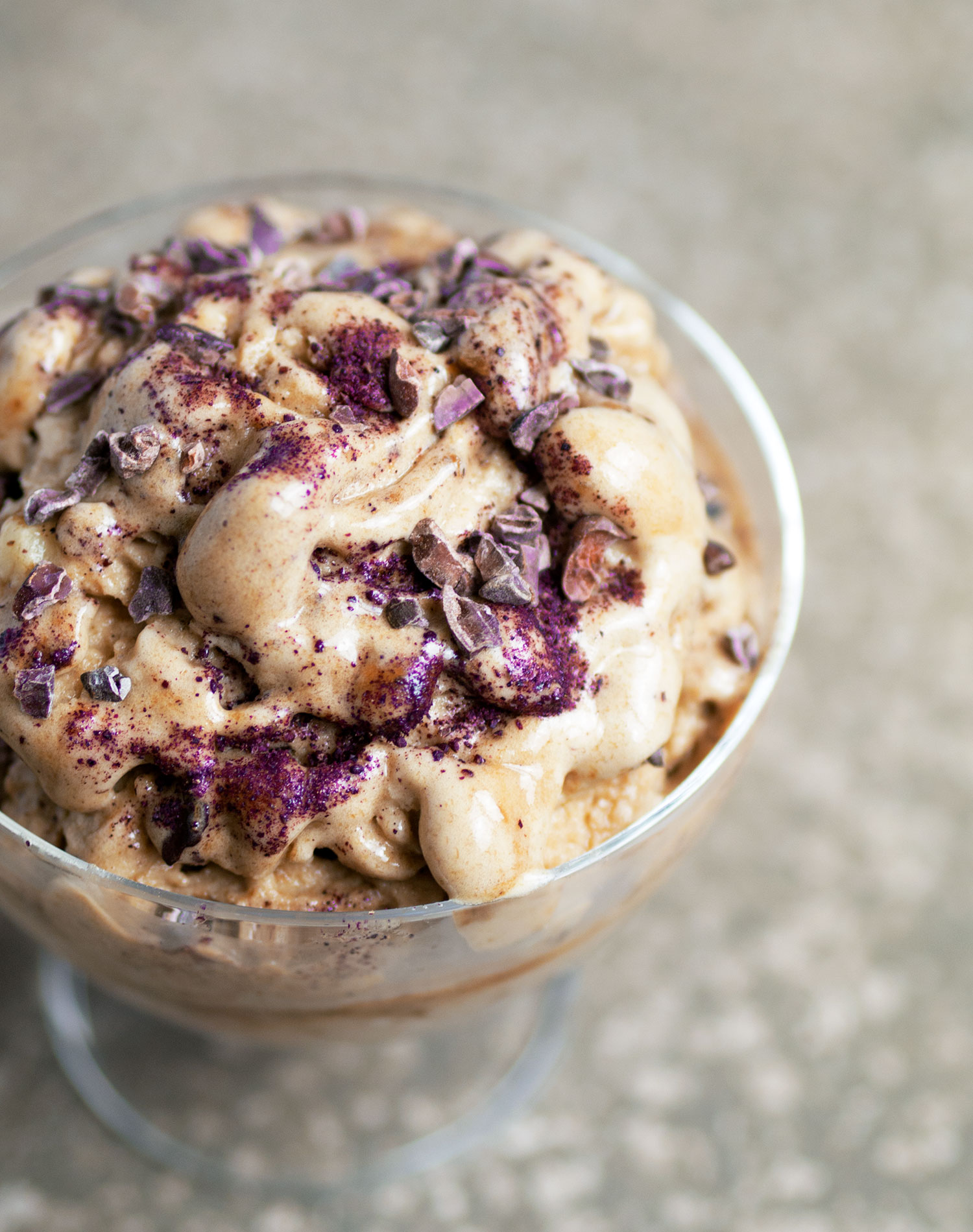 Arctic Power Berries challenged me to create a quick and easy healthy recipe using some of their superfood powders – one of which is blackcurrant. I've never made anything with blackcurrant before so I was intrigued by what flavours would go with it. After doing some research, I came across the idea of combining blackcurrant with coffee which instantly caught my attention. This is something I HAD to try out.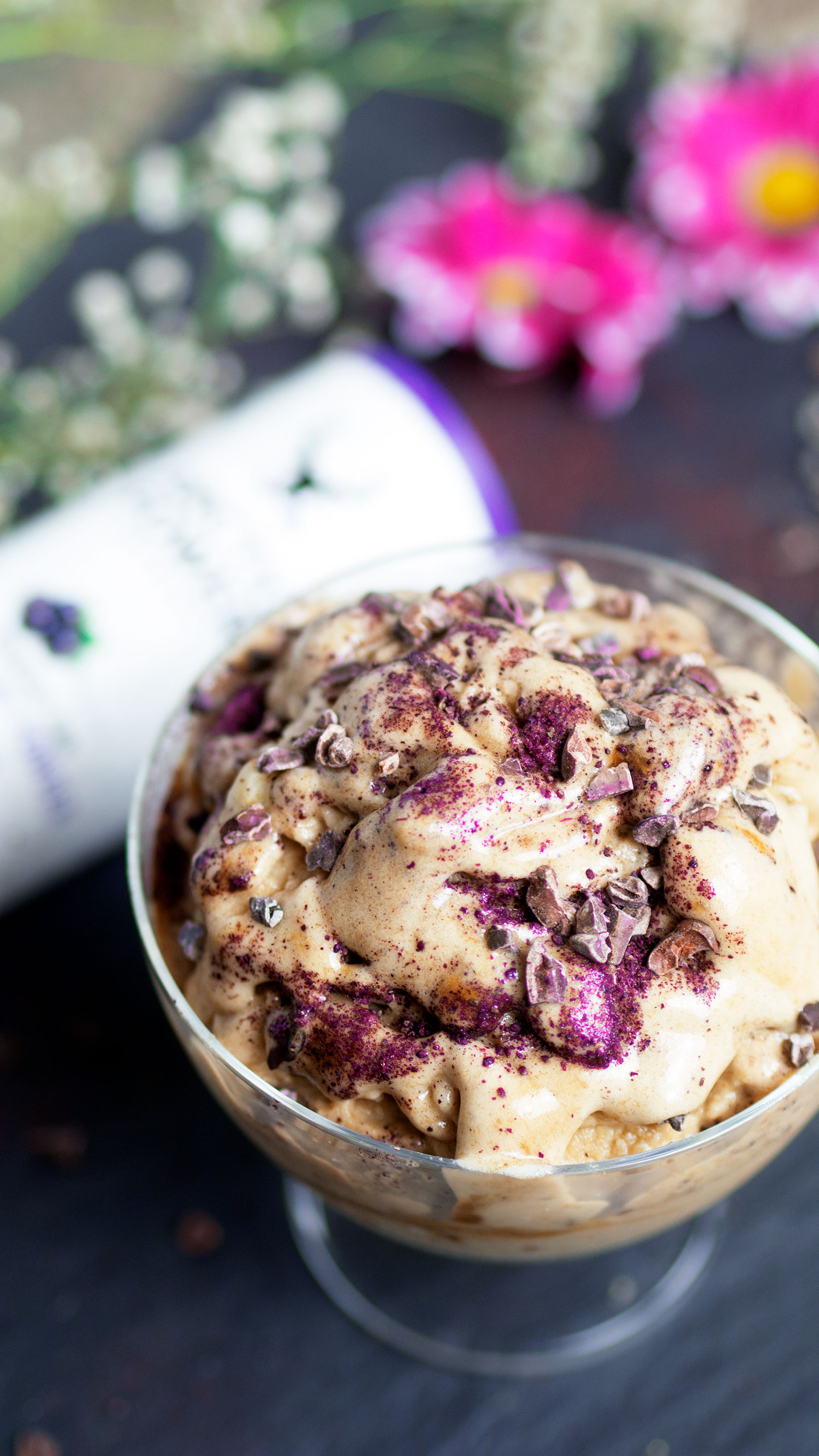 Banana ice cream is already healthy on it's own, but add in some blackcurrant powder and you make it that much healthier! High in vitamin C, B vitamins and antioxidants, each tsp is equivalent to a handful of fresh berries making it an easy and convenient way to increase your berry intake.
Watch the video above to learn how to make it.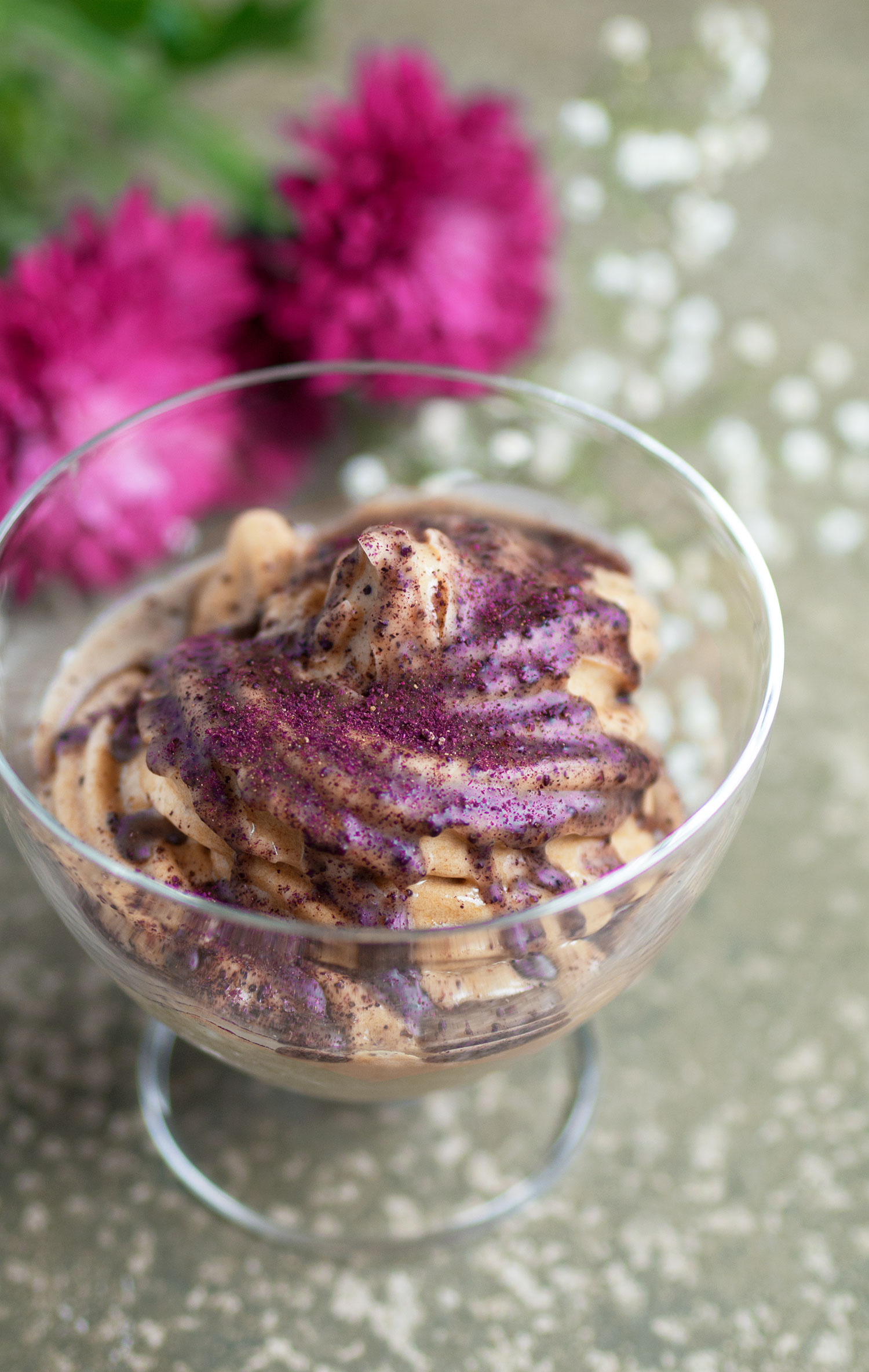 Coffee Blackcurrant Banana Ice Cream
2017-01-21 07:39:46
Serves 2
Ingredients
2 ripe bananas
4 tbsp milk of choice
1 tsp instant coffee granules
1 tsp Arctic Power Berries blackcurrant powder
1 tbsp cacao nibs
Blackcurrant cacao drizzle
15g cacao butter
1 tsp Arctic Power Berries blackcurrant powder
1 tbsp maple suryp
Instructions
Chop the bananas, place them in a freezer bag and freezer until solid.
Place the frozen banana chunks into your food processor/powerful blender along with the coffee and milk. Blend on high until completely smooth*.
Fold in the blackcurrant powder and cacao nibs.
Enjoy as is or make a blackcurrant cacao sauce to drizzle on top.
Blackcurrant cacao drizzle
Add the cacao butter and maple syrup to a pan and heat on medium until melted. Take off the heat and mix in the blackcurrant powder.
Drizzle over your ice cream. It will solidify creating a delicious crunchy shell.
Notes
* To make the blending process easier, leave the frozen banana chunks at room temperature to soften a little - around 15-20 minutes.
** Use a piping bag for a soft serve effect.
Nutritional information (estimated per serving without drizzle)
Calories: 151 kcal
Protein: 2.2g
Fat: 3.3g
Crabs: 29g
Fibre: 4.9
Nutritional information (estimated per serving with drizzle)
Calories: 212 kcal
Protein: 2.2g
Fat: 10.6g
Crabs: 29g
Fibre: 4.9
Nadia's Healthy Kitchen https://nadiashealthykitchen.com/

* This recipe is commissioned by Arctic Power Berries; however, all opinions are my own.