Clean Eating Rice Crispy Treats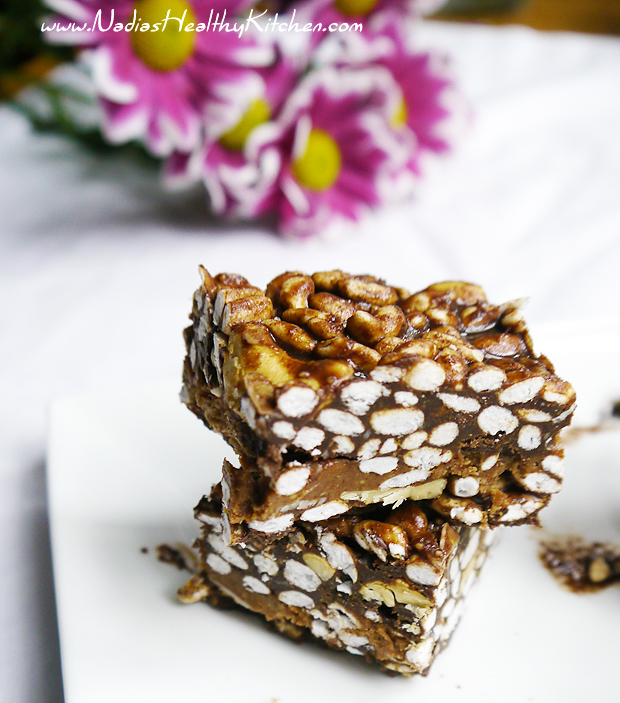 I remember having rice krispies when I was about 12 years old on a visit to the UK to see my mum's parents. I absolutely loved it! The flavour and the sounds produced by adding milk (the famous snap, crackle, pop!) but of course as soon as we went back to Iraq there was no such thing. It was extremely difficult to get hold of any cereal, let alone rice krispies! Since then, I never really had them. When we moved to England in my late teens I was a lot more health conscious so could never get myself to pick up a box while food shopping.
A few weeks ago I noticed that Holland and Barrett (health food store) had some 'puffed rice' which is the same thing as rice krispies really, minus all the other additives. Here's the ingredients list: Organic Wholegrain Brown Rice … and that's it! No sugar, no salt, no nothing! So of course I didn't hesitate to buy a bag.
The first thing I decided to do with my new find was to make some clean eating rice crispy treats. They're gluten-free, dairy-free and vegan. I  used coconut oil+cocoa+maple syrup to make 'homemade' vegan chocolate and to make these treats even more fun, I added a cheeky peanut butter layer in the middle (because peanut butter makes everything taste better!)
They're light, crunchy and sweet – the perfect combination in my opinion.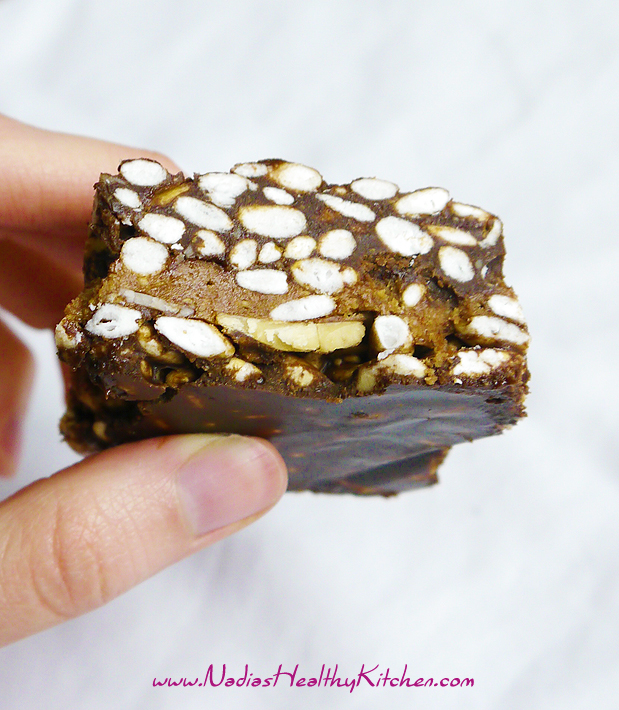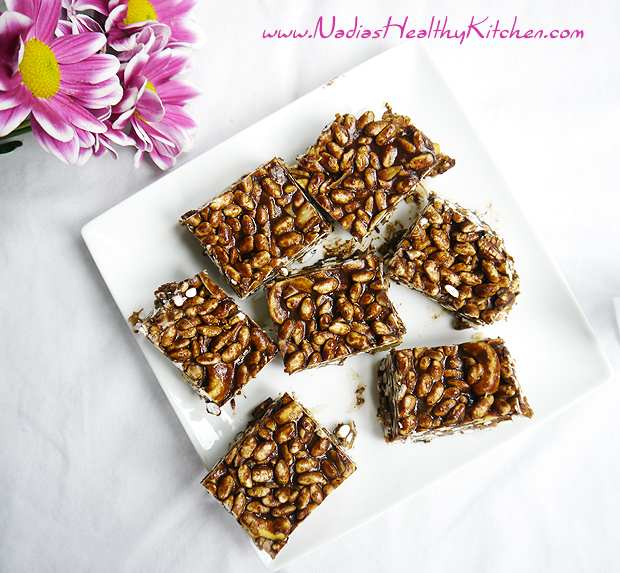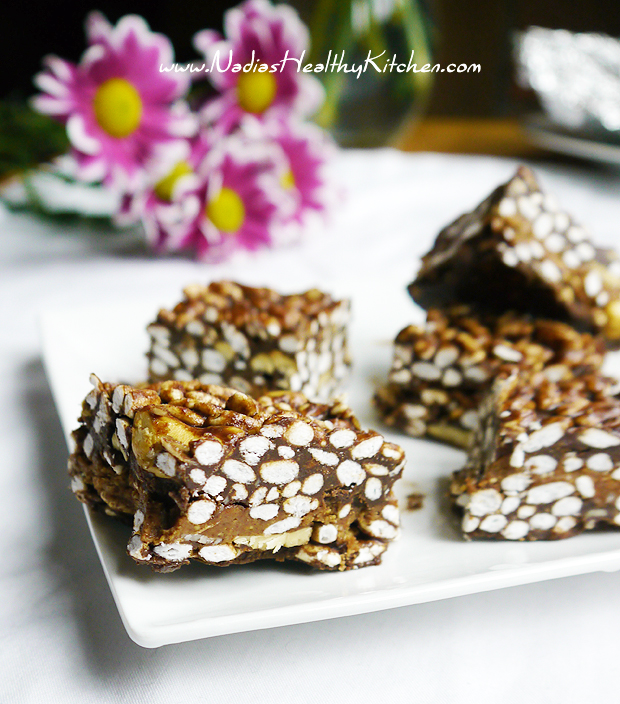 [recipe_box]
Clean Eating Rice Crispy Treats
Makes: 12 pieces
Ingredients:
For the chocolate puffed rice layer
2 cups puffed rice (I used Kallo Organic Puffed Rice Cereal from Holland and Barrett)
1/4 cup natural peanut butter
1/4 cup coconut oil
1/4 cup cocoa
2 tbsp Maple Syrup (or you can use honey/agave nectar)
10 drops stevia (or add more maple syrup)
1/4 tsp vanilla
Pinch salt
Optional: you can add some chopped nuts, seeds, shredded coconut, dried fruit…etc for extra flavour and texture.
For the peanut butter layer:
1/4 cup peanut butter
2 tbsp date syrup (or you could use honey, agave nectar or maple syrup)
Directions:
Make the chocolate mixture: Heat the coconut oil in the microwave for a few seconds until it melts (literally a few seconds!) then add in the cocoa, 1/4 cup peanut butter, honey, stevia, vanilla and salt and mix well. Give it a taste to see if you're happy with the sweetness, otherwise add more maple syrup/honey/stevia. Pour the mixture onto the puffed rice and give it a good mix until the rice is evenly coated.
line an 8″ cake tin with parchment paper (I used a round tin but if you have a square one that would work better)
Drop half the puffed rice mixture into the tin and press down with a spoon. Place in the freezer for 30 minutes.
Meanwhile make the peanut butter mixture by mixing the peanut butter and date syrup.
Take the tin out of the freezer then drop the peanut butter mixture on top and spread out using the back of a wet spoon.
Pour the remaining of the puffed rice mixture on top and press down.
Place back in the freezer until it hardens.
[/recipe_box]
I like to cut mine up, place them in a container and store them in the freezer for times when I have a craving for something sweet (if you're layering them in a container, be sure to separate each layer with parchment paper so they don't stick to each other)
These clean eating rice crispy treats would be great for kids parties or even just a snack for them to take to school. They're low in sugar and high in protein (from the peanut butter).
Nutritional information:
Calories: 94
Carbs: 6.3
Protein: 2.1g
Fat: 7.5g
Fiber: 0.9g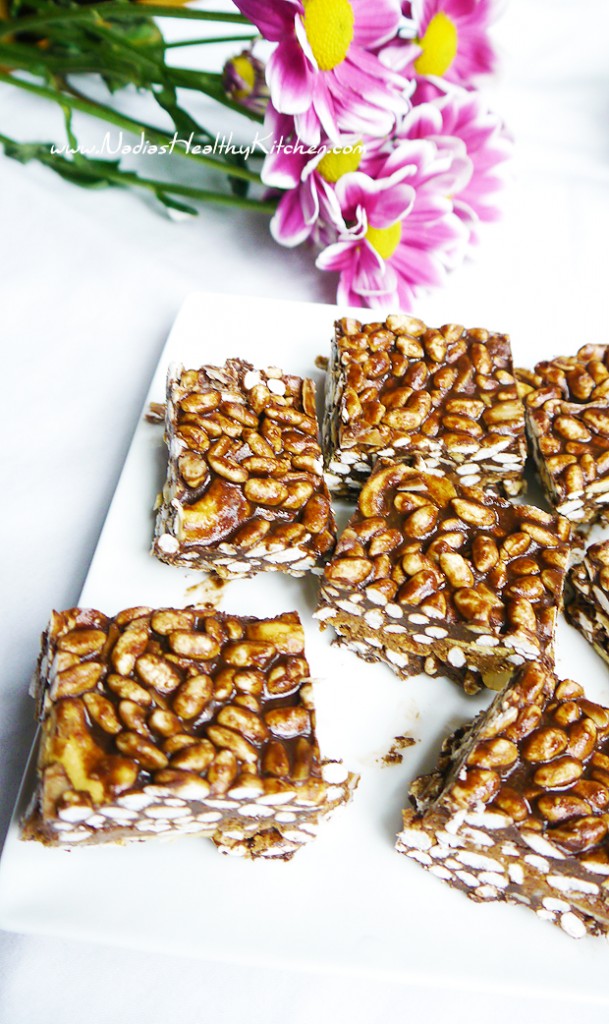 Share This Post