Clean Eating Raw Chocolate Brownies
Raw bites of heaven! There is no rule stating that you HAVE to bake brownies for them to be classed as brownies. Yes, traditionally brownies are made using flour and are baked to delicious perfection…but these gluten-free, dairy-free, sugar-free and vegan no bake brownies are perfect in their own way.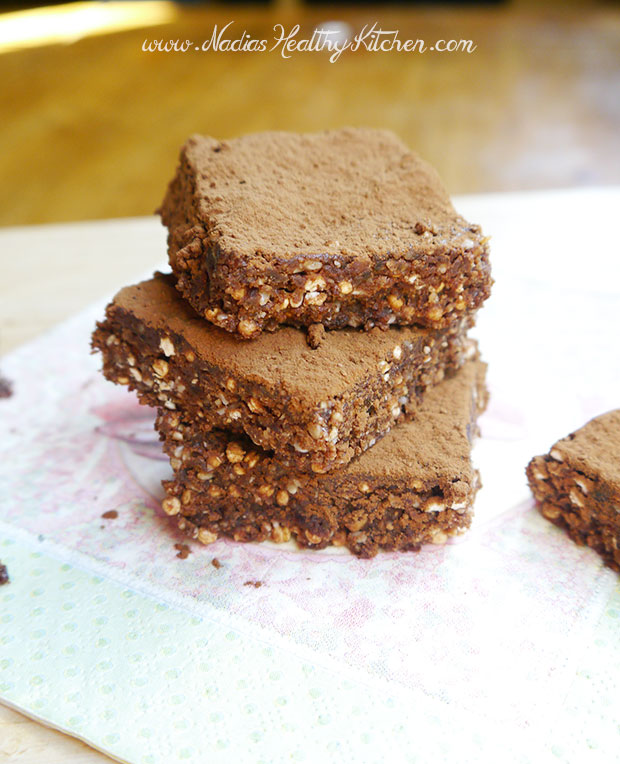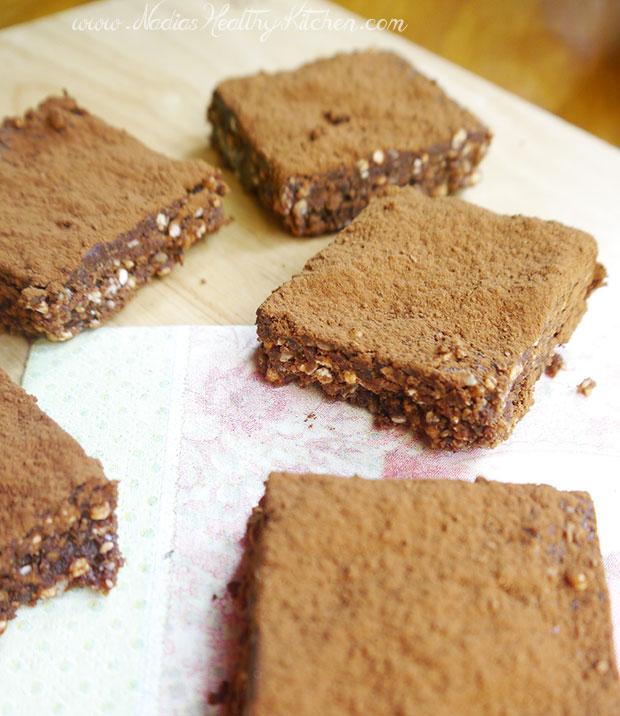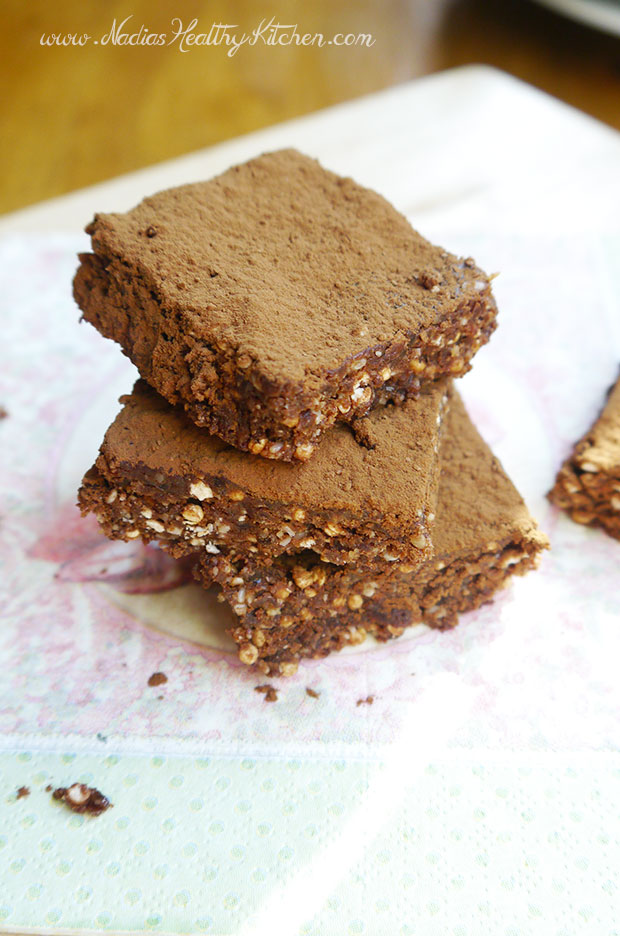 Are there any Tahini addicts in the house? Then raise your hands up. Me me me!! (raises hands excitedly). I'm obsessed with the stuff. You have your peanut butter addicts, your Nutella addicts…I love my Tahini. If you're a fellow Tahini lover then these brownies are for you! You've probably guessed by now that Tahini is one of the main ingredients haha 😛
[recipe_box]
Clean Eating Raw Chocolate Brownies
Makes: 16
Ingredients:
1 cup dates
1/2 cup walnuts
1/4 cup cocoa powder (or cacao powder if you want it 100% raw)
1/4 cup ground almonds
1/4 cup sesame seeds
1/4 cup tahini
2 tbsp coconut oil
1/4 tsp vanilla paste (or 1 tsp vanilla extract)
Pinch of salt
1/2 cup quinoa pops (puffed quinoa)
Directions:
Place the dates in a food processor and blend for a few minutes.
Then add in the walnuts, cocoa powder, ground almonds, sesame seeds, tahini, salt and vanilla paste. Blend for a few minutes until the ingredients start to incorporate with each other.
Melt the coconut oil then add to the rest of the ingredients. Continue blending until you have a well mixed dough.
Transfer the mixture into a bowl then add in the quinoa pops. I used my hands to mix them in but feel free to use a wooden spoon.
Press the brownie dough into an 8″x8″ square tin. Place in the fridge and leave to chill for a couple of hours.
Cut into as many slices you would like, I made 16 🙂
[/recipe_box]
Nutritional information:
Calories: 124
Protein: 3.1g
Carbs: 12.4g
Fat: 8.2g
You can buy quinoa pops online, I got mine from a local health food shop. There are videos on youtube showing you how to make your own which I want to try once I finish using the bag I already have.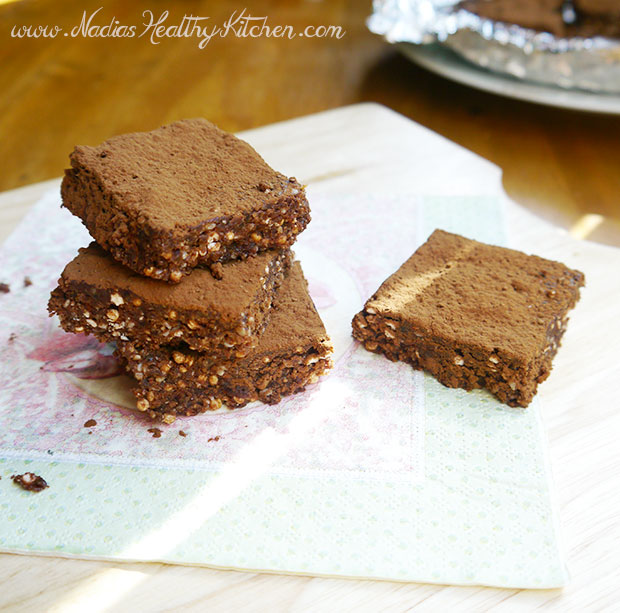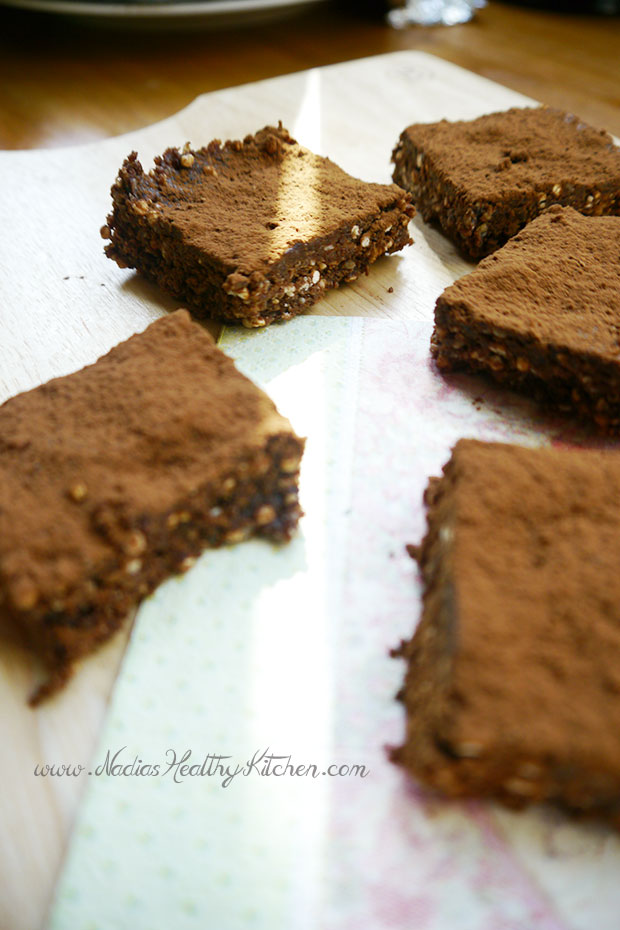 Share This Post