Clean Eating – Protein Chocolate Cookie Dough:
Who said clean eating has to be boring? It's so much fun experimenting with different healthy ingredients and still being able to produce such delicious results!
What makes this protein cookie dough so healthy?
So what makes this clean eating cookie dough so healthy? the fact that I'm using chickpeas of course! And why exactly am I using chickpeas in a dessert recipe I hear you ask, well it just works! You'll just have to trust me on this one.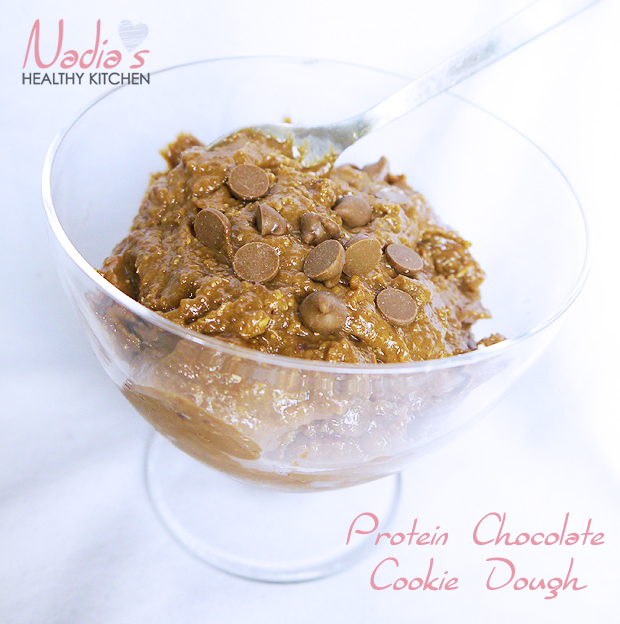 Chickpeas are a great source of protein and can be used in recipes in the place of flour/grains. This makes it a great option for those of you who are avoiding wheat/gluten.
This recipe is Vegan, dairy free, gluten free and sugar free! It's high in protein which makes it ideal as a post workout snack, or just a guilt free dessert 😉
[recipe_box]
Clean Eating Protein Chocolate Cookie Dough
Ingredients:
2/3 cup chickpeas
2 scoops chocolate Whey protein powder
2 tbsp oats (Make sure it's gluten free if you're intolerant)
2 tsp cocoa
2 tsp Xylitol (can omit)
2 tbsp chocolate chips (optional)
8 dates, pitted
1 tbsp coconut oil
¼ tsp vanilla paste
A pinch of salt
Directions:
In a food processor, mix all the ingredients apart from the chocolate chips.
Once you have a smooth mixture, add in the chocolate chips and mix.
refrigerate for a couple of hour
[/recipe_box]
This recipe serves anywhere between 1 and 10! depending on how greedy you feel 😛
Nutritional Information (based on 6 servings):
I hope you like this clean eating protein cookie dough recipe. If you try it, leave a comment below letting me know what you thought of it 😀
Nadia x
Share This Post