Mango Overnight Oats
I've never been a big fan of mangoes, but recently have developed a taste for it! I love it now! I guess for a long time I would just walk pass mangoes in the fruit ail without thinking 'maybe I should give mangoes another try!'
As well as mangoes, I've also been enjoying overnight oats recently. It's such a clever idea! Mix oats with some liquid (milk, yogurt or even water) and leave in the fridge overnights for the oats to absorb the moisture.
I don't feel there is an excuse to skip breakfast in the morning. It's crucial not to start your day on an empty stomach, especially if you're trying to lose weight.
If you don't have time to grab something to eat in the morning, you can take a little bit of time the night before to prepare some overnight oats. It takes no longer than 5 minutes! Promise! 😉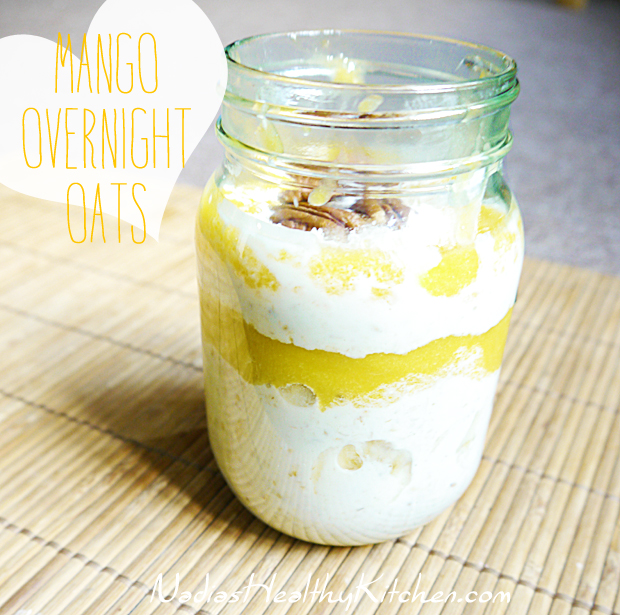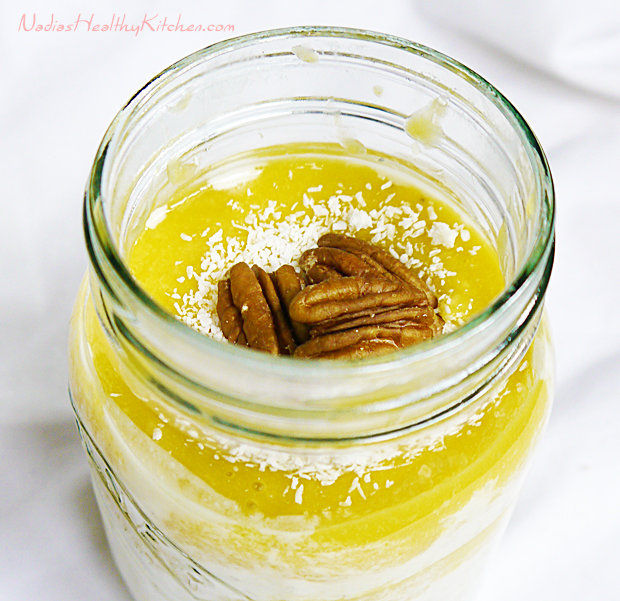 [recipe_box]
Mango Overnight Oats
Serves: 1-2 (depending on your appetite!)
Ingredients:
1/2 cup oats
1/2 cup milk (I used unsweetened almond milk)
1/4 cup fat free Greek yogurt
2 tsp honey
1 banana
1 mango
Direction:
Mix the oats, milk, yogurt and honey in an airtight container and place in the fridge overnight.
blend 1/2 the banana with the mango and pour into a separate container and refrigerate.
In the morning, you can either mix the oat mixture with the mango mixture, or you can layer them in a glass/jar. I chose to do the latter 🙂
[/recipe_box]
I topped my mango overnight oats with a sprinkle of shredded coconut, the other 1/2 of the banana and some pecans. But As far as toppings are concerned, you can go wild and add whatever your heart desires! Another thing I love about overnight oats, or any oatmeal recipe for that matter, is that you can add whatever you have available. It allows you to get as many fruit (or vegetables!), nuts and seeds into your daily diet just in case you don't get the chance to do so later ;P.
This is a great breakfast idea to take with you to work or if you're on the go. Use a jar if you have one, if not just use any container you have available.
It looks so pretty in a jar, or you can even layer is in a glass.
Share This Post