Clean Eating Granola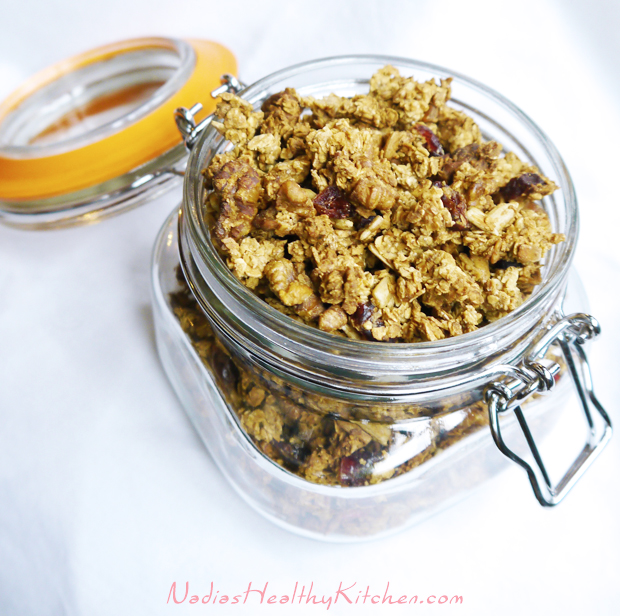 I had seen the word 'granola' being used a lot online (Mostly on Pinterest and Instagram), but only recently started noting it being advertised on TV and in magazines here in the UK. Or maybe I just wasn't paying that much attention. Now Granola seems to be the 'in' thing! A healthy choice for breakfast in the place of sugary cereals.
However, on closer inspection of the ingredients, all the different brands I checked contained sugar. Now I know that some people don't mind having a bit of sugar in their diet. But where ever I can, I try to cut sugar out.
So I went online to look for inspirations to make my own clean eating granola.
The beauty of granola is that you can get creative and add whatever you like, or whatever you have available. It's a great way to include some healthy fats in the form of nuts and seeds as well as vitamins and antioxidants by adding in some dried fruit/berries.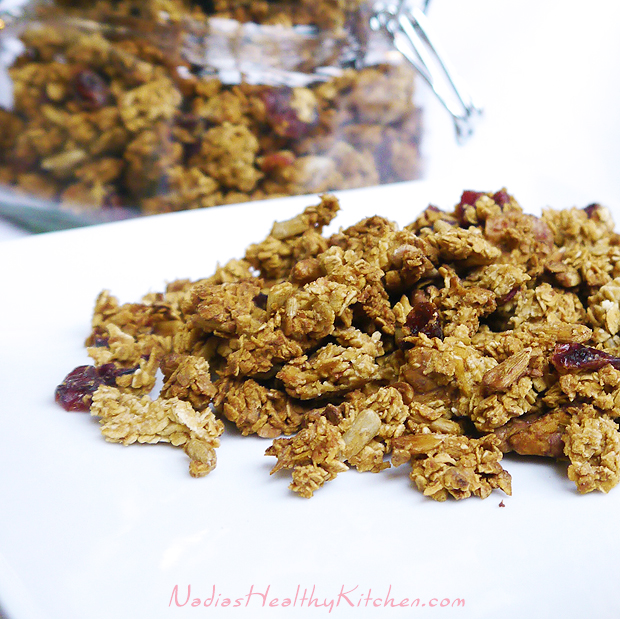 [recipe_box]
Clean Eating Granola
Ingredients:
1 cup oats
1/3 cup walnuts
1/4 cup sunflower seeds
1/4 cup dried cranberries
1/4 cup unsweetened applesauce
1/4 cup honey
1 tsp cinnamon
1/4 tsp vanilla paste (or 1/2 tsp vanilla extract)
pinch of salt
Directions:
Preheat the oven to 150°C (fan assisted)/325°F
In a large bowl, mix the applesauce, honey and vanilla paste.
In a separate bowl, mix the other ingredients together.
Combine the dry ingredients with the wet mixture and mix well.
line a baking tray and spread on the granola. Make sure it's evenly spread so everything cooks evenly.
Bake for 20-25 minutes depending on how brown you want it (The browner it is the crisper it will be ). Make sure you keep your eye on it and give it a toss after 10 minutes to make sure nothing burns.
leave to cool then transfer to an air tight container.
[/recipe_box]
There are a few ways you can eat granola. You can simple have it with some milk or yogurt. You can get creative and make a granola parfait where you layer granola, yogurt and fruit in a glass.
Granola makes a great clean eating snack on the go as you can eat it on it's own 😉
Even though honey is basically sugar (glucose and fructose) but at least by consuming it you get the benefits of it's vitamins and minerals (potassium, magnesium & vitamin C and Bs)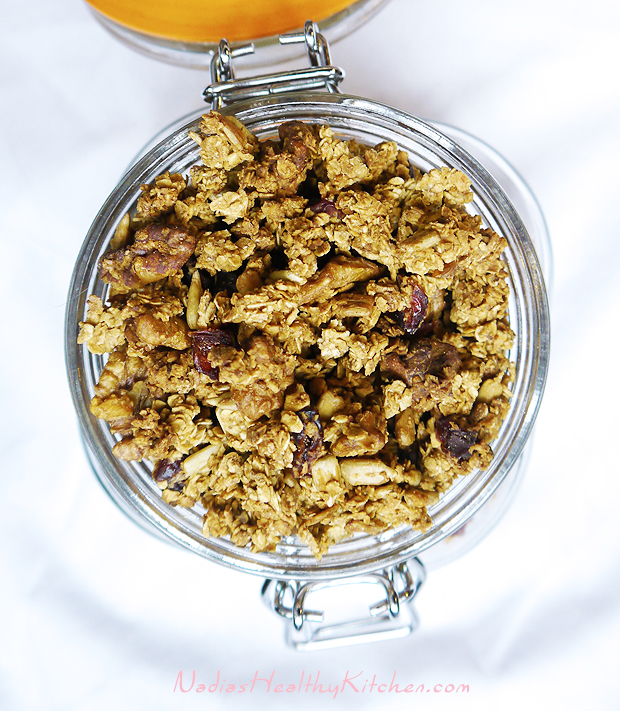 Hope you liked my clean eating granola recipe. It's definitely a new favourite recipe of mine.
Share This Post