Clean Eating – Egg Fried Quinoa
I was thinking of making egg fried rice using brown rice, then it occurred to me that egg fried quinoa would be an amazing idea! So that's what I made for dinner this evening 🙂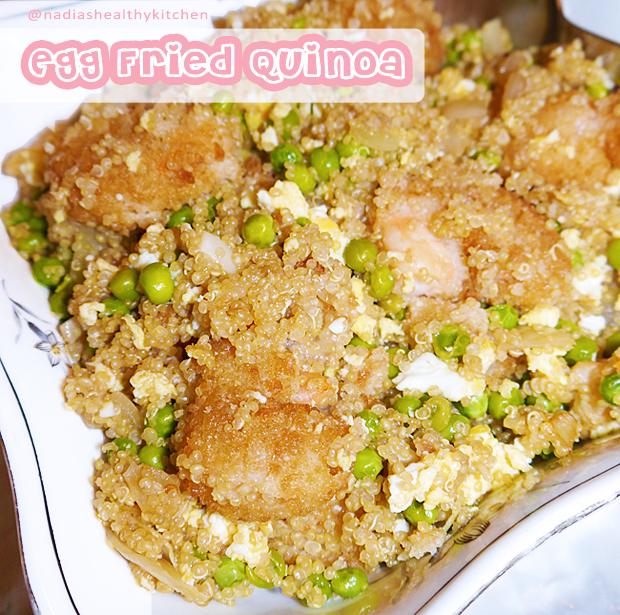 Quinoa has a high protein content and is a good source of 'complete protein' meaning it contains all 9 essential amino acids. If I had to describe quinoa I would say it's texture and flavour is somewhere between burgle wheat, couscous and brown rice. I like all 3 so it was a hit with me 🙂
The egg and prawns add even more protein so I would say this is a really good post workout meal
[recipe_box]
Egg Fried Quinoa
Servings: 2
Ingredients:
1/2 cup Quinoa
1 cup boiling water
100g prawns
1/4 cube chicken stock
2/3 cup frozen peas (thawed in the microwave)
1/2 medium onion, chopped
1/2 large garlic clove, finally chopped
1 egg
2 tbsp soy sauce
pinch dried ginger
salt and pepper
1 tbsp olive oil
Directions:
Cook the Quinoa: Boil the water in a pan, add the chicken stock then add the quinoa. Simmer for 15 minutes or until the water has all been absorbed.
Heat the olive oil and sautee the onions for a few minutes until soft. Add the garlic and prawns. Cook for a few more minutes.
Add the seasoning, ginger, soy sauce and peas.
In a separate pan, add a little olive oil and scramble the egg.
Once the quinoa is done, add it to the prawns and mix. Add the scrambled egg right at the end.
[/recipe_box]
Today I used breaded prawns because that's all I had available. I baked them in the oven for 15 minutes then added them right at the end. But normally I would use normal prawns and follow the method stated above.
Nutritional Information:
Share This Post