Clean Eating Cookie – Oatmeal Raisin Cookie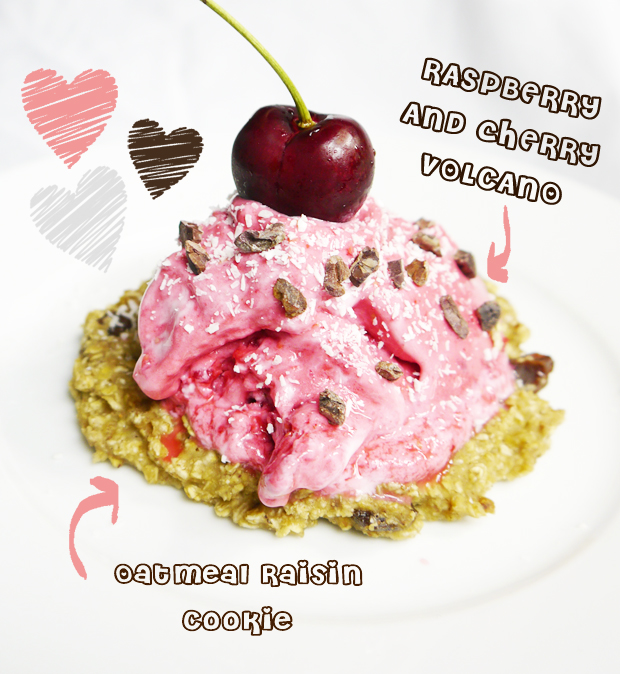 Can you believe I had this beauty for breakfast?! It looks like it should not be allowed, but since it's low in calories, sugar free, low fat and healthy it's definitely allowed!
The base is a clean eating cookie which took less than 5 minutes to make! And the best thing about it is that it's healthy and only requires very few ingredients.
Who wouldn't want to eat cookies for breakfast?
It looks like it took me a long time to make, but would you believe me if I said it will take you no longer than a few minutes to prepare?
I 'baked' the clean eating cookie in the microwave for 1 minute! and all you have to do with the raspberry and cherry ice cream is to blend a couple of ingredients together using a hand blender! That's how quick and simple it is. The end result is spectacular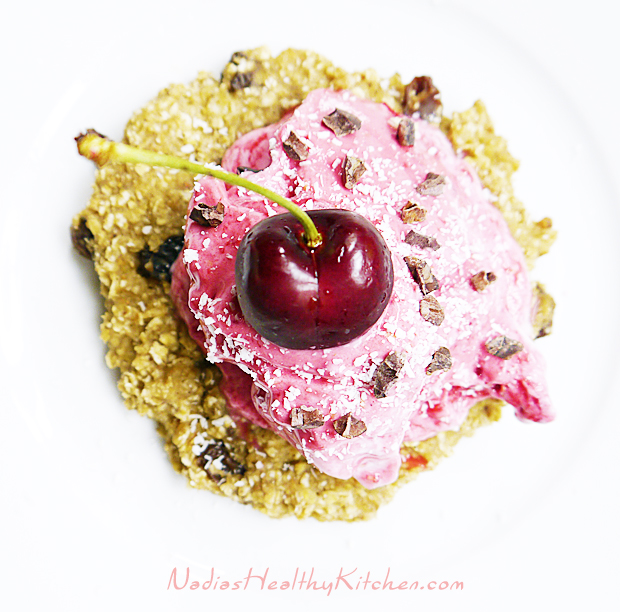 [recipe_box]
Clean Eating Cookie
For the oatmeal raisin cookie:
1/2 banana
1/4 cup oats
1 tbsp raisins
1 tsp stevia
Cinnamon
For the Raspberry Ice Cream:
1/3 cup frozen raspberries
a few chopped fresh cherries
2 tbsp low fat Greek yogurt
Directions:
Mash the cookie ingredients together in a bowel.
Drop onto a plate and shape it into a cookie
Cook in the microwave for about 1 minute.
To make the raspberry ice cream all there is to do is blend the raspberries, cherries and yogurt using a hand blender until you're left with a smooth ice cream like texture
Top the cookie with the raspberry ice cream. I sprinkled it with some shredded coconut and cacao nibs for extra healthy fats and antioxidants. It also gives it a nice crunch and makes it look prettier 😛
[/recipe_box]
Oats and banana are a great combination for breakfast. They're a good source of carbs and they have a low GI which means they release energy slowly keeping you feeling full for longer. They're also low in calories.
Yogurt is a great source of protein and aids digestion.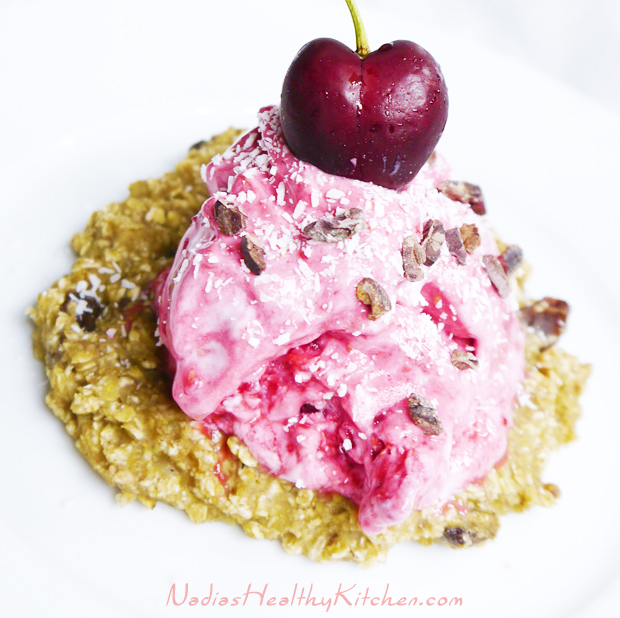 I hope you get the chance to try this clean eating cookie recipe 🙂 x
Share This Post