I, like many others, am obsessed with chocolate! It's definitely one of my main weaknesses!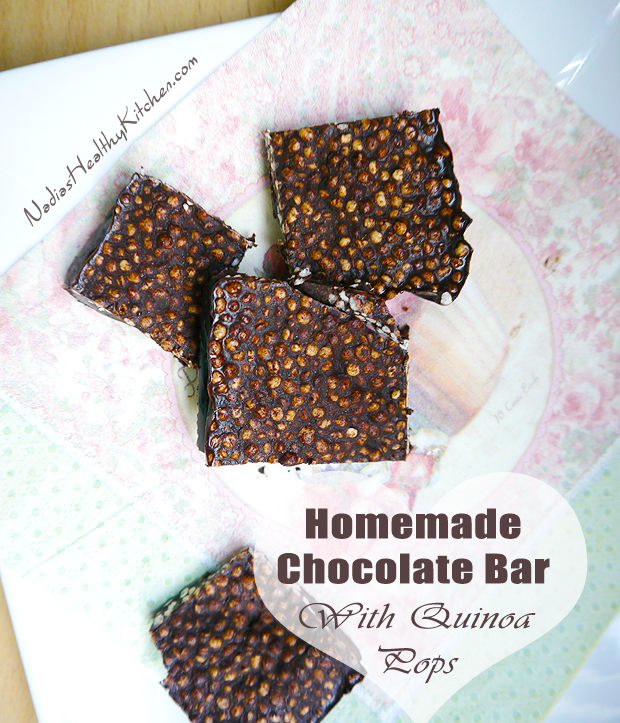 Even though you can get 'healthier' chocolate bars and dark chocolate, most still contain sugar. This is a simple recipe to make your own chocolate really quick at home by using only a few basic ingredients. The result tastes just like dark chocolate in my opinion and you can adjust the sweetness to your liking.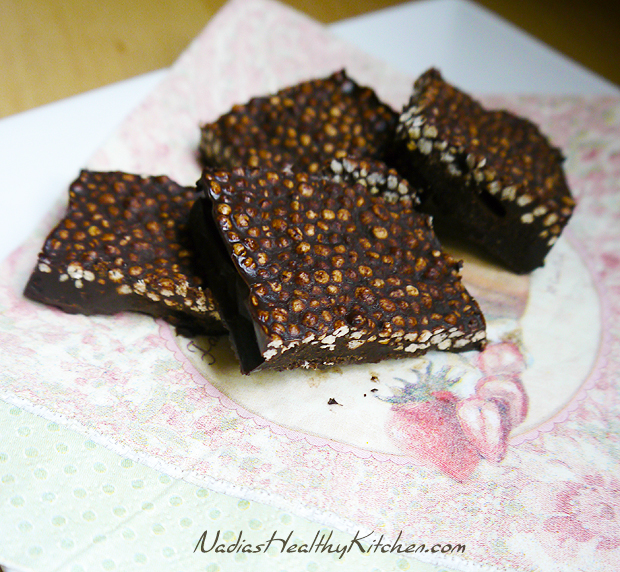 Coconut oil has had a bad reputation in the past, but has recently gained a lot of popularity and is suggested to be extremely good for you! Especially if you use good quality organic virgin coconut oil.
I've been using organic virgin coconut oil for years, not for cooking with! but rather as a moisturizer for my dry/dehydrated skin. Makes my skin feel lovely, soft and glowy! I only recently started to incorporate it into my diet. After a lot of researching online, opinions still seem to be extremely divided on how 'healthy' it is for you. But as I always say 'Everything in moderation is fine' 😉 and hey, it's better than using butter, right?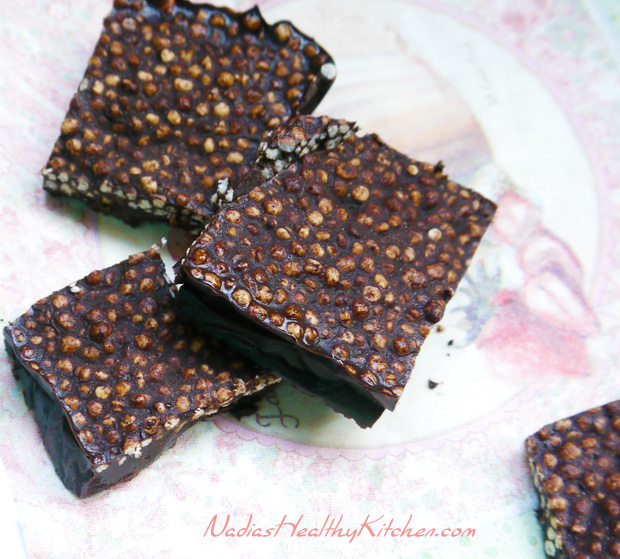 You may have heard of this lovely grain called 'quinoa', but have you heard of 'quinoa pops'? I hadn't until I discovered it during a visit to a local health food store. Needless to say I was very intrigued so did not hesitate to buy some!
Just as the name suggests, quinoa pops are basically popped quinoa! I didn't know this either but apparently you can make your own using dried quinoa and a hot pan (no oil needed) but I haven't yet tried this method since I had already bought some ready made.
I guess it's similar to puffed rice, light and crunchy 🙂 so I figured it would work perfectly with this homemade clean eating chocolate bar
[recipe_box]
Coconut Oil Chocolate With Quinoa Pops
Ingredients:
1/4 cup coconut oil
1/4 cup cocoa
1/4 cup quinoa pops
1/4 tsp vanilla extract
1-2 tbsp honey
Directions:
Melt the coconut oil in the microwave
Mix in the cocoa, honey and vanilla extract until well combined
Fold in the quinoa pops
Pour into moulds. I used a small plastic container and lined the inside with foil
Place in the freezer until the chocolate has hardened
Lift the foil out and peel the chocolate off. Cut into squares or just break pieces off 🙂
[/recipe_box]
Unfortunately, it seems that the honey has a tendency to sink to the bottom so I would suggest spreading the chocolate out to make the bars as thin as possible.
You can alter the recipe and add other ingredients like nuts, dried fruit, spices…etc. Just have fun with it 😉
Nadia x
Share This Post