Clean Eating Chocolate Protein Crepes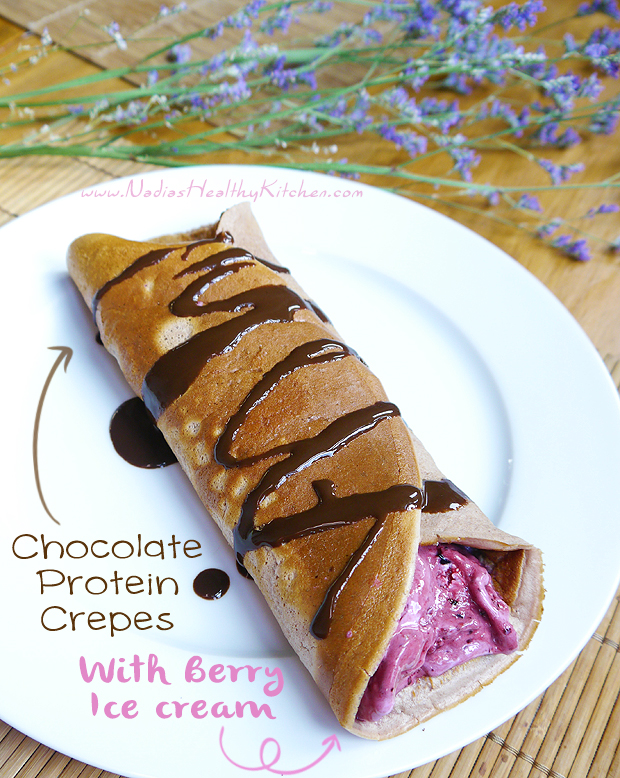 I'm trying to incorporate more protein into my daily diet, especially after a workout (I'm trying to build muscle and lose fat!) so I've been experimenting more with protein powders.
Lately, I have been seeing a lot of clean eating crepes on Instagram and they always look so delicious and inviting, especially with all the different lovely and colourful fillings. Mmm *drools*
Today, after a cardio and a little bit of weight lifting, I made myself one…a clean chocolate protein one…with berry ice cream!! It felt like I was having dessert!
[recipe_box]
Clean Eating Chocolate Protein Crepes
Makes: 1 crepe
Ingredients:
1 scoop chocolate whey protein powder
1 medium egg
1/4 cup + 1 tbsp milk of choice
1 tbsp psyllium husk
2 tbsp oat flour
¼ tsp baking powder
sweetener (stevia, honey, agave…etc, depending on how sweet your protein powder is. I didn't use any because the protein powder I used was already sweet)
Directions:
Mix everything together (I used a hand blender for this) until you have a smooth batter.
Melt a little bit of coconut oil in a frying pan, then pour in the batter.
Cook over a medium/high heat for a few minutes on each side, and that's it!
[/recipe_box]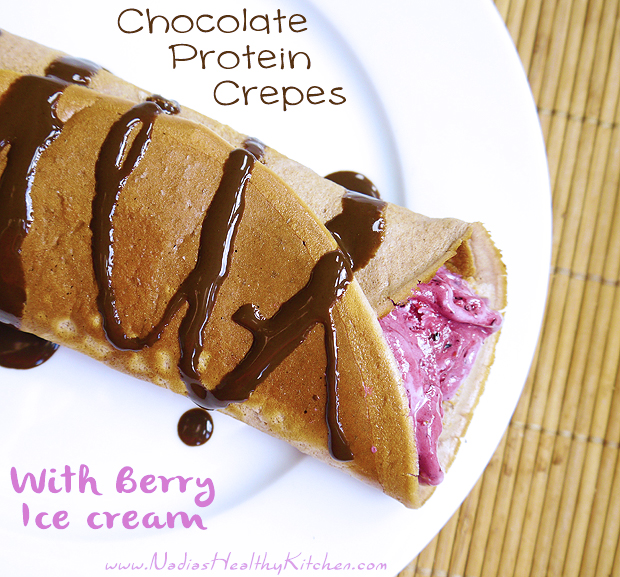 The texture of this clean eating chocolate crepe is very similar to pancakes, but it's less fiddly making it into 1 big 'pancake' rather than individual smaller ones.
To make the Berry Ice Cream, all I did was blend about 1/2 cup of frozen mixed berries with 3 tbsp low fat Greek yogurt. You can add some stevia or sweetener if it's not sweet enough 🙂
Spread the berry 'ice cream' in the middle of the crepe, then fold over the sides.
I drizzled some sugar free Walden farms chocolate syrup on top, but you can drizzle or top it with anything you fancy.
Share This Post