Clean Eating Chocolate Muffins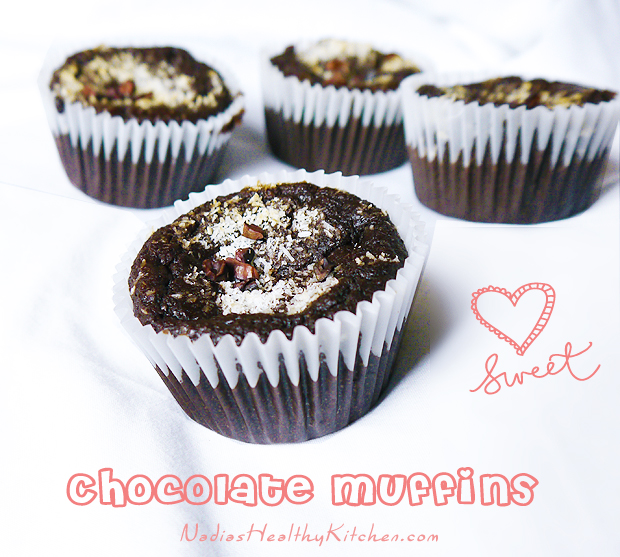 I've not made muffins in such a long time! In a way I was scared to attempt my own clean eating muffins because I thought the end result would be so far from the real thing that it would just end up being a waste of time!
Chocolate muffins have always been my favourite. How could they not be?! They're so gooey, rich and decadent. I think I can speak on behalf of the rest of the world when I say this, no one can resist them! Well maybe you can but I guess my will power is just not all that strong 😛
So I had the idea of mixing chocolate and coconut to make these indulgent, yet healthy clean eating chocolate muffins. They turned out just as  I hoped they would 🙂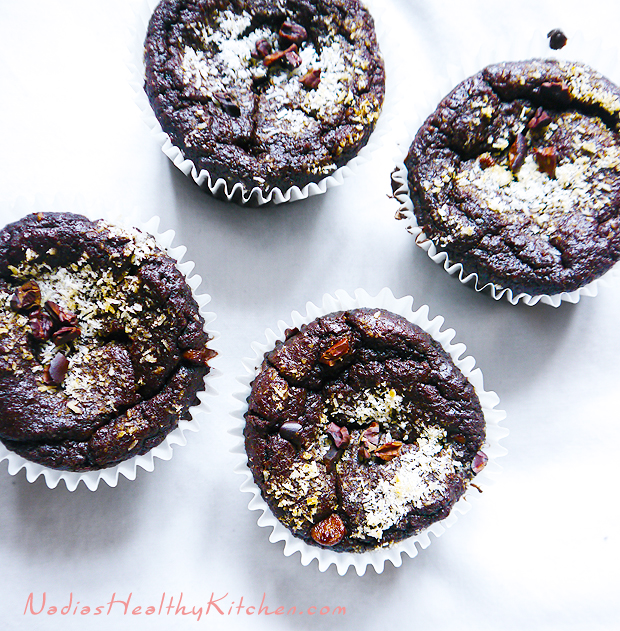 These clean eating chocolate muffins are so moist and chocolaty! The best combination ever in my opinion!
[recipe_box]
Clean Eating Chocolate Muffins:
Makes 12 muffins
Dry Ingredients:
1 cup oat flour
1/2 cup coconut flour
1/4 cup + 2 tbsp cocoa
1 tsp baking powder
1 tsp baking soda
1/4 cup stevia
2 tbsp Xylitol
1/4 tsp salt
1/4-1/2 cup chocolate chips, cacao nibs, carob chocolate…etc
Wet Ingredients:
1 cup unsweetened almond milk (or any other milk)
2 eggs
1 tbsp apple cider vinegar
1/2 cup low fat Greek yogurt
1 tsp vanilla paste (or 2 tsp vanilla extract)
2 heaping tbsp coconut oil
2 tbsp honey (optional)
Directions:
Preheat the oven to 160ºC (fan assisted) =350ºF
First of all mix the apple cider vinegar with the milk and set aside.
Mix all the dry ingredients (apart from the chocolate chips) in a large bowl.
Make a well in the middle and add in the eggs.
Then add the rest of the wet ingredients and mix.
Fold in the chocolate chips
Place the muffin cases in a muffin tin, then divide the batter equally between them.
Sprinkle some shredded coconut and cacao nibs on the top of each muffin (optional)
Bake for 20-25 minutes
[/recipe_box]

Nutritional Information:
Share This Post