Clean Eating Chocolate Protein Bars

I'm going to be very honest with you by saying that I've never had a protein bar in my life! Not that I can remember anyway. It didn't make sense to me to exercise then reach out for a chocolate bar straight after! I know they contain protein but most seem to also contain lots of sugar!
I know not all protein bars contain sugar. Bars like the popular Quest bars don't seem to fall into that category, but for me they're hard to get hold of. I'm aware I can get them online but with the delivery charges they do add up to quite a bit. Quest bars are definitely something I want to try (probably soon!) but I don't think they're something I would be able to get on a regular basis.
That's why I decided to make my own clean eating protein bars!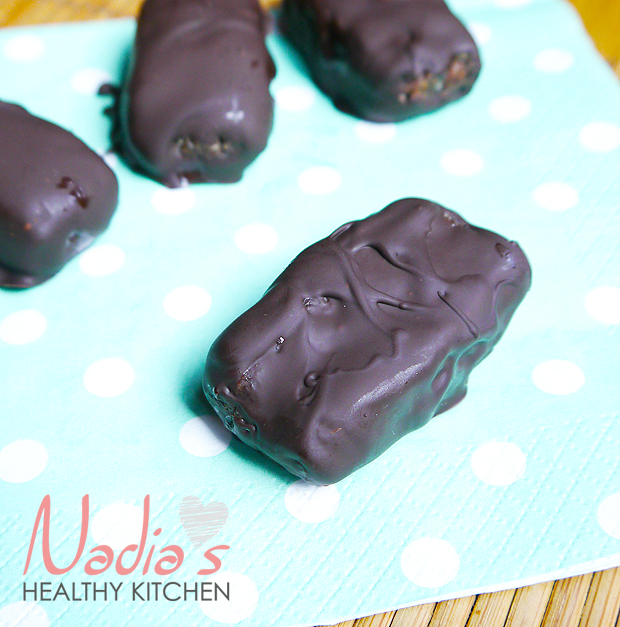 This was just an experiment that turned out to be a great success! Again, since I've not tried a protein bar I wouldn't know how mine would compare to the 'real thing'! What I can say is it's a simple recipe using a few ingredients and the end result tastes so good!
I've not been able to exercise for a good 2 months and I'm slowly getting back into it. This time I want to do it properly! I want to get lean and I want muscle! No messing about! That's why I figured I need to introduce protein bars into my diet.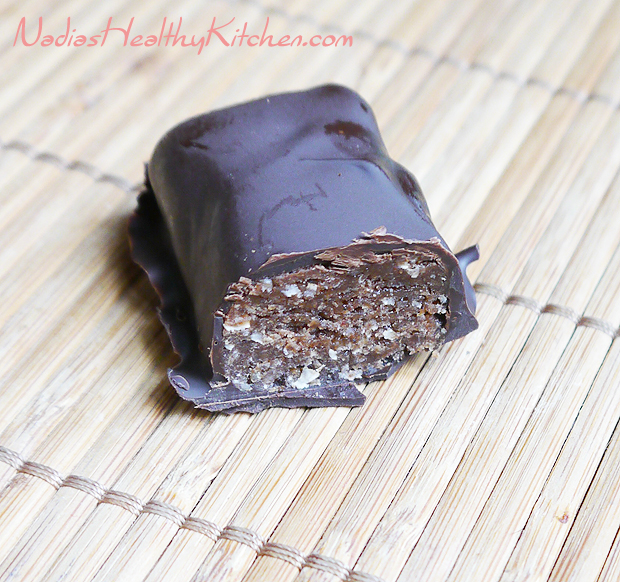 [recipe_box]
Clean Eating Chocolate Protein Bars:
Servings: 6 bars
Ingredients:
2 scoops chocolate whey protein powder
6 tbsp oat flour
7-8 tsp unsweetened almond milk
1/4 cup peanut butter
1-2 tbsp stevia
1/4 tsp vanilla paste
pinch of salt
50g 85% dark chocolate (to coat the bars with)
Directions
In a bowl, mix together the dry ingredients.
Add the peanut butter + vanilla and mix.
Start adding the milk one teaspoon at a time until you end up with a batter you can shape with your hands.
Shape them into 6 small bars (you can shape them into small balls if you prefer)
Place the bars in the freezer for 15 minutes to firm up.
Break up the chocolate and melt it in the microwave.
Dip the bars into the chocolate using your hands or 2 small spoons. alternatively you can try using a pastry brush to coat the bars with the chocolate.
place in the fridge for a few hours. I put them in the freezer for 30 minutes and they were done 🙂
[/recipe_box]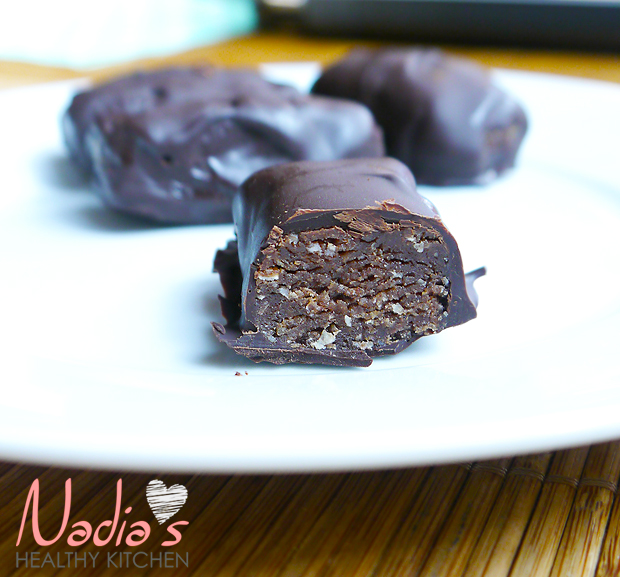 You can leave the protein bars as they are if you don't want to coat them with chocolate, they still taste amazing! I was quite generous with the chocolate I must admit! Another option is just to drizzle them with melted chocolate or just dip the top part of the bar 😉
This makes for a great post workout snack, or just as a snack in general when you're feeling a little peckish and you want something that will satisfy your sweet tooth 🙂
Nutritional information:
Clean Eating Chocolate Protein Bars
Share This Post