Clean Eating Breakfast Pizza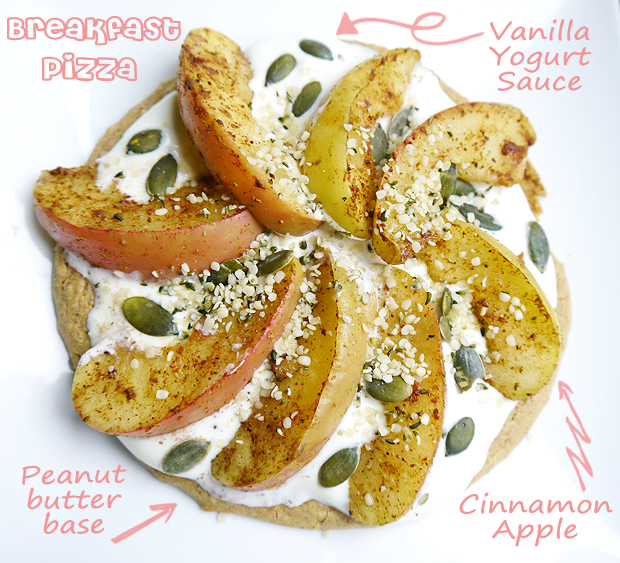 Who doesn't like pizza? We all secretly wish we could eat them all day everyday, but we don't because of how 'sinful' they tend to be. Not to worry, I may have called this recipe a 'Pizza' but this is a different kind of pizza, a clean pizza…a healthy pizza…a breakfast pizza. Yes! it's a clean eating breakfast pizza!
In my opinion, apples, peanut butter and cinnamon go together so well, and so I decided to make this clean eating breakfast pizza a peanut butter breakfast pizza topped with warm cinnamon apple slices.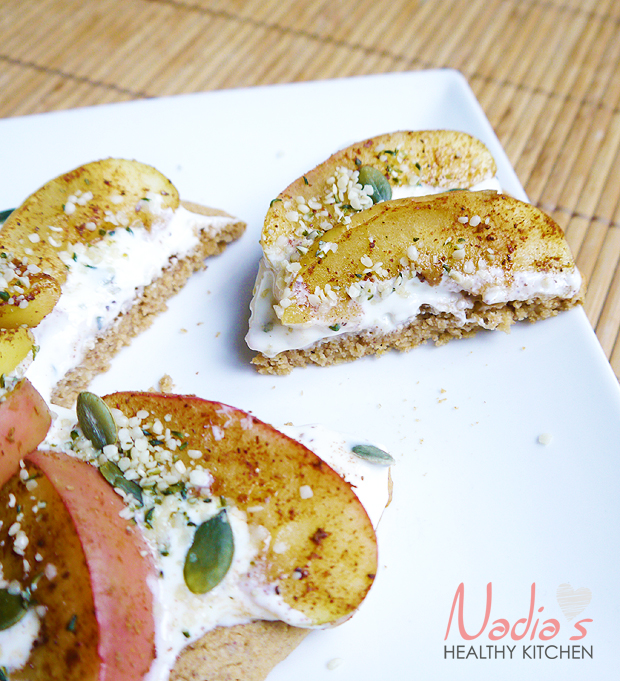 I made the peanut butter base by combining peanut flour with oat flour. The base itself is dairy free and vegan and can easily be made gluten free by using gluten-free oats (ground into a flour in a food processor) or substituting the oat flour with a gluten-free alternative.
[recipe_box]
Clean Eating Breakfast Pizza
Serves: 1
Ingredients:
2 tbsp peanut flour
2 tbsp oat flour (plain oats ground into a flour using a food processor)
2 tsp peanut butter
2 tsp stevia
½ tsp baking powder
Sprinkle salt
2-3 tbsp almond milk (or any milk you prefer)
Directions:
Preheat the oven to 200°c (400°f)
In a bowl, mix the peanut and oat flour with the salt, baking powder and stevia. Add the milk and the peanut butter and mix well. Drop the batter onto a lined and oiled baking sheet. Using the back of a spoon, spread the batter into a 6″ circle.
bake for 8-10 minutes until the top of the pizza is golden brown.
For the topping, I mixed 1 heaping tbsp of low fat greek yogurt with a little vanilla extract and a drizzle of agave nectar. I decorated it with warm cinnamon apple slices: Chop 1 medium apple, sprinkled with cinnamon and cooked in the microwave for about 1 minute just enough for the apple slices to softens. I topped it all off with some pumpkin seeds and hemp hearts for extra healthy fats.
[/recipe_box]
If you want this recipe to be vegan or dairy free, you could always use soy yogurt as a substitution. Another great alternative is to spread some fruit jam and create a peanut butter and jelly breakfast pizza 😀 How amazing does that sound? Actually, I may have to try that idea the next time I make this clean eating breakfast pizza 🙂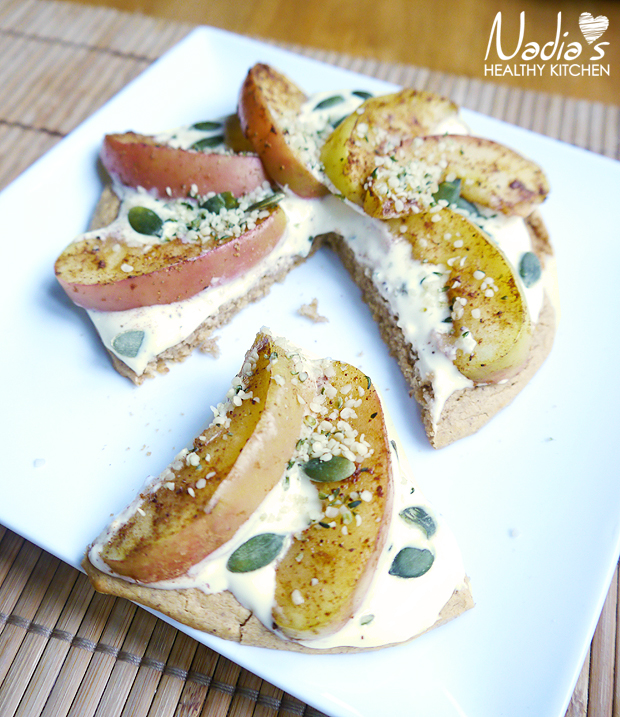 Nutritional Information:
Share This Post